Last weekend I played in my first PTQ in a year. Being a Gold-Level Pro, I am qualified for all of the Pro Tours for the year but I'm still allowed to play in PTQs to win airfare to the Pro Tour. I chose to skip a lot of the PTQs this year to either judge them, go to GPs, or just take a break from playing Magic. However, this weekend there was a Double Header in Orlando, a PTQ on Saturday followed by the TCGPlayer Limited State Championships on Sunday so Frank Lepore and I decided to make a weekend out of it. Although I wasn't playing for a slot to Portland, I was actually looking forward to playing some competitive-level Sealed Deck.
I have done a few Theros Block Sealed events before, the most recent being at GP Atlanta and the Sunday Super Series after I scrubbed out of the GP, and I have never had a pool as interesting as this one. All of the previous sealed decks I have built have been pretty self-explanatory. They were either insane or utter garbage, but regardless of how good they were it was always very clear what colors I should be in.
Here's the pool: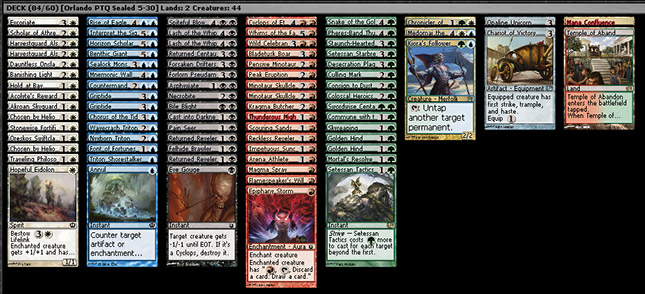 2 Minotaur Skullcleaver 1 Banishing Light 1 Sealock Monster 1 Wavecrash Triton 1 Forlorn Pseudamma 1 Bladetusk Boar 2 Lash of the Whip 1 Countermand 1 Stonewise Fortifier 1 Reckless Reveler 1 Triton Shorestalker 1 Commune with the Gods 2 Harvestguard Alseids 1 Oreskos Swiftclaw 1 Temple of Abandon 1 Annul 1 Mortal's Resolve 1 Benthic Giant 1 Culling Mark 1 Peak Eruption 1 Snake of the Golden Grove 1 Thunderous Might 1 Chariot of Victory 1 Traveling Philosopher 1 Medomai the Ageless 1 Spiteful Blow 1 Colossal Heroics 1 Pheres-Band Thunderhoof 1 Cyclops of Eternal Fury 1 Hopeful Eidolon 1 Chorus of the Tides 1 Swordwise Centaur 1 Asphyxiate 1 Scouring Sands 1 Chronicler of Heroes 1 Epiphany Storm 1 Desecration Plague 1 Scholar of Athreos 1 Hold at Bay 1 Kragma Butcher 1 Rise of Eagles 1 Returned Centaur 2 Returned Reveler 1 Forsaken Drifters 2 Golden Hind 1 Arena Athlete 1 Impetuous Sunchaser 1 Necrobite 1 Akroan Skyguard 1 Magma Spray 1 Eye Gouge 1 Wild Celebrants 1 Horizon Scholar 1 Mnemonic Wall 1 Dauntless Onslaught 2 Chosen by Heliod 1 Pensive Minotaur 1 Bile Blight 1 Kiora's Follower 1 Felhide Brawler 1 Whims of the Fates 1 Pain Seer 1 Skyreaping 1 Flamespeaker's Will 1 Setessan Tactics 1 Consign to Dust 1 Opaline Unicorn 1 Interpret the Signs 2 Griptide 1 Mana Confluence 1 Acolyte's Reward 1 Nyxborn Triton 1 Setessan Starbreaker 1 Excoriate 1 Cast into Darkness 1 Font of Fortunes 1 Staunch-Hearted Warrior
The first color that immediately jumped out at me was black. The black had a whopping six removal spells plus combat tricks and while the creatures looked a little weak, I figured that I could just pair it with a color that had good creatures. Unfortunately that plan did not work because no matter what color I paired black with, the deck was short on playables and only had about ten creatures. I don't even remember the last time I opened a pool with that much removal and it was really unfortunate that I couldn't play it.
The red cards were very weak overall so I knew that I could dismiss that color completely. There is only one removal spell and while the creatures are ok, the red cards had no late game, something that is crucial to have in sealed deck.
The white, green, and blue cards were all pretty solid. I felt that the green cards were the strongest in the pool with two Golden Hinds for ramp and solid creatures overall, but green also gave me a bomb in Setessan Tactics. Setessan Tactics is actually unreal. It's so undercosted for what it does and is capable of killing your opponent's board for only four or five mana. One-sided wrath effects are really hard to come by in limited Magic, especially in green, so I knew that I had to play it in my deck.
I played around with a few different builds of the deck and couldn't figure out which deck was best. Both GW and UG looked pretty strong but both had some weaknesses. Here are each of the builds I considered.
Here's the blue/green

1 Setessan Tactics 1 Interpret the Signs 1 Annul 1 Nyxborn Triton 1 Kiora's Follower 1 Temple of Abandon 1 Staunch-Hearted Warrior 1 Wavecrash Triton 2 Golden Hind 1 Sealock Monster 1 Pheres-Band Thunderhoof 2 Griptide 1 Colossal Heroics 1 Horizon Scholar 1 Mortal's Resolve 1 Snake of the Golden Grove 1 Chorus of the Tides 1 Swordwise Centaur 1 Opaline Unicorn 1 Consign to Dust 1 Mnemonic Wall 1 Font of Fortunes 8 Forest 8 Island
This build looked pretty strong overall but the deck had quite a few holes. I usually don't like playing cards like Mnemonic Wall because there will be times where you will not get any value out of it and a five mana 0/4 is pretty terrible by itself. The times where you are able to return something will be pretty good but all of the instants in this deck are easy to play around with the exception of Setessan Tactics. Honestly if you are able to cast a Tactics and then return it with a Wall, I'm not sure how you could lose that game. I was not fortunate enough to do that at the PTQ but it is definitely an insane interaction.
Annul is another unexciting card in this deck. While you may think that it would be great in an enchantment themed block, the fact is that it's really hard to keep a mana up for it. You have to play the game at a turn behind which could cost you in the long run. However Annul is a great sideboard card and can certainly catch people by surprise.
I also wasn't excited about the card draw in this deck. There are two spells, Font of Fortunes and Interpret the Signs that can gain you card advantage. Of course card advantage is good in Sealed, but you will have to waste your turn casting them which can be deadly against a more aggressive deck. The decks in this format are actually pretty fast especially with all of the heroic creatures and Ordeals running around. While I would be happy playing one card draw spell, this build required playing two just because of the lack of better options.
Here's the green/white build:

1 Setessan Tactics 1 Oreskos Swiftclaw 1 Mana Confluence 1 Chronicler of Heroes 1 Excoriate 1 Hopeful Eidolon 1 Temple of Abandon 1 Akroan Skyguard 1 Banishing Light 1 Staunch-Hearted Warrior 1 Stonewise Fortifier 2 Golden Hind 1 Pheres-Band Thunderhoof 2 Harvestguard Alseids 1 Colossal Heroics 1 Dauntless Onslaught 1 Mortal's Resolve 1 Snake of the Golden Grove 1 Swordwise Centaur 1 Opaline Unicorn 1 Chosen by Heliod 1 Consign to Dust 1 Medomai the Ageless 7 Forest 1 Island 7 Plains
The GW deck also looked strong but it was lacking in some areas. First, the deck had no late game. If we don't draw Setessan Tactics, this deck will have a really hard time breaking through. That's the main reason why this build needed to splash the Medomai, the Ageless. Alternatively we could cut the blue splash in favor of a more consistent deck by adding either a second Chosen by Heliod or a Traveling Philosopher, but with the Mana Confluence and Opaline Unicorn, I felt that the blue splash was practically free.
This build is much more aggressive than the UG build. We have lots of two drops and many ways to trigger heroic. Dauntless Onslaught is a fantastic card and capable of winning a game by itself. It's great at providing 2-for-1s, something that GW is often not good at. Hopeful Eidolon is a card that some decks can't even beat. Even if the lifelink creature hits one time, gaining five to six life is huge in limited. I think that Hopeful Eidolon is one of the strongest commons in Theros block.
GW often lacks removal and for that reason I feel it is one of the weakest color combinations in limited, but this deck had Banishing Light, Excoriate, and Setessan Tactics as ways to deal with creatures plus Consign to Dust, a spell that is capable of killing two enchantments at once. Sealed games tend to go long so reaching six or even nine mana is possible. It's no joke when your opponent attacks and you respond by destroying two of their enchantment creatures or an aura, potentially gaining three cards.
After taking the entire 30 minutes of deckbuilding thinking about which deck was better, I decided to register the GW deck for the PTQ. I felt that the UG deck was too slow and most sealed decks in this format are very aggressive and the GW deck gave me the best chance in beating them. In general, sealed is slow but this format has a lot of aggressive draws, specifically one drop into Ordeal. The GW deck also gave me an advantage in any matchup in which my opponent stumbled on mana.
My deck performed great in the first two rounds. I defeated opponents who had slow starts or got stuck on mana. Round three was where things started to get interesting. My opponent led with Satyr Hoplite and then attached an Aspect of Gorgon on it on turn two. I knew that a 3/6 deathtouch creature was very difficult for my deck to deal with but as long as my opponent was attacking me, I knew that I could race him with my aggressive creatures. If my opponent held back, it would buy me enough time to draw into one of my removal spells. Unfortunately the next turn he played an Ordeal of Purphoros and a Flamespeaker's Will (!) on the Hoplite, making it 6/9 and killing one of my guys with the Ordeal. I had two turns to draw an Excoriate or a Banishing Light but I did not and I died.
During sideboarding, I knew there was no way that my deck could ever beat that draw so I decided to sideboard into the UG deck. I knew that double Griptide and Annul would be a problem for my opponent's deck so I figured it was worth a shot. The sideboard plan ended up being amazing. My opponent had the same start as in game one but my turn three Griptide ruined his plans. I even Mnemonic Walled it back to my hand gaining even more tempo. Game three was more of the same, but this time my opponent played a Polis Crusher. I was holding a Setessan Tactics and knew that I could deal with the Crusher if I could get my opponent to tap out to monstrous it. I had to take a few hits from it in order to set up my board, but finally I was able to set up the Tactics blowout. My opponent attacked with his Crusher and I blocked with my Horizon Scholar. Naturally my opponent activated the monstrous during the declare blockers step and I responded with Setessan Tactics on my Scholar, fighting the Polis Crusher with my now 5/5 Scholar and killing off his smaller guys with the rest of my creatures. My opponent's board was gone and I was left with a Horizon Scholar and a few other random dudes and I was able to take game three easily from there.
After that round I questioned whether I built my sealed deck correctly. The UG deck played out really well, but it looked much worse on paper. The next round I was paired against a very good UG deck with lots of heroic creatures, bounce spells and flyers. I had an early start and played a Medomai the Ageless on turn six. I was able to hit with it and get an extra turn, getting him to four life, but then my opponent bestowed a Nimbus Naiad on his next turn. I could no longer attack and we sat there for turns doing absolutely nothing. Finally my opponent drew a few more flyers and started to take over the game, and he killed me with a 16/16 flying Hero of Leina Tower.
That game took about 35 minutes to complete and I knew I had to play really fast in the next two games in order to take the match. I also realized that my GW deck was pretty bad at dealing with things and just was not nearly as powerful as the UG deck. I quickly sided into my UG deck and we played two more fast games with my opponent eventually winning the match on turn three of extra turns.
Sometimes you need to admit your mistakes when you play Magic and this was a time where I had to admit mine. I definitely built my sealed deck wrong. I could have just played all eight rounds with my inferior GW deck because it was easier than unsleeving and resleeving twenty cards, or I could suck it up and board into the better deck every round. The GW deck wasn't terrible and playing it was definitely easier but if I did that I probably would have not made Top 8 of the PTQ. Yes, it was hard to admit that I built my deck wrong whenever someone asked me why I sided in the blue cards but in the end I was more respected for admitting my faults.
For the next three rounds I played game one with my GW build and boarded into the UG build for games two and three. Depending on the matchup, I would also bring in Setessan Starbreaker, Skyreaping, Benthic Giant, Desecration Plague, and Countermand. I even splashed white for Medomai, Banishing Light, and Hopeful Eidolon against a very slow deck.
I won the next two rounds fairly easily after boarding into the UG deck. Round seven was a nailbiter but I ended up winning after a very close game three. My opponent had an insane UG deck with two copies of Fleetfeather Cockatrice. After I dealt with the first one I knew it was only a matter of time before he drew the second. I played a very conservative game knowing that I was dead if he played and end of turn Cockatrice, attacked with it and his Horizon Chimera, and monstroused the Cockatrice (I was at 9). I was holding both Setassan Tactics and Colossal Heroics with the plan of casting both spells with my Wavecrash Triton in play, tapping down two creatures and then killing the rest with the Tactics. The plan worked out because he did end up making that play and I was able to shoot down everything with Tactics and win with the Colossal Heroics the next turn. Luckily for me he decided to tap out to monstrous his guy.
I was able to intentionally draw in round 8 to lock up a spot in the Top 8. I felt that the Top 8 draft went pretty well for me. I first picked an Ajani, Mentor of Heros over a Banishing Light in the first pack (a very close pick in my opinion), saw zero white cards for the rest of the draft and ended up with a pretty good BG deck splashing for the Ajani. Unfortunately I lost in the quarterfinals to a UB Constellation deck with a bunch of Grim Guardians and Claim of Erebos. My Asphyxiate did nothing to stop his creature with a tap ability and my 3/3s weren't able to race his 1/4s.
Gathering Magic covered my draft and my quarterfinal match. The draft can be viewed here and the quarterfinal match here.
Overall I was happy with the draft and how I played and I definitely learned a lot from the PTQ. I had forgotten how fun PTQs are and I plan on playing in more next season. Hopefully I can make it past the quarters next time. Thanks for reading and if you have any criticism on how I built either of my decks or my draft feel free to leave a comment below.
Melissa DeTorahttp://twitter.com/MelissaDeTora on twitterwww.facebook.com/melissa.detora on facebook