In terms of notoriety, it's tough to beat Blue-Eyes White Dragon and Dark Magician. But the two OG boss monsters aren't the only famous cards in Yu-Gi-Oh.
Tyler the Great Warrior was printed as part of Tyler Gressle's participation in The Make-A-Wish Foundation back in 2002. E☆HERO Pit Boss debuted in 2014 as a prize card at the World Championship in Las Vegas, but you can't use it in a duel even if you could get your hands on it. Tongue Twister from Gladiator's Assault only came about as a result of 2006's " Yu-Gi-Oh! Design Your Destiny Card Contest " via a fan's drawing, but it's not exactly a good card to play.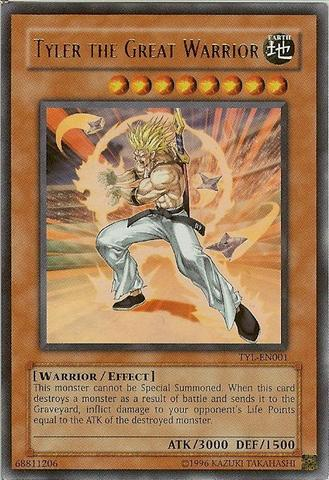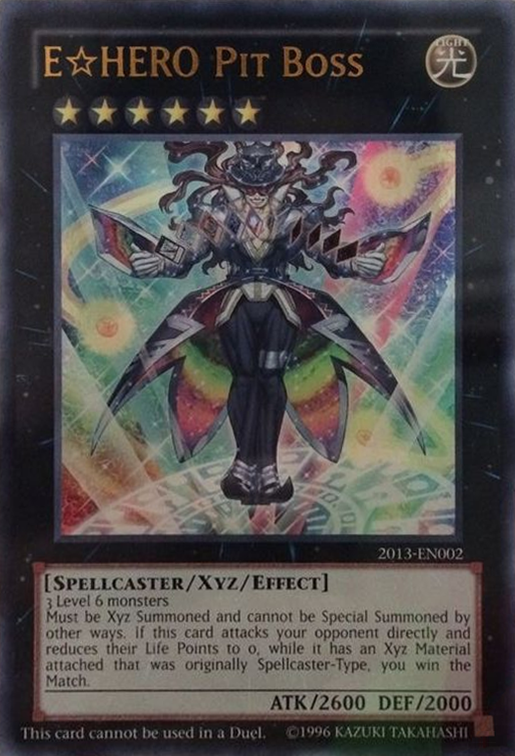 It seems like iconic Yu-Gi-Oh cards fall in two categories - they're either impossible to obtain and irrelevant to use, or exceptionally easy to get your hands on. Unless you're literally omnipotent, or perhaps the world's greatest thief and an all around generally bad person, you're probably not going to be building a Tyler the Great Warrior deck anytime soon. On the flip side of the coin, virtually anyone can make a Dark Magician deck.
Ten Thousand Cards? Not Enough!
I'm all about thought experiments. I love drilling down into ridiculous combos and niche situations that others won't even give the time of day. When Summon Sorceress was legal, I figured out that Palace of the Elemental Lords, an Elementsaber monster, and a Water monster in hand could end in Toadally Awesome after wiping the table with Sky Scourge Norleras. I thought that was pretty cool. I told everyone about it, and I got weird looks from just about everybody… probably because I annoyed them with this after my Top Cut finish at PPG's event in Atlanta that year.
Today's thought experiment isn't outrageous in terms of combos, but it's pretty nuts in terms of wallet size. I don't expect everyone to go out and sell a kidney to get three copies of Ten Thousand Dragon. Right now, a Near Mint copy's going to cost you somewhere around $1500. But what if we all had access to one of the most unique and expensive cards ever?
We'd build decks with it, of course!
Ten Thousand Dragon is the 10,000th individually printed card in the game of Yu-Gi-Oh, and when it was released it came with its very own rarity, called "Ten Thousand Rare." Creating a new rarity for a massive milestone in the game's history is nothing to scoff at. Also, the passcode for this card is 00010000, printed on the bottom… and the monster itself has a card at the base of its artwork.
Needless to say, Ten Thousand Dragon is something special.
Going Back In Time More Than 10,000 Years
Ten Thousand Dragon may not be the easiest monster to summon, but 10,000 ATK isn't what it used to be. Eclipsing someone's total Life Points with the combined power of your board isn't unheard of, but most OTKs historically involve a lot of set-up and pure dedication.
Megamorph and Cyber Twin Dragon, anyone?
The requirements for Ten Thousand Dragon aren't uncommon for powerful decks. If your combo's good enough, then Ten Thousand Dragon barely a step away. Practically an addendum. An asterisk on the end of most combos. And you know what deck can barf out big monsters?
Dinosaurs! I've not reinventing the wheel with this modern powerhouse. You can find dozens of Dinosaur decks that all do different versions of the same thing: ride Ultimate Conductor Tyranno to victory. And there are perfectly valid versions with first turn setups that block your opponent from even thinking about a rebuttal.
I took a step back from modern Dinosaurs to remember life with True King of All Calamities, which meant more emphasis on destruction via Dragonic Diagram and True King Lithosagym, the Disaster. We're not making big Rank 9s here; more destruction means more monsters with more ATK.
The main goal? Ten Thousand Dragon. The backup goal? Dinosaurs eating your opponent's face.
Yu-Gi-Oh! TCG Deck - Ten Thousand Dinosaurs by Loukas Peterson
'Ten Thousand Dinosaurs' - constructed deck list and prices for the Yu-Gi-Oh! Trading Card Game from TCGplayer Infinite!
Created By: Loukas Peterson
Event:
Rank: 0-0
Advanced
Market Price: $5182.88
Cards
I'm not saying to immediately dismiss either the Dinosaur or the Ten Thousand Dragon elements of the deck by creating some middle ground. The Extra Deck looks weird, but keep in mind we're playing with Pot of Prosperity. Some cards will be banished for the greater good and probably never see the light of day.
Crusadia Equimax is one of the deck's biggest standouts, though it's largely just a backup plan if you run into trouble and some of your combos get shut down. Dinosaurs are a brutally explosive deck, but if your opponent stops you from making one of your bigger boards and you're left with a Scrap Raptor that can't use its effect, and a dried up Babycerasaurus, there are still other ways to get those extra ATK points onto the field for Ten Thousand Dragon.
Ultimate Conductor Tyranno easy to summon, and so is Crusadia Equimax. Both support each other with Animadorned Archosaur. Turn Animadorned Archosaur into Linkuriboh and you'll either have the requirements for Double Evolution Pill or a Link Monster for Crusadia Equimax.
Worst case scenario? Accesscode Talker for the win!
Hieratics Featuring More Dragons
I'm biased against Hieratics, but they miraculously have a card that's been heavily abused for all the wrong reasons: Hieratic Seal of the Heavenly Spheres. Guardragon Elpy finally bit the dust and will hopefully stay Forbidden forever, but Hieratic Seal of the Heavenly Spheres essentially fits the same role.
And when I say that, I mean it brings out Omni Dragon Brotaur in a completely different way. Brotaur discards card, targets itself, and bam, free Ten Thousand Dragon. How do you Special Summon it from the deck? You tribute Hieratic Seal of the Heavenly Spheres with either Hieratic Dragon of Su or Hieratic Dragon of Nebthet, of course.
Theoretically, Ten Thousand Dragon the easy part. Hieratics don't automatically barf out 10,000 ATK at the drop of the hat, but they have easy access to something strangely specific, in that they can Special Summon a Level 8 Tuner virtually for free. Why is that important? Phantasmal Lord Ultimitl Bishbaalkin, which can have 11000 ATK all on its own.
Neat, right? Summon Phantasmal Lord Ultimitl Bishbaalkin to the Extra Monster Zone, spam ten tokens, and there's Ten Thousand Dragon!
Yu-Gi-Oh! TCG Deck - Ten Thousand Hieratic Dragons by Loukas Peterson
'Ten Thousand Hieratic Dragons' - constructed deck list and prices for the Yu-Gi-Oh! Trading Card Game from TCGplayer Infinite!
Created By: Loukas Peterson
Event:
Rank: 0-0
Advanced
Market Price: $1523.71
Cards
You could definitely streamline the deck into a vehicle for Phantasmal Lord Ultimitl Bishbaalkin and virtually nothing else, but that almost seemed like cheating. I opted for some Dragunity and Hieratic fun, and after factoring in cards like Chaos Dragon Levianeer, Master Pendulum, the Dracoslayer, and Ultimaya Tzolkin, you'll have a bunch more options.
The Dinosaur build is geared more toward competitive environments. When I'm advocating strongly for Phantasmal Lord Ultimitl Bishbaalkin, you can probably tell the strategy leans a bit more casual. It's more fun to mess around with a bunch of different combos than just a Phantasmal Lord Ultimitl Bishbaalkin turbo.
Well, I guess that depends on the day and who you're playing. The deck's forgiving to that edit if you want to lean into that. But for all the Hieratic enthusiasts, we have one Hieratic Sun Dragon Overlord of Heliopolis, Hieratic Sky Dragon Overlord of Heliopolis, and triplef Hieratic Dragon King of Atum.
Surprise! Thought You'd Seen The Last Of Me
When I advocated for Crusadia Equimax above, I realized it would often be one of the first cards to go with Pot of Prosperity. All in all, you're probably more focused on doing Dinosaur things. That's what you do in a Dinosaur deck, right?
The problem with trying to make a pure Crusadia strategy for Ten Thousand Dragon comes down to some of the most broken Link Monsters of all time. Guardragon Agarpain may seem restrictive, but we saw how easy it was to abuse from the get-go. It wasn't pretty. Crusadia decks were great at pivoting into Dragon Link shenanigans - which they still are - and Guardragon Agarpain and Guardragon Elpy were the perfect setup for Ten Thousand Dragon.
Back to reality without all of the Guardragons: you'll need other things to consistently get to Ten Thousand Dragon. Unfortunately, Omni Dragon Brotaur still one of the best options, and Hieratic Seal of the Heavenly Spheres still one of the more generic ways to search Omni Dragon Brotaur, at least in terms of Extra Deck cards. Once you start connecting the dots with other archetypes that Crusadia mesh with, World Chalice becomes an easy option.
The strategies together aren't much different, really. You'll need to Special Summon alot of monsters for the required 10,000 ATK points.
Yu-Gi-Oh! TCG Deck - Ten Thousand World Chalice by Loukas Peterson
'Ten Thousand World Chalice' - constructed deck list and prices for the Yu-Gi-Oh! Trading Card Game from TCGplayer Infinite!
Created By: Loukas Peterson
Event:
Rank: 0-0
Advanced
Market Price: $1500.13
Cards
The problem with Hieratic Seal of the Heavenly Spheres combo's probably easy to spot: it's tough when you have to struggle to make Dragons. Technically, the easy part of the play isn't as difficult; it's the tributing part. World Legacy - "World Chalice" via the extra Normal Summon from Imduk the World Chalice Dragon is usually your best bet. And Imduk's a Dragon, tying together the Dragon components with the tribute fodder.
Thankfully, World Chalice decks are quite proficient at doing World Chalice combos, so in the absence of Ten Thousand Dragon, both the World Chalice and Crusadia forces can make a scary large Crusadia Equimax.
Ten Thousand Dragon May Be Rare Forever
Calling a card unique isn't anything new, but the circumstances that led to Ten Thousand Dragon first printing were quite specific. Its iconic status doesn't immediately clamor for a quick reprint because the card was intentionally designed to be rare. It's a commemoration of many years of Yu-Gi-Oh history, and we can't take that lightly.
So will we see Ten Thousand Dragon decks popping up some time? If you're lucky enough to have a copy, chances are you won't want to rise having it damaged by actually playing it. I've seen too many water bottles spilled at locals to carry around a card worth more than virtually every deck I've ever played with.
But we can dream, right?
Just remember: beat your opponents before they beat you.