"I knew when I first saw the piece that I would use it for something. It's one of the best tokens I've ever made."
The last time we spoke with Josh Krause, the mind behind Original Magic Art, he was undertaking a huge project: getting high-quality tokens to the masses. Krause identified something that could only be delivered via Magic, and he executed, to the joy of hundreds of players... including Stybs! I was at Stybs' house playing Magic and eating his food when got his loot from the original Kickstarter, and I was immediately jealous. Everything was gorgeous.
Since then, Josh Krause has been keeping plenty busy.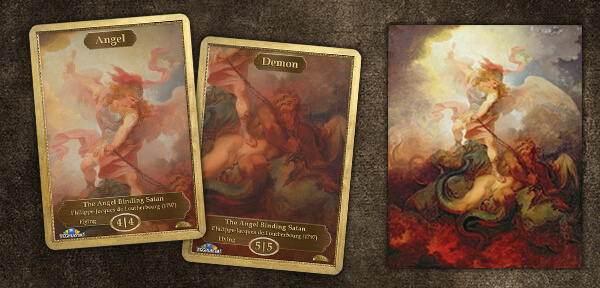 That's actually two sides of the same token, available exclusively through TCGplayer's Prize Wall.
"The only technical challenge in making a double-sided token," Krause began, "is making sure that you send the correct layout to your printer. Creatively, it's much more of a challenge, especially when you are trying to tie the front to the back with the art."
Finding the right art for pieces like TCGplayer's token proved to be a challenge. "Portraits typically only cover a single subject and landscapes rarely have the diversity that would be needed to justify two different tokens. It's rare that a single piece of art can be used to illustrate differing subject matter without sacrificing something in the process."
Once Krause found the piece, however, there was no turning back. "Illustrations of Angels smiting Demons are fairly common throughout art history. Sure, the styles and characters depicted change from artist to artist, but in my search for art for the Classic Art Token project, I ran into many, many variations on the same theme, but none of them hit the mark in the way that Philippe-Jacques de Loutherbourg's piece achieved."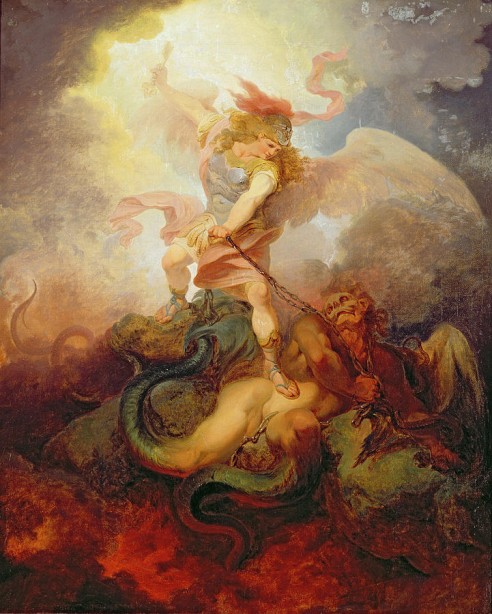 True enough, Loutherbourg's The Angel Binding Satan piece is dynamic and powerful, juxtaposing both figures in shroads of their own essence. Krause acknowledged the rarity of a piece like this, noting that "in most of the images, the Demon/Satan would be shown crushed underfoot by a towering Angel, which makes for an excellent Angel token, but renders the piece completely unusable as a Demon token due to their placement at the bottom of the frame." In The Angel Binding Satan, both figures have room to breathe and are ensconced in their own respective space.
Krause's enthusiasm about the piece was infectious: "I knew when I first saw the piece that I would use it for something. It's one of the best tokens I've ever made for the project."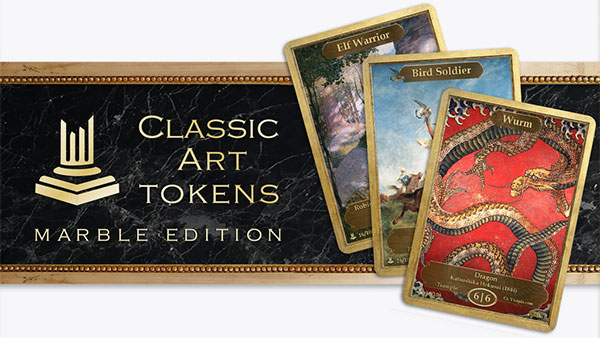 Krause has more double-sided tokens in the works; his latest Kickstarter, dubbed "Marble Edition," will feature more double-sided tokens alongside dice bags, playmats, premium tokens, dice, and more, all featuring the classic art pieces you've come to expect from Original Magic Art. The Marble Edition Kickstarter isn't live yet, but when it does, it's sure to be a hit. I'm partial to the monarchy token and the double-sided Dragons/Khans token designed to be used with the Siege cycle from Fate Reforged.
Despite all of the new business Original Magic Art has gotten him, Krause has been careful to not let his work overwhelm him. On the contrary, it's rekindled his love for the game the captured his imagination on those boy scout trips so long ago. "The Token project and a recent move across the country has motivated me to start playing a bit more Magic after a few years of missing Friday Night Magic. My local store has an active pauper scene and I'm slowly converting them over to my main obsession, Vintage Artist Constructed. I've been drafting Conspiracy: Take the Crown as much as my wallet and playgroup allows. Each game has been better than the last and the draft is usually just as fun as the games themselves."
Keep your eyes peeled for the launch of OMA Tokens: Marble Edition. The Kickstarter begins September 20.
OMA's The Angel Binding Satan double-sided token is available exclusively through TCGplayer Prize Wall events, so the only way you can get them is through redeeming TCGplayer Prize Wall points. If your LGS doesn't run Prize Wall events, show them these tokens. Then offer to clean up the booster packs after a draft. Throw away garbage on the tables. Do what you have to do to get on the good side of the powers that be so you can play in Prize Wall events at your local store!
Also, you should do those things anyway because you're really nice and great. Yeah, you.
Jon Corpora
pronounced Ca-pora
@feb31st