I'll forgive you up front if you've never heard of Dreamhack. After all, it's ostensibly a computer-focused event that originated in Sweden, and Magic is, well, not exactly known for its online prowess. But trust me, you'll want to care about this one, and Dreamhack is a name you should remember.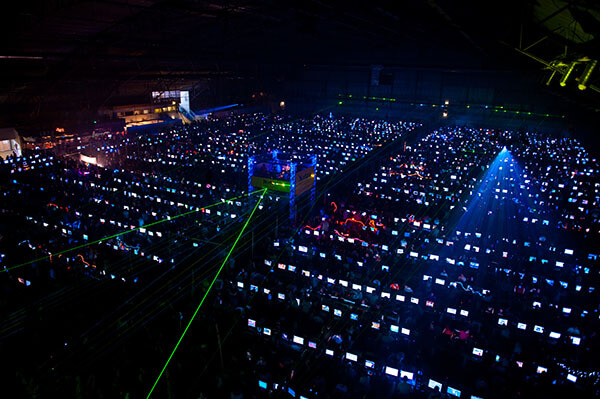 Last weekend I attended Dreamhack Austin, just the second time the event that began with two friends and a local school cafeteria in 1994 has come to America. There were thousands upon thousands of computers set up. Video games as far as the eye could see. CS:GO, Starcraft 2, Super Smash Brothers, Street Fighter, Hearthstone and more lined the convention center as major events were hosted with tens of thousands of dollars on the line. There was live music. A bar giving out free Monster energy drinks and, well, an actual bar sponsored by Budweiser smack dab in the center of the hall. It was a three-day, come-as-you-want digital extravaganza. Dreamhack advertises itself as the largest LAN party in the world, and it's an accurate description. Everywhere you looked there were pros in the biggest esports titles duking it out while being streamed to collectively millions of viewers around the world.
This Dreamhack was a bit different than previous events.
Magic has come to Dreamhack.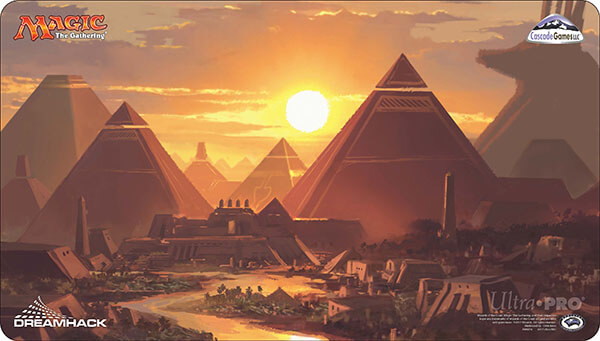 This is a big deal, and today I want to break it down into two sections – the $10,000 tournament itself, and what it means for Magic in the big picture. Let's start with the best news to come out of the weekend.
The Tournament
Hey, that's me in the middle! I may not be as good at Magic as Twitch chat, but I took off my coverage hat for the weekend and actually got to play some Magic. It culminated in a Top 8 berth and some nice cash winnings, not to mention a little bit of validation that I can actually play this game decently from time to time.
This event was a lot different than your typical Magic tournament, and that makes it worth talking about. Cascade Games was the tournament organizer behind the event, and they made a lot of innovations that fit the scene very well.
I'll start by hitting on the high points.
The tournament structure. Rather than your typical swiss-style tournament with a cut after X rounds of play, this three-day event had a much better hook. Nine four-round tournaments on Friday, nine four-round tournaments on Saturday, with all events being some form of Sealed, from Amonkhet to Flashback Block to one of each Masters set) so that anyone at the convention can play. Anyone who goes 4-0 automatically qualifies for the 64-person 10k on Sunday. For those who don't go 4-0, they can still qualify via a points leaderboard. You received one point for entering an event, and three points per match win, zero per loss and one per draw. This meant that even after taking a loss there was still plenty to play for, as the majority of the players who qualified for the 10k did so on points (the line ended up being 21) rather than by going 4-0. Personally, I went 3-1 in one tournament losing to GP finalist Andrew Sullano before winning a 2HG event to qualify.
This structure is, frankly, miles better than the typical GP structure. If you open a bad pool Saturday morning at a Grand Prix, sorry, your chances of winning the tournament are basically out the window. It gives players something to play for all weekend, and if one event goes poorly it's easy to hop into another one and give it another shot. Even if it doesn't work out, you can still work to qualify for Sunday via points, which were continually updated on a big screen so players knew exactly where they stood.
The 64-person 10k on Sunday consisted of eight Amonkhet draft pods. Winners of each pod advanced to the Top 8, where another draft decides a winner. More on this in a bit.
Even the layout of the floor was a step up from a GP. Rather than have endless rows of tables end-to-end, tables were laid out in a hexagon around the feature match area, a raised stage with flashy aesthetics to make it stand out – or at least fit in – in the esports world. The Hearthstone tournament taking place right next to the Magic event, for comparison, had the setup you're used to. It was a mess of cables and laptops and, at a glance from across the room, you wouldn't have guessed it was the esport released 20 years after Magic. The layout also allowed for a much shorter walk to play. With regular breaks between tables, it was easy to cut from Table 1 to Table 80, removing much of the long walk across convention centers. And not be overlooked is how much sleeker this looked in general, which is important in trying to introduce Magic to an event where it seems so foreign.
Prizes were awarded in tickets, which followed the structure you're used to, which Cascade Games actually introduced to Magic nearly three years ago. Owner Tim Shields said then they wanted to "push the boundaries of defines a Grand Prix," and you've seen that vision come to life in years since, as Prize Walls have become the norm across events. At Dreamhack, in addition to Magic, the Prize Wall also included Pokemon cards and paraphernalia, as well as my personal favorite: board games. Every event you entered earned you 20 tickets, and each round won awarded another 20. In addition to buying things in prize tickets, each also doubled as essentially $3 coupons if you wanted to use them for something other than Magic. Between the tickets accumulated from Magic and from a buddy and I winning a ton from the free Pokemon Go competitions (largest Onix, shortest Pikachu, etc. Yes, we're Pokemon nerds), we ended up with a ton of prize tix and walked away with a few bags full of board games. It may not seem like a big deal, but this was actually a super nice touch you won't find at many Grand Prix, and using Magic winnings to take home other things was a highlight.
Now I want to touch on a few ways the tournament could have been improved. While I think the structure of the qualifying system on Friday and Saturday was basically perfect, there are a few things that could improve. For starters, all events on Friday and Saturday were run at Regular Rules Enforcement Level (the 10k on Sunday was Competitive REL). While this makes some sense due to the higher likelihood of irregular or new players showing up, it also means that the pros can sit next to each and help each other build decks. The amount of table talk felt out of place considering the stakes we were playing for – a 10k tournament with 64 participants is absurdly high EV, and there were a ton of grinders there well aware of the value they were chasing. I'm not sure if this is a price worth paying considering you're also trying to appeal to new players, but it's something worth considering for future events.
The 10k itself can definitely be tweaked. For instance, the original prize pool award large amounts of cash to the Top 4, and sizeable amounts of prize tickets to the players who finished 5-8. While the prize tickets are obviously great, they're not the same as cash. The Top 8 agreed beforehand to renegotiate the prize pool so that 5-8th still received $500, which removes the feel-bad and, in my opinion, should be the norm going forward at these events.
Sunday was also basically single-elimination. I drafted a sweet black-green counters deck (with a Gideon of the Trials in my sideboard for value), and managed to win the pod to advance, but had I lost the last round of the draft I may as well have lost the first round. Despite this, players continued to be paired after losing, even though they had nothing to play for. There are a few easy fixes for this, from awarding some amount of prize tickets per win or, ideally in my opinion, setting prize awards for Top 16, Top 32 and Top 64 (which is just qualifying for Sunday). Qualifying for the 10k should award prize tickets that non-qualifiers didn't receive, and Top 32 and then Top 16 (winning your first and second match, respectively), should up those amounts. This is a low-cost way for the tournament organizer to reward players for their performance on Sunday outside of the Top 8 and gives players a reason to continue playing.
Overall, I think this tournament structure has a lot of benefits over the traditional structure, and I would love to see it used at more events.
What It All Means
Now, let's talk esports. In case you didn't know, esports and Magic is something I discuss a lot. Seriously, I'm pretty passionate about it.
I think Magic coming to Dreamhack is a colossal step forward. Yes, the Pro Tour can and should do everything possible to position Magic as a "real" esport. Yes, the Twitch partnership is a big step, and the Team Series is a smart move for the future.
But none of those things do what Cascade Games was able to do at Dreamhack: actually put Magic on the same stage as other esports. I played my Top 8 match of Magic and then walked 100 feet down the aisle to watch Hungrybox win the Super Smash Brothers Melee title. Next door to that was a VR station just in front of a dozen featured streamers who made it to the event, and another 50 feet away CS:GO players competed for a $100,00 prize pool.
That's legitimacy right there. We spend so much time debating whether or not Magic can ever be a "real" esport I feel that people oftentimes miss the obvious: it really doesn't matter. If Magic can go to Dreamhack and not feel out of place alongside those other games that are all played with different accessories, whether or not we're using cardboard or digital objects doesn't matter much. Magic wasn't just at Dreamhack, it was a part of Dreamhack, and it didn't feel out of place to me or the dozens of players there for other games who wandered over and enjoyed the game.
Let's talk about one of the major challenges Magic faces: being as "exciting" as other esports. After all, we don't have flashy graphics or high-intensity moments on the scale of other games, and while there is only so much that can be done about that, again I think this event made some strides. Think about the tournament structure itself – from a coverage perspective should video be brought to these in the future, from Round 4 on every single round has something tangible and valuable on the line – a spot in the 10k. That's a lot more exciting than watching Round 5 of a Grand Prix to find out if a player can go to 5-0, which may or may not actually mean anything in the big picture. If events expand to Constructed as well, the fact there are multiple events means coverage can swap around at will, with every match standing out as meaningful. Standard boring? Don't worry, there's a Modern event next and HERE'S THE FINAL! The leaderboard also makes for a compelling story throughout the weekend, as it slowly fills in and the Top 64 is set and players fight for those last few spots.
The physical layout of the tournament also adds an air of legitimacy. After all, this is what we're trying to compete with.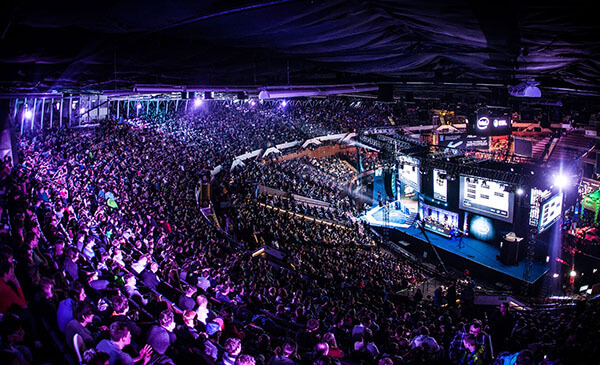 Again, that's not something Magic can ever really top, but the decked-out, raised stage in the middle of the floor with a giant screen or two above it showcasing the board and the players is a nice start. This sort of presentation goes a lot way toward making something compelling, and this makes the basic reality of two people sitting across from each other at a table look a lot more appealing.
Is this the secret sauce that finally allows Magic to join the ranks of the biggest esport titles and convince organizations like Cloud 9 or Team Solo Mid to fill out a Magic roster? Probably not. But it is undeniably a major step forward, and seeing Magic standing next to the giants of the esports world at Dreamhack Austin makes that dream seem closer than it ever has.
The next Dreamhack event is July 21-23 in Atlanta, with Denver coming in October. I can't wait to see where we go from here.
Thanks for reading,
Corbin Hosler
@Chosler88