The inspiration for the deck I started playing last week came from (you guessed it) watching coverage of Pro Tour Khans of Tarkir; seeing Brimaz, King of Oreskos slide under Disdainful Stroke was really inspiring. Hordeling Outburst was a cool find and Goblin Rabblemaster is of course Goblin Rabblemaster, but the resilience against Bile Blight (given our status quo of no Doom Blades) seemed really powerful to me. Brimaz gets a lot of damage in early and therefore sets the opponent up but good for the old Fireball flurry.
DECKID=1218791
A week or two ago I felt sooooo smart playing BG Devotion to win a Standard Grand Prix Trial; but mitigated in the knowledge that the Pro Tour was going to mix up the format. One of the main things that is cool about this Boros deck is that it has an overwhelming advantage against green devotion decks. They aren't well set up to fight your Planeswalkers and you have tons of point removal for their fatties. Of course their draws are often predicated on playing 100 small accelerators, which is great for an Anger of the Gods deck, and there is nothing standing in the way of End Hostilities after sideboarding.
Jeskai (Jeskai Wins?) was one of the big, super successful, decks of the Pro Tour, and this RW has a great matchup there, too. Basically they are the beatdown (with Dig Through Time) and you are the control (but with a large number of beatdown comparable threats). Generally you are ahead on exchanges + they take enough damage from their lands that it matters in the face of your 12+ burn spells.
The cards themselves follow a similar paradigm to Naya Lightsaber and its descendant decks (like Patrick Chapin's Junk PT winner); I tried to just pick the best cards -- in particular threats -- at every casting cost and jam them in. That is how I ended up four copies of Stoke the Flames. There are a decent number of token producers here (even if some of them are white). Plus, the slight vigilance sub-theme here is highly synergistic with convoke. The rest of the threats are fairly self-explanatory. If you can gum up the battlefield, Sarkhan, the Dragonspeaker gets awesome because he levels up to Ultimate so quickly. Sarkhan is best buddies (aka. super best friends) with the removal, vigilance, and creature-hostile plus-abilities on his fellow Planeswalkers.
I don't do this - at least I don't do this often (slash, when I don't have a particular tournament coming up) - but I went and bought everything in this deck that I didn't already have (which, it turns out, was quite a few chase rares and mythics). See?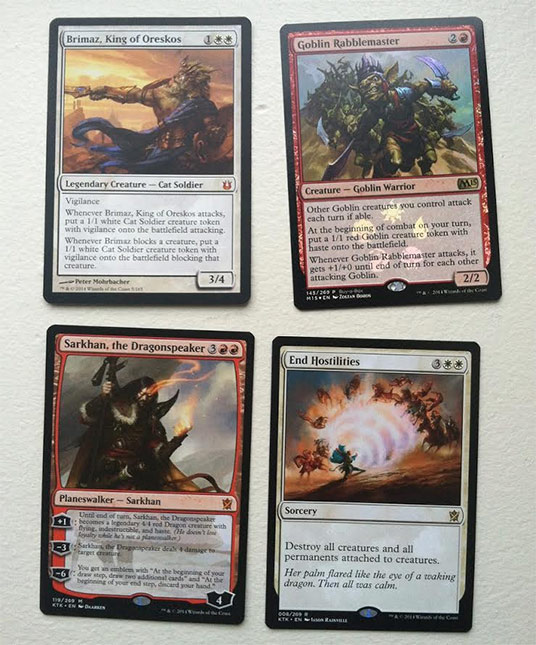 In addition to being less expensive than the typical Goblin Rabblemaster (on TCGplayer, when I ordered them), the alternate art foil version has the additional advantage of being non-familiar. I own this card and I can barely recognize it! Huge contrast to players who (I assume) have trained themselves to quake in fear of, and really respect, regular-old Goblin Rabblemaster as soon as it hits the battlefield. Might get a freebie or three out of it.
...all of which brings us to this week's Make the Play Monday.
It's turn two.
We drew up:
Brimaz, King of OreskosChandra, PyromasterStoke the FlamesTemple of TriumphPlainsMountainMountain
The opponent opened on six...with a Tranquil Cove. Tranquil Cove? What's up with that?
We topdecked a Lightning Strike and played our Temple of Triumph, revealing another Lightning Strike.
Assuming the opponent was a control deck of some kind, we pushed Lightning Strike #2 and passed turn one.
The opponent paired his Tranquil Cove with a Temple of Triumph of his own. Hmmm...what's going on here?
We picked up a Mountain, leaving us with:
Temple of Triumph in play.
A hand of:
Lightning StrikeBrimaz, King of OreskosChandra, PyromasterStoke the FlamesPlainsMountainMountainMountain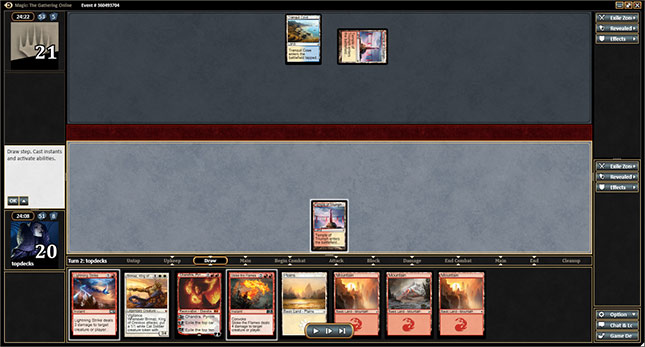 Play your second turn.
Write your play ("play your second turn," per the previous sentence) in the comments below.
Why?
Make the Play Monday presents one or more game scenarios per week; these scenarios are meant to pose spots that either come up in real games to help all of us make better decisions when they occur in real life. Our belief is that Magic: The Gathering -- at least competitive Magic: The Gathering -- is a series of decisions, and by refining our decision making, we can improve chances of maximizing our likelihood to win.
Sound fun?
Every Friday, we go over the possible plays, each time looping in a Celebrity Guest to share his opinion next to mine.
Finally, one lucky responder who agrees with Yours Truly wins a $25 TCGplayer.com gift certificate, and one who agrees with the Celebrity Guest does too.
Ready to win more, and pocket prizes along the way?
Write your play ("play your second turn") in the comments below!
LOVEMIKE