It's really hard to convey how big of a deal Toon Chaos is becoming.
With a ton of cards that appeal to both tournament players and casuals, TOCH has a kind of cross-spectrum appeal we usually only see once or twice a year. Collector's Rares were a surprise hit, lending massive value to the release and generating huge excitement. And there are some fantastic reprints. At the same time the set sold out instantly at the distributor level, and with some factory sealed boxes said to have packs with damaged cards, there are rumors that much of the 1st Edition print run was scrapped for quality assurance, creating an artificial scarcity.
Those factors, intentional and unintentional have created a fervor for Toon Chaos. Sealed product is getting bought out locally, investors are starting to hoard boxes, and many of the Collector's Rares are in a state of flux. The last week's been a wild ride in the secondary market with lots of speculation from profiteers and collectors, as well as just huge demand from competitives, casuals and nostalgia duelists.
The result was explosive sales for Toon Chaos this week, sweeping Eternity Code almost entirely off the map; while Parallel eXceed once again made the Top 10, you have to look all the way to Accesscode Talker at Number 23 on the sales charts to find another card from ETCO.
At the same time, we saw news yesterday that appears to establish a reprint of Toon Chaos in an Unlimited edition in Europe, releasing in August. If that's true – and it probably is – then we can expect to see the same in the Americas. What impact that could have on the secondary market as word gets out is anybody's guess.
For now, let's take a look at the Top 10 best-selling cards of the week.
#10 - Immortal Phoenix Gearfried
One of the big things you'll notice about Market Watch this week is the sheer number of high value cards in the Top 10, starting with Immortal Phoenix Gearfried. Debuting at 30 dollars on launch day, it's now down to about 25 dollars, which isn't much of a decline; it's pretty amazing to see demand so high for a card this expensive. The latest version of Gearfried's a pretty flexible card: Kelly wrote on it earlier this week, and he'll be back in a few days to show you some full deck lists that take advantage of it.
Of note: the Collector's Rare version of Immortal Phoenix Gearfried (CR) started at $150, and is now down to $140. Again, the value of both versions of this card hasn't slipped much, as there's a lot of player interest.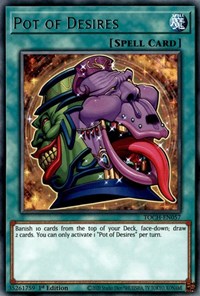 #9 - Pot of Desires
It may not surprise you to learn that the newest printing of Pot of Desires in Toon Chaos was one of the most speculated cards of the release, with daily average buy quantities often in the double digits. That's pretty stunning, because we know lots of players are buying them just to play them, picking up three or fewer copies. So when there's an average buy of twelve, fifteen, or 20 copies, that means some people are buying a lot more than that those already-impressive numbers.
Meanwhile the Collector's Rare Pot of Desires (CR) is taking a bit of a beating, coming onto the scene at $150 and now under $120. The long term arc for these 1st Edition printings is a bit of a mystery; they could easily rebound as players realize the sheer scarcity of the 1st Eds. At the same time, the promise of more Toon Chaos in what could be a far bigger print run may have a negative impact on Collector's Rares at this level; since we've never had a release like this one, with a variant rarity of this type, it's impossible to guess with any real authority.
#8 - Toon Harpie Lady
Toon Harpie Lady was also speculated on, and it's easy to understand why: there's collector and investor interest, it's a Toon and a Harpie, and at this point we're all sort of expecting a waifu tax on cards like this one. It also happens to be a pretty great card for its theme, and at a buy-in of less than a buck a piece it's an easy pick for curious players and investors alike.
The Collector's Rare version is one of the examples of rising value, with Toon Harpie Lady (CR) now $100 a pop, up from a starting price of $85 a week ago.
#7 - Toon Page-Flip
Back on the pricier side of things, Toon Page-Flip's another example of a steady Ultra Rare that's maintained considerable value: it's been a reliable seventeen to eighteen dollars since the set's official launch, as an obviously viable card for Toons with an equally obvious appeal to collectors and nostalgics. That said, Toon Page-Flip (CR) has tumbled big time, starting at $115 on launch day and dropping to a current price of $90 as of this writing.
#6 - Toon Bookmark
Toon Bookmark's a similar card with a similar trajectory: it released at about $19 on launch day, briefly dropped to almost $15, and it's now back up to about $18. Steady demand from a number of different types of buyers has kept the price of the Ultra Rare strong, though like Toon Page-Flip, its Collectors Rare variant's lost notable value: Toon Bookmark (CR) is down twenty dollars, from $100 to a current value of $80.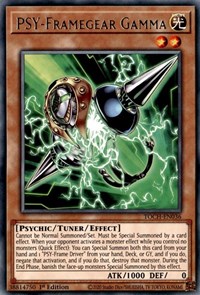 #5 - PSY-Framegear Gamma
The market history of PSY-Framegear Gamma's pretty interesting. This graph shows the average price and the number of sales day-to-day over the last two months.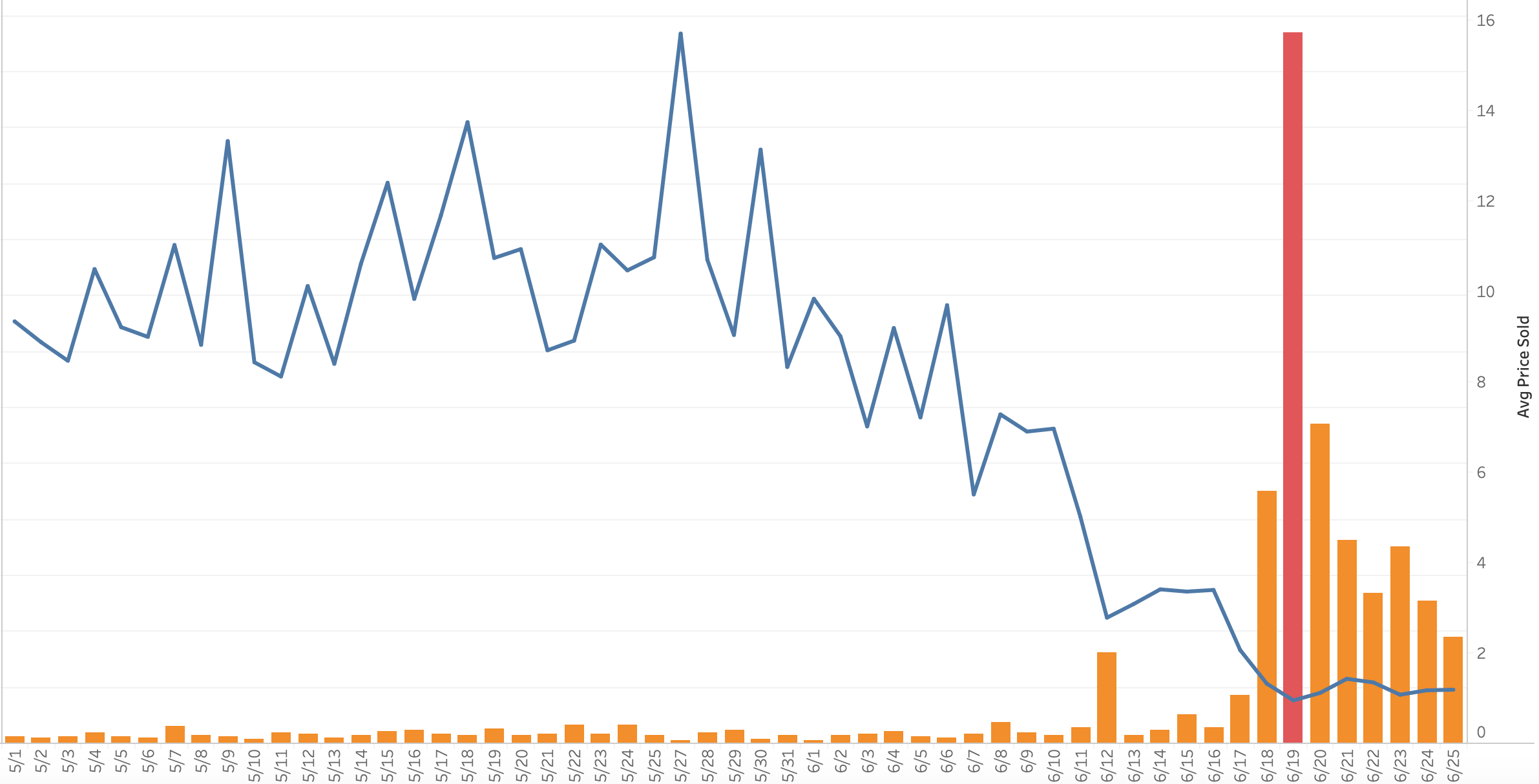 Going back even further, PSY-Framegear Gamma's been bouncing between 8 and 15 dollars since mid-February. Only appearing in High-Speed Riders and Extreme Force, it was often difficult to find and that created erratic supply. Once players started reacting to the reprint news around the 10th its price started to drop and you can see it reach an all-time low on June 19th, when Toon Chaos officially arrived. It's now barely over a dollar.
The Collector's Rare version has seen one of the wildest slides of the entire set. PSY-Framegear Gamma (CR) started off as one of the biggest Collector's Rares in the release with an initial price of $250. Now it's dropped to about $155, a massive decline.
#4 - Parallel eXceed
Parallel eXceed was heavily speculated over the last wo weeks, with an average buy quantity of 5 to 6 copies per order. In fact, there hasn't been a day since Eternity Code dropped where Parallel eXceed wasn't in the range of speculation. Sure, tons of players are buying copies to play, but average orders are consistently above 3 copies, up to as many as 7; that's crazy when you consider how the numbers are stretched across thousands of individual buyers.
Despite the sustained demand, Parallel eXceed's still right where it was when it debuted, averaging 40 cents a pop. For investors this one's definitely more of a long game than anything else, and any potential profit will hinge on a breakthrough from a deck like Salamangreats once tournaments return.
#3 - Toon Black Luster Soldier
On one hand, it's a bit surprising to see such a valuable card in the Number 3 spot, outselling something like Parallel eXceed. Toon Black Luster Soldier was 20 dollars at launch, a few days later it was up to 22, and while it's been as low as $16.50 it's back up to $18.50 as of this writing. That's a pricy card to be moving this many copies.
On the other hand Toon Black Luster Soldier's a believably competitive card as far as Toons go. It's a new spin on one of the most beloved monsters in Yu-Gi-Oh history, and it taps into that casual and nostalgic Toon fandom more than anything else in the set. It's spurred a lot of excitement ever since it was revealed and it's a worthy pack front monster for Toon Chaos; it's the literal poster boy for everything the set represents.
There's no speculation here, either; Toon Black Luster Soldier's all legitimate demand with the average order being about 1.7 copies, and it's not showing many signs of slowing down. The popularity of the Ultra Rare is echoed by the Collector's Rare, too: Toon Black Luster Soldier (CR) exploded onto the scene at a whopping 180 dollars, but the last two days saw it spike into the 220 dollar range. Years from now it's going to be looked at as an iconic card, so barring a truly massive impact from that re-release in August I think the Collector's Rare is just going to keep gaining value.
#2 - Chaos Valkyria
Up from Number 7 last week, Chaos Valkyria's fast becoming a hot prospect, an extremely flexible, ridiculously easy combo card that extends plays, loads your graveyard and offers incredible access to your Extra Deck. As a cheap Super Rare it was speculated on for days after the release of Toon Chaos and its price has yet to go up, still hovering under a dollar.
The Collector's Rare version seems insanely undervalued as one of the cheapest CR's in the set: you can score a Chaos Valkyria (CR) for about 75 dollars right now, though I don't think that's going to last much longer. This is an intensely competitive card and the Collector's Rare price could jump to reflect that.
#1 - Chaos Space
And finally, Chaos Space made the leap from the Number 2 spot last week to Number 1. Chaos Space was embraced by competitive players immediately when it was revealed, particularly combo fans, and it was speculated fairly heavily in the first three days of the release. That's really significant for a 6-dollar card; people are placing big bets on this and the strategies that use it, like Dragon Link. The Collector's Rare variant is another example of a CR gaining significant value over the last week, too: Chaos Space (CR) was available early on for $125, but now it's $155 and climbing.
Looking past the Top 10, Micro Coder almost beat out Immortal Phoenix Gearfried, falling short by just a few copies. Infernoble Knight Renaud and The Chaos Creator were both remarkable hits at Number 12 and Number 13, at average prices of $28 and $19 respectively. Finally two of the sets best Rares came in at Numbers 14 and 15, with Chaos Emperor Dragon - Envoy of the End and Masked HERO Acid finishing out the Top 15.
We'll have articles from Hanko Chow and Loukas Peterson for you this weekend, but in the meantime don't forget to follow us on the official Yu-Gi-Oh! Infinite Facebook Page and Twitter. As always, thanks for reading and have a great weekend!
-Jason Grabher-Meyer