With Phantom Rage dropping next Friday, secondary market trends this week were heavily guided by future releases!
We started looking at some of the biggest cards from Phantom Rage this week, and the set's biggest hits are already shaping demand in big ways. Meanwhile many buyers were looking even further ahead, snapping up cards that might be more expensive by the time Genesis Impact rolls around in December.
With some interesting results from online tournaments plus continued demand for some of the biggest staples from the 2020 Tin and Toon Chaos, trends in the marketplace this week were one part current competition, and one part future speculation.
So let's get into it. Here are the Top 10 best-selling cards on TCGplayer this week!
#10 Zoodiac Chakanine
The advent of Divine Arsenal AA-ZEUS - Sky Thunder is upon us, and as Kelly detailed in his article this week, that could mean big things for Zoodiacs. The Zoodiac engine's really good at not just Xyz Summoning, but stacking up Xyz Materials with little effort, so it really helps you get the maximum impact out of Divine Arsenal AA-ZEUS - Sky Thunder effect.
We've seen Zoodiac pop up in tournaments now and again over the past couple of years, and the tyranny of Zoo at its best is still fresh in the minds of many competitors. Zoodiac Chakanine saw massive demand this week, climbing to $18 at present, and it wasn't alone: Zoodiac Thoroughblade fell just short of the Top 10 at #11, jumping from $5 to $12 in under a week.
#9 Chaos Space
Chaos Space dipped to almost $3 this week, but it's back up to the $4 mark where it started off a few days ago. At this point there isn't much to say about Chaos Space in this format: it's a staple of Dragon Link, which is a staple of competitive play in the current era. That's fueled demand, and with the reprint of Toon Chaos creating ample supply the price has remained reasonable.
#8 Borreload Savage Dragon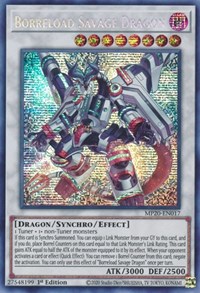 Ten days ago, the 2020 Tin reprint of Borreload Savage Dragon was 11 dollars. This week, a brief dip to about $8.25 reignited demand, spiking sales and sending Borreload Savage Dragon north of the $10 mark once again. As much as it's a huge part of numerous controlling board set-ups, Borreload Savage Dragon just doesn't seem like a priority for the next F&L List, and that safe appearance combined with its staple status now makes it a perpetually popular pick.
#7 Tornado Dragon
Tornado Dragon
Results from the seventh Luxury Championship online tournament went up Wednesday, and Tornado Dragon was a huge pick for Dinosaur players. The tournament was a 3v3 affair, and we saw Ryan Yu take Tornado Dragon to a Top 8 finish, Christian Thomas play it to 2nd Place, and all three members of the winning team ran it in their near identical Dino builds, 1st Pllace finisher Cormac Adams, Gabriel Netz, and Hashim Mustafa.
Combined with Divine Arsenal AA-ZEUS - Sky Thunder sparking more interest in Xyz across the board, the result was big interest in this once-mighty Rank 4.
#6 Ancient Chant
Ancient Chant a must-run for any The Winged Dragon of Ra deck, and as its price continues to slip more buyers are coming out of the woodwoork
In the past ten days it's lost $4 of value, landing at about $13.50 as of this writing; that brings it into the reach of many players who were holding off on giving the casual Ra deck a shot, and that meant a surge of demand.
#5 Preparation of Rites
Draitron are getting some hype lately as Genesis Impact looms in the distance, and while the core Draitron Rituals are too big for Preparation of Rites, builds are going around using the Main Deck Draitron monsters to support stuff like Herald of Perfection and Nekroz. Preparation of Rites is appearing as a three-of in those decks, and it looks like that was enough to get Preparation of Rites to #5.
#4 Red-Eyes Dark Dragoon
Red-Eyes Dark Dragoon is outstanding support for Dark Magician and Red-Eyes Black Dragon, and its strong sales are proof that people really love those old school decks. Once the pandemic's over and Regionals are back, I expect to see Dark Magician decks all over the place, making Top Cuts and dominating competitive metagames.
Haha, yeah, that's not true. Nobody's playing those decks. I just wanted to see what it would feel like to not write the exact same stuff about Red-Eyes Dark Dragoon every week.
In all seriousness this thing's still 35 bucks and people are still running it anywhere they can fit Predaplant Verte Anaconda. It seems doubtful that a December or January F&L List would kick any legs out from under it, just because it's so new, and as a result that $35 price point has looked pretty secure to the players who didn't snag their Red-Eyes Dark Dragoon the moment the 2020 Tins dropped.
#3 Apollousa, Bow of the Goddess
Apollousa, Bow of the Goddess is another huge, competitive card played in any deck that can support it. I'm eager to see it performs once Maximum Gold arrives with the new variant art version; the new Gold Rares actually look pretty good, and I've seen lots of players saying they prefer the new Apollousa, Bow of the Goddess artwork over the old one. We might see even more demand for Apollousa, Bow of the Goddess in a couple of weeks.
#2 Dimension Shifter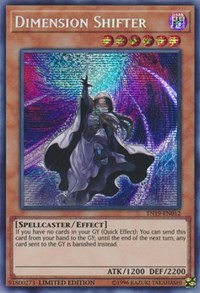 Remember Snake Rain fever from last week? If you missed it, a bunch of hopeful speculators bought up huge quantities of Snake Rain because there was a rumor Myutants were Reptiles. Snake Rain briefly spiked to $12 under pressure of buyouts, and once it was revealed that none of the Myutants fit the bill, it collapsed to 5 or 6 bucks. Now it's sitting at 4 dollars and will likely continue to fall.
BUT, that didn't stop the hype train! Since Myutants treat the banished zone as a resource to power useful effects, player interest in Macro Cosmos, Dimensional Fissure, and more than anything Dimension Shifter spiked like crazy. Dimension Shifter still really cheap right now – you can find them for about $1.50 shipped – but that's only because of ample supply. The sheer volume sold this week demonstrates huge player interest in the strategy.
With Dimension Shifter fellow 2019 Tin promos Dark Ruler No More and Nibiru, the Primal Being both commonly costing $10 dollars or more, lots of people jumped at the chance this week to get ahead of a possible price spike, landing Dimension Shifter at #2 for the week.
#1 PSY-Framegear Gamma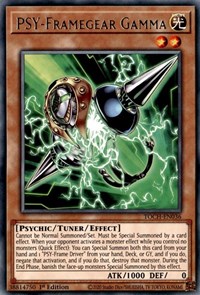 And finally, there are still thousands of players who never got their playsets of PSY-Framegear Gamma, and they're snapping up those Toon Chaos copies like hotcakes. PSY-Framegear Gamma remains accessible at about $2 a pop, and PSY-Frame Driver sold strongly as well, coming in at #14 for the week.
That's it for this week, but in seven days we'll have a definitive look at the hottest cards from Phantom Rage presales! We'll see you then.
-Jason Grabher-Meyer