The latest Structure Deck launches today, as Structure Deck: Spirit Charmers finally reaches its global TCG release!
With the full set list from Spirit Charmers confirmed weeks ago, the presale period here on TCGplayer was really long. That, combined with the more casual nature of the release, means nothing made the Top 10 from the new Structure this week. Instead, we saw a continuation of the huge demand for Maximum Gold cards, and a big response to the recent online play of Virtual World.
On the Maximum Gold side, the hubbub surrounding misprinted Premium Gold Rares seems to have driven even more interest in the set, leading nostalgic duel-fans who lapse in and out of the game to take note. We're also seeing more investor action on Maximum Gold than expected, investors who may not have been aware of the release had it not been for those misprints.
Trading Card Games are HUGE right now after the recent explosion of interest in Pokemon as a mode of real financial investment, a powder keg sparked by the recent publicity surrounding YouTuber Logan Paul and his involvement with the game. With Premium Gold Rare versions of recognizable, old school cards topping the charts from Maximum Gold, we could be seeing that collector craze starting to make inroads into Yu-Gi-Oh.
And it all starts with our first card on the list today, the single biggest money pull from Maximum Gold so far.
#10 Blue-Eyes White Dragon
With collector's markets in the TCG world growing so quickly, a lot of buyers are looking to pick up premium printings of classic, mainstream-recognizable cards. That's translated to big interest in some of the old school reprints in Maximum Gold, especially Blue-Eyes White Dragon, which is beating out Eldlich the Golden Lord and Infinite Impermanence as the most expensive card in the set. Demand here was huge, and it was surprising for a card that's now more than $25.
#9 Eldlich the Golden Lord
That said, Eldlich the Golden Lord is no slouch, narrowly outselling Blue-Eyes at a price of 12 to 13 dollars a copy. That's a massive price drop from the Secret Slayers original, which was over $100 at its peak. The Maximum Gold reprint is bringing Eldlich to the masses, and everybody's got their eye on that upcoming Fusion Monster in Blazing Vortex next year.
#8 Virtual World Mai-Hime - Lulu
The only card to make the Top 10 this week not from Maximum Gold, Virtual World Mai-Hime - Lulu jumped from the single digit price range to $20 and counting after the Virtual World deck scored a huge showing at Luxury Championship 8. Aside from Virtual World Mai-Hime - Lulu and Virtual World Kyubi - Shenshen the Virtual World theme is dirt cheap, so even with a $20 Ultra Rare in the mix the deck's deceptively approachable.
#7 Droll & Lock Bird (Alternate Art)
Droll & Lock Bird (Alternate Art)
Down from Number 2 last week, the new Droll & Lock Bird (Alternte Art) from Maximum Gold is almost the same price as its common equivalents from Starstrike Blast and Order of the Spellcasters. It's still a must-own hand trap that rotates in and out of competitive play, so for anyone who didn't want to drop five bucks apiece on scrappy looking non-foils, this is a huge opportunity to finally get better looking copies. The market responded accordingly.
#6 Infinite Impermanence
I think the Maximum Gold Infinite Impermanence worked out about the way we all expected, settling around the $20 mark in the set's first week of release. But with so much demand, and so many players buying up Maximum Gold in hope of finding misprints, it's difficult to say where this card is going. Right now it's price walled at about 22 dollars by multiple vendors with a lot of stock, but I feel like that may not last.
Demand for sealed Maximum Gold is outpacing availability in a lot of places, and that could create some weird situations down the line. Note that Infinite Impermanence was nowhere near the Top 10 last week coming out of presales, but now the demand is massive.
#5 Nibiru, the Primal Being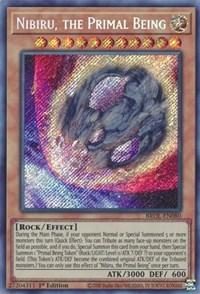 Also nowhere in spitting distance of the Top 10 last week, Nibiru, the Primal Being flew up the charts at a price that's roughly half of what the card once commanded. Nibiru, the Primal Being been played almost perpetually since it was released, but it's especially hyped right now as one of several answers to Virtual World. While the deck can play around it, new pilots are sloppy and working around Nibiru, the Primal Being isn't always easy, making it an even better pick in competitive circles at this moment.
#4 Red-Eyes Black Dragon
With the old school cachet of Blue-Eyes White Dragon at a quarter of the price, the newest printing of Red-Eyes Black Dragon is being seen as investment material, a nostalgia trip, an upgrade for Red-Eyes Dark Dragoon players, and a mainstream-recognizable hit. It's a beautiful looking card, and with so much going for it at an accessible price, it's a surprise-that's-not-really-that-surprising to see it at Number 4.
#3 Borrelsword Dragon (Alternate Art)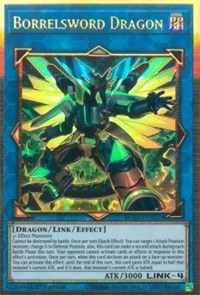 Borrelsword Dragon (Alternate Art) might not be everything it once was in the era of Sky Strikers, but it's still a game-winning Link 4, and even the Ultra Rare from the 2019 Tin was 12 bucks. But now, a Premium Gold Rare version with new art? For 3 dollars? It's easy to see why this is a hit, especially for players and collectors who just can't get their hands on sealed Maximum Gold.
#2 Harpie's Feather Duster
I'm actually pretty confused that Harpie's Feather Duster didn't make the Top 10 in presales. The Premium Gold Rare is by far the cheapest version around, so for those duelists who didn't grab their copies in the flurry of action back in September, when Harpie's Feather Duster came off the banlist, this is the perfect time to get a fresh, minty copy that looks great. This card's a must-own anytime it's legal, and the fact that it got the Premium Gold Rare treatment in its best artwork is stellar.
Yeah, I said it. It's the best artwork. I'll take that slick magenta aesthetic over Dirty Floppy Dish Rag Duster any day of the week.
#1 Apollousa, Bow of the Goddess (Alternate Art)
Apollousa, Bow of the Goddess was the Number 1 card before Maximum Gold, thanks to the 2020 Tin of Lost Memories reprint. Now, after Maximum Gold, it's still the best-selling card on TCGplayer, albeit in its Apollousa, Bow of the Goddess (Alternate Art) variant. This is still the go-to Link 4 to secure big field set-ups, but it's just stunning that an Extra Deck card you'd never play more than one copy of continues to sell like this.
Apollousa's not the best-selling card of 2020 so far; the reprints hit late in the year, so it's still outpaced by stuff like Crystron Halqifibrax and the current champion, Union Carrier. But 2020's not over yet, and this card is creeping up the charts week to week. (Don't worry, we'll do a big year-end roundup in the end of December.)
Which cards almost made the Top 10? The Premium Gold Rares of Solemn Judgment and Stardust Charge Warrior came in at Number 11 and Number 12, both the most affordable printings of each card to date. Dark Magician is riding the same mainstream investment interest as Blue-Eyes White Dragon and Red-Eyes Black Dragon, coming in at Number 13. The Premium Gold Rare Miscellaneousaurus fell from Number 5 last week to Number 14, and the Premium Polymerization came in at Number 15.
That's it for me, but check out Johnny Li's look at the new KDE Tournament Policy changes in his article today, and stay tuned for more articles over the weekend.
-Jason Grabher-Meyer