The new Dragons of Legend: The Complete Series officially launches today, but it'll be a few more days before we see what kind of impact it has on the secondary market.
Instead, two surprise hits made waves on the TCGplayer Marketplace: The latest promo card from the Lost Art Promotion, and the OCG preview of the new Evil★Twins theme from Genesis Impact! Combined with the continued demand for competitive cards from the 2020 Tin of Lost Memories, they shaped our Top 10 best seller list this week.
Let's get right into it, starting with a new classic that's been waiting in the wings for over a decade.
#10 Dark Magician Girl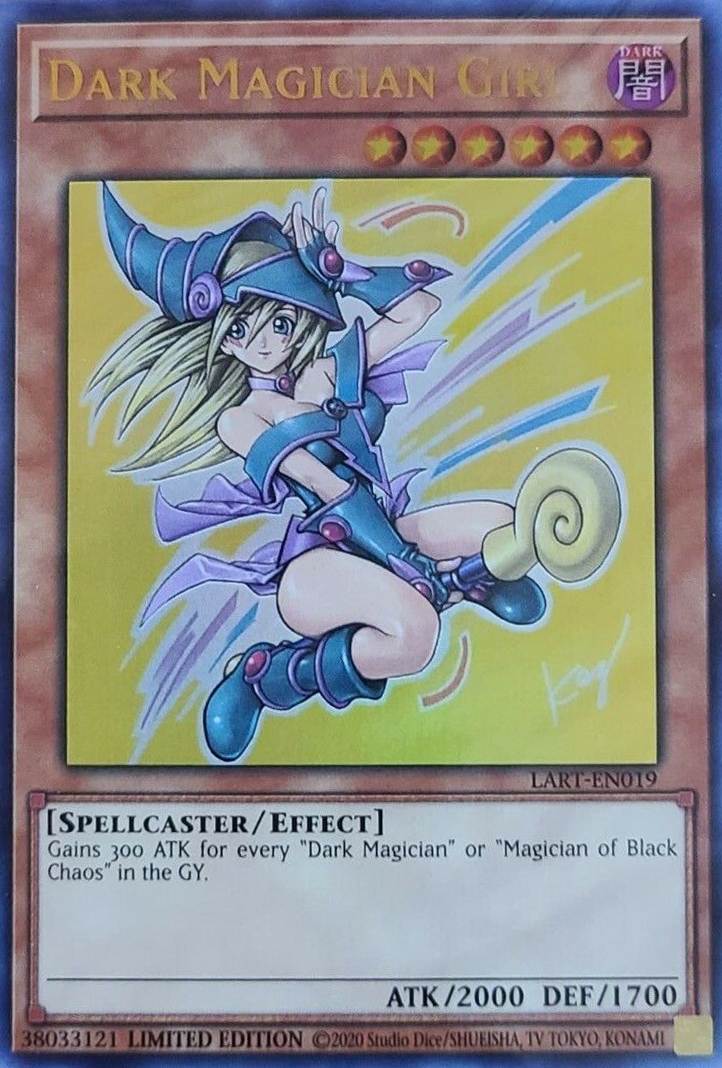 The Lost Art promo variant of Dark Magician Girl hit like a freight train when it arrived at OTS shops a week and a half ago. It's been almost twelve years since the 2008 release of the Anniversary Pack where this card debuted in the OCG, featuring 9 cards with new art by Yu-Gi-Oh's creator Kazuki Takahashi. But that pack had 8 cards in the TCG version; the Dark Magician Girl didn't make the cut in our version of the pack, and now that it's finally here collectors responded in a big way.
Debuting at a price of $38, DMG swiftly spiked to $58 and then climbed to where it is now, with an average sold price of $75. With such scarce supply and such an iconic version of the character, the rise in value is definitely not finished.
#9 Mystic Mine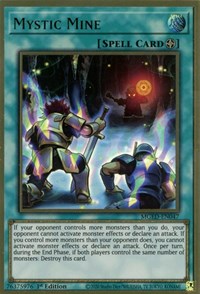 Mystic Mine might be the most hated card in the game today, a solid challenger to rival Crystron Halqifibrax for the title. It lost more than half its value off the 2020 Tin of Lost Memories reprint, dropping to $3 and making it an instant buy for countless competitors who hadn't picked it up before.
Will Mystic Mine survive a new F&L List? Will we even see a new F&L List anytime soon? That's up in the air, but for 3 bucks there are lots of players willing to take the gamble.
#8 Cynet Mining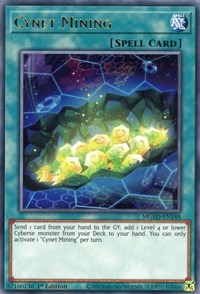 From the worst kind of Mine to the best, Cynet Mining's still rock steady at just over 2 dollars. A likely staple for any Cyberse strategy, from Salamangreats to Mathmechs, Marincess and more, the 2020 tin reprint is a steal for the sheer versatility the card offers. With another reprint likely way off in the distance, it's easy to see why it was a top pick this week.
#7 PSY-Framegear Gamma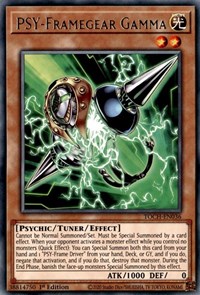 PSY-Framegear Gamma becomes more and more of a staple every day this format, in large part for its use against Crystron Halqifibrax. While lesser hand traps leave Crystron Halqifibrax on the field, letting your opponent turn it into a Linkross and play on through, PSY-Framegear Gamma cuts off that line of play completely. In return you make the tradeoff of its activation requirement and the Main Deck slot for PSY-Frame Driver.
That might sound a bit hefty, but we've seen time and time again that in this format, it's well worth it. And even as PSY-Framegear Gamma gets more popular, the price is actually trending down thanks to that Unlimited edition printing of Toon Chaos. With more PSY-Framegear Gamma in circulation, it's hugging the $2 mark and could sink even lower.
#6 Unchained Abomination
The reveal of the Evil★Twin theme from the upcoming Genesis Impact release made a huge impression this week, with many players focusing on the synergy between the Twins Kisikil and Lilla, and the Unchained monsters from Chaos Impact. Since the effects of Evil★Twin Kisikil and Evil★Twin Lilla both limit you to Special Summoning only Fiends from your Extra Deck, the two themes are a natural fit. In addition, some of the bigger plays that may become standards for the Evil★Twin stratetgy end on Link 4s.
That drove demand for Unchained Abomination this week, making the Prismatic Secret Rare from the 2020 Tins highly attractive at less than 2 bucks a pop.
#5 Mekk-Knight Crusadia Avramax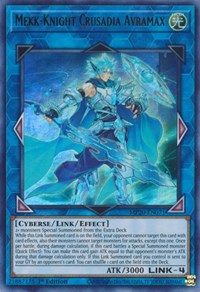 Up a spot from Number 6 last week, Mekk-Knight Crusadia Avramax is even cheaper now, having slipped right under the $3 mark. This card isn't seeing much play at the moment, but as a staple Link 4 that slips in and out of competition, it's a great time to pick up a copy.
#4 Red-Eyes Dark Dragoon
Red-Eyes Dark Dragoon debuted at about $36, but it's held at $45 for more than a week and a half. As more players settle on running just one that price is likely to remain steady or perhaps even come down in time, and we saw demand drop this week as Red-Eyes Dark Dragoon slid from Number 1 to Number 4. That probably doesn't reflect a lack of play; it's more the fallout of a card so powerful and popular that many players rushed to snap it up in its first few days of release.
That said, as a $45 card it's certainly a big investment for budget duelists. It'll be interesting to see if a bit of waiting can drive the card's price down.
#3 I:P Masquerena
Meanwhile Red-Eyes Dark Dragoon was overtaken by three of the biggest Extra Deck staples in the 2020 Tin of Lost Memories release, which isn't surprising. Two months ago I:P Masquerena was a $45 card. The news of a reprint brought it down to $22 and the actual tin release dropped it to $10. Now you can pick one up for 9 bucks, and that accessibility continued to drive demand as Remote Duel locals start to draw more players back into real cardboard version of Yu-Gi-Oh.
#2 Borreload Savage Dragon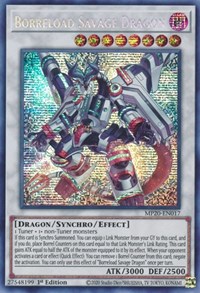 All the same can be said for Borreload Savage Dragon, starting life two months ago at $75, dropping to $32 with the reprint confirm, and hitting $14 on the 2020 Tin release day. Now it's down to $12, vastly more affordable as a key card for several strategies. The influx of interest in these staple Extra Deck cards really seem to suggest that players are gearing up for competition, even if in-person play is still weeks or months off in many parts of North America.
#1 Apollousa, Bow of the Goddess
And finally Apollousa, Bow of the Goddess was in the same boat. A ton of decks run this card as their Link 4 of choice, and now that it's 11 dollars instead of 92 it's an obviously attractive buy. If you're playing competitive Yu-Gi-Oh you probably need to own this card, and barring a second printing of the tins it's probably not getting much cheaper than this.
Looking beyond the Top 10 this week, World Legacy Guardragon came in at Number 11, probably in part from Hanko's excellent Dragonmaid article on Wednesday. Pot of Extravagance and Chaos Space were both strong at Numbers 12 and 13 respectively, Striker Dragon came in at Number 14, and Draco Berserker of the Tenyi finished things out at Number 15 for the week.
That's it for now, but join us next week when we see the best-selling cards from Dragons of Legend: The Complete Series. See you then!
-Jason Grabher-Meyer