Spoiler season's in full swing, and that made for some bizarre action on the secondary market this week.
Last Friday we started to see official Phantom Rage previews from some of our fave Yugitubers. Meanwhile in the OCG, Konami of Japan continued its steady stream of spotlights from Blazing Vortex. And there's been no shortage TCG leaks confirming, or at least alleging, cards from upcoming releases like Structure Deck: Spirit Charmers and Maximum Gold.
With so much news there's been a ton of speculation and fast-paced grabs for old cards that might turn viable. Last week's push of demand for Cocoon of Ultra Evolution in the wake of Inzektors' win in the Create-A-Card Project seemed to kick off some entrepreneurial spirit: players started buying out cards like Fallen of Albaz, thanks to Sprigguns and Splind the Steelexpress Dragon; and Gaia the Fierce Knight Origin, for no real reason whatsoever. Both have already started to fall back to earth, and most of the speculation we saw this week missed the mark.
Perhaps the biggest blunder was the frenzy for Snake Rain: a previously worthless Rare from Tactical Evolution that's never been reprinted. Snake Rain saw enough speculation to drive Near Mint copies to a whopping $12. While scarcity and the lack of a reprint made it vulnerable, the demand came from a rumor that took off like wildfire: that the new Myutant cards, World Premieres from Phantom Rage, would be Reptile monsters, finally giving Snake Rain room to shine as a triple Foolish Burial for a monster type that, until now, hasn't mattered.
Then we found out Myutants aren't Reptiles. Turns out they're Psychics. And Beasts. And Machines. And Spellcasters. In fact, Myutants are pretty much everything but Reptiles.
RIP those speculators' wallets.
But not every piece of speculation was a total bust this week, and at least two of the safer picks leapt straight out of obscurity and right into the Top 10. Here's how the week looked in the TCGplayer Marketplace.
#10 World Legacy Guardragon
Dragon Link's still the format's biggest deck-to-beat, and I don't even want to think about what World Legacy Guardragon might cost right now if we didn't get a reprint in the 2020 Tins. As it stands, a Market Price of about 4 dollars keeps this thing really accessible.
#9 Predaplant Verte Anaconda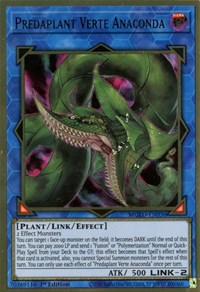 Red-Eyes Dark Dragoon still hot, but another card we'll see later on also helped drive demand for Predaplant Verte Anaconda. More on that in a bit!
#8 Monster Reborn
As an old school power card with mass casual appeal, there's always background demand for Monster Reborn; It doesn't take much competitive use to drive it into the Top 10, especially on a week with no new releases, so it's not surprising to see it here with so many combo decks running it. Combo strategies live and die by the quality of their extenders, and while some Dragon Link decks and Infernoble builds are skipping Monster Reborn this format, it's a popular pick in both themes.
#7 I:P Masquerena
I:P Masquerena hasn't moved much in value this month, entering October at about $8.50 to $9.50 and slipping about a buck since. It's not really featuring in the top decks right now since it's overshadowed by some more popular Extra Deck options, but at $7.50 a pop it's strong enough and flexible enough to be worth a pickup.
#6 Chaos Space
Like World Legacy Guardragon, Chaos Space is a 3-of staple for Dragon Link, and that's kept it one of the hottest cards of the format. After reaching a peak of $5.50 in average daily sales mid-month, it's now back down to less than 4 dollars, as supply remains healthy in the face of big demand. While Toon Chaos is still a pretty new set there's definitely some speculation that Chaos Space could take a hit on the next banlist, and even if it's not Chaos Space it definitely feels like something's going to get hit in Dragon Link, impacting all the cards the deck runs.
That means sellers aren't too attached to extra copies of Chaos Space, which is good news for buyers as vendors compete on price.
#5 Constellar Kaus
Constellar Kaus was one of the few big speculative hits this week, leaping from an average sale price of about 30 cents to about 3 dollars. The announcement of Constellar Caduceus dropped on Wednesday, revealing a fundamentally strong extender card with a free Special Summon, a free search effect, and a solid "if used as Xyz Material" ability that does a lot of things Constellars would need to do to get back into competition.
While the Star Pack ARC-V printings are still cheap as dirt, the Duel Terminal 7 Rare and Hidden Arsenal 7 Secret are still up there, and Constellar Kaus probably hasn't reached the top of its demand curve since the news on Caduceus just dropped mid-week.
#4 Thunder Dragon Fusion
The new Link-1 coming for Prank-Kids in Phantom Rage is one of the most talked-about cards from the set, and it's positioned to make Prank-Kids a major contender again. That's thrown the theme under the magnifying glass for a number of players trying to stay ahead of the competitive landscape, and the fact that Predaplant Verte Anaconda can drop Thunder Dragon Fusion to summon Prank-Kids Battle Butler drove big interest in this spell card this week.
The 2019 Tin Super Rare is pushing $3 right now after shipping, while the Soul Fusion Ultra Rare is almost $5, up from a Market Price of 3 bucks. It's unclear if Prank-Kids want a free Raigeki enough to play this thing, but it certainly doesn't look bad, and Thunder Dragon Fusion definitely feels like one of the better speculations we saw people making this week. As a one-of it may not have huge investment potential, but it wouldn't be foolish to get your copy now.
#3 PSY-Framegear Gamma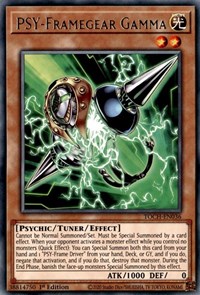 Still amazing, still important to own, and still way cheaper than Ash Blossom & Joyous Spring, the Toon Chaos reprint of PSY-Framegear Gamma still tops out at 2 dollars on any given day, and that's made it a steady hit this season for duelists of all budgets. This card is fierce, flexible, affordable, and well deserving of the Number 3 spot.
#2 Red-Eyes Dark Dragoon
Still a huge mover in the secondary market, Red-Eyes Dark Dragoon continues to sell like hotcakes at what seems to be its new price point, roughly $35. Its value didn't really budge from last week, and demand remained pretty static. As Remote Duel tournaments get bigger, stores reopen, and more players return to cardboard Yu-Gi-Oh, this is one of the clearest must-buys for duelists getting back into the game - or getting into it for the first time – and the demand reflects that.
Will Red-Eyes Dark Dragoon continue to slide in value? And if it does, at what point do investors start buying into them, propping up the value? The steady demand raises some interesting questions as Red-Eyes Dark Dragoon juggernauts through the last months of 2020.
#1 Apollousa, Bow of the Goddess
Meanwhile Apollousa, Bow of the Goddess just keeps getting cheaper and cheaper, week over week as the Maximum Gold variant art version looms closer. Apollousa, Bow of the Goddess Market Price is almost $9 right now, but looking at individual copies available this morning, it can be had for under 7 bucks shipped. I think a lot of people are starting to wonder what happens if the new Premium Gold Rares actually look good, and that's giving sellers reason to drop extra copies of this card.
Meanwhile demand remains strong, since Apollousa, Bow of the Goddess such a deck building staple and really doesn't seem like it could be banned anytime soon. Again, lots of players are coming back to the game now, and pretty much everyone needs this card.
Looking past the Top 10, we saw Super Quantum Red Layer down at Number 11 after a breakthrough showing last week, as demand for Infernobles still rides high. Mekk-Knight Crusadia Avramax came in at Number 12, and Nibiru, the Primal Being at Number 13. Prank-Kids showed up again at Number 14 with Prank-Kids Pranks, and Striker Dragon closed out the week for Dragon Link at Number 15.
Don't forget, you can follow us over on the official Yu-Gi-Oh! Infinite Facebook Page and Twitter to see when we post new content, so make sure to follow us on your platform of choice. As always, I can't say enough good stuff about Yu-Gi-Oh Twitter these days; it's probably the most fun, least toxic Yu-Gi-Oh community you can find, and it's an awesome place to connect with your favorite creators.
See you next week!