It was a big, big week for Yu-Gi-Oh.
The global launch of the 2020 Tin of Lost Memories arrived today, bringing with it a ton of incredible reprints like Apollousa, Bow of the Goddess, I:P Masquerena, Borreload Savage Dragon and Pot of Extravagance. It also heralds the long-awaited arrival of the new, splashable card-to-beat Red-Eyes Dark Dragoon, plus a ton of gorgeous rarity changes for popular cards.
At the same time, the biggest push-factor setting trends in the secondary market this week was the return of big sanctioned event play with the Remote Duel Invitational! Sixteen of North America's most decorated duelists and celebrated Yugitubers went head-to-head in four rounds of Swiss and a knockout Top 4, leading to a huge win with Dinosaurs for Sam Arunnaveesiri, AKA TeamSamuraiX1! The metagame was all over the place with a wild spread of decks – all of which you can see in our convenient deck archive – and the results from the tournament played out in the marketplace all week long.
Let's get right into our Top 10 countdown, starting with one of the weekend's most surprising competitive trends.
#10 Dark Ruler No More
Dark Ruler No More was central to one of the more interesting trends of the weekend; specifically, the lack of Forbidden Droplet. While Forbidden Droplet drew huge hype for weeks as the most expensive, most sought-after generic card from Rise of the Duelist, it only appeared in 2 of the 16 decks played at the Remote Duel Invitational, mained by Day 1 competitor Doug Zeeff in his Invoked Dogmatika build, and sided by runner-up Koty Angeloff in Adamancipators.
Angeloff sided two Forbidden Droplet, but that was on top of three Dark Ruler No More. Cristian Urena and Cam Neal each sided three copies too, also playing Adamancipators, while Ryan Yu sided two in his Lost World Dinosaurs; the event's winner, Sam Arunnaveesiri mained three copies in his Lost World Dinosaur build as well. While Forbidden Droplet offers more complete coverage and the chance to win the game then and there, Dark Ruler No More is easier to play and doesn't require you to send cards to the graveyard. That alone seems like the clear-cut reason Dark Ruler No More preferred.
Is that the right call? Is the trend a lasting one? It's tough to say. On one hand, certain decks will have an easier time pitching cards to the graveyard and turning that into a net positive with Forbidden Droplet; as metagames shift Forbidden Droplet will fare better when those decks rise to the top, and it'll trend down when those decks are less popular. At the same time, Forbidden Droplet may also just be underappreciated; that's a bigger X-factor that's tougher to quantify. But for now, the message coming out of the weekend is that only 1 of 16 elite players chose to run Forbidden Droplet over Dark Ruler No More.
Forbidden Droplet peaked in price at 90 dollars a couple days after release, dropped to an average sale price of 77 dollars when viewers noticed nobody was running it at the Invitational, and now you can pick up copies for 75 dollars. Dark Ruler No More remained steady for the last 2 and a half weeks at about $10, down from $11 previously. That price doesn't seem likely to rise given the current supply available, but you never know what the dreaded Buyout Beasts™ might invest in.
#9 Shaddoll Schism
A very solid 7 of the 16 decks played at the Invitational ran Dogmatika engines, but only 2 played a Shaddoll suite with Shaddoll Schism, and neither of those 2 builds made it past Day 1. Jesse Kotton was the only Dogmatika player to make Day 2, running an Eldlich build teched with 8 Dogmatika cards in the main. Shaddoll Schism fell from Number 4 to Number 9 week over week, so if we take the sales trends and the competitive results togethers, could be seeing a shift in the perception of which Dogmatika decks are optimal.
#8 Mecha Phantom Beast O-Lion
Crystron Halqifibrax was big as ever at the invitational, played in 11 of the 16 competitors' decks. Mecha Phantom Beast O-Lion was played in 7 of those decks, appearing twice in 2 of them. Blair Hunter ran it in Infernoble Knights, Ryan Levine played it in his Dogmatika Synchro Eldlich deck, Ryan Yu ran it in Dinosaurs, and it was an obvious must in all four Adamancipator builds. Two of those players – Cameron Neal and Koty Angeloff – took their Adamancipators to the Top 4.
Mecha Phantom Beast O-Lion's still cheap, consistently coming in at less than 2 dollars since it was reprinted, while Crystron Halqifibrax is still $25. Clearly nothing's going to slow these cards down until action's taken on the F&L List. Will it happen in September? That's still a mystery.
#7 Elder Entity N'tss
As noted, Dogmatika was BIG at the Invitational appearing in 7 decks, and Elder Entity N'tss was naturally run in all of them; it's the perfect card to chuck from your Extra Deck off those Dogmatika effects for quick value.
But Sam played Elder Entity N'tss too on his way to the win, along with Cyber Dragon Nova and Invoked Mechaba, just looking to punish stuff like Dogmatika Maximus. The dual demand for Elder Entity N'tss, from both Dogmatika players and duelists looking to counter Dogmatika, drove Elder Entity N'tss from $4.50 a copy to $7 and counting.
I think it was just last week that I was saying the sheer volume of this card out in the world would probably protect it from a price spike. But here we are.
#6 PSY-Frame Driver
PSY-Framegear Gamma was the card of the weekend, played by 10 of the 16 Invitational competitors and everyone in the Top 4. You can't play PSY-Framegear Gamma without PSY-Frame Driver, and even though you'd never run 2 copies it shot all the way to Number 6 on our countdown. That demand spiked PSY-Frame Driver from 17 cents to 60 cents over the course of the week.
#5 Numeron Calling
Aaron Chase Furman and Esala Wathuthantrige both played Numeron Dogmatika Eldlich decks at the Invitational, bumping demand way up for Numeron Calling. Debuting at almost 7 dollars, Calling has fallen to 2 bucks in the last 2 weeks, and the renewed interest hasn't done anything to change that. Still, you might see more Numerons running around in your play circles, despite the hype surrounding…
#4 Ghost Ogre & Snow Rabbit
Ghost Ogre & Snow Rabbit
Touted as one of the biggest answers to the Numeron engine, Ghost Ogre & Snow Rabbit was only played by five of the weekend's competitors. But with Numerons appearing in Day 1 in the hands of such strong competitive players, and demand spiking across the board, that might be set to change. It'll be interesting to see where this card goes as Red-Eyes Dark Dragoon enters the game as a major must-answer card, drawing .
#3 Dogmatika Ecclesia, the Virtuous
With 7 Dogmatika variants in the Invitational, 5 competitors played smaller engines with 2 copies of Dogmatika Ecclesia, the Virtuous, and 2 more players ran committed builds with a full 3 copies. Dogmatika had big representation in Day 1 and emerged as a Day 2 contender in the hands of 3-time Worlds competitor and all-around fantastic Canadian Jesse Kotton.
That sent Ecclesia up from Number 6 to Number 3 for the week.
#2 PSY-Framegear Gamma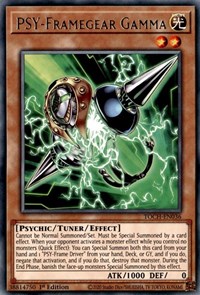 PSY-Framegear Gamma was all over the Invitational, from the first moments of the first Feature Match in Round 1 all the way to the Top 4. Flexibility's key: PSY-Framegear Gamma can function as a normal hand trap dropping on your opponent's turn to break up plays centered around a key monster effect when you go second, and that's great. But the chance to use it on your turn as well pressing through early disruption, gives it more range and turns it into a completely different beast. And while it may not always be possible, the games where you can PSY-Framegear Gamma into PSY-Frame Driver and make PSY-Framelord Omega are just too sweet.
PSY-Framegear Gamma been in pretty high demand since it was reprinted in Toon Chaos dropping from a $15+ card to its current 2 dollar price tag. And while lots of players started picking up their copies when the reprint first arrived, the card's performance at the Invitational hammered home the message that now is the time to buy your playset.
#1 Red-Eyes Dark Dragoon
And finally, demand soared for Red-Eyes Dark Dragoon from Wednesday on forward, as the price tag for the year's biggest card dropped below the 40 dollar mark. With dozens of copies currently available for $35 a pop, Red-Eyes Dark Dragoon could continue to become more affordable over the course of the weekend.
If the deluge of links didn't get you over there already, do take some time to peruse all those deck lists from the Remote Duel Invitational. The variety, the quality of play, and just the grand spectacle of that tournament blew away all expectations, and some of the deck lists are really surprising.
Enjoy the weekend, and good luck with your 2020 Tin pulls!
-Jason Grabher-Meyer