It's an interesting time in Yu-Gi-Oh.
In the absence of real life tournament play due to COVID-19, hard data on what works best in the new format is tough to come by. In the absence of big event results, competitive players are turning to personal playtesting, word of mouth and monitoring unofficial online dueling platforms to try and figure out what they should be preparing to run when tournaments are back. While the pandemic's a global crisis overall, it's also presenting an opportunity: if you can figure out which decks are the most competitive and learn to master them, you'll have a big advantage once tournaments return. Lots of players are trying a lot of decks to get a leg up in the future.
As a result, several decks are gaining steam in the public eye: Eldlich and Eldlich Invoked, Adamancipators and Altergeists have all become standouts showing high win records in monitored communities. Salamangreats and Dinosaurs are also proving to be solid options, but it's the two new strategies from Secret Slayers that are really drawing attention in the TCGplayer Marketplace. Adamancipators were expected to be the most competitive of the Secret Slayer themes, but Eldlich may be just as good if not better, and few players expected either deck to beat out last format's front-runners.
Whether or not Eldlich turns out to be the better strategy long term, way more players are investing in the consensus favorite Adamancipators. That may be because of the deck's bigger hype before Secret Slayers released, or it may be because Adamancipator Researcher's still more affordable than Eldlich the Golden Lord: Adamancipators are the cheaper theme all around, with Adamancipator Risen – Leonite substantially lower right now than Eldlixer of Black Awakening too. More players also seem willing to gamble that Researcher may drop in value over time as opposed to Golden Lord, though there's really no reason to think it will; Adamancipator Researcher only drops in price if it turns out the deck doesn't work, and all the results we're seeing right now indicate that both decks are viable.
That created another week of Adamancipator dominance; with last week's flashpoint reaction to the news of Red-Eyes Dragoon now settled, Adamancipators captured seven of the Top 10 spots on the best-seller list here on TCGplayer. With no further ado, here are the best-selling cards from Monday to Friday.
#10 - Union Carrier
Even with Lunalight Tiger Forbidden, and Winged Beast Lunalights gone as a result, Union Carrier's still proving to be a big part of competition. That looping play with Simorgh, Bird of Sovereignty and Mist Valley Apex Avian isn't quite what it was, but Dragon Buster Destruction Sword's a big deal and it's becoming a focus for highly competitive players looking to run Orcusts once Girsu, the Orcust Mekk-Knight arrives in Eternity Code.
Union Carrier's almost bought out as of this writing, and right now it's hugging the $15 mark. If all the stock does disappear there's no telling where the price could wind up, and that "get it before it's gone or at least really expensive" pressure drove Carrier to the Number 10 spot this week.
#9 - Onomatopickup
The Rock-type suite of Dodododwarf Gogogoglove, Gogogo Giant and Gogogo Gigas are a popular choice with Adamancipators, and two of them reached the Top 10 this week. You'll see where they wound up in a moment, but for now the spell card supporting with Level flattening finished at Number 9 for the week, and as a Rare from Magical Hero it could gain some value over time on the penny stock level.
#8 - Dodododwarf Gogogoglove
Also a Rare from Magical Hero, Dodododwarf Gogogoglove is already a bit more expensive with far fewer sellers in the TCGplayer Marketplace. It works with Gogogo Gigas as a free Special Summon from the Graveyard, and both are Level 4 Rocks that fill lots of different roles as Aadamancipator backup, compatible with the effect of the Adamancipator Tuners and Doki Doki. It's really easy to get these cards going and once they do, they offer repeat Special Summons; remember that if you use Gogogoglove for an Xyz Summon and detach it, it won't banish itself with its effect.
Gogogoglove's a more recent card than Gogogo Gigas and Gigas has never been reprinted, making it a vastly more expensive card after. it skyrocketed this week. That said, Gogogo Gigas actually outpaced Gogogoglove by miles, as you'll see in a bit. All in all, players are taking the suite pretty seriously as shown by the level of investment.
#7 - Adamancipator Seeker
On the flip side, the core Adamancipator cards continued to do extremely well, with both of the more affordable three-of Tuners making the Top 10. I'm not sure what the final Adamancipator deck will end up looking like, but right now I've yet to see a build that didn't play the Tuners in triplicate. Adamancipator Seeker and Adamancipator Analyzer are both super cheap right now, and their price has been consistent. Both cards offer access to a surprising number of Rock monsters that have different strengths, and with no Regionals or YCS events to create consensus builds the question of how to build Adamancipators is still wide open.
#6 - Adamancipator Signs
This card's crazy once Adamancipators get going. A free Monster Reborn that gets you back whatever you need to maximize your plays, it can revive Adamancipators or any other useful Rocks that hit your yard. But that stacking effect can be so good, and the card you want will often be an Adamancipator anyways; you're just rewarded for making the move at the top of your priority list.
Adamancipator Signs at Number 6 for the week is impressive because the card's not cheap: it's sitting at a Market Price of six bucks right now. That might not sound impressive if you're new to our Market Watch columns, but the fact that a $6 card is outpacing thousands of commons that cost pennies always indicates major player interest.
#5 - Solemn Judgment
Solemn Strike's back in Structure Deck: Mechanized Madness, but with the new Structure only in pre-sales it was outpaced by the original Solemn brigade card. The Secret Slayers Super Rare is in big supply and it's the most affordable copy available. To date there's just nothing that does what Solemn Judgment does, and while it's often outclassed by Solemn Strike it's just as common to see players run both. It's a must-own and Secret Slayers made it an affordable get.
#4 - Adamancipator Analyzer
Just like Adamancipator Seeker, Analyzer's a must-have for any aspiring Adamancipator player. Again, I don't think Adamancipator Researcher's going to be coming down much in price until we see a major format change that knocks the deck out of contention; it could definitely dip from its current price at $70+ back down to $60 or so, but I don't think it's going to get much better than that. However, lots of players seem to disagree; you can see it all over Reddit and popular FB groups, players remarking about picking up the complete Adamancipator core minus Researcher in a hope that Researcher's price will collapse.
It's not a bet I'd make, but lots of people are!
#3 - Adamancipator Risen - Dragite
Dragite's been the highest-selling Adamancipator Synchro from the get-go, since it's vastly more affordable than Adamancipator Risen – Leonite and its negation effect anchors your big set-ups. A free spell or trap negation every turn is huge, especially when you're Special Summoning Dragite for such incredibly favorable card economy. All three of the Adamancipator Synchros are important, but this one just has the most curb appeal.
#2 - Gogogo Gigas
Only printed in Lord of the Tachyon Galaxy, Gogogo Gigas hit a Market Price of $8 this week before sinking back to $6 right now. There are quite a few copies on TCGplayer at the moment, but with demand so incredibly high it's really tough to say where this card's headed. It's difficult to imagine a Rare from 2013 becoming much more expensive, but some part of me feels like after Cross-Sheep, all bets are off.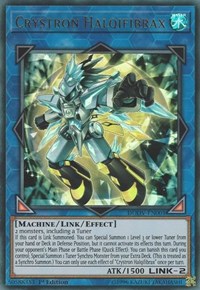 #1 - Crystron Halqifibrax
Finally, Crystron Halqifibrax was back on top once again. Halqifibrax hasn't really bucked the $25 mark yet, but now that we're starting to see it settling into competitive play, demand is definitely back on the rise. I think a lot of players were holding off on buying their copy, but with stimulus checks putting some Cash Back into players' pockets this week I think a lot of holdouts decided to splurge and make the leap.
There's not much more to say about Crystron Halqifibrax at this point. It's still a crazy card, though not nearly as utterly broken and unhealthy for the game as it was in the early days of its OCG release. It's not going to be reprinted for quite a while, so getting it now's a good idea if you can afford it. I think this thing's going to spike as soon as tournaments are back.
We'll be back with another Market Update on Facebook and Twitter on Monday. Thanks for reading, and make sure to stay tuned here on TCGplayer as we continue to deliver articles all through the weekend!