I think most long-term Yu-Gi-Oh players understand the value in occasionally picking up a new deck.
We all have our favorite decks that we'll hold onto forever, alongside our current competitive options that get deployed in serious tournaments. But every so often that urge to try something different just gets too strong to ignore. There's something very cathartic about seeing new card art in your hand after playing the same rotation of decks for months.
Unfortunately, trying out new decks can be expensive. A lot of the new themes this year haven't been budget friendly, but Myutants are a clear exception. The most expensive Myutant cards from Phantom Rage are about $5, and almost every other card in the Mainn Deck is under $2. You can pick up a playset of all three Ultra Rares for under $15.
The deck's most expensive cards are largely optional: Emergency Teleport fantastic, but it's just one spell and it won't make a huge difference in the long run. Feel free to skip it if it doesn't fit your budget. Pot of Extravagance? Yeah, that's not happening here, but you're welcome to play it if you own it.
So why Myutants? It's not just that they're cheap: Myutants have a surprisingly high skill ceiling that lets them stay competitive at a local level. I'm not trying to imply that Myutants are secretly one of the format's best decks, but I think you'd be surprised at how well the deck's engine works when it's backed with a serious trap line-up. You'll have to make some concessions on trap choices if you're on a really tight budget, but most of these cards are generic enough that you probably have copies already.
Role Playing A Mad Scientist With Myutants
Myutants debuted in the TCG last month as a World Premiere theme, but they were quickly overshadowed by Virtual World and Tri-Brigade. I think their confusing playstyle was a big part of why players passed on them. It's not immediately obvious how the Myutant engine works, and at first glance the theme seems to suffer from too many Normal Summons. It's also hard to see the value in the Level 8 Myutants when you're usually only summoning them one at a time.
Neither of these issues are deal breakers, but they do push the deck in a very specific direction: Myutants want to be played as either a trap-heavy control strategy, or as a hybrid theme.
Both TeamSamuraiX1 and MBT Yu-Gi-Oh! embraced the trap-heavy side of Myutants in videos last month, and there are plenty of discussions online about Metaphys, Dogmatika, and Thunder Dragon hybrids. Dogmatika might be the most competitive variant, but it's obviously well outside the reach of any budget build, so it's not on the table for today. So far I've had the most success by sticking to a pure build, although at some point I'll have to give the Metaphys hybrid a shot. I can't pretend that I'm not a huge Metaphys fanboy.
Yu-Gi-Oh! TCG Deck - Kelly's Budget Myutants by Kelly Locke
'Kelly's Budget Myutants' - constructed deck list and prices for the Yu-Gi-Oh! Trading Card Game from TCGplayer Infinite!
Created By: Kelly Locke
Event:
Rank:
Advanced
Market Price: $108.37
Cards
The Myutant engine does two things: first, it delivers a consistent stream of new cards much like the Invoked and Mekk-Knight engines, and second, it provides a few different outlets for card removal.
Most of your card economy comes from the search effects of Myutant ST-46 and Myutant M-05. There's a trick to remembering their names: ST-46 searches Myutant spells and traps when it's summoned, and M-05 searches Myutant monsters when it hits the field; "ST" for spells and traps, and "M" for monsters. Simple, right? I'm not really sure what to make of Myutant GB-88, but we're not playing it here anyways.
You'll typically start your turn by summoning either Myutant ST-46 or Myutant M-05, then using their effects to search for a theme-stamped card. After, you'll use their effects to tribute themselves, banish a card in your hand, and summon another Myutant from your deck based on the card you banished.
That play is the backbone of the entire deck, and it's crucial that you pay attention to the card you're banishing to pay for it. It's also the moment where your opponent's most likely to try and hit you with a hand trap, so having PSY-Framegear Gamma or Called by the Grave at the ready is a huge help.
The Level 8 Main Deck Myutants aren't the stars of the Myutant theme by any stretch, and they're not strong enough to carry the theme on their own. However, they're helpful for setting up Fusions Summons, and since you're playing them you might as well get some mileage out of their interruption effects. Myutant Arsenal has a Quick Effect that banishes a monster in response to your opponent's monster effect activation, which is useful for removing one of your opponent's potential Link materials.
Alternatively, Myutant Mist can respond to trap effects, but since traps aren't being played widely enough–and since Myutant Mist requires you to banish a spell for its summon–there's little reason to play it here. Myutant Beast, however, comes with a handy spell negation effect that's actually worth leaving on the field. You'll almost always be summoning Myutant Beast first since your combos require you to load your banished pile with a monster, so playing a second copy over another Myutant Mist is a no-brainer.
So you have your basic play down: summon Myutant ST-46 or Myutant M-05, search a card, then summon Myutant Arsenal or Myutant Beast from the deck by banishing a card in your hand or from your field. If you banish a copy of Myutant ST-46 or Myutant M-05 you'll be able to summon it that turn with Myutant Evolution Lab and potentially grab another search that turn.
The Myutant Evolution Lab effectively lets you summon and activate both of your Water Myutants on the same turn, and of course Myutant Evolution Lab itself is searchable by Myutant ST-46. Basically, if you open with Myutant ST-46 and Myutant M-05 you'll want to start with Myutant ST-46 and banish Myutant M-05 to set up Myutant Evolution Lab. If you open Myutant M-05 and Myutant Evolution Lab you'll search Myutant ST-46 and use your search to grab Myutant Cry.
All of these plays are leading up to activating Myutant Cry, which can Fusion Summon a Myutant by shuffling cards on your field, in your graveyard, or face-up in your banished zone back into your deck. Both Myutant Fusions have Quick Effects that make them worth summoning on your opponent's turn, and that's especially true with Myutant Synthesis. The real prize is Myutant Ultimus, but you might be surprised by how infrequently you'll summon it. It's very difficult to summon when you're playing exactly three Main Deck monsters that fit its material requirements.
Slowing The Duel With A Huge Trap Line-Up
The Myutant engine doesn't stack up well against other popular strategies, so you'll want to slow your opponent down to keep pace. Myutants are already capable of leveraging quite a few themed effects that can interrupt your opponent's plays, including Myutant Beast, Myutant Arsenal, and Myutant Synthesis.
Luckily this particular strain of Myutants happen to play nicely with some of the game's best floodgates, including There Can Be Only One and Summon Limit. There's a huge amount of disruption in the Myutant deck between those floodgates, a few excellent traps like Dogmatika Punishment and Solemn Judgment, as well as a handful of themed effects.
In the early game you'll want to set up both of your Water Myutants and get Myutant Beast on the field. If you open well enough you can also try summoning Cross-Sheep with a set Myutant Cry. Resolving Myutant Cry on your opponent's turn will let you send one of your opponent's cards on the field to the graveyard and trigger Cross-Sheep effect to summon a Water Myutant from the graveyard, ultimately netting you another search. From there you can continue to summon Myutants by looping your Myutant ST-46, making Rank 8 Xyz Summons when necessary, and working towards Myutant Ultimus if possible.
The Myutant trap line-up's a crucial element in keeping Myutant ST-46 rolling, but it's your hand traps that will give you a shot at winning the game even if you play second. It's very difficult to win playing second, although siding extra copies of Myutant Fusion isn't a bad idea. In terms of interruption Myutants do have one big advantage over other strategies: the ability to play Dimension Shifter throughout the duel.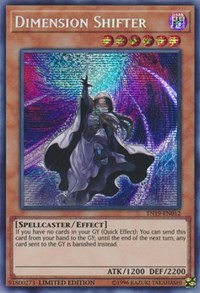 Normally, Dimension Shifter becomes dead in the hand after a single card lands in your graveyard, but Myutants' excellent graveyard control makes that less of an issue. Myutants can also convert dead copies into fodder for Myutant ST-46 and Myutant M-05. Of course, Myutants have no problem playing under Dimension Shifter effect, although you probably won't want to summon Cross-Sheep if you're planning on activating it.
I really enjoy the Myutant play style even if walling up behind floodgates is a bit risky. Solemn Judgment probably your best bet to avoid getting blown out by Harpie's Feather Duster–a card I still routinely forget is actually legal in the TCG. Trap Trick helps you dodge some targeted backrow removal while getting your Fusion trap into play, and Dogmatika Punishment remains one of the best monster removal traps in the game as long as Elder Entity N'tss is around. You can even send Myutant Synthesis to the graveyard with Dogmatika Punishment to help summon Myutant Ultimus faster.
Myutants are cheap, interesting to play, and they can become significantly better by investing in cards like Predaplant Verte Anaconda, Pot of Extravagance, and Emergency Teleport. I think there was a big missed opportunity on the last banlist to bring Emergency Teleport back to the Semi-Limited list, so for now Myutants will have to settle for a single copy. It's definitely worth experimenting with hybrid builds too–Myutants play nicely with a bunch of other themes, so if you have any cards that want to be banished, consider pairing them with Myutants!
Until next time then