I've been playing with, tinkering with, and trying to succeed with Esper Midrange for as long as I first saw the deck in Wyatt Darby's hands way back when Ravnica Allegiance first came out. I almost pulled the trigger on playing the deck at Mythic Championship Ravnica Allegiance but ultimately settled on what was somehow an even worse deck, Izzet Drakes. Unfortunately, in the weeks following that Mythic Championship, I was forced to admit that Esper Midrange just wasn't very good and I ultimately abandoned it.
Of course, that changed with War of the Spark. I had some lingering skepticism—and of course I still do—about the deck being good based on being burned in the past with it, but there were a plethora of new cards that would add to the archetype. Some flaws to the deck, such as all your creatures being easily slain by red burn spells and those creatures also doing nothing if they didn't stay in play for more than a turn, were not solved; but others, like having to play weak or mediocre gold cards just to fuel Hero of Precinct One were fixed.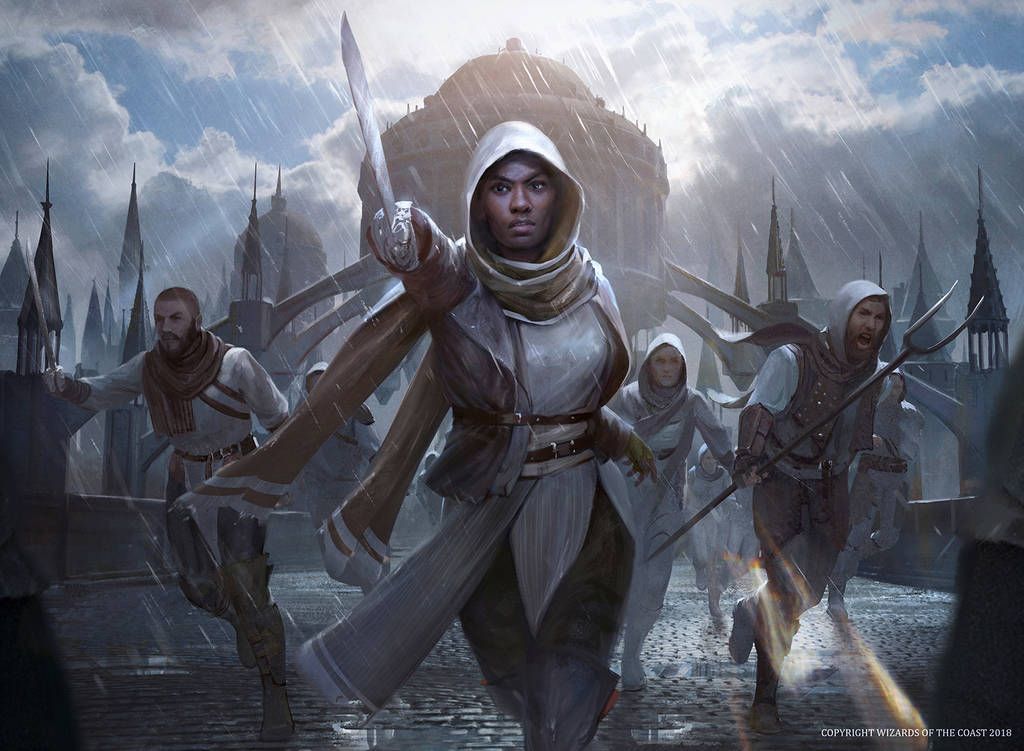 One of the key things I learned from playing this deck in numerous iterations over lots of time was a simple concept that sounds incredibly stupid when I say it, but I'm going to do so anyway. Only play the good cards. You may commence making fun of me now. Esper Midrange is a "good stuff" deck, which means that your deck has to actually have "good stuff" in it to succeed. That means you can't play bad cards in your maindeck and hope to ever succeed.
Deputy of Detention, Discovery // Dispersal and Basilica Bell-Haunt are bad cards. Don't put these into your maindeck, except in specific metagames. I spent way too much time playing with these cards and it took me forever to realize that these should not be in the deck, and upon removing these cards my success began to increase. These cards are extremely situational in terms of when they will be good, and you can't afford to draw a bunch of mediocre situational cards in a deck that needs to play a critical mass of powerful cards up the curve to make up for the fact that it is extremely slow out of the gate.
To explain the concept more simply, every card in the deck has to be a high-power card. You can't afford to play low-power synergy cards or you will simply get run over, ground out or out-muscled, since your marquee card (Hero of Precinct One) is already synergy-driven, and synergy strategies don't do well in Standard almost ever. Discovery // Dispersal is a synergy card. It lets you Preordain for two mana and sometimes get 1/1s out of it, but it's not high power, and while you're wasting your turn replacing Discovery with a card that does something, your opponent is adding to the board or sculpting their hand even better than you do. Deputy of Detention is a low-power card that gives your opponent plenty of time to kill it and get their cards back, and Deputy of Detention is a liability if you ever put something good under it, like a planeswalker that may find itself reset back to initial loyalty during your end step.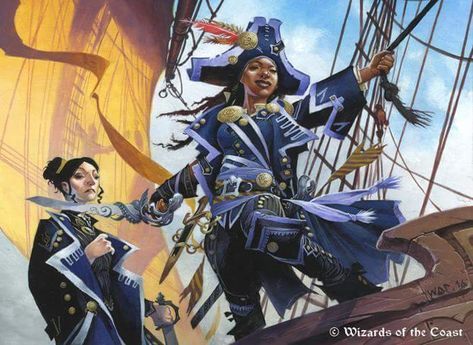 On the other hand, Hostage Taker is also situational, but incredibly powerful, and the situation—your opponent has creatures or artifacts—comes up so often that it's worth playing. Despark is another example of a situational card that makes the cut because it's so cheap and effective at what it does.
I'm not even sure that Enter the God-Eternals, as insanely powerful as it is, should be in the deck, because the fail case of playing against Nexus or Esper Control and being unable to cast the card is a brutal knock against it. At least Hostage Taker can be a four-mana Blind Phantasm.
Hit Me Baby One Last Time
Why am I suddenly on my Esper Midrange high horse again? I'd love to tell you.
Last weekend was SCG Richmond. Richmond, Virginia is only a short jaunt from my stomping grounds, which in plain English means it is not a very far drive from where I live—only two hours. As it so happens, I am moving to Seattle, Washington later this month. Also, as it so happens, the SCG Tour does not really exist on the West Coast.
While I don't really play a lot of SCG Tour events anymore, I grew up on that circuit. Back in 2011–2013, I played in a lot of those events, and that was kind of my first taste of playing in a consistent competitive circuit. I had played lots of PTQs prior to grinding the SCG Tour, but those were kind of just "play the ones that are close to me" whereas this was an actual series that I was competing in. I credit the early days SCG Tour for being the stepping stones that paved the way for where I am now.
While my path in Magic has since diverged from consistent SCG Tour appearances, I still fondly remember playing in those events and SCG Richmond might have been one of my last opportunities to play in an SCG Tour event for the foreseeable future. I didn't want to pass on it. Plus how could I pass on Richmond, Virginia? I've been in that convention center so many times since 2007 that it's basically a second home for me. They used to run every prerelease in Richmond, before they started having local stores run them, and I played a lot of them.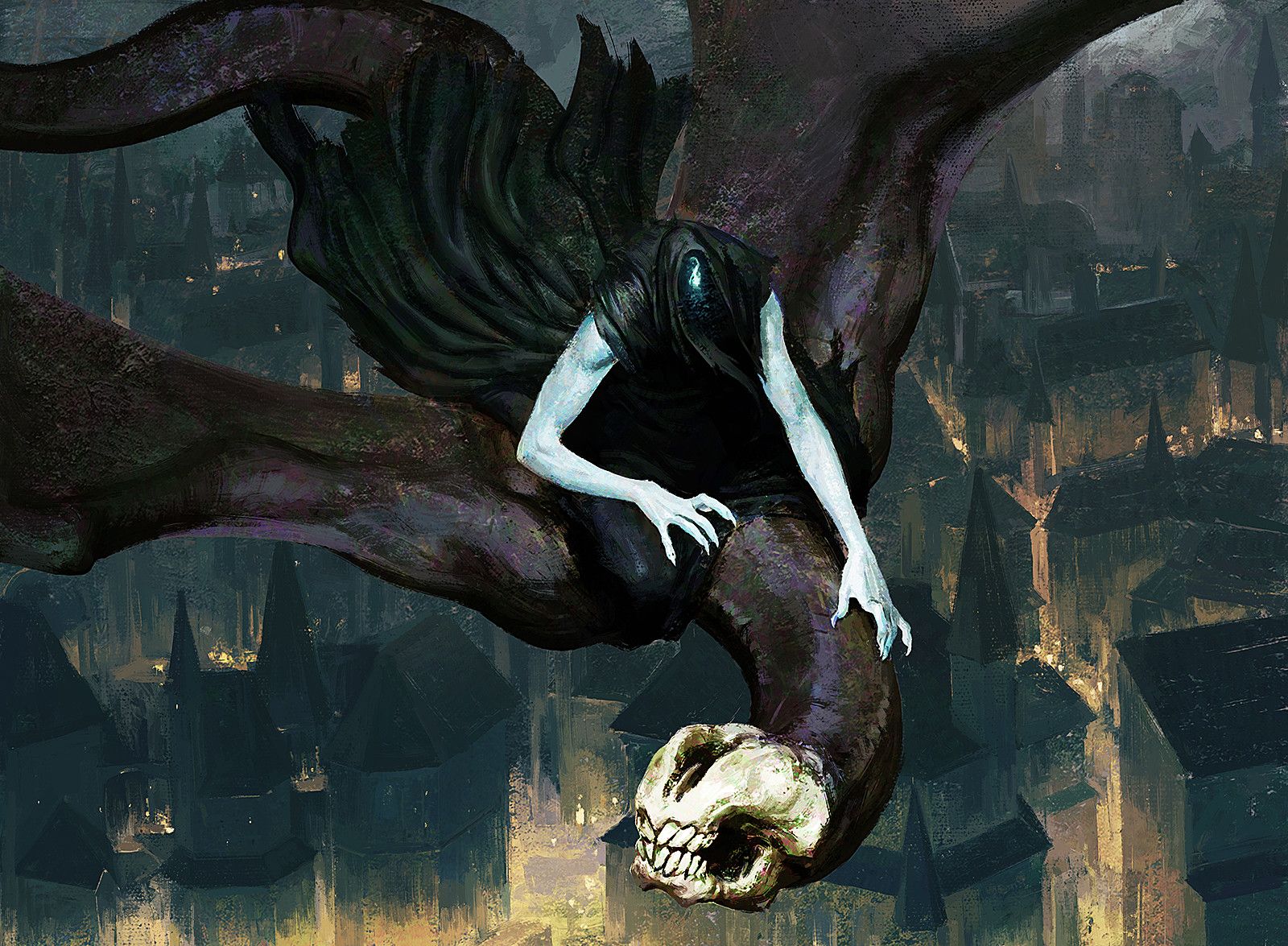 The problem was...I didn't have a deck. I actually tested some with Esper Midrange and was getting destroyed, but my list was bad. I swapped to testing Arclight Phoenix and was having a lot of success with it, so I decided that I would just play Arclight Phoenix at the event and see how that went.
That didn't last long. Friday before the tournament, I streamed with Arclight Phoenix for some last-minute practice and I was getting destroyed. Figuring that it was just me losing because streaming makes you play worse, I tested some more with it after the stream to get my confidence back.
I was still getting destroyed. I decided that I couldn't play with Arclight Phoenix in the event unless I wanted a swift exit, so I was scrambling hard to find a backup deck. I tried a number of Grixis decks, and they all seemed bad. I then decided that I would just play something I was comfortable with, which meant Esper Control or Esper Midrange. I didn't like Esper Control because playing a control strategy into the face of a lot of new, powerful, three-mana planeswalkers didn't seem like fun.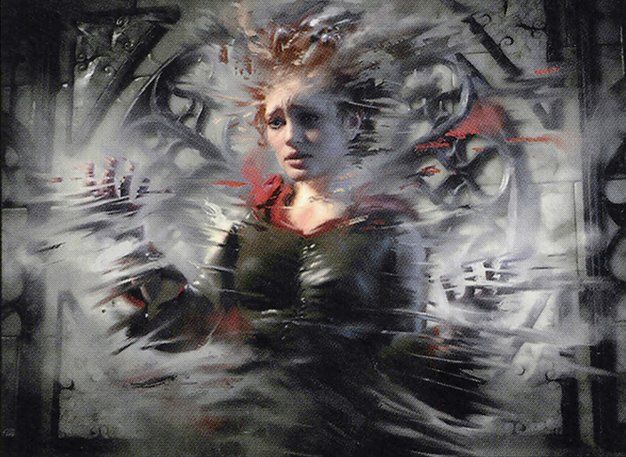 Eventually, at midnight the night before the tournament, in full panic mode, I just decided I would go to my last SCG Open (at least for a while) and play the deck that I most enjoyed in Standard, even if it was bad. The worst that would happen is I would scrub out and then drive the not-that-long drive back home, and enjoy the rest of my weekend.
Well, actually the worst case would be playing 15 rounds, not earning any prize, and then driving home, but I prefer not to consider that possibility.
Surprise In My Eyes When I Looked Above
Imagine my shock when my hastily thrown together list of Esper Midrange actually ended up being pretty good. Of course, it consisted of "only the good cards" as I saw it, so how could it be bad? Very easily, as it turns out. For one, I am often wrong about what the good cards actually are!
I got pretty lucky in this event. Lucky that I kept winning matches of Magic. Lucky that the list I threw together the night before based mostly on past experience and theory-crafting ended up actually being a pretty good build, at least for that event.
I finished day one at 8-1, beating Nexus of Fate five out of the six times I played it. On day two, I started out 2-0, pushing my record to 10-1, but then lost three of the next four to miss Top 8 and finish in 10th place. One place removed from my favorite finish. I used to have a long and storied history of getting 9th place in almost every event I played in, and to be completely honest it was a bit disappointing to not get 9th place in this event for old time's sake. Top 8? Nobody cares about that. It's Top 9 that matters.
The Checkout Counter and Saw This List
Teferi, Time Raveler is not as good as everyone says it is. But it's still pretty good. And it's way better than whatever people were playing in that slot before. The thing about Teferi, Time Raveler that wasn't clear to me at first, but become apparent over time is that it's way better in a creature shell than a control shell. Teferi in a creature shell shuts out opposing countermagic, which is not trivial, and bouncing something and drawing a card is way better when you can back it up with pressure or use that time to establish board control.
My list is very top heavy. Probably a bit too top heavy, to be completely honest. I am thinking of just cutting Enter the God-Eternals from the list, replacing it with a few cheaper cards like Oath of Kaya and maybe a Tyrant's Scorn and going from there. Liliana, Dreadhorde General has been less impressive than I expected her to be but there are still some games where you tap six mana and the game immediately ends, so I think playing two copies is still worth it.
26 lands is a must with cards like Teferi, Hero of Dominaria and Liliana, Dreadhorde General in the deck. There is no Discovery // Dispersal to help hit land drops, and this deck simply cannot afford to miss a step in the early turns of the game. The deck thrives on falling a little bit behind early and then catching up in the midgame and then just crushing the opponent a few turns later. However, this deck doesn't have any maindeck sweepers so if it falls too far behind it will never catch up. Missing land drops is usually game over in the first few turns.
Sorin, Vengeful Bloodlord surprised me by actually being pretty good. On paper it looks quite unimpactful, but it gains loyalty really quickly, can gain a lot of life, and it being a four-mana Thief of Sanity that sticks around to be another Thief of Sanity in a few turns is actually really, really good in some matchups. It can also do exactly the same with Hero of Precinct One in matchups where that card shines.
This is my current list. And my next iteration is going to be -2 Enter the God-Eternals maindeck with Oath of Kaya and Tyrant's Scorn taking their place, and then -1 Oath of Kaya, +1 Enter the God-Eternals or Basilica Bell-Haunt in the sideboard. I don't want to sign off on those changes until I've tried them, however.
Davriel, Rogue Shadowmage underperformed for me over the weekend. I thought it would be great and on turn three it often was, but its value diminished immensely over the course of a game. I think Narset, Parter of Veils is way better, as it's also impactful on turn three, but remains impactful as the game progresses, and her static ability is extremely devastating to a number of strategies.
Unmoored Ego is horrendous. I will not be putting that into my deck again, unless I'm playing a strategy that doesn't interact with Nexus and needs a one-of haymaker. Against this deck, Nexus players will bring in alternative ways to win the game, and they will often side 1-2 copies of Nexus of Fate out against you. Nexus isn't even usually that good against you because they struggle to keep Wilderness Reclamation or other permanents in play to abuse it.
Four copies of Dovin's Veto might be overkill, as a lot of the decks where you want the effect also play Teferi, Time Raveler, which renders it completely useless while in play. I believe that maindecking two copies of the card is entirely correct in my build of the deck, because I'm playing Teferi, Hero of Dominaria and it pairs quite well with Teferi, Time Raveler and is also just a good card in a more controlling build, which mine is.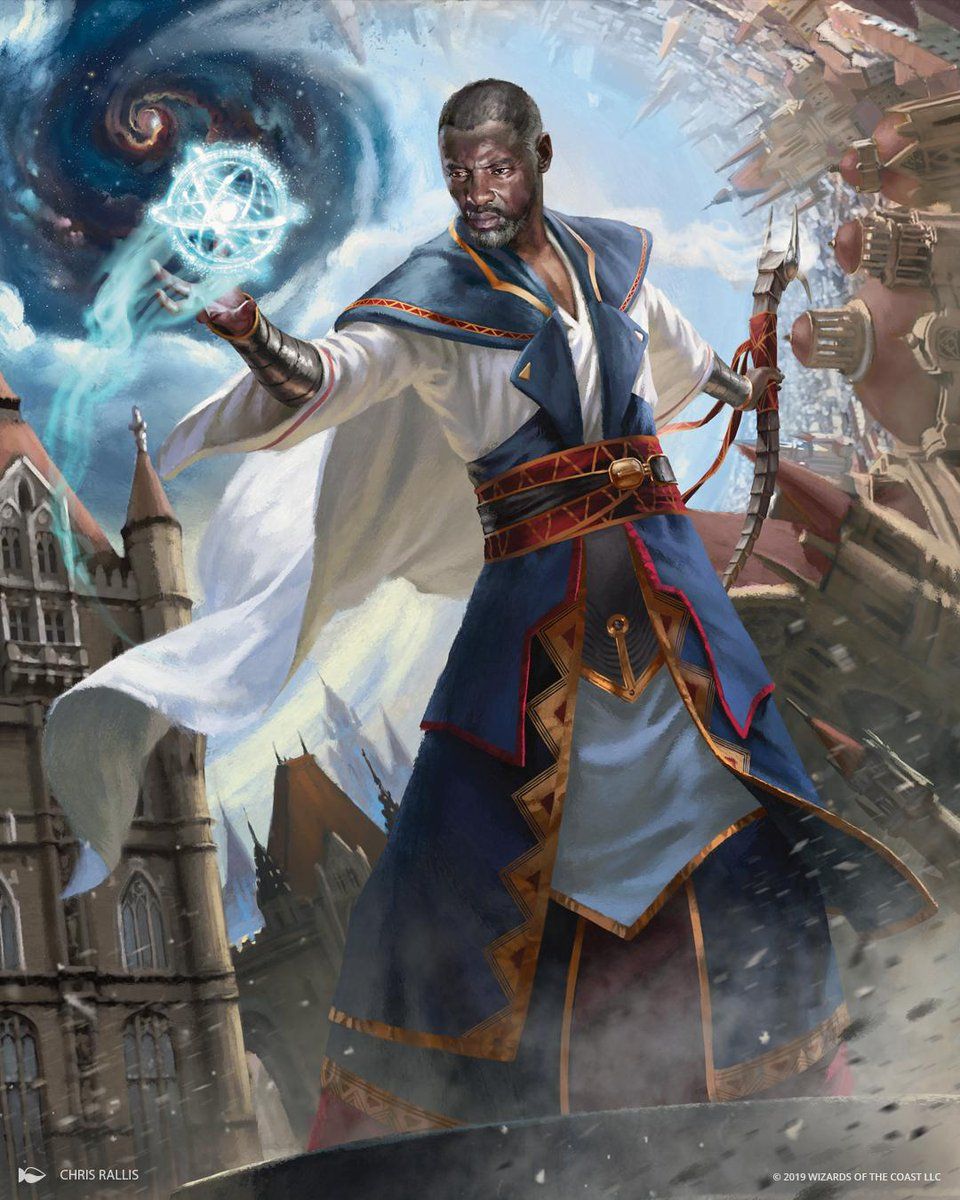 Speaking of Teferi, Hero of Dominaria...how are people still sleeping on this card? I don't get why people refuse to put this into their decks. There is a reason people despise this card so much in Standard. Yeah, the untap two ability isn't always that great in this deck, but that doesn't matter. It's still better than pretty much anything else you could be doing.
The only flaw in Teferi, Hero of Dominaria is that it breaks my motto of "only play the good cards" because Teferi isn't good, it's ****ing phenomenal. Calling it good would be a disgrace to every single time rift Teferi has mended in his long and illustrious career—which, to my knowledge is exactly one.
The Ins and Outs of Taking Cards In and Out
Sideboarding with this deck is an artform. Much like how the best way to build this deck is to play only the good cards, the best way to sideboard this deck is to take out the bad cards and put the good cards in.
Novel. Groundbreaking. Revolutionary.
I broke it.
Vs. Mono Red
-4 Thief of Sanity -1 Hostage Taker -1 Liliana, Dreadhorde General

+2 Oath of Kaya +2 Basilica Bell-Haunt +2 Moment of Craving

On the draw, also do:-1 Island -1 Liliana, Dreadhorde General

+2 Time Wipe

Sideboarding against red isn't cut and dry. They could do a lot of different things against you. If they go too controlling, then you can actually leave in Thief of Sanity and cut Hostage Takers or leave in more Liliana, Dreadhorde General as a win condition against them.
Vs. Simic Nexus
-2 Enter the God-Eternals -1 Island -2 Liliana, Dreadhorde General -3 Hostage Taker -1 Sorin, Vengeful Bloodlord

+2 Dovin's Veto +2 Duress +3 Narset, Parter of Veils +2 Oath of Kaya
Vs. Esper Control
-2 Enter the God-Eternals -3 Hostage Taker -2 Mortify

+2 Dovin's Veto +2 Duress +3 Narset, Parter of Veils

If they have too many Teferi, Time Ravelers or too many creatures, keep in a third Mortify and only have three Dovin's Veto.
Vs. White Aggro
-4 Thought Erasure -2 Dovin's Veto -1 Liliana, Dreadhorde General -1 Despark

+2 Moment of Craving +2 Oath of Kaya +2 Basilica Bell-Haunt +2 Time Wipe

I haven't liked Thought Erasure against them, and although I am making my curve horrible I think it's better to just have impactful cards and hope to not get run over. Hero of Precinct One helps immensely in that regard.
Vs. Bant Midrange
-2 Dovin's Veto -2 Enter the God-Eternals

+2 Time Wipe +2 Oath of Kaya

I thought this matchup would be awful, but I am beating it Time (wipe) and Time (wipe) again. It's a pretty close midrange fight, but cards like Hostage Taker are just a bit better than what they can muster.

As it turned out, by taking Top 16 at SCG Richmond, my last SCG event in the foreseeable future, I actually gained just barely enough points to qualify for the SCG Invitational in June. Now I have to decide if I will fly back to play in it. Turns out that unforeseeable future might be a little easier to foresee than initially thought.

I could easily see myself back in Roanoke in a few months time, playing this heinous midrange deck, and wondering where it all went wrong when I'm 5-4 after round nine and questioning if I should drop to play in a Classic or battle it out. Then again, maybe it will do better than I expect. Wouldn't be the first time.
---
Brian Braun-Duin