It's spring time, Trainers! The warm breeze blows, the first blossoms emerge, and the aisles of your favorite store are packed to the brim with bunnies, eggs, and jellies. If you're looking for something a little different, you can whip up your own creative take on a confectionary classic some lovingly call a Pokémon "Peepachu!"
This recipe is fun for families to make together, but suitable enough for young Trainers to master themselves (with adult help and supervision).
Kids: ALWAYS be sure to have an adult help you in the kitchen!
Peepachu Spring Treats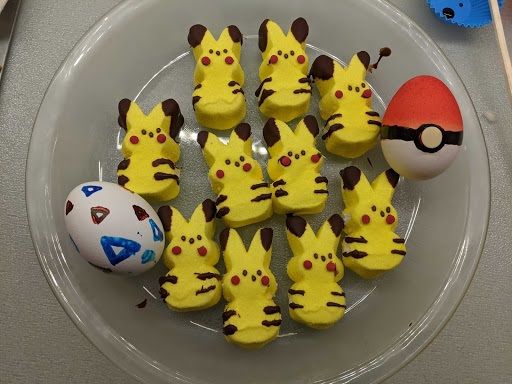 Yield: 12 Peepachu Treats
Prep Time: 5 minutes
Cook Time: 15 minutes
*Peeps Brand Marshmallows are gluten free, but check your other ingredients if you want to keep it that way!*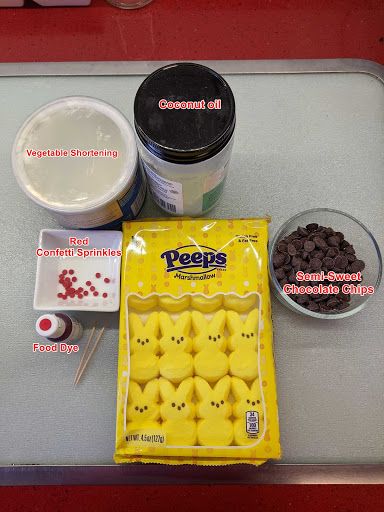 Ingredients
(1) 12-count package of yellow Marshmallow Peep Bunnies
4 oz semi-sweet chocolate chips (or allergy friendly chips)
1 tsp. Coconut oil (can be substituted with vegetable shortening)
24 Red Confetti style sprinkles (can be substituted with red food gel dye)
Tools
Toothpicks or food-only brushes
Parchment Paper (optional)
Small dishes for dipping and decorating (optional)
Directions
Step 1
If your red confetti sprinkles are part of a holiday assortment, you may need to separate them from the other colors. This is the perfect way to use up that Valentine sprinkle container you may still have in the cupboard. Smaller trainers like to help separating. (Always scrub those hands before starting!)
Step 2 (ADULT HELP)
Place your chocolate chips into a microwave-safe dish, and add your coconut oil. Using 70% power, heat in 30-second bursts, stirring chips and coconut oil after each round. You may need to repeat this process several times, until melted and smooth. Please do not heat to the point of the chocolate bubbling—it may burn.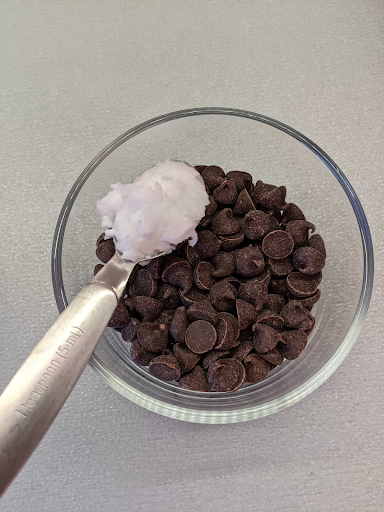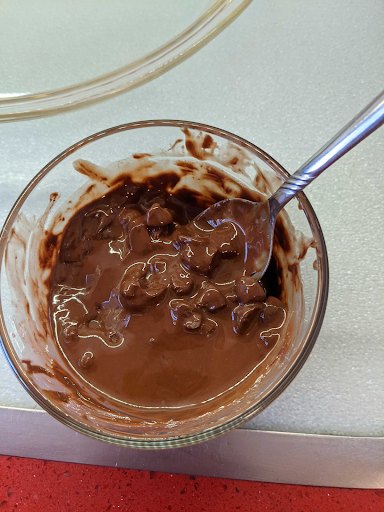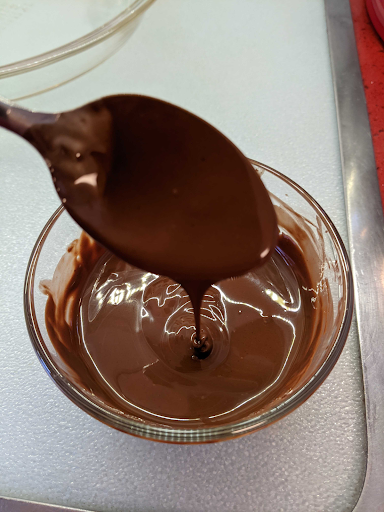 Step 3
Holding your bunny at a 45 degree angle, dip the ears in the melted chocolate. The outside edge of each ear should be coated. (Pro tip: Point the marshmallow ears downward to have chocolate drip off or it could smear the face)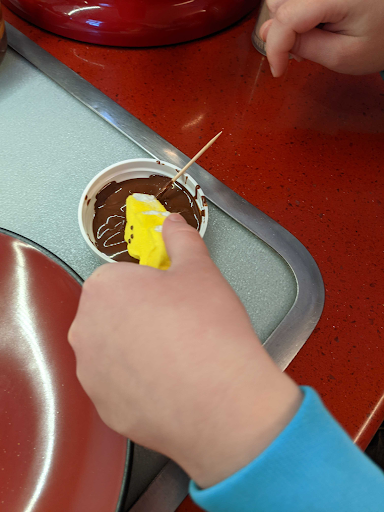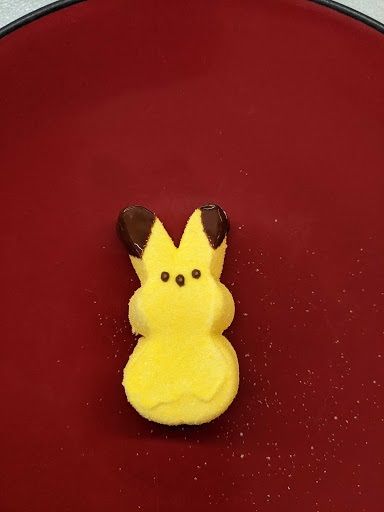 Step 4
Carefully place your Peepachu onto a plate. Using a toothpick, place a drop of chocolate onto the back of a red confetti sprinkle and "glue" it onto a cheek. Repeat for the other cheek.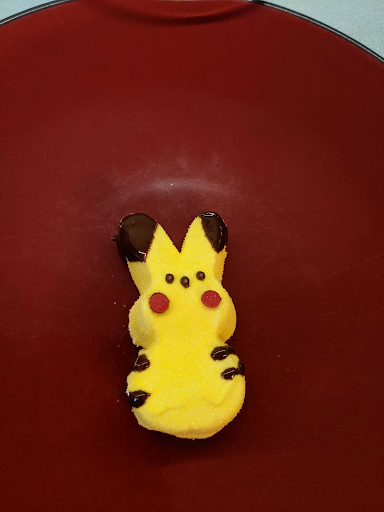 Step 5
Using your toothpick, paint on your Peepachu's side stripes.
Step 6 (optional)
For an extra delicious treat, dip the back of your marshmallow into the chocolate and place on a piece of parchment paper.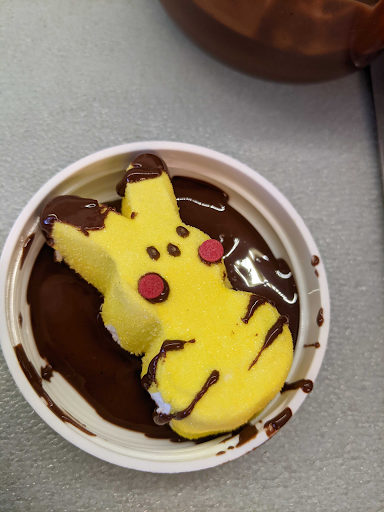 Step 7
Place Peepachus into a refrigerator for approximately 15 minutes for the chocolate to set.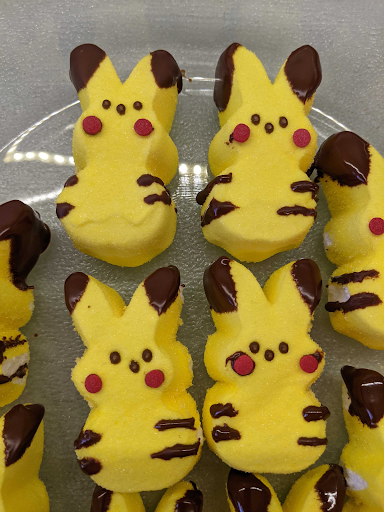 Bonus Challenge
As an extra fun option, we decorated some Pokémon-themed hard boiled eggs!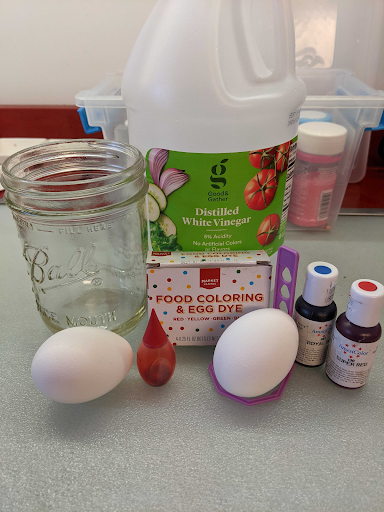 For the Poké Ball, I hand dipped the top portion red, set the egg on a small jar as an easel, then painted on the stripe.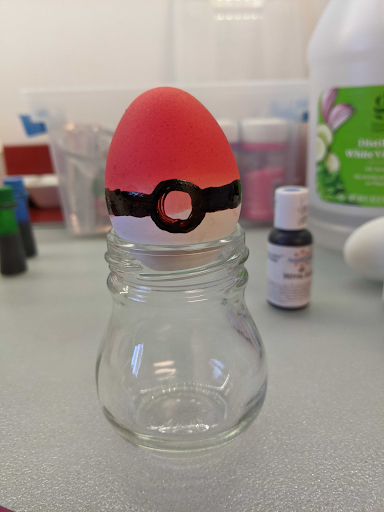 A slightly melted white chocolate chip served as the tricky center circle! To get that black dye just right, you can use the following food dye combination (use gel for consistency):
1 drop BLUE food dye gel
2.5 drops GREEN food dye gel
3 drops RED food dye gel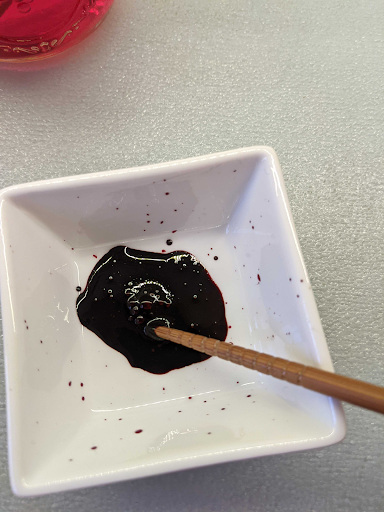 You can literally paint on your designs (like this Togepi egg!) using a toothpick, a disposable chopstick, or food designated decorating brush.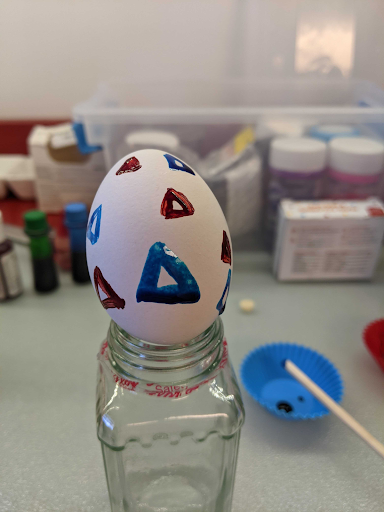 What will you paint?