Last weekend was a little weird as you can imagine. I arrived in Brussels on Friday night, had a nice dinner at a Thai place not far from the Grand Prix, and reached the hotel around 10 pm. I got the news there and it got me into all possible states.
I had my deck ready and had planned to choose the last few sideboard slots before going to sleep. That didn't happen as I couldn't really focus. I wrote my decklist and submitted it without the usual last minute changes before going to bed and trying to sleep. I barely had any (even with the sleep-in), but I was ready to battle and get into "the zone."
Here's what I submitted:
DECKID=1254282
I've been trying things out last week with the help of Emmanuel Vernay (first ever Grand Prix Winner and the mind behind Frites).
By watching the last events, Manu noticed that no one was playing Skyrider Elf, a card that would likely dominate the board in the late game and was easily castable. We picked up a version of Abzan with Woodland Wanderer and started building from there.
Some Abzan decks splashing Blue usually try to fit in Jace, Vryn's Prodigy. Sometimes they're running Hangarback Walker as well. It felt like the deck wanted to be aggressive and cards like Jace and Hangarback Walker didn't have their place. Therefore, the room for Skyrider Elf was found. We had to fix the manabase, and make the best use of the lands we had access to.
Creatures
4 Anafenza, the Foremost
4 Den Protector
1 Heir of the Wilds
4 Siege Rhino
4 Warden of the First Tree
2 Wingmate Roc
2 Woodland Wanderer
4 Abzan Charm
3 Skyrider Elf
4 Anafenza, the Foremost
4 Den Protector
1 Heir of the Wilds
4 Siege Rhino
4 Warden of the First Tree
2 Wingmate Roc

This is a very classic suite of creature for Abzan Aggro. If you don't know what these creatures do by now, you've been sleeping under a (Wingmate) roc(k) for the last year and a half. The options for the drops at two mana are limited. Heir of the Wilds as a one-of is fine; it trades for any ground creatures and can attack into bigger blockers (like Siege Rhino or Tasigur). Let's focus on the cards that are unusual for this deck.
3 Skyrider Elf
2 Woodland Wanderer

The four-mana slot is stacked in Abzan. You already have four Siege Rhinos that are auto-includes, and most Abzan players chose to play Gideon. I mentioned in my article about Mardu Tokens that I wasn't a big fan of the white Planeswalker. It is easier to cast in Abzan than in Mardu, but it feels like in a lot of matchups, it's just not very good and pretty much every time you're on the draw, it's not great. Against anything that plays red, it's either too slow or too vulnerable. Against Rally it barely does anything. Against Ramp it's likely to be too slow as well. It's probably going to shine the most against control (Esper), as long as they don't have an Dragonlord Ojutai out or a Dragonlord Silumgar in hand.
All in all, it's the kind of situational cards that I don't like playing, and Woodland Wanderer was my choice card to replace it. This guy hits hard...very hard. It's just as vulnerable to removal as any other creature, but it comes on turn four, after your other creatures were taken care of. It's possible to block a Rhino with a 4/5 (another Rhino or Tasigur the Golden Fang), it's another thing to block a 6/6 Trampler. Its clock is fast and, when it's supported by Rhinos, it can close the game in two turns.
Skyrider Elf plays a different role. When I showed the deck to some of my teammates, they said the mana just couldn't work to support Skyrider Elf, Warden of the First Tree and Anafenza. I played with the deck for a few days, and never really had trouble casting the flying elf and here's why. When you open a hand with Warden of the First Tree and Skyrider Elf, your land sequence is going to be different than if you open a hand without the Warden. You're first going to fetch a Forest, find a white or black untapped source to pump it on turn two (it never really dies before that), and then you can cast the Skyrider Elf for three +1/+1 counters or more later. Basically, you never need to play a Skyrider Elf the turn after you cast a Warden.
The best land sequence for that is: turn one Forest, turn two Plains, turn three Sunken Hollows. That sequence allows a turn three Anafenza or Skyrider Elf.
The case for Skyrider Elf is that it fills the early curve and the late curve, just like a Warden would do. You can play it on turn two for early pressure or later to get a 5/5 flyer. Flying is not something you can overlook in the current standard format, and that's one of the reasons Mantis Rider is so good, there's nothing to block it. Well, Skyrider Elf does. When Abzan Rally loads the ground with chump blockers, you're very happy to be able to attack in the air.
One of the downsides of the Elf is that it's a soft target for Silkwrap. When you destroy the Silkwrap with a Dromoka's Command, the Elf would come back a 0/0.
Another great thing about the converge creatures is that they both dodge Surge of Righteousness that your opponents will sometimes bring against you.
When we tested for Pro Tour Battle for Zendikar, we figured out that Wingmate Roc was the trump card we wanted in most matchups. There were three cards I wouldn't have played had I a couple more days of testing before the tournament and Wingmate Roc was one of them. I'm not exactly sure why this card isn't as good now as it used to be. Sure, it's a little harder to cast in this version, but it is still a powerful card. I have to say, of the games I played before the tournament and during the tournament, I only got to cast it once or twice, and I wasn't too impressed. It's just too slow and people know how to deal with it. They shoot every creature on sight when they can, and when they don't, these creatures are usually too big and would do the work on their own. You could consider it a "win more" card, except that it's going to stick in your hand for the first couple of turns and won't let you get ahead on the board. Against super aggro decks, it comes down too late, against super control decks, you don't have creatures or don't need a 3/4 flyer for five. It's only good against Midrange when you're already winning or ahead.
I just played them because I didn't have the chance to play them more in that version and didn't want to pass on something good. It turns out I was happy to sideboard them out every time.
Spells
4 Abzan Charm
3 Dromoka's Command
3 Murderous Cut
1 Sorin, Solemn Visitor
Just like for the creatures, we're not going over every card individually because you should know about them by now. However, I'm going to talk about the difference between these cards in our version and in the classic Abzan.
First of all Murderous Cut really shines here. 15 fetch lands really help filling your graveyard to have it regularly cast on turn three and have enough fuel for later castings.
Dromoka's Command is not as good but works as a fine removal. It's probably the best way to take care of an early Jace, Vryn's Prodigy and is a lot more versatile than an Ultimate Price that would not work on a Mantis Rider, Anafenza, or Siege Rhino. As I mentioned above, I don't want to have situational cards in an aggro deck. Its casting cost might be a little problematic in the midgame when you're trying to cast two spells on the same turn (an Abzan Charm and a Command for example) as you may not have double white or double green.
Of the three cards I wouldn't have played, Sorin is one of them. While a fine card, it has the same problems as Gideon, although its +1 is more impactful in some situations. I really only wanted it against Atarka Red, which was a matchup I was worried about. Overall, four mana is a lot for something that isn't board presence, and the life swing sometimes isn't enough to survive Become Immense + Temur Battle Rage.
The Manabase
2 Canopy Vista
4 Flooded Strand
3 Polluted Delta
1 Prairie Stream
1 Smoldering Marsh
1 Sunken Hollow
4 Windswept Heath
4 Wooded Foothills
2 Forest
1 Island
1 Plains
1 Swamp
15 Fetch lands, five basic lands and five battle lands. That manabase worked out fine for me. Some of the people I shared the deck with called me names for including a basic Island in the deck. Why would I play a basic Island in a deck with Dromoka's Command, Abzan Charm and Anafenza? Well, it is true that opening a hand with a basic Island is awkward/bad. However, I wanted to have another soft target for Flooded Strands and Polluted Delta. The sideboard also asks for a basic Island to be able to reliably cast Disdainful Stroke, a trump card against Eldrazi Ramp.
The notable card absent in the manabase is Shambling Vent. You definitely do not want a B/W dual land that comes into play tapped when you're running converge cards and the upside of having a creature land just isn't worth it.
Sideboard and Matchups.
3 Exert Influence
3 Disdainful Stroke
2 Duress
3 Arashin Cleric
2 Surge of Righteousness
1 Virulent Plague
1 Ultimate Price
I wanted a lot of cards against Atarka Red as I didn't really have that many cards to sideboard against the other matchups. 15 Fetch lands hurt a lot (meaning you lose a lot of life by fetching) so I wanted to have a way to gain life and have more cheap removal. The rest is a bunch of high impact cards in their respective matchups.
Vs. Atarka Red / R/G Landfall
+3 Arashin Cleric
+2 Surge of Righteousness
+1 Virulent Plague
+1 Ultimate Price

-2 Wingmate Roc
-1 Den Protector
-1 Skyrider Elf
-2 Abzan Charm
-1 Woodland Wanderer
It's a tough game one, especially on the draw (that's why Atarka Red is playable in the first place). We improve a lot after board as you board in life gain and cheap removal while their deck doesn't improve at all. Hooting Mandrills doesn't change much and it's actually better for you if they board in expensive cards.
Vs. Abzan
+3 Exert Influence

-2 Wingmate Roc
-1 Sorin, Solemn Visitor
Both decks play a similar game and the matchup is pretty even. Exert Influence can make a huge difference after board (and is probably the best card you can board in this matchup). It's a guaranteed two-for-one that will totally swing the game in your favor when you take control of a Warden, an Anafenza, a Rhino, or a Tasigur.
Vs. Jeskai / Dark Jeskai
+3 Exert Influence
+1 Surge of Righteousness

-1 Sorin, Solemn Visitor
-2 Wingmate Roc
-1 Woodland Wanderer
Piling up huge creatures is a way to beat Jeskai. Along with removal for their early threats, chaining Dig Though Time is probably the only way they can keep up. Exert Influence works great against Jeskai as well by stealing a Mantis Rider and attacking Jace really messes up their math. When they board in Dragonlord Silumgar, it's a good way to get your creature back and add an extra guy to your ranks.
Vs. Green Ramp
+2 Duress
+3 Disdainful Stroke

-2 Wingmate Roc
-1 Sorin, Solemn Visitor
-1 Murderous Cut
-1 Woodland Wanderer

That's probably the matchup I played the most on Magic Online before the tournament. It's the kind of deck I would have enjoyed playing...if I thought it was any good. Unfortunately, I believe the deck is terribly unstable and very easy to disrupt if you know how it works. A deck with some pressure and just a little disruption is really hard to beat for them. Three Disdainful Stroke and two Duress are enough to beat Green Ramp.
Vs. Aristocrats
+3 Disdainful Stroke
+1 Ultimate Price
+2 Duress

-2 Wingmate Roc
-1 Sorin, Solemn Visitor
-1 Heir of the Wilds
-2 Abzan Charm
Anafenza is your best option to beat Aristocrats. From what I heard at the Grand Prix, team Tournament Center (most of its members were playing Aristocrats) had a ridiculous win rate against Abzan (like 22-2 or something), meaning Anafenza might not be enough. We might have a better chance as Skyrider Elf gives us a way to deal some flying damage (much earlier than Wingmate Roc would have), so that might be a good way to approach this match: have a flying beater and try to control the board (mostly by killing Catacomb Sifter and Grim Haruspex) and make sure they don't cast their winning spells with Disdainful Stroke and Duress.
Vs. Esper
+3 Disdainful Stroke
+2 Duress

-2 Wingmate Roc
-1 Heir of the Wilds
-2 Woodland Wanderer

The classic midrange vs. control matchup. The outcome of the match will depend on how much pressure you'll put on them early, and how much you can sustain the aggression with the help of disruption.
As for my tournament, here is how it went:
Day 1:
Round 4 vs. Jeskai Black: 2-1, 4-0
Round 5 vs. Atarka Red: 1-2, 4-1
Round 6 vs. Rally: 1-2, 4-2
Round 7 vs. Atarka Red: 2-1, 5-2
Round 8 vs. Rally: 2-0, 6-2
Round 9 vs. Green Ramp: 2-1, 7-2
Day 2:
Round 10 vs. Abzan: 0-2, 7-3
Round 11 vs. Jeskai Black: 2-0, 8-3
Round 12 vs. Temur: 2-0, 9-3
Round 13 vs. Abzan: 2-1, 10-3
Round 14 vs. Abzan: 0-2, 10-4 (mostly my fault here, made a huge mistake in that match)
Round 15 vs. Esper: 2-0, 11-4
I really enjoyed playing this deck; it's probably the first deck I liked in this format and believe it has some room to improve. For starters, I would cut both Wingmate Roc and Sorin, Solemn Visitor to play one more Murderous Cut, one more Skyrider Elf and maybe one more Woodland Wanderer.
11-4 was good for a Top 64 finish, some cash (mostly to cover the expenses) and two pro points.
Fun Fact from Grand Prix Brussels: After 18 years, I had my first win keeping a zero land hand (after two mulligans)! I consider this one of my top achievements. :)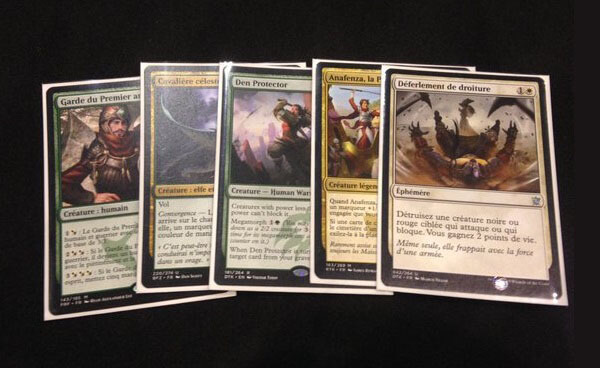 Now there's a big break from "competitive" Magic for a while. My next tournament will most likely be Grand Prix Mexico before Pro Tour Oath of the Gatewatch in Atlanta, but don't worry, I'll stick around. Maybe I'll record some videos playing this deck if you're interested, and try to improve the list?
Take care,
Raph
Twitter: @hahamoud