Buckle in folks. We had a lot of events last weekend, and that means a lot of data to dig into.
With two large events on MTGMelee—with public decklists and pairings—come two great new matchup breakdowns from mtgmeta.io. Visit them for breakdowns of the SCG Championship Qualifer #3 and the Red Bull International Qualifier II.
Combine those with the Standard Showcase Challenge and the usual Sunday Challenge on MTGO and you get the following winners' metagame: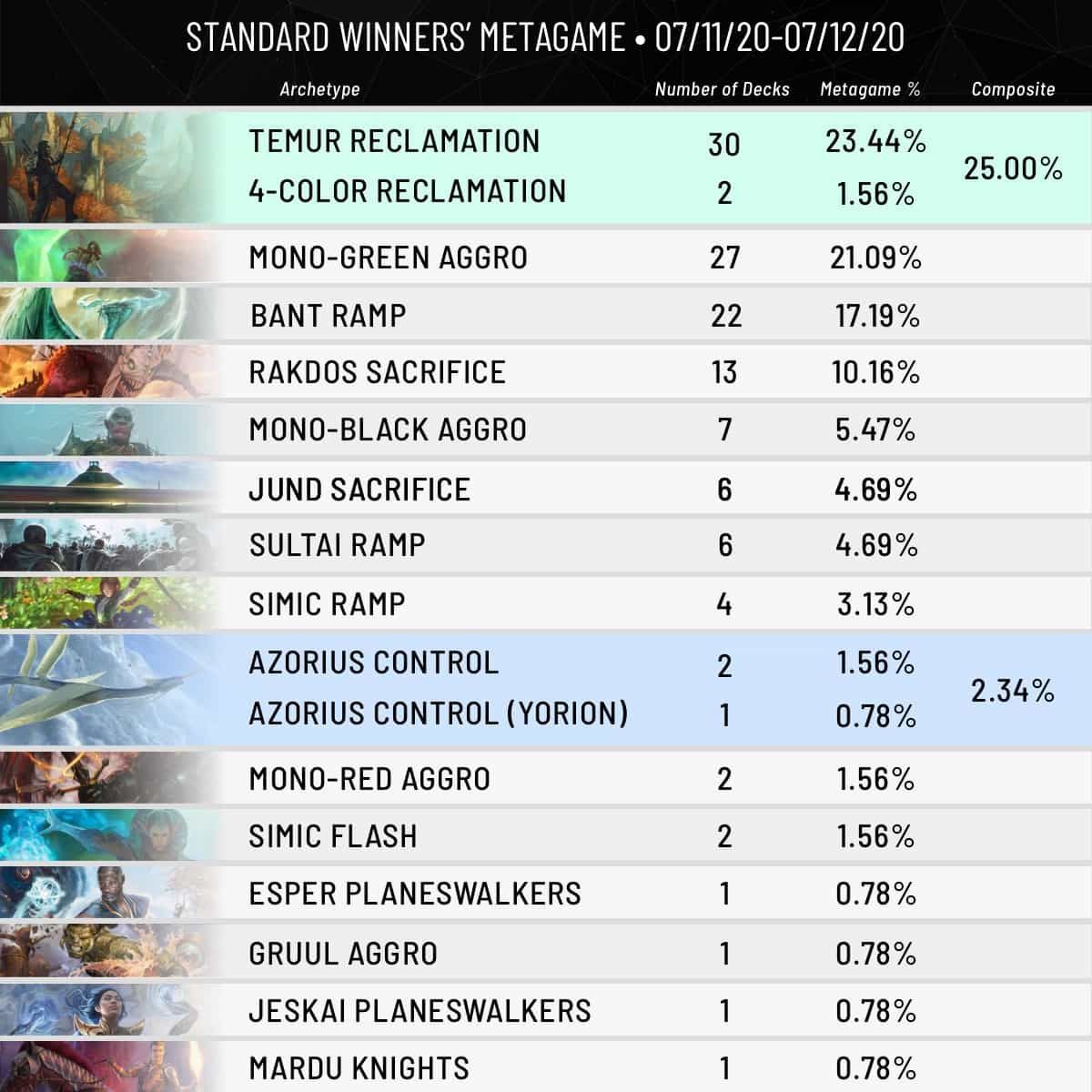 Woof.
This is a pretty big change from last week when Bant Ramp was still on top and Mono-Green Aggro was a mere up-and-comer. Wilderness Reclamation commands a full quarter of the metagame, and Mono-Green Aggro is almost even with Temur Reclamation. Bant Ramp has the same metagame share as last week, but a sharp drop in performance. Jund Sacrifice maintained a reasonable win rate, but lost its metagame share.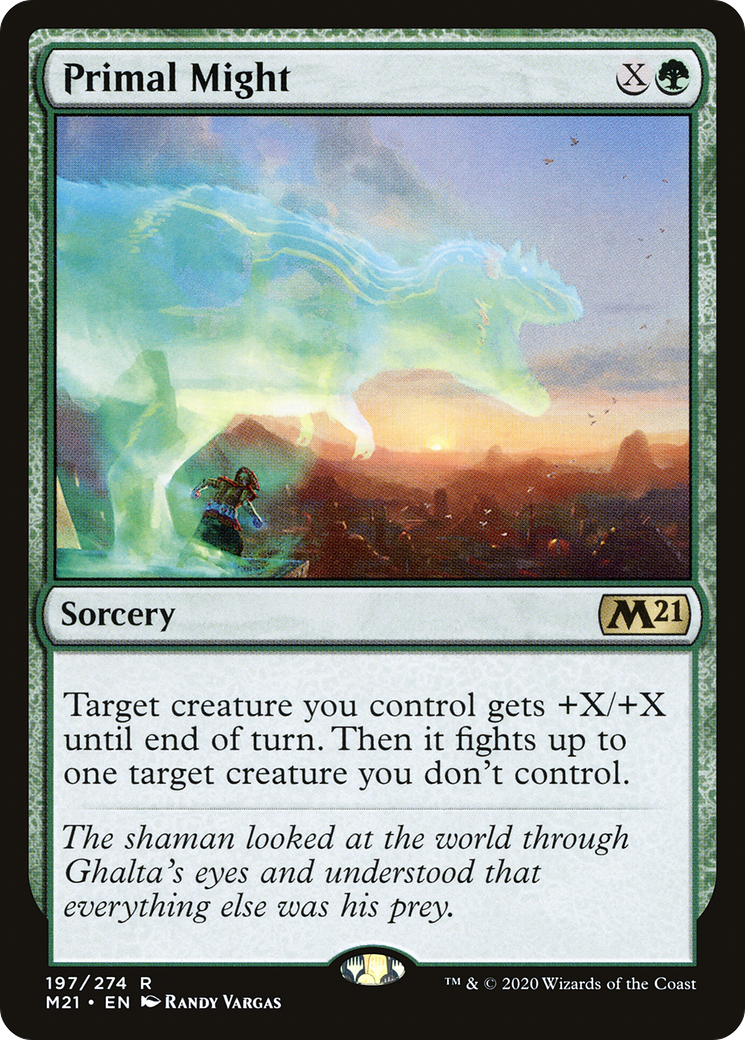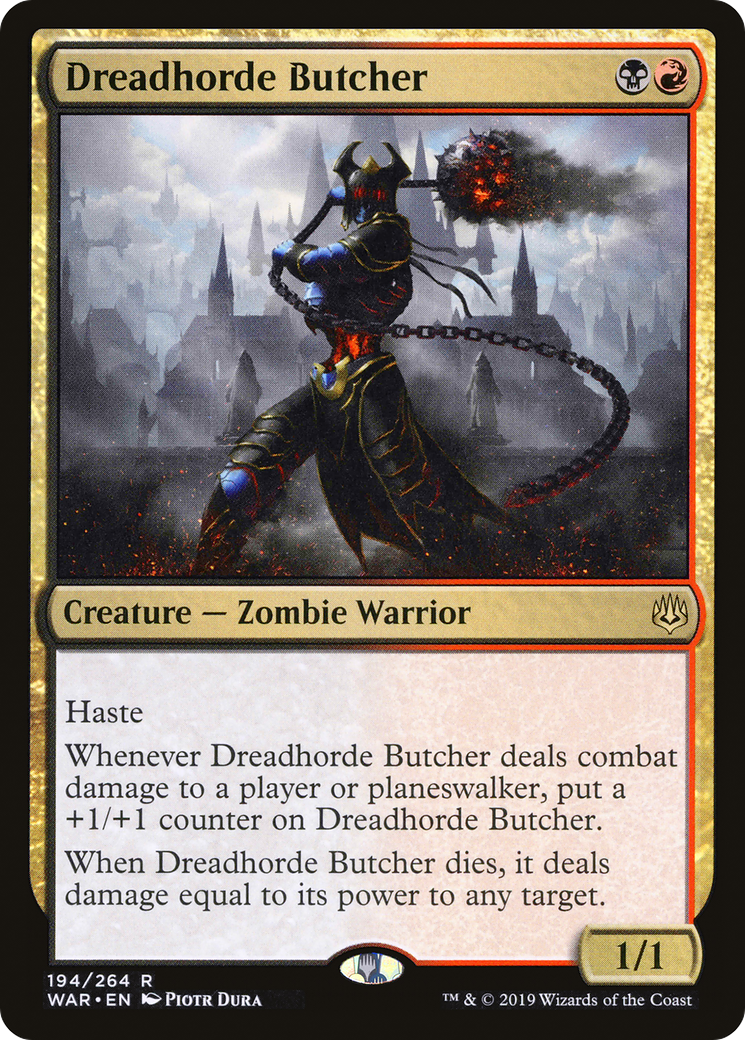 The shift in the top tier this week is massive, largely due to the spike in aggressive decks. Mono-Green Aggro had a breakout weekend after a good performance last weekend. Rakdos Sacrifice similarly had a strong weekend, with good matchups against both Bant Ramp and Mono-Green Aggro. Mono-Black Aggro continues to be poorly positioned, and I expect it to drop off the tier list next week.
Azorius Control was well positioned against the previous weekend, but this weekend it was shoved out by anti-blue builds of Temur Reclamation and a huge spike in resilient aggro decks. Non-Bant Ramp decks did fine, but performed worse than Bant versions across the board. Sultai is still Bad Bant, and Simic Ramp is "more consistent" but also far less powerful.
This week, the decks to beat ask you to beat interaction, large green creatures, and the aggressive sacrifice engines of Rakdos Sacrifice. Temur Reclamation is public enemy number one, but you cannot ignore the pressure of the aggressive decks. Mystical Dispute is a lot harder to maindeck in this metagame, but Aether Gust remains potent. Cheap spot removal is more important than Shatter the Sky or Ugin, the Spirit Dragon. The terms of engagement have changed.

Temur Reclamation
The current best deck in the format. If you don't know what to play or have a good reason for what you'd play otherwise, just play Temur Reclamation. You get Uro, Titan of Nature's Wrath, cheap interaction, and the most busted endgame in the format.
That said, trim down on the number of Mystical Dispute you're playing this week. Blue is no longer a majority of the metagame, and I'd shift more toward Scorching Dragonfire, Bonecrusher Giant or Aether Gust in the maindeck slots.
Nightpack Ambusher has moved from a niche sideboard option to a maindeck staple because of the aggressive shift in the metagame, and while it remains well positioned, be wary of the potential heavy focus on Aether Gust.
Mono-Green Aggro
This list is the MTGO Stock Version™. Built by Willy Edel last week, it put up a metric ton of results this weekend. It has a good Jund Sacrifice matchup, good Bant Ramp matchup, and a solid matchup spread. The Temur Reclamation matchup needs some work, but Mono-Green Aggro is now solidly tier 1.
There's not a whole lot to say about techs and tuning for this archetype right now. Mono-Green Aggro only has one color to pull from and it's a fairly linear archetype. That said, planeswalkers like Garruk, Unleashed and Vivien, Monsters' Advocate are cards to consider this week to fight back against Temur Reclamation's removal plan.
Rakdos Sacrifice
Last week I wrote that Rakdos Sacrifice was poorly positioned, but builds with Dreadhorde Butcher and Priest of Forgotten Gods might be better against the current metagame. I didn't realize just how much that shift would improve Rakdos Sacrifice's position, and it jumps now into tier 1 status, partly because I did not predict just how much Mono-Green Aggro there would be.
While Bant Ramp fell from the Decks to Beat, it's still going to see a lot of play. Many won't agree with my stance on Bant Ramp, and the deck still plays a lot of good cards. The Temur Reclamation matchup may be unfavorable, but Rakdos Sacrifice is still very strong against other aggro decks and Bant Ramp, making it a powerful metagame choice this weekend.

Bant Ramp
While Bant Ramp contains many of the most powerful cards in Standard, it's no longer one of the best decks. There's definitely a floor on how "bad" Bant Ramp can be with cards this powerful, but Temur Reclamation has garnered an edge in the head-to-head, and the aggressive new top tier of decks is all unfavorable matchups.
No matter how "good" your cards are, you shouldn't play a deck that's unfavored against all three of the top decks. Elspeth Conquers Death isn't what it once was, and Ugin, the Spirit Dragon isn't great against the top decks. Bant Ramp warped the format around itself, and the resulting metagame is incredibly hostile.
Mono-Black Aggro
Look, we all like attacking with a 10-power flier on turn four, but Mono-Black Aggro simply isn't cutting it. Rotting Regisaur is incredibly effective against Temur Reclamation and Noxious Grasp is unreal against Mono-Green Aggro, but those are basically the only two good matchups this deck has.
I expect to see one or two copies spike the good matchups and put up a good finish, but this is not the deck I'd stake my tournament on. You simply won't play against only Temur Reclamation and Mono-Green Aggro, and you need to be capable of taking on the other decks in the metagame.
Non-Bant Ramp
I talked about this earlier, but I want to hammer home that the other ramp decks are even worse off than Bant Ramp.
It's a running joke at this point for me to call Sultai Ramp "Bad Bant," but that just continues to be the case. The only major archetype that Sultai has an advantage against is Jund Sacrifice, and potentially an edge in the "mirror." I will continue to advise against playing this archetype.
Simic Ramp sounds really appealing. Less painful mana than Bant Ramp, faster Ugin, the Spirit Dragon, and more utility lands. The trade-offs cost you far more power than you earn with that consistency, however.
You have worse countermagic in ramp mirrors because you lose access to Dovin's Veto. You lose the ability to answer permanents with anything but Ugin, the Spirit Dragon. In fact, you rely on Ugin as a primary game plan, and that's no longer good enough. The format has evolved to make Ugin bad, and that makes Simic Ramp bad.

Jund Sacrifice
Jund Sacrifice was a strong deck into much of the format, but this weekend's lists were not prepared for such a large amount of Temur Reclamation and Mono-Green Aggro. Falling short of top finishes is understandable when those make up a full half of the winners' metagame.
That doesn't make Jund Sacrifice a bad deck, though. Jund has access to a lot of options to address these weak spots and still excels against Bant Ramp and Rakdos Sacrifice. Stryce was the most successful Jund Sacrifice player this weekend with a sideboard that was well prepared for these matchups: Cindervines, Lava Coil, Noxious Grasp and Murderous Rider.
Going forward Jund Sacrifice should look a lot more like this, leaning back into Priest of Forgotten Gods to address the spike in aggressive decks and playing more spot removal while still having access to the anti-Ramp (and to a degree, anti-Reclamation) plan of Solemn Simulacrum into Bolas's Citadel.

Jund Sacrifice
Pulling heavily from Stryce's list I wanted to play the third Korvold, Fae-Cursed King in the main as well as a Scavenging Ooze. I also trimmed a Trail of Crumbs and moved a Solemn Simulacrum to the sideboard. The metagame is going to get aggressive this weekend, and I want my game-one configuration to reflect that.
It's quite possible we should have access to more Claim the Firstborn in the 75, but the sideboard removal spells fulfill the same role, with better specificity post-board against Sacrifice mirrors and Mono-Green Aggro.
I'm not sure about dropping the 25th land, as Jund Sacrifice is a mana-hungry deck, but there's a lot we want to fit in right now. The fourth Priest of Forgotten Gods and the third Woe Strider are invaluable against aggressive decks, but missing land drops is a death knell against most of the format. If push comes to shove and I need a 25th land I'm probably trimming a Woe Strider or moving another Bolas's Citadel to the sideboard.
* * *
There's a lot of complaining about Standard in "the discourse" right now, but honestly, I'm really enjoying it. There's a lot of churn in the format, tuning your 75 week to week is incredibly rewarding, and rumors of Bant's dominance are complete hyperbole.
The format rewards tight play, games are pretty varied in experience, and we have high level events every week to inspire innovation. I want to shout out Star City Games in particular for putting on the best online tournament circuit I've seen yet, with clear goals, smoothly run events, and cash prizes on par with their tabletop events along with their usual stellar coverage.
Standard is probably the most powerful it's been in a long while, but it's still incredibly fun and rewarding, and I'm not about to quit anytime soon. See you next week!