Week one is in the books, and Core Set 2021 Standard is a lot of new cards and a lot of old decks. While M21 had a significant impact on the metagame, the major players remained more or less the same. Here's the winners' metagame for last weekend, compiled from the Top 32 of each of the MTGO Challenges and the Top 32 of the Star City Games Championship Qualifier 2: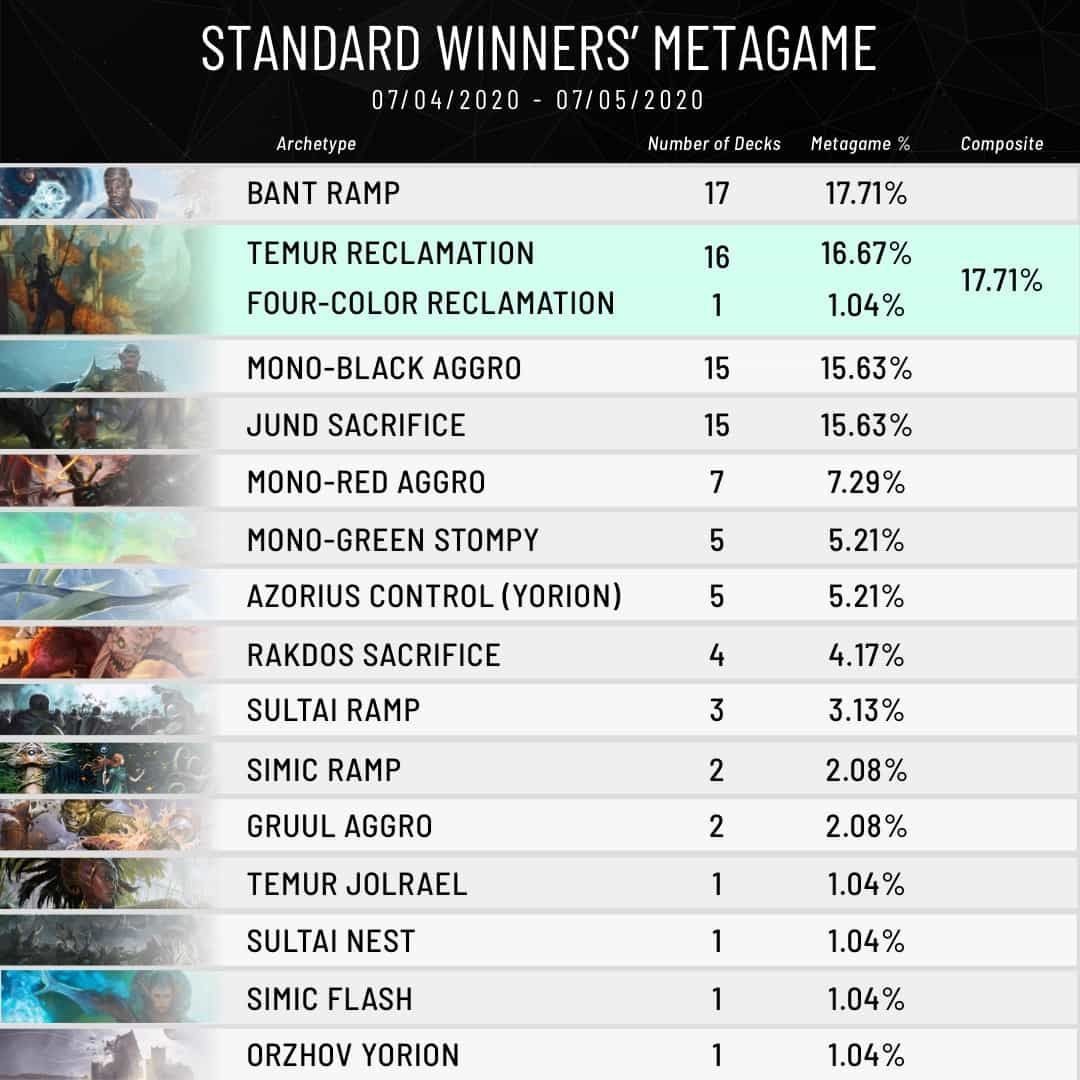 Bant Ramp, Temur Reclamation and Jund Sacrifice remain top players in the format, with the only major newcomer being Mono-Black Aggro. Mono-Red Aggro and Mono-Green Stompy remain minor players you must be aware of, but neither is a dominant metagame force.
Azorius Control was a breakout archetype specifically on Sunday, seemingly taking advantage of a field weak to Narset, Parter of Veils while having answers to Rotting Regisaur. Rakdos Sacrifice on the other hand had an exceptionally bad weekend. Despite commanding a reasonable portion of the metagame, Rakdos Sacrifice performed poorly. While we don't have data for the MTGO events, in the Championship Qualifier 2 Rakdos Sacrifice had a 45% win rate.
There were a few notable decks in the "other" category. There was a Temur Midrange deck built around Jolrael, Mwonvuli Recluse, a Sultai Yorion deck built around Titans' Nest, and an update to the Orhzov Yorion deck that showed up at the end of the previous format. While none of these seem powerful enough to shake the format in their current form, each of these decks had powerful new interactions to iterate on.

Bant Ramp
Bant Ramp is the deck that gained the most from M21. Scavenging Ooze, Jolrael, Mwonvuli Recluse, Teferi, Master of Time and Ugin the Spirit Dragon have all made Bant Ramp into a format-warping giant. It now goes bigger and better than everything else in the metagame.
The Teferi, Time Raveler Teferi, Master of Time work incredibly well to protect each other and absolutely rip through your deck. Jolrael, Mwonvuli Recluse gums up the ground and adds an option to close the game early. Ugin, the Spirit Dragon is the biggest, baddest emergency button. Bant Ramp now has the highest card quality of any deck in the format without question.
Don't play a deck with a bad Bant Ramp matchup right now. Don't play a deck that can't pressure past Teferis. Don't play a deck that folds to Ugin. Don't play a deck that can't answer planeswalkers. Bant Ramp is not a traditional litmus test like Mono-Red has been in previous formats, but Bant Ramp is the deck against which you must measure all other decks.
Temur Reclamation
Okay, this is the one deck you're allowed to play with a bad Bant Ramp matchup. Temur Reclamation is a slight underdog in the head-to-head against Bant Ramp, but it's pretty well-positioned in the format. Temur Reclamation simply gets to play past a lot of traditional interaction while playing the most interaction of any deck in the format.
M21 didn't bring the deck any new toys in the more traditional builds, but Erin Diaz took down Championship Qualifier 2 with this innovative list:
This is a much more proactive build featuring Jolrael, Mwonvuli Recluse and Nissa, Who Shakes the World, but it also has a top-end hammer in Sublime Epiphany as well as an Ugin, the Spirit Dragon in the sideboard. Remember how I said Bant Ramp was a bad matchup? Erin 2-0'd three consecutive Bant Ramp decks in Top 8. I may have to split this as its own archetype if both versions of Temur Reclamation are popular going forward, but I highly recommend trying this version.
Jund Sacrifice
Jund Sacrifice hasn't gone anywhere. Bolas's Citadel is once again the endgame of choice since Ugin, the Spirit Dragon means you can't play an attrition game against ramp decks, and you could never play an attrition game against Temur Reclamation.
While Bant Ramp and Temur Reclamation are getting all the press (and all the complaints), Jund Sacrifice was quietly the best deck on the weekend. It's clean, it's consistent, and it doesn't have issues against aggro.
While Jund still has some troubles against Temur Reclamation, the matchup isn't as bad as it once was. Sultai is even more of a "bad Bant Ramp" than it was before, so Casualties of War isn't much of a concern either. Jund Sacrifice is probably the best deck right now, and I don't think people will catch on in time to punish it this weekend.

Mono-Black Aggro
Demonic Embrace is a hell of a card, but Mono-Black Aggro isn't where I want to be right now. The interaction available in black does not line up well against the format, but choosing not to interact is punished heavily.
Mono-Black just isn't consistently fast enough against Bant Ramp, and the matchup against Temur Reclamation isn't good enough to make up for that. Claim the Firstborn is embarrassingly powerful against Rotting Regisaur and Demonic Embrace. The return of Azorius Control isn't good news either, as the popular Yorion, Sky Nomad-based build plays a pile of Glass Casket and Shatter the Sky.
This specific list was used to ladder to Mythic the fastest in July, and is a good way to rush up the ladder, but I cannot recommend it for tournament play.
Mono-Red Aggro
Look, Mono-Red Aggro is Fine™. It punishes stumbles well and has a low curve. But it lines up so poorly against the big three right now. It's simply badly positioned against Jund Sacrifice and Temur Reclamation, and M21 made Bant Ramp into a bad matchup as well. If you're not SandydogMTG stay away from Mono-Red Aggro.
Rakdos Sacrifice
Rakdos Sacrifice is a leaner, more aggressive sacrifice deck. While it's smart to go fast against Bant Ramp or Temur Reclamation, Rakdos Sacrifice is simply too weak to interaction and lacks the power that Jund Sacrifice has.
Spark Harvest can hit planeswalkers, but it's really not good enough interaction right now. It's cheap, but it requires taking away from your already weak board presence. It's possible that older shells with Priest of Forgotten Gods and Dreadhorde Butcher are better positioned, but I don't currently see a compelling reason to play Rakdos Sacrifice.

Azorius Control (Yorion)
An old classic, Azorius Control returns once again. Yorion, Sky Nomad is currently what holds this deck up, as Azorius Control is forced to lean on cards like Omen of the Sea as defensive tools. This does make the planeswalker suite more powerful, though, as getting four or more uses out of Narset, Parter of Veils will quickly bury an opponent. Much like in Bant Ramp, Teferi, Master of Time is a powerful planeswalker that protects other planeswalkers, and as long as you set your stops correctly you'll even get an extra activation out of it when it returns in the end step off of Yorion.
While I don't know how long this archetype will hold up, it's currently the best Narset, Parter of Veils deck. Narset is incredibly powerful against both Bant Ramp and Temur Reclamation, and there aren't a lot of ways to remove it until the opponent develops the mana for Shark Typhoon or Elspeth Conquers Death. Pair that with what looks to be a reasonable matchup against Mono-Green Stompy and Mono-Black Aggro and I think Azorius Control is a deck that should be on your radar for this weekend's events.
Mono-Green Stompy
What's the difference between this and Mono-Black Aggro?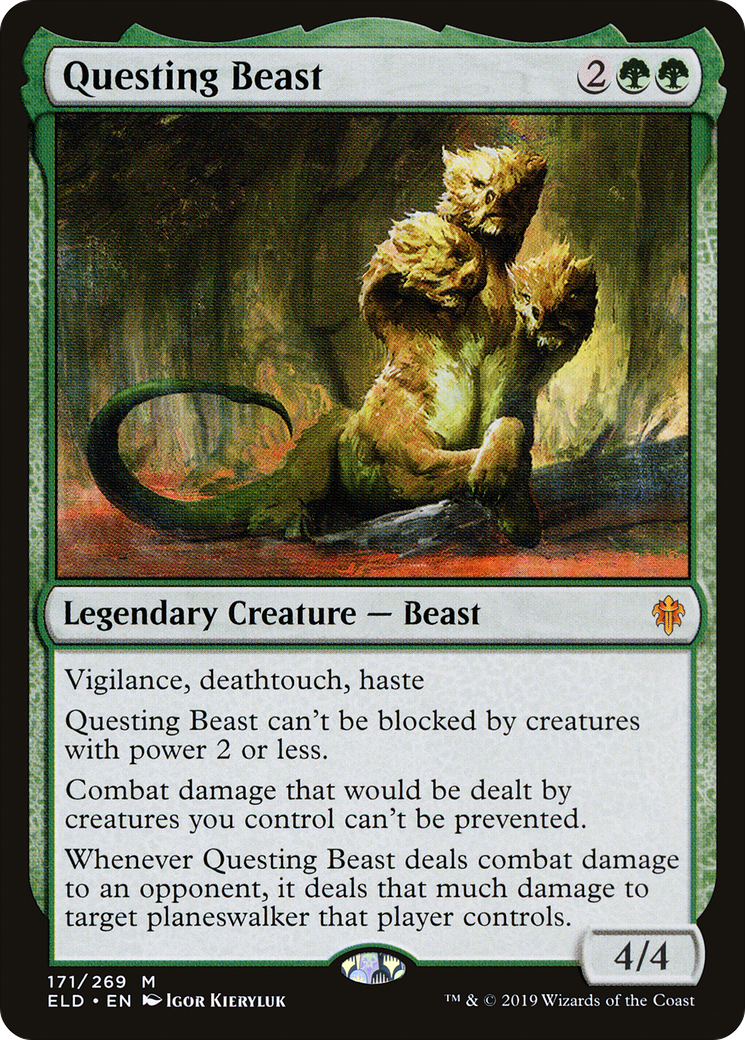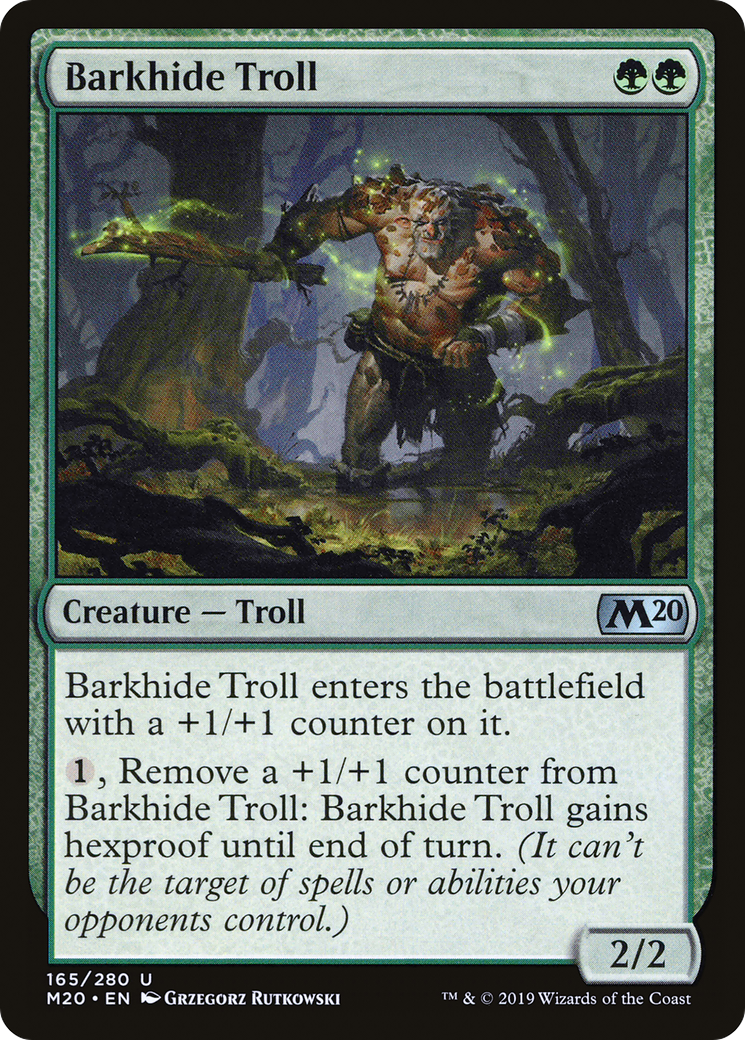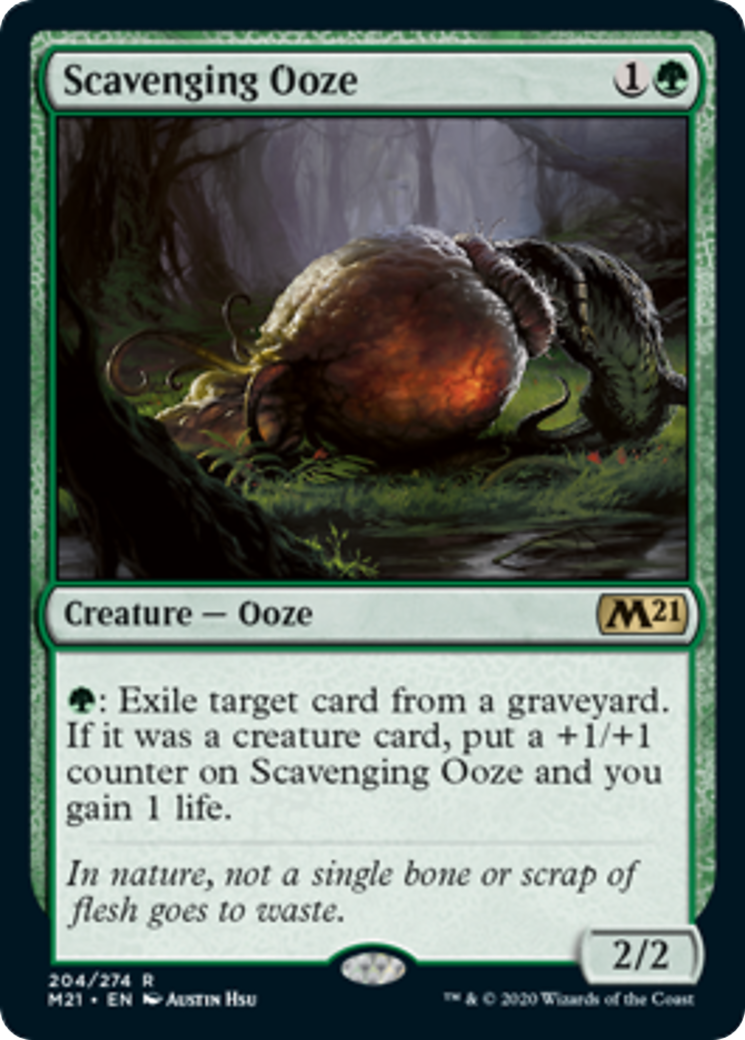 Questing Beast is the real deal right now. It's hard to remove, it's hasty, and it knocks down planeswalkers without cutting into your clock. Mono-Green Stompy also has much better two-drops, and Scavenging Ooze in particular is very well positioned right now. The 1-2-3 curve is just cleaner and scarier than what Mono-Black Aggro can produce.
Primal Might is also powerful interaction that isn't dead when your opponent isn't presenting creatures, and that makes a big difference in game one. Gemrazer is a powerful Disenchant that you just happen to be already playing. Mono-Green Aggro gets a surprising amount of interaction, and almost none of it costs you clock.
Mono-Green Aggro isn't the best deck in the format, but it isn't getting the respect it deserves right now. If you're playing a tournament this weekend, test against Mono-Green Aggro and don't leave it off your sideboard guide.

Jund Sacrifice
I've been spending a lot of time lately working on niche archetypes, most notably my Genesis Elementals list, but after reviewing the data for the weekend I'm on Team Jund. The matchup spread looks good, the plans look good, and it's a deck that isn't weak to Mystical Dispute. You can naturally answer Jolrael, Mwonvuli Recluse and rebuild after an Ugin, the Spirit Dragon. It's certainly not an easy deck to play, but none of the big three are short on decision points.
Gadrak, the Crown-Scourge is excellent new tech that basically performs as Lovestruck Beast on steroids. It's a 5/4 that blocks early and blocks the air, it clocks back once you have Witch's Oven going, and it's another small mana engine to help you accelerate into Bolas's Citadel.
I'm a little less sold on the sideboard Solemn Simulacrum, but it's possible that they're just what you need against Bant Ramp to get to Bolas's Citadel consistently and power out a win. This list is where I'm starting, but I wouldn't be surprised to end up with a few Cindervines or Wilt in the sideboard by Saturday.
* * *
There'll be several premier level events online this weekend with full coverage, which I'm looking forward to. The Red Bull Untapped International Qualifier II is bright and early (midnight Pacific, 3am Eastern). The Star City Games Championship Qualifier 3 is a few hours later at 7am Pacific 10am Eastern. I'm playing in the Red Bull event bleary eyed and groggy, and if I scrub out of that I'll drop into the Starcity Games event. It'll be early, it'll be a lot, but I've been enjoying M21 Standard quite a bit, so I'll be there. Bring on the Bant.