Last Thursday we saw the reveal of the new format. A few days later, thousands of duelists started to receive their COVID stimulus money, and the result was an even bigger jolt to Yu-Gi-Oh's secondary market than the first round of stimulus last April.
Broadly speaking, there were two hot categories of cards for buyers this week: Dragon Link was huge, coming off a big win at the 11th Luxury Championship Series; and players also snapped up a variety of flexible, high-priced cards to try and get ahead of impending price spikes.
And spike they did! A lot of pricy cards got even more expensive, as players threw down their dueling dollars on some of the biggest competitive cards in the game. Check out what it all looked like, as we count down the Top 10 best-selling singles on TCGplayer.
#10 Rokket Tracer
Dragon Link was projected by many to be the deck-to-beat this format, and with the first event results in, that prediction is looking pretty good. Ben Kreutzkamp's 1st Place finish at the LCS this past weekend was all many players needed to dive in face-first, driving up demand for not just this Dragon Link staple, but several more you'll see later in the countdown.
#9 Pot of Prosperity
Pot of Prosperity one of the best cards in the game, fitting into a huge variety of decks to make them all more consistent, and more competitive. The big drawback to Pot of Prosperity is its price tag, but with stimulus payments arriving all week long, lots of players decided to throw some business to their favorite card dealer and lock in their copies.
We saw a similar flurry of buys a few weeks ago during TCGplayer's last Yu-Gi-Oh kickback. This time around, the demand drove Pot of Prosperity past the $100 mark.
#8 Harpie's Feather Duster
With more players trying Remote Duels and others preparing for an end to COVID lockdowns, lots of players are returning to cardboard Yu-Gi-Oh. And even with the rising popularity of Cosmic Cyclone, Harpie's Feather Duster is a must-side card for the majority of recent Top Cut finishers. After spending ages hovering around five dollars, the most affordable printing - the Maximum Gold reissue -rose to ten. It's stayed at that price point once again this week.
#7 Crystron Halqifibrax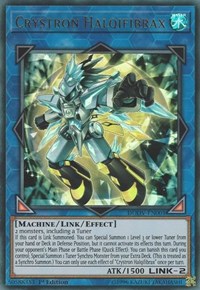 After taking a big backseat last format with the loss of Linkross and Dragon Buster Destruction Sword, Crystron Halqifibrax was back, reprising a leading role in Dragon Link. Near Mint copies are available as of this writing for $35, but looking at current stock in the Marketplace, we might finally see Crystron Halqifibrax hit forty bucks. Tomorrow marks the one-year anniversary of the release of Duel Overload, and so far the only Crystron Halqifibrax reprint we've seen is the $130 Ultimate Rare in OTS Tournament Pack 15. If we don't get a left-field reprint in Ghosts from the Past, this thing could climb even higher.
#6 Red-Eyes Dark Dragoon
Speaking of steady climbs, Red-Eyes Dark Dragoon shot from $50 to $75 overnight on Saturday in the wake of the new banlist, and that price has only risen thanks to a steady stream of stimulus-funded buyers. Again and again, we're seeing more decks leaning on the Red-Eyes Dark Dragoon engine to become viable, and the market's responding accordingly. More interesting, players are starting to find new ways to summon it. More on that when we get to Number 4.
#5 World Legacy Guardragon
Dragon Link's gone through a lot of iterations over time, but World Legacy Guardragon been a staple for the entire run. The 2020 Tin of Lost Memories reprint was a little cheaper than the Savage Strike original, but now both cards are on par, and while World Legacy Guardragon was nine dollars last week it jumped to almost $10 when the new format was announced.
Now, purchases this week drove it to $14 and counting.
#4 Muddy Mudragon
Virtual World didn't put in a showing at the LCS, but that didn't stop players from seeing big potential in Muddy Mudragon. As Anthony detailed on Monday, Virtual World duelists are playing Virtual World Roshi - Laolao and Virtual World Kirin - Lili to make Ultimaya Tzolkin, scoring Crystal Wing Synchro Dragon for free. From there they use Level 3's to summon Muddy Mudragon, and when they resolve its effect they trade the used Ultimaya Tzolking and Muddy Mudragon for Red-Eyes Dark Dragoon.
Crystal Wing Synchro Dragon fends off Nibiru, the Primal Being, and lets Virtual World place Red-Eyes Dark Dragoon on the table with no need for dead cards like Dark Magician and Red-Eyes Black Dragon. It's one of several concepts players are testing to try and keep Virtual World competitive, and it was the most popular in terms of sales this week. Expect to see Muddy Mudragon in upcoming tournaments.
#3 PSY-Framegear Gamma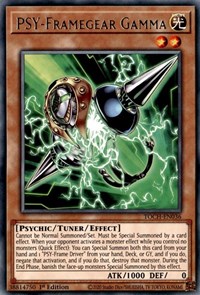 While PSY-Framegear Gamma was an on-again, off-again tech pick in previous years, 2020 saw PSY-Framegear Gamma become a full-blown staple in highly competitive tournaments, and that's created widespread demand. As mentioned with Harpie's Feather Duster, players are taking up remote dueling, returning to the game, or getting prepared to go back to locals. Those players are coming back to a play environment where PSY-Framegear Gamma a must-own.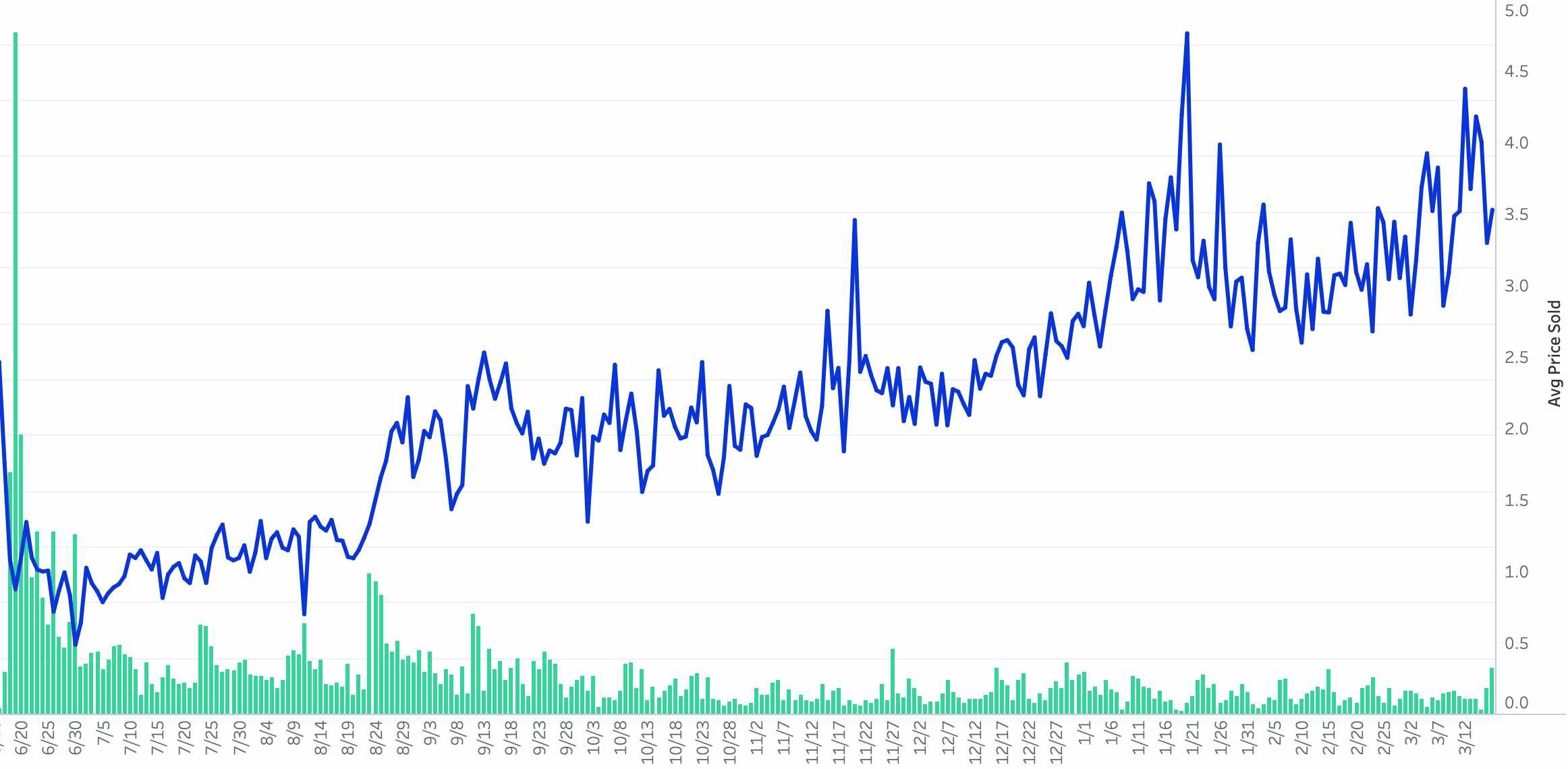 The Toon Chaos reprint that made PSY-Framegear Gamma so accessible last year has continued its slow, but steady climb shown above, and it was a hot pick this week as players geared up.
#2 Dragonmaid Tidying
Ben Kreutzkamp ran three copies of Dragonmaid Tidying in his winning Dragon Link build from the LCS, and that spiked demand for the Rise of the Duelist Super Rare. Dragonmaid Tidying nearly doubled in price this week, almost reaching the $5 mark. One part disruption and one part extender, it's a powerful pick that helped keep Kreutzkamp a step ahead of his opponents, and Dragon Link duelists were playing catchup all week long.
Rise of the Duelist was under-produced last year, as printing facilities for virtually all TCGs struggled to operate under the pressures of the pandemic. That's made for some huge price spikes on ROTD singles. Cards like Ice Dragon's Prison and Dogmatika Ecclesia, the Virtuous have reached shocking values, and while Dragonmaid Tidying is only a Super Rare, lots of buyers grabbed their copies for fear that it might cost significantly more in a matter of weeks.
#1 DMZ Dragon
Way up from last week, DMZ Dragon failed to make an impact at the LCS but players are still riding high on its potential. If this one passed you by, DMZ Dragon a hot buy because it lets you cheat Dragon Buster Destruction Sword into play, offering the same Extra Deck lock as the now-banned Union Carrier. The difference is that loading your graveyard with Dragon Buster Destruction Sword, fielding DMZ Dragon, resolving its effect and playing a Dragon deck in the first place is all much more demanding than the old plan of, "Make Union Carrier, get Dragon Buster Destruction Sword, sign match slip."
If DMZ Dragon has a breakout showing at the RDI Qualifiers this weekend, it could go a long way toward proving this card viable. If that doesn't happen, then I wouldn't expect to see DMZ Dragon at the Extravaganza a week later. The stakes are high and this card is on thin ice, but players are buying in hard, just in case it turns out to be a format-defining force.
Other big picks this week? Hieratic Seal of the Heavenly Spheres, Chaos Space, and Dragon Buster Destruction Sword all fell just short of the Top 10; again, more cards propelled to the top of the sales charts by Dragon Link. Dark Ruler No More, Droll & Lock Bird, and Nibiru, the Primal Being proved to be huge 'free agent' cards as well, while Divine Arsenal AA-ZEUS - Sky Thunder spiked from $60 before the banlist, to $82 and rising now.
That's it for today, but join us next week when we'll be showing you the top decks from this weekend's Remote Duel Invitational Qualifiers!