I'm not the only one that gets excited when new Blue-Eyes support gets revealed.
True Light was just revealed as one of the new cards in the upcoming product-hover id="241346", and it's basically the Blue-Eyes version of Dark Magician's Eternal Soul. Both cards revive their theme's ace monster and search cards that specifically use it. True Light's going to be great, but even now, weeks before its release, I'm excited to get back into Blue-Eyes decks.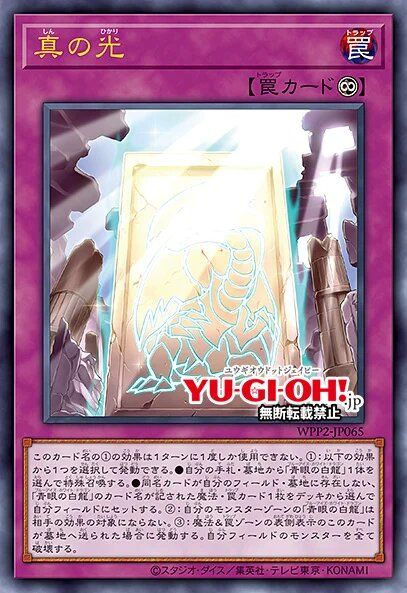 The core of the Blue-Eyes White Dragon strategy really hasn't changed much over the years - when you break it down, it's all about the big bad Dragon. I'm always grateful when my favorite themes keep their keystone cards at the center of the strategy over time, and not many decks do it better than Kaiba's signature strategy.
Let's talk about a couple different builds.
We Might As Well Ban Pisty At This Point
Guardragon Elpy and Guardragon Agarpain are both Forbidden, and I wouldn't be surprised if Guardragon Pisty eventually landed on the list as well. Guardragon Pisty not quite as powerful as the other two Guardragon Links, but it's a pivotal piece in lots of combo decks, doing a great impression of Monster Reborn in the right situations.
Or maybe it's a fancy version of Red-Eyes Darkness Metal Dragon? Or an Extra Deck Dragon-centered spin on World Legacy Succession. Pick your favorite comparison, they're all pretty accurate.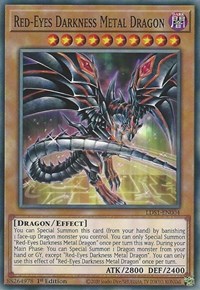 While Dragon combos that extend beyond Dragon Link are still alive and kicking, the banning of Guardragon Elpy does cut Dragon decks pretty deep. Obviously, digging any monster out of the deck is pivotal, but the major issue is just the sheer weight it pulls in the strategy. Starliege Seyfert and Red-Eyes Darkness Metal Dragon were two of the best candidates for Guardragon Elpy effect, and having less access to them is like losing fuel straight out of your tank.
Take away Guardragon Elpy from a Blue-Eyes deck and suddenly those plays are competing with your Normal Summon. Using your Normal to bring out Starliege Seyfert is great in Dragon Link, but some of the best combos there require a bunch of cards you really don't want to draw. There are already loads of cards you want to avoid seeing in a Blue-Eyes deck. Ironically enough, Blue-Eyes White Dragon is at the top of the list; you'd really rather search it with cards like The White Stone of Legend.
Factor in The White Stone of Ancients, and you're trying to cope with roughly ten cards you don't want to ever draw. Factor in the searchable cards for the core Dragon Link combos, and it's a nauseating load of bricks.
On top of all that, Rokket Tracer one of the most efficient parts of the Dragon Link deck, central to most of the strategy's combos. And sadly, its effects restrict you from summoning anything but Dark monsters, and surprise, Blue-Eyes White Dragon isn't a Dark monster. I'm not totally discounting the intersection between Dragon Link and BEWD, but the more I started testing Dragon Link cards in Blue-Eyes decks, the more I found Blue-Eyes was falling to the back of the gameplan.
Yu-Gi-Oh! TCG Deck - Loukas's Blue-Eyes Tuner Deck by Loukas Peterson
'Loukas's Blue-Eyes Tuner Deck' - constructed deck list and prices for the Yu-Gi-Oh! Trading Card Game from TCGplayer Infinite!
Created By: Loukas Peterson
Event:
Rank: 0-0
Advanced
Market Price: $394.65
Cards
Instead, I wound up creating a list that focuses on Tuners and some very specific members of the Blue-Eyes family. Here's what I came up with.
It's Basically Halqifibrax For The Win
Technically you could have it all and cram a ton of ideas into one big BEWD deck, but to maximize efficiency, minimize dead draws, and keep the deck small enough that you can hold it with one hand, you have to make some compromises. Let me quickly run you through one of the best and most efficient ways to churn through your resources; a lot of combos and pathways in this deck are just extensions of this play.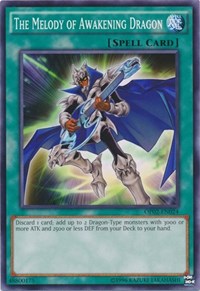 To start, you'll need Sage with Eyes of Blue and The Melody of Awakening Dragon.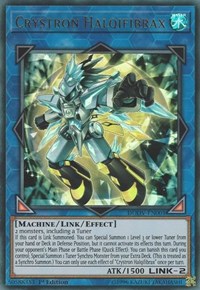 Use Guardragon Pisty effect to bring back The White Stone of Legend again, then Link Summon Saryuja Skull Dread with Guardragon Pisty, Striker Dragon, Crystron Halqifibrax, and the The White Stone of Legend. Based off how the chains resolve, you'll actually get to search a Blue-Eyes White Dragon you put back with Saryuja Skull Dread shuffling effect.
After all that, you'll control Saryuja Skull Dread and the Level 8 Chaos Dragon Levianeer, with four new cards in hand and two copies of Blue-Eyes White Dragon. That play only used two cards from your opening hand, so combined with the other three cards you opened with, you can keep barfing out Level 8 monsters onto the field until you have several Rank 8s backed up by Hieratic Seal of the Heavenly Spheres and Apollousa, Bow of the Goddess.
So… No Starliege?
Blue-Eyes decks really abuse The White Stone of Legend as much as possible. Tuners aren't really the best option in Dragon Link, and by extension Crystron Halqifibrax isn't the best play. But without Guardragon Elpy you can't fetch Starliege Seyfert from the deck, so you need to focus your resources into making do with the best searcher for the Blue-Eyes strategy, and that's Crystron Halqifibrax.
Basically, as soon as you can field a Tuner and another monster, you can get the ball rolling.
The combo I laid out above is the best-case scenario for the deck, but even without an ideal draw, you can still make a pretty impressive board. Unfortunately there are so many different types of hands you can end up with, it's impossible to definitively say what cards make what set-up. The typical rule of thumb is this: make as many Rank 8s as you can, and use the leftover piles of mismatched Levels and Link monsters for Hieratic Seal of the Heavenly Spheres and Apollousa, Bow of the Goddess.
The deck strives to spam Level 8 monsters as much as possible, often reviving them from the graveyard or bringing them back when they've been banished. That's why there are so many random one-ofs in this build. The only way to keep yourself from running out of steam is to play lots of different cards in tandem and figure out the best plays with the hand you're given. Consider The Chaos Creator, Chaos Emperor, the Dragon of Armageddon, and Chaos Dragon Levianeer: all three are easy Level 8 Special Summons that foster another summon.
The problem is they're all once-per-turn effects. Only two of them are searchable with The Melody of Awakening Dragon, too, and they each require you to banish different things to summon them. One doesn't even immediately Special Summon a second monster. So while the deck's consistent on making Rank 8s with a defensive Link Monster, the exact steps you'll take to get there will look slightly different each time.
Okay Fine, No Pisty In This Version
On the flip side, instead of seemingly infinite Special Summons and wombo-combos, there's the modern Blue-Eyes deck that's a bit more reined in and aims for more specific targets. This second build trades lowers the power ceiling a bit for more consistency, and personally, I like seeing how far combos can go, bbut if you want a more structured Blue-Eyes deck it's totally possible!
When I was building these decks I wanted to ensure that you'd have two OTK strategies at your fingertips the majority of the time. I snuck one of them into the list above, but I think both are actually more effective here.
Yu-Gi-Oh! TCG Deck - Loukas's Rank 8 Blue-Eyes Deck by Loukas Peterson
'Loukas's Rank 8 Blue-Eyes Deck' - constructed deck list and prices for the Yu-Gi-Oh! Trading Card Game from TCGplayer Infinite!
Created By: Loukas Peterson
Event:
Rank: 0-0
Advanced
Market Price: $472.11
Cards
The first OTK is very Blue-Eyes forward. Lest you forget, Sage with Eyes of Blue has a second ability - it turns a monster on your field into a Blue-Eyes from your deck. In this case you'll summon Blue-Eyes Abyss Dragon, which searches Chaos Form. In turn, The Melody of Awakening Dragon searches Blue-Eyes Chaos Dragon.
Banish Blue-Eyes Abyss Dragon to give your bigger Dragons an attack boost. Blue-Eyes Chaos Dragon turns monsters to defense, changes their DEF to 0, and deals piercing damage, so it's basically 4000 points of free beats. Considering one Blue-Eyes monster does half the damage you need to win, it's easy to see how the rest of the Dragons can finish the job.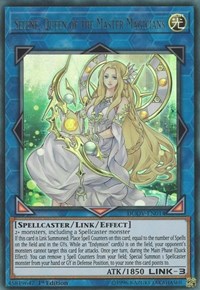 On the other hand, you've also got Crystron Halqifibrax turning into Accesscode Talker. Use Crystron Halqifibrax to summon Sage with Eyes of Blue, make Selene, Queen of the Master Magicians, and bring the Sage with Eyes of Blue right back. From there you can finish your opponent off with Accesscode Talker.
This build goes a bit heavier on the spells. Three copies of The Melody of Awakening Dragon and there copies of Trade-In might seem a little excessive, but that simple Accesscode Talker combo really requires you to play them.
That Extra Deck Looks Weird
While both Extra Decks from these two builds share some similar cards, there's also one huge difference: Number 97: Draglubion.
Number 97: Draglubion gives you access to Number 100: Numeron Dragon and Number 92: Heart-Earth Dragon, two monsters that are normally pretty hard to summon. There's no secret sauce for that move - you just make Number 97: Draglubion and get two unbelievably strong monsters in return.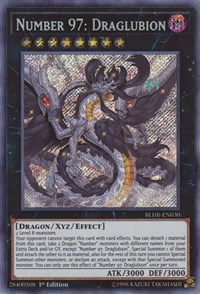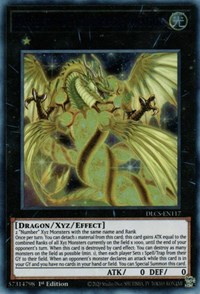 Number 92: Heart-Earth Dragon
Of course, that's not your only high-powered option in the Extra Deck. You have your standards like Hieratic Seal of the Heavenly Spheres and Number 90: Galaxy-Eyes Photon Lord, and those are great. But a controlling Rank 8 strategy just isn't complete without Number 97: Draglubion.
Ironically, that's also the reason the deck runs three Nebula Dragon - despite the fact that it doesn't work with Number 97: Draglubion due to Nebula's restriction. Even with Trade-In and The Melody of Awakening Dragon, a more control-based strategy won't blaze through your deck to search all the cards you need. That's not inherently a bad thing; it's just the construction of the deck. Nebula Dragon creates an instant Rank 8, and that's a powerful enough play on its own.
Hopefully you can make Number 97: Draglubion without a hitch, but sometimes you'll need to make some other pivotal move instead, and Nebula Dragon has your back when that happens, helping you make Number 38: Hope Harbinger Dragon Titanic Galaxy.
Combo-Free? More Hand Traps For Me!
When you lower the number of crazy combo cards in the deck, you open up the door for more hand traps (and more actual trap cards, too). Effect Veiler a great fit here because you can search it as needed thanks to Sage with Eyes of Blue. Ash Blossom & Joyous Spring and Infinite Impermanence round out the defensive picks.
I haven't played Skill Drain in a long time, but it's a blast here! It's a blanket negation for monsters on the field, and once you flip it, Blue-Eyes White Dragon is the perfect candidate to lead the charge!
While going first is ideal, I wanted to craft this deck to work well going first or second - that's why I didn't load up on cards weighted toward one or the other, like Solemn Strike, Book of Moon, and Dark Ruler No More. As long as you can survive, you'll be pretty well prepared with all the boss monsters and counters this thing is packing.
While these aren't the only two ways to play a Blue-Eyes White Dragon strategy, they're two of my favorites right now. I'm still working on a crazy Fusion build, but that always falls back into the category of "Crazy OTK". Which in the long run might not be such a bad idea...
Just remember: beat your opponents before they beat you.