Over the years, one of the greatest joys I've experienced has been teaching others how to play the games I've been passionate about since I was a kid. Now that my children are old enough to enjoy games like the Pokémon TCG themselves, I've even gotten to help their school put on a game night, teaching dozens of kids (and even parents!) how to play. One of the most commonly asked questions has been, "What should I buy to get started in the Pokémon TCG?"
So many of us have been there—excited to teach the game (or learn it with our kids), but quickly realizing that with how complex the Pokémon TCG can get, keeping it fun, simple, and low-cost can be a real frustration.
My answer over the years has been to pick up a theme deck from your Local Game Store (LGS) and learn with a buddy, as opposed to the more time consuming task of trying to build a custom deck yourself. Pre-made theme decks are extremely convenient, as they come ready with everything you need to play (including coins and playmats) at a very affordable price. Unfortunately, Theme Decks often frustrate younger and/or new players with how much stronger and more complex they've gotten over the years.
Thankfully, in 2019, the Pokémon company introduced the "Let's Play Pokémon" series with Eevee and Pikachu, specifically with new players in mind. These feature characters from the original series, appealing to older players through nostalgia, and to new or younger players thanks to the simplified game play mechanics and adorable illustrations.
In my personal opinion, the Let's Play, Pikachu! and Let's Play, Eevee! decks are absolutely, hands-down, the best way I have found to introduce players to the Pokémon TCG! They also make for a great stress-free date night idea if you just want to play something fun and happen to be staying inside!
When I bought these last summer, our kids had already been given some introduction to the Pokémon TCG, but were pretty frustrated with a lot of the mechanics and complex strategies of older theme decks we had lying around the house. They simultaneously begged to play and quit in sheer frustration. But these theme decks turned it all around and converted them into Pokémaniacs with suddenly soaring self-confidence—for under $20!
As the front of the package states, this series is specifically designed to "Learn to Play Together", even if you've never played. For about $20, you get both the Eevee and Pikachu decks, including everything 2 players need, which is the best overall value, but you can also buy each deck separately.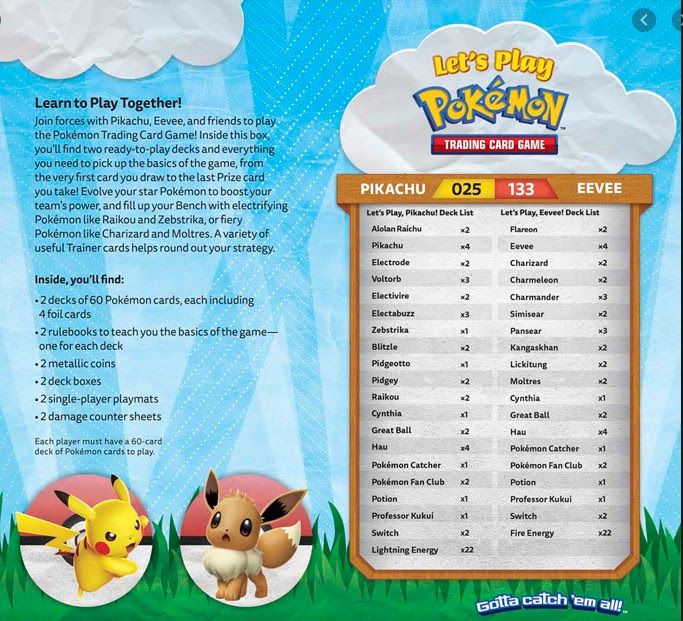 In the box, you'll find a super easy to digest "How to start" illustrated guide, along with a themed paper playmat that includes helpful reminders, rules, and illustrations of exactly where to place your cards. Both are incredibly useful for eliminating confusion!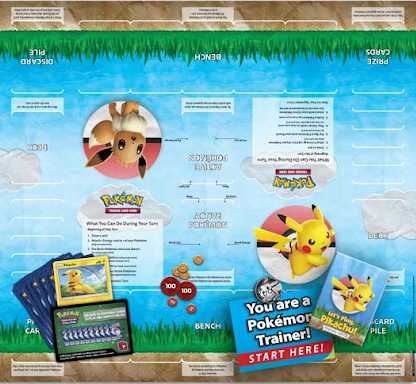 The "Let's Play" Decks
This deck is all about the electric types and optimizing their attacks to support each other! Raikou (sm35-32) is a basic Pokémon that you can use to recycle any energy cards you lose throughout the battle—which is really helpful, since the deck also contains this Zebstrika (sm8-82) that allows you to discard in order to draw a new hand. You can start off with basic Pokémon that can attack fast, since they use low energy and upgrade into power packed evolutions. This deck also features an exclusive "Cracked Ice Holo" Pikachu and Raikou.
Similarly to the Pikachu deck, Let's Play, Eevee includes two exclusive "Cracked Ice Holo" cards: Eevee and Moltres. Speaking of which, this Moltres has been a game-saver in the many times we have paired these decks together (and against other decks, too!). You can really boost up your power by focusing on getting your Charizard out after quickly powering it up using Moltres' "Assisting Heater" attack. You do have to be careful about how much you're discarding, but the higher attack power can knock out most creatures in the rival deck.
One of the factors that helps to simplify the game complexity (and make both of these decks so much easier to understand and learn to play) is that, rather than containing a variety of Trainer cards, they focus on an increased number of Pokémon. This greatly helps younger players, while keeping things light and fun for older players.
Other Low-Cost Options
Are Eevee and Pikachu not really your thing? Maybe gameplay is too easy or you enjoy the Pokémon TCG and want to grow as a player? While I do strongly recommend the "Let's Play" series for learning to play (and we do continue playing with these, even though our new players have graduated to "experienced"), there are some other really great alternatives.
From the Sword and Shield Base Set, we absolutely LOVE the Rillaboom Theme Deck. It keeps things fairly simple to grasp for newer players, but it's also fantastic for competitive league, theme deck, or casual play!
The focus with this deck is to build up the strength of your grass -type Pokémon, and get Rillaboom out as the main powerhouse star of the show. Once you do, it can be a real challenge for your opponent to come up with a good response. Not only can Rillaboom knock out most Pokémon using its "Drum Beating" attack for 180 damage—it can also hit all the Pokémon on your opponent's bench for 10 damage each!
This deck is mostly weak to fire (newer players quickly learn about weakness), but also includes a Snorlax (swsh1-140) that offers a break from that. Plus, Snorlax is a great supporting attacker as well. This deck often sells for the TCGplayer Market Price of about $13.
The Pikachu and Mewtwo XY-Evolutions theme decks might not be the most interesting for experienced players, but they are slow-paced and fun enough for newer players to understand game mechanics and get their feet wet. They are chock-full of Pokémon that older players might recognize from their childhoods, and feature mechanics similar to the original gameplay from the early days of Pokémon (thus flattening the learning curve). If you love these two iconic Pokémon or the feel of the original card game, you'll definitely want to try battling these decks against each other.