The numbers are in! product-hover id="243716" officially launched one week ago, and it took nearly every slot in the Top 10.
We've known for a while that Swordsouls were going to be big in tournaments as soon as they released, though it was unclear just how competitive the deck would be. The bigger surprise is the market's huge enthusiasm for Floowandereeze. Together, the two themes claimed seven of the Top 10 best-selling spots for the week, with the remaining three going to the latest Live☆Twins Link, the biggest hit from product-hover id="240556", and of course, Destiny HERO - Destroyer Phoenix Enforcer.
With no further ado, check out the Top 10 from the first week of the product-hover id="243716" Regional season.
#10 Swordsoul Emergence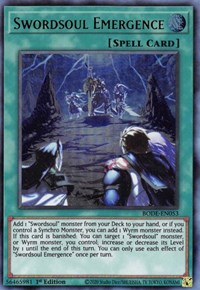 This one's no surprise: if you're playing Swordsouls you're probably running three copies of the staple search card, and at $11 it's a fair price for an Ultra Rare. I think people are starting to find that Swordsouls are a bit more competitive than major voices were predicting, and they were already expected to be popular. With lots of players turning toward Maximum Gold: El Dorado next week, we may see fewer people opening product-hover id="243716", so Swordsoul Emergence might not be this cheap forever if the deck takes off.
#9 Floowandereeze and the Unexplored Winds
Even with the deck being viewed as a Tier 2 underdog in North America right now, Floowandereeze still took up half the Top 10 this week. This card is a hand-fixing draw filtering engine, and its tribute-helping effect is basically a must when you start to pop off, playing bigger Floowandereeze like Floowandereeze & Empen and Floowandereeze & Snowl (Secret Rare). Since it's a cheap Super Rare, lots of people were picking it up.
Floowandereeze had a ton of hype when they first debuted in the OCG, but the buzz has really died down over time. It's possible this deck is being underestimated, and right now there's a huge difference between the prices of key cards in America and Europe. If you're not familiar with the theme, be sure to check out Hanko's guide from last week so it doesn't catch you off guard.
#8 Lyrilusc - Bird Call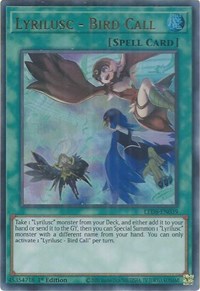 The one holdover from product-hover id="240556" in the Top 10, Lyrilusc - Bird Call still huge, even as it creeps toward the $20 mark. This was the best-selling card on TCGplayer last week and players are still here for it, so yeah; if you're playing in a Remote Duel Regional Qualifier anytime soon, expect to see Lyrilusc Tri-Brigade, because people are buying the cards.
#7 Swordsoul Supreme Sovereign Chengying
Non-targeting banish-based removal? Yes please. Swordsoul Supreme Sovereign - Chengying is sitting pretty at about two dollars a copy, which seems low for an Ultra Rare for a strategy a lot of people are interested in. The Tenyi-heavy Swordsoul builds have zero room in the Extra Deck, so lots of people are going to treat this as a one-of, but a solid percentage do play multiple copies, so at 2 bucks this seems like a steal.
#6 Evil Twin's Trouble Sunny
Meanwhile Evil Twin's Trouble Sunny (Ultra Rare) was over $11 a copy on average this week, though its price has declined and it's now sitting below 9 dollars. This is a must-run at two or three copies in any competitive Live☆Twins deck, and while it's up in the air whether Live☆Twins are Regional-worthy right now, this theme's been building a pretty big fanbase and the demand makes a lot of sense.
Evil Twin's Trouble Sunny (Ultra Rare) a great card that finally delivers on the promises Live☆Twins seemed to make when they first debuted in Genesis Impact. The enthusiasm makes sense, and if the price holds at this point - or somehow drops even more - we could see this card continue to chart in the coming weeks.
#4 Floowandereeze & Robina / Floowandereeze & Eglen
Floowandereeze & Robina
Floowandereeze & Eglen
Unsurprisingly, the two Level 1 Floowandereeze with search effects were the two most popular monster cards from the theme, and they even came in with the exact same number of purchases for the week. Together, Floowandereeze & Robina and Floowandereeze & Eglen keep the Floowandereeze deck in the air, and they're both inexpensive Super Rares. That said, they weren't the most popular Floowandereeze card this week; we'll get to that one in just a moment.
#3 Swordsoul Strategist Longyuan
Back on the Swordsoul side of things, Swordsoul Strategist Longyuan was so popular it became the Number 3 best-selling card of the week. This is a three-of in a lot of Swordsoul decks, where its Special Summon effect makes it both a flexible extender, and a backup plan when you lose your Normal Summon and can't field Swordsoul of Mo Ye. Combined with the Special Summons of Tenyi Spirit - Ashuna, Tenyi Spirit - Vishuda, and Tenyi Spirit - Adhara, Swordsouls are never starved for opening plays.
I'd like to think whoever designed Noble Knights learned their lesson and then made Swordsouls.
#2 Destiny HERO - Destroyer Phoenix Enforcer
It is absolutely crazy to see a $90 card this high up on the salescharts, but that's the world we're living in! If you had any doubt that Destiny HERO - Destroyer Phoenix Enforcer was going to be absolutely everywhere, the sales numbers really speak for themselves. This card isn't even an especially tough pull as far as product-hover id="243716" Secret Rares go, but the demand is legitimately massive, sending the price of cards like Destiny HERO - Dasher through the damn roof.
If you missed our coverage of this card this week, be sure to check out Hanko's how-to-play guide, and whether you plan to play it or not, do yourself a favor and read Anthony's tips for how to beat it too. Destiny HERO - Destroyer Phoenix Enforcer going to be a defining force in tournaments for the foreseeable future.
#1 Floowandereeze and the Magnificent Map
This card is huge right now in European markets, where it's nearly 20 Euro a copy. European players are much more excited for Floowandereeze than North American competitors, which is saying something given the sheer number of Floowandereeze on this very Top 10 list. But for now, the American market is bearish about the deck's future in tournaments.
Still, even with the ongoing hesitancy, Floowandereeze and the Magnificent Map was the Number 1 best-selling card on TCGplayer this week. With Map going for roughly six bucks a copy stateside, this was a huge buy for lots of players, with an average purchase quantity of between 2 and 3 copies.
Floowandereeze & Empen
What else was big this week? Swordsoul of Mo Ye nearly made the Top 10, coming in at Number 11 as the fundamental card for the Swordsoul theme. Destiny HERO - Denier clocked in at Number 12, probably in part because Dasher is so dang expensive, and Divine Arsenal AA-ZEUS - Sky Thunder hung in there at Number 13. Floowandereeze & Empen and Rokket Caliber finished the week at Numbers 14 and 15 respectively, as Dragon Link continues to be a top pick, with the raw power needed to press through Destiny HERO - Destroyer Phoenix Enforcer
That's it for this week, but join us tomorrow for another Yu-Gi-Oh! Episode Deck, and check back Sunday as we ramp up toward product-hover id="246446" with a look at the most expensive Gold Rare cards of all time!
'Til then, thanks for reading!