2020 was massive for Yu-Gi-Oh, a year that managed to be one of the best in the game's history, and at the same time one of the absolute worst. 2020 was filled with the dizzying highs of awesome releases like Toon Chaos, Battles of Legend: Armageddon, and Rise of the Duelist; but it also suffered the shattering lows of COVID-19, and the cancellation of in-person events worldwide. As a community we've persevered, and the result was an absolute rollercoaster ride that's still hard to really process.
This year we saw fan-favorite collector cards like Ten Thousand Dragon and the Astral Glyph version of Number 39: Utopia (Astral); nostalgic treasures like the surprise release of Ghost Rare The Winged Dragon of Ra (Ghost Rare) and Lost Art Dark Magician Girl, as well as controversial competitive hits like Crystron Halqifibrax and Red-Eyes Dark Dragoon. 2020 was a huge year for reprints, too - you'll see a whopping 13 of them in this Top 20 countdown - with a wealth of money cards knocked down to budget territory, as well as plenty of big foil upgrades.
In the end, the biggest winner was the one we all called back in March: Duel Overload placed a slew of cards into the Top 20, with exclusive Link Monsters proving to be some of the defining cards of the year as well as the market's biggest movers. But even cards that released in the final weeks of 2020, in sets like Phantom Rage, Maximum Gold, and Structure Deck: Spirit Charmers of all things, had a big impact on the final count.
So with no further ado, let's get to it and jump into our final countdown of the year, with the Top 20 biggest cards of 2020.
#20 Super Polymerization
Super Polymerization was a hugely competitive card in 2019, and came into 2020 carrying a $5+ pricetag for the cheapest copies, despite being reprinted in Duel Devastator in October the year previous. Super Polymerization waning importance at the top tables did nothing to make it more affordable, and it remained a $5 card through 2020 until it was reprinted in Maximum Gold, plunging its price to below $2 and setting off a massive wave of buys; enough to land it at Number 20 for the year.
#19 Knightmare Unicorn
Knightmare Unicorn started 2020 at about $6, having taken a tumble after its Ultra Rare reprint in the 2019 Gold Sarcophagus Tins. But it steadily rose in price as the months passed, rebounding to $10 in may before spiking to $15 in August, when the 2020 Tin of Lost of Memories reprinted its frequent partner in crime, I:P Masquerena.
That final surge was shattered by Genesis Impact, plunging Knightmare Unicorn value to 50 cents overnight, where it still is today. After steady demand all year, that reprint exploded demand and sold thousands upon thousands of copies, locking Knightmare Unicorn at Number 19.
#18 Ash Blossom & Joyous Spring
Ash Blossom & Joyous Spring
One of the most must-have cards of 2019 was just as important in to 2020; Ash Blossom & Joyous Spring remains one of the best hand traps in the game, and will likely continue to be a leading card in competition unless it's banned at some point in the future.
After being reprinted three times last year, in Structure Deck: Soulburner, Duel Power, and Duel Devastator, Ash Blossom & Joyous Spring wasn't reprinted again until Maximum Gold in November. Its price slowly climbed from $8 in January to a high of $15 in October, before the MAGO reprint dragged it down off its pedestal to $8.50. But now it's already back to $12.50, with the split printing between two different artworks dividing its distribution in Maximum Gold. That ment fewer copies per case than some had expected, and with no future reprint announced, Ash Blossom & Joyous Spring may continue to gain value in the new year.
#17 Abyss Dweller
Graveyard effects returned to prominence in a few months into 2020, driving demand for Abyss Dweller way up as of June. Demand proceeded to spike wildly for the latter half of the year, with Abyss Dweller trending whenever a big, graveyard-dependent deck became a threat in online play, or a Rank 4 deck rose to prominence. Aside from the OTS Tournament Pack 13 Ultimate Rare, Abyss Dweller didn't get a reprint in 2020. But an Ultra Rare printing in 2019's Duel Devastator guaranteed ample supply, and every version save the Ultimate Rare remains affordable.
#16 Tri-Brigade Fraktall
Tri-Brigades were a flop out of the gates when they debuted in Phantom Rage, but the theme arrived with such hype that it became an instant fan favorite… at least until players got their hands on the cards. Tri-Brigades were so anticipated that Tri-Brigade Fraktall became one of the best-selling cards of the year, landing at Number 16. That's crazy for a card that's never dipped below its $3.50 launch price, and which now sits in the $5 to $6 range, despite the deck proving to be a total failure.
#15 Time Thief Perpetua
As popular as Tri-Brigades were, including their flagship best girl Tri-Brigade Ferrijit the Barren Blossom, the 'Waifu Of The Year' award went to Time Thief Perpetua. Reviving monsters and loading up Xyz Materials to extend combos, Time Thief Perpetua still an obviously viable card for a deck that's yet to make a real breakout experience.
But character value, the simmering potential of the theme, and the release of Xyz Import in Phantom Rage all served to keep Time Thief Perpetua popular. And with cards like Time Thief Adjuster and Time Thief Doublebarrel in the OCG's Selection 10 pack earlier this month, more Time Thief support's likely to arrive on our shores in 2021. That all added up to steady demand this year.
Note that Time Thief Perpetua (Starlight Rare) debuted at $180 and stayed in a range of $130 to $170 for half the year, before spiking to $300 at the end of May. From there it was north of $200 until August, dropping to $165 and finishing the year at $180. It'll be interesting to see where the premium printing of this card goes in 2021, as supply dwindles and more Time Thief cards get released.
#14 Salamangreat Almiraj
Salamangreat Almiraj was one of the bigger money pulls from Battles of Legend: Hero's Revenge in July of 2019, and when it plunged to about a dollar off heavy reprinting in Duel Overload in March of this year, player response was huge. Salamangreat Almiraj is a go-to Rank 1, played in everything from its home theme, to Altergeists, to Invoked, where it features as a quick graveyard-building gateway to plays demanding different attributes. Invoked was one of the year's biggest hits, and combined with the new low price, Salamangreat Almiraj immediately became one of the biggest cards of 2020 when DUOV hit shelves.
#13 Predaplant Verte Anaconda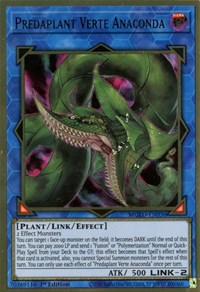 Even bigger than DUOV reprints were DUOV exclusives, starting with Predaplant Verte Anaconda. While Predaplant Verte Anaconda arrived on the scene in March with very few immediate uses, the writing was on the wall; Red-Eyes Dark Dragoon had been rampaging all over the OCG for months at that point, and while we had no confirmation of a TCG release at the time, it was clearly coming at some point. Predaplant Verte Anaconda was a popular card right from the start, but when we learned months in advance that ed-Eyes Dark Dragoon would feature as the marquee card in the 2020 Tin of Lost Memories, demand blew up even more.
ed-Eyes Dark Dragoon stumbled at the starting line, failing to match the power level of the year's other most-hyped card, Crystron Halqifibrax. But with the latest F&L List largely removing Crystron Halqifibrax from the picture, Red-Eyes Dark Dragoon been on the rise and that make Predaplant Verte Anaconda even more popular. While Anaconda sunk as low as $15 to $17 at times in April, it's ending the year at $30, as Duel Overload continues to disappear off shelves with no further printings in sight.
#12 Apollousa, Bow of the Goddess
Apollousa, Bow of the Goddess is one of the best Rank 4s in the game, and its first reprint in the 2020 Tins dragged it from 90 dollars down to 11 in a matter of days. Week to week, it was frequently the best-selling card in the TCGplayer Marketplace, selling thousands of copies and immediately becoming a contender for the biggest card of the year, despite being a massively expensive card in small supply until late August. That's the version of the card we're highlighting here at #12.
But Apollousa, Bow of the Goddess (Alternate Art) was also reprinted in Maximum Gold, and since that printing featured new art the numbers are split; the alt art version finished the year at Number 88 on the sales charts. The kicker is that if you combined the total sales of both versions into one, Apollousa, Bow of the Goddess instantly becomes the best-selling card of the year, even though it debuted over a year ago. To some, this may count as the "real" best-selling card of 2020.
#11 Solemn Judgment
Solemn Judgment always sells like hotcakes every time its reprinted, especially when it's back in a premium print or even just a decent foil finish like an Ultra Rare. It's been reprinted a grand total of 17 times in 18 years, but after reappearing 2013's Legendary Collection 4 it wasn't reprinted for almost half a decade.
From there it showed up as an Ultra Rare in 2018's Battles of Legend: Relentless Revenge, became an Ultimate Rare in 2019's OTS Tournament Pack 12, and was reprinted a whopping three times this year. First as a scarce promo in January's Lost Art Promotion, but then in a mass release in Secret Slayers in April, then again in November in Maximum Gold.
With so much perennial demand and three new printings to choose from this year alone, the quintessential Counter Trap was huge, landing at Number 11 despite only rarely appearing in variants of top decks like Eldlich. Solemn Judgment always a widely respected card, and at this point players know to pick it up when they can.
#10 Relinquished Anima
Back looking at another Duel Overload debut, Relinquished Anima started its life at $3, which drew creators like myself to immediately call it out as an example of the undervalued long term potential demonstrated almost across the board for those DUOV exclusives. Sure enough, 9 months later it's finishing the year at more than twice that, pushing $8 after seeing intermittent play throughout the year. Chalk up another one for Duel Overload.
#9 Cross-Sheep
Arriving as a short print rare in Ignition Assault in late January, Cross-Sheep was swiftly recognized as a staple for the new Shaddoll deck that players expected to see emerge from the release of Structure Deck: Shaddoll Showdown two weeks later. Sure enough, Shaddolls immediately started winning tournaments just before the COVID-19 lockdown started to shut down big events, and at its peak Cross-Sheep was a whopping $14.
Fast forward to its much friendlier reprint 5 months later in Battles of Legend: Armageddon, and Cross-Sheep dropped to about $2 and players snapped up thousands of copies in short order, locking it as one of the year's biggest cards at Number 9. It still pops up in fringe strategies, offering unique support especially for decks making Fusion Summons.
#8 Parallel eXceed
Parallel eXceed was one of 2020's biggest surprises; not because it was good, but because it was the biggest mercy call of the year, featured in Eternity Code in May as a lowly common. Available for less than a buck it was one of the set's most anticipated cards, but has yet to reach true stardom in competition. Still, the mere fact that Parallel eXceed didn't get bumped to an $80 Secret Rare for its TCG release energized the player base, and countless buyers snagged their playsets for pennies.
When we finally got a foil copy - the OTS Tournament Pack 14 Super Rare - it instantly outpriced everything else in the set save the Ultimate Rares. To date, that version of Parallel eXceed worth 4 times the next most expensive Supers in the release, as players await its inevitable breakthrough.
#7 Nibiru, the Primal Being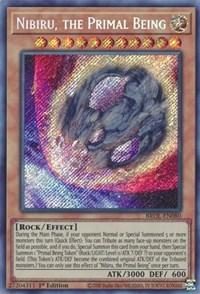 Nibiru, the Primal Being truly changed the shape of competition when it debuted in the 2019 Gold Sarcophagus Tins, drawing comparisons to classic play-shaping cards like Gorz the Emissary of Darkness back in its heyday in 2008. As soon as this card arrived it altered the way competitive plays were made forever, forcing players to carefully count their summons one by one and instantly boosting the viability of any deck that could get to an answer in five summons or less.
As supply of Nibiru dried up over the course of the year, we saw it go from $11 in January to $18 in September and October. The OTS 14 Ultimate Rare certainly didn't make Nibiru, the Primal Being any more accessible, but sales exploded in November when the Maximum Gold reprint dragged it back down to $8. Now, just a few weeks later, it's back above $10 and could continue to climb.
#6 Dark Ruler No More
Also arriving in the 2019 Gold Sarcophagus Tin, and changing competition in its own ways as well, Dark Ruler No More had a similar arc to Nibiru, the Primal Being throughout the year: it entered January at about $5, rose to a peak of $15 in June, bounced between $10 to $14 until October, and started to slide toward just $3 when its reprint was confirmed in Structure Deck: Spirit Charmers. It's a must-own for competitive play, and we probably won't see another reprint any time soon, driving demand for the cheap common.
#5 Chaos Dragon Levianeer
Perhaps the single biggest surprise on this list, Chaos Dragon Levianeer was a pricy Secret Rare when it debuted in Soul Fusion in 2018, but it was reprinted at both ends of 2020, first in Duel Overload and most recently in Maximum Gold. DUOV took it from $25 to $6, and after it rose to $8 over the summer, MAGO brought it back down to 2 or 3 bucks. That's a huge price drop from its original value, but seeing it at Number 5 is still a bit of a shock; Chaos Dragon Levianeer doesn't really see play anywhere but Dragon Link, and it's generally run as a single copy.
Meanwhile, staple three-ofs for the deck were nowhere close: Chaos Space came in at Number 22 as an example, debuting too late in the year to have the kind of impact of the less essential, but more hyped Chaos Dragon. If Dragon Link makes a comeback in 2021, or another deck proves capable of running Chaos Dragon Levianeer, lots of players are going to be ready with their copies.
#4 PSY-Framegear Gamma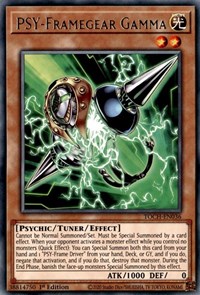 This one's no surprise! PSY-Framegear Gamma was a massive hit after Toon Chaos took it from the $15+ range to a price of pocket change, and demand's barely slowed in the six months since. PSY-Framegear Gamma the card that does what hand traps do, while also shutting down opposing hand traps, and in a hand trap-heavy year it proved to be worth its weight in gold. Lots of online and remote duel tournaments saw half or more of the Top Cut finishers running full playsets of PSY-Framegear Gamma, and it was a lock for 2020's Top 5 the moment it was reissued.
#3 Crystron Halqifibrax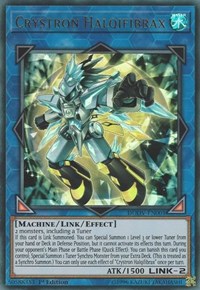 Easily the most controversial card of the year, Crystron Halqifibrax debuted at what I still think was an undervalued price between $25 to $30, immediately hampered by the global pandemic and the shutdown of in-person tournaments. In a regular year, Crystron Halqifibrax would've been an easy 50 bucks. But as it stood, the hamstrung value kept it accessible all year long, and tournament results kept it wildly popular despite big hits to companion cards like Jet Synchron.
Even now, with Linkross and Dragon Buster Destruction Sword both Forbidden, Crystron Halqifibrax is only down to about $20. This was the defining card of the year, and since it's still legal for play (along with Mecha Phantom Beast Auroradon), we're going to be looking over our shoulders for months if not years to come, waiting to see if it reemerges as a tournament powerhouse.
That said, it was outsold by two cards that might surprise you.
#2 Invoked Mechaba
Invoked have been wildly popular over the last two years, slipping in and out of countless strategies like Mekk-Knights, Shaddolls, Eldlich, Dogmatika and more, as the biggest splashable engine in modern Yu-Gi-Oh. All of the theme's best cards appeared in Fusion Enforcers and Shadows in Valhalla, and most of them have had at least one more reprint: Invocation in Battles of Legend: Armageddon, and Aleister the Invoker plus Magical Meltdown in Maximum Gold.
Most of the Fusion Monsters were reprinted in Battles of Legend: Armageddon or Genesis Impact too, but Invoked Mechaba wasn't; it's only appeared in FUEN and SHVA, with no further printings, despite being the best of the Invoked suite's extra. That's kept demand high, and Invoked Mechaba price has been one of the most volatile of the year. It's all over the place.
In addition, players looking to beat Dogmatika Maximus started to run Invoked Mechaba seemingly moments after Rise of the Duelist arrived; when the Dogmatika player resolves Maximus' effect, the crafty Mechaba user sends Cyber Dragon Nova to the graveyard to Special Summon Invoked Mechaba for free. That's especially nasty because it could be played in conjunction with the effect of Elder Entity N'tss in the same manner, and many Dogmatika decks struggle to get through Mechaba once it hits the field.
Those two very different uses created massive demand for Invoked Mechaba in 2020, despite the fact that it was spent just as much time at a $4 price as it did $10, often fluxing between the two extremes several times in a matter of days. The Invoked theme's never really drawn discussion as a potential target for the banlist, and it'll continue to be relevant way into next year.
And finally…
#1 Union Carrier
Yes, the Number 1 best-selling card of the year wasn't Crystron Halqifibrax, but it was another Duel Overload exclusive! Union Carrier debuted to lots of hype and a $14 asking price, as players experimented with combos that created Extra Deck locks with Dragon Buster Destruction Sword, as well as full negation loops with Mist Valley Apex Avian, and Special Summon restrictions with Barrier Statue of the Stormwinds.
While the Union Carrier potential was instantly reduced with the Limiting of Lunalight Tiger, it went on to be a huge part of the year's biggest combo strategies thanks to Dragon Buster Destruction Sword, a trend that only ended when Dragon Buster Destruction Sword was Forbidden a few weeks ago.
Union Carrier outsold Crystron Halqifibrax on DUOV launch day, and it just never stopped; by the time Dragon Buster Destruction Sword was banned, Union Carrier was already down to 8 dollars, and it hasn't slid much since. Those Wind combos are all still live, and more than that, Union Carrier proven to be a unique card that does something exclusive, and obviously dangerous. As long as it's still legal it's worth owning; not necessarily for what it does, but for what it might do.
With boundless potential, and an effect we've both never seen, and will probably never see again, Union Carrier was the biggest best-selling Yu-Gi-Oh card in 2020!