April's come and gone, bringing only some slight changes to Yu-Gi-Oh's competitive scene.
We saw an Invitational and an Extravaganza here in North America this month, plus a slew of Extravaganzas last weekend across the pond in Europe. Ghosts From the Past was released between the two North American events, so it was possible that we'd see some slight shifts in the competitive landscape depending on what the winning decks were.
One of my favorite things about this format is that even though there are some distinct "best decks," there's still so much room for different strategies to succeed. We're nowhere near a 1-deck format right now, and that's readily apparent given how many decks we're going to discuss here today!
The Decks To Beat
Dragon Link continues to reign supreme as the biggest deck to beat right now, winning both the Invitational and the Extravaganza here in North America. The Dragon Link deck is so successful because it isn't restricted by normal deckbuilding rules: almost every monster serves as both a combo starter and an extender. (If you're not familiar with those terms, you can read about them more in this article here! ) That lets the deck easily play through multiple forms of interruption without losing much card presence, or momentum.
Easy access to Extra Deck monsters with powerful effects like Hot Red Dragon Archfiend Abyss and Hieratic Seal of the Heavenly Spheres, Dragon Link decks can churn out amazingly powerful boards. If the opponent does manage to break apart a Dragon Link set-up, the deck can easily pivot to summon a Borrelsword Dragon with a Borreload Savage Dragon to ensure that they close out the game.
After taking the March Extravaganza by surprise, Prank-Kids continued to gain popularity, proving that their success WASN'T 'just a prank, bro'. Thanks to Prank-Kids Meow-Meow-Mu this strategy can take any single Prank-Kids monster and make their full combo. The deck's still vulnerable to Ash Blossom & Joyous Spring, and hitting the start of the combo can be enough to halt a Prank-Kid player's turn, unless they have the right extender or Called by the Grave. But the deck's found repeated success anyways.
With Prank-Kids Battle Butler and Prank-Kids Meow-Meow-Mu the Prank-Kids player can trigger two Raigeki-like effects on their opponent's turn, while keeping the game in their control with cards like Prank-Kids Lampsies and Prank-Kids Dropsies spell bad news for anybody opponent.
Zoodiac Eldlich, while it hasn't been winning consistently, is still alive and kicking. The deck consistently adapts to changes in the format, by switching up the in-hand monster interactions it runs, so it constantly combats the most common decks being played.
The spell and trap lineup hasn't changed much; looking at lots of Eldlich lists, the only differences really end up being the number of certain cards played like Huaquero of the Golden Land or Ice Dragon's Prison.
In my opinion, this deck's the newest addition to the list, popularized by Pak in the Remote Duel Extravaganza's ATTACK OF THE GIANT CARD!! event: Trap Eldlich has suddenly become a thing that is truly fearsome. Realizing how few monsters you actually need to do Eldlich things, the deck's reverted back to a control-heavy build that specializes in trading power traps for your opponent's field.
A ton of people thought that this deck was going to be a "one and done" type of strategy: it was thought that as soon as people learned about it, it would stop doing well. But at the Extravaganzas in the Netherlands, Max Nijverseel piloted his own variant of it to a 3rd Place finish.
The deck runs one lone copy of Dogmatika Ecclesia, the Virtuous to search out your Dogmatika Punishment. Two copies of Trap Trick get you to any situational trap you need, and it runs three Pot of Extravagance and a Card of Demise to help you draw into the cards you need to seal the deal. like Storming Mirror Force or Torrential Tribute. The surprising thing about the two Trap Eldlich decks that we've seen succeed, is the lack of Cursed Eldland anywhere in the lists. This deck's all about making sure that if all your Spell and Trap Zones are full at the end of your turn, that they're all cards that let you interact with your opponent. You don't want cards like Cursed Eldland clogging up space and potentially turning off your Trap Trick.
Invoked Shaddolls have consistently been a main part of the competitive scene for what seems like as long as I can remember. Aleister remains one of the best normal summons in the game right now. The synergy between the Shaddoll cards and the Invoked engine is wonderful and makes it to where as long as you see just about any of your two monsters and one of your fusion spells you're able to at least play the game.
To say that El Shaddoll Construct is a powerful card would be an understatement. El Shaddoll Construct spent its fair share of years on the Forbidden List for a reason: sending any Shaddoll to the graveyard on summon is nothing to laugh at, and it's got a powerful destruction effect as well. When it's played with controlling cards like El Shaddoll Winda and Invoked Mechaba it's no wonder the deck continues to succeed. Some builds have even found ways to fit a Red-Eyes Dark Dragoon engine, providing an extra layer of protection and aggression.
The Dinosaur deck continues to see success when you'd least expect it. The deck's hyper consistent with all the best cards playable In threes, it's brutally powerful with Ultimate Conductor Tyranno, and it has amazing protection thanks to Miscellaneousaurus. Dinosaurs continue to be a deck that, while easily sided against, is extremely powerful and can steal wins like it's nobody's business.
The deck doesn't need to play that many in-hand forms of interaction because it does such a great job breaking apart boards to begin with, thanks to Dark Ruler No More and Lightning Storm. If it has to break a board using Dark Ruler No More, the Dinosaur deck simply sets up with an Ultimate Conductor Tyranno, Lost World (and its Token), Evolzar Laggia or Evolzar Dolkka, and a Dinowrestler Pankratops, which is hard for anybody to come back from.
Decks You Should Avoid
Thanks to the way this format's evolved, more people are running Fantastical Dragon Phantazmay and Nibiru the Primal Being. Decks that lose out hard to Nibiru, the Primal Being aren't seeing as much success, and Hero strategies are a prime example: The deck can put down an amazing board with Elemental HERO Absolute Zero, Destiny Hero - Plasma, and sometimes even multiple copies of Elemental HERO Sunrise, but it has trouble putting out something that can stop Nibiru, the Primal Being.
Turns out even the strongest heroes have trouble with a giant space rock.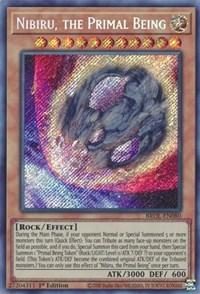 Machina Infinitrack and Phantom Knight decks are in the same situation: they can make powerful boards that can quickly turn the tide of the game, but they need to go all out to do so, and they have trouble recovering from a well-timed Nibiru.
The increasing popularity of cards like Artifact Lancea makes decks that rely on banishing are struggling more. Gren Maju Da Eiza decks are struggling right now and most of the time they're succeeding through sheer surprise factor more than anything else.
Decks You Should Respect
Despite the loss of True King of All Calamities, Virtual World's still being played to great success. Getting 2nd Place at the North American Extravaganza last month shows that the deck is still around, and it won't be going anywhere anytime soon.
Even without True King of All Calamities, Virtual World can put out strong boards backed up by Virtual World Kyubi - Shenshen and Virtual World Gate - Chuche. The most recent builds of the deck have even started running three copies of There Can Be Only One to provide further protection, and make it harder for decks like Dragon Link to compete.
Tri-Brigade decks in general tend to lose to cards like Artifact Lancea unless they open the right hand and can still summon out Simorgh, Bird of Sovereignty. That's usually easily done in Lyrilusc Tri-Brigade builds as the combination of Lyrilusc - Turqoise Warbler and Lyrilusc - Cobalt Sparrow let you Link climb up into Simorgh, Bird of Sovereignty. That isn't to say that the Lyrilusc build isn't the correct one, it's still capable of setting up powerful boards, it just loses harder to one of the most common cards in the game right now.
Other builds of Tri-brigade focus on a combination of control and aggression with Dogmatika Ecclesia, the Virtuous and Dogmatika Fleurdelis, the Knighted as backup plans for when you can't use your Tri-Brigade effects to call for reinforcements from the Extra Deck. If you can go off without getting shut down by Artifact Lancea, you set up your typical Tri-Brigade board backed by Barrier Statue of the Stormwinds or Mist Valley Apex Avian, then close out the game on the next turn with Dogmatika Ecclesia, the Virtuous and Dogmatika Fleurdelis, the Knighted.
Much to everybody's surprise, Drytron Megalith took 1st Place at The Netherlands' Extravaganza. Marijn Duivenboden, popularly known as Tatsym on Twitter and Youtube, went undefeated with the deck last weekend. Even with only one Cyber Angel Benten and no Union Carrier, Tatsym showed everyone that Drytron's still a thing.
Megalith Phul a crazy strong card that lets you recycle your Cyber Angel Benten to keep up your searches, while Vendread Battlelord lets you constantly have the potential tributes for your Drytron names. To make up for Cyber Angel Benten being limited, Tatsym ran three copies of Chaos Space to help search out whatever was needed.
Mekk-Knights placed 2nd right behind Drytron last weekend as well. This deck's popular at the local level but rarely sees success at big events. Even still, you should keep an eye out for it; with tons of big hitters like Mekk-Knight Purple Nightfall and Mekk-Knight Indigo Eclipse the Mekk-Knight strategy's not a deck you want to take lightly.
While Mekk-Knights typically go second, Girsu, the Orcust Mekk-Knight lets the deck go first and establish the proper columns to at least set up a board. Generating control boards thanks to a combination of World Legacy Key, World Legacy Whispers, and World Legacy's Seccret, the deck can turn off any kind of effect that the opponent has to try and defend themselves.
Overall, April was an interesting month for Yu-Gi-Oh. While Dragon Link continued to dominate, other decks had a chance to shine and were brought to our attention. The release of Ghosts From the Past only gave us a few new strategies to look at, and next month we have Ancient Guardians coming out as the next deck-building set release. With three new strategies there, it'll be awesome to see what kind of decks succeed in May.
As always, if you have cool decks or ideas that you want to share with me, feel free to reach out to me on Twitter or on Facebook. I'd love to chat about different decks and see what everyone is playing!