We need to take some time to stop and smell the roses.
A few weeks ago it was Yu-Gi-Oh Christmas, AKA, the day the new Forbidden & Limited List dropped. Banlist Day may not be everyone's favorite holiday, but considering my last Christmas saw me laid up on the couch for three weeks bedridden with COVID, this was even better to me. (Yeah, there was a reason I went on writer's hiatus for a little bit there.)
Right now, everyone's scrambling to find the best strategy going forward . It's open season for a lot of the decks that have spent the last few months scratching at the glass ceiling of competition, and at the same time, a bunch of top strategies are struggling to hold onto their dominance. As for me, I'm over here just wanting a break from the competitive rat race.
Since I'm resolved to take a vacation from hyperventilating while trying to find the best strategy for the format, I wanted to play around with some casual and fun decks. Hanko recently pitched a bunch of rogue decks that will be top notch this format, but sometimes it can feel like an uphill battle when you see the price tag on cards like The Phantom Knights of Torn Scales. Anthony highlighted what you'll see at top events over the next few weeks too, though you can rest easy knowing I won't force you to play Red-Eyes Dark Dragoon if you're over that card.
Fun Or Cheap? Pick Both!
The biggest criticism I always hear about budget decks is the lack of "things" they do. A lot of budget decks are one-trick ponies, and as Yu-Gi-Oh's evolved, combo decks have gotten crazier and crazier. You'll see some strategies that Special Summon literally dozens of times in one turn, doing whatever they want thanks to branching decision trees, while their opponent puts their head down on the table and grabs a nap.
Conversely, budget decks might ALSO bore people with their lack of flashy cards… even if they should be more exciting than 20 minutes of playing Turn 1 Solitaire. The newest combos and the most dazzling modern tricks typically use newer cards that can cost a pretty penny; it's created a situation where money is often the dividing line between "having fun" and "not."
And I think those two factors are why I've been having so much fun with Plant deck I want to show you today: you get to activate so many cards, and end on a board that's actually a big threat to your opponent.
Yu-Gi-Oh! TCG Deck - Loukas's Plant Combo Deck by Loukas Peterson
'Loukas's Plant Combo Deck' - constructed deck list and prices for the Yu-Gi-Oh! Trading Card Game from TCGplayer Infinite!
Created By: Loukas Peterson
Event:
Rank:
Advanced
Market Price: $130.84
Cards
Yeah, a budget combo deck that's effective and fun. Who'd have thought?
Let's walk you through a combo that starts with just a few cards. Snowdrop the Rikka Fairy, Rikka Petal, and Evil Thorn. You'll see later on, there are lots of other ways to get to these cards, like One for One, Lonefire Blossom, Aromaseraphy Jasmine, and Rikka Glamour. But for now I'm trying to simplify things as I introduce cards you may have never even read before.
Take a moment to read everything, because wow, all the Rikka cards really start to blend together
With this set-up on your opponent's turn, you'll have the freedom to pop cards, gain Life Points, and search Plants! It's really satisfying playing around with dirt cheap cards that actually have a pretty solid opening, let alone one that goes positive on card economy. Don't underestimate the trio of Aromaseraphy Jasmine, Aromaseraphy Sweet Marjoram, and Blessed Winds - they can spiral out of control pretty quickly and dominate the duel.
Rewind Time
After looking at that big combo, let's go a little wider, talking about the over-arching aim of the deck and some of the big stars.
Without a doubt, Snowdrop the Rikka Fairy the best card in the deck. It singlehandedly enables almost every Synchro and Xyz Summon in the Extra Deck by fielding free monsters and manipulating Levels. By extension, Rikka Petal also super high value, and there are over a dozen ways to see the lynchpin monster when you factor in all the search effects.
Don't worry, I wouldn't vouch for a deck that couldn't see its best cards in a reasonable timeframe.
The Extra Deck also packs some unique threats: Aromaseraphy Jasmine gets free Plants from your deck, but its effect isn't limited to just that ability. While Aromaseraphy Jasmine stops destruction by battle, Kanzashi the Rikka Queen fends off destruction by card effects. Aromaseraphy Jasmine protection only works while your Life Points are higher, which is why the Life Point manipulation from Blessed Winds and Evil Thorn are so important.
Fielding Aromaseraphy Jasmine and Kanzashi the Rikka Queen in tandem with Aromaseraphy Sweet Marjoram makes for a tough board to break - in the above combo, if you add in something like Rikka Glamour to search Rikka Sheet, you can craft an iron clad defense from seemingly benign little Plant cards. If your opponent doesn't deal with Aromaseraphy Jasmine, summoning Rikka Petal to a zone Aromaseraphy Jasmine points to during your opponent's End Phase may be the proverbial nail-in-the-coffin.
All that spice aside, I want to make sure I could summon Periallis, Empress of Blossoms, due to its revival ability. It's easiest to summon Periallis, Empress of Blossoms with Aromaseraphy Angelica, and ist' a nice followup to Aromaseraphy or any of your other Level 6 monsters. It's a good feeling when you're constantly getting back your Plants after you send them to the graveyard; factor in Fairy Archer Ingunar and Mardel, Generaider Boss of Light, and you'll recur lots of Plants every turn.
Don't Sleep In This Garden
The summon restrictions of Rikka Petal and Snowdrop the Rikka Fairy are kind of the elephant in the room: all you can Special Summon is Plants. The Extra Deck's mostly Plants to accommodate that, but it's not exactly a bad thing. I've touched on a few of those Plants thus far, but take a gander at the full spread.
First up is Predaplant Chimerafflesia; it's an easy summon, and 2500 ATK with a banish effect is no laughing matter. I'll eternally sing the praises of Predaplant Ophrys Scorpio, which gives you fodder for other plays. Setting up your moves while summoning a big beater is always a good start.
The two Sylvan monsters, Orea, the Sylvan High Arbiter and Alsei, the Sylvan High Protector, may be a bit old school, but they're legit when you need to deal with problem cards. Orea, the Sylvan High Arbiter ability to bounce cards - including your own - is severely underrated, and Alsei, the Sylvan High Protector isn't bad either. Both are relatively easy to summon with some Level manipulation, but I'm always going to lean on the side of Orea, the Sylvan High Arbiter.
And my favorite? Fairy Knight Ingunar. It's not the easiest monster to bring out, but once it's on the field... well, everything else just goes bye-bye. It's a board wipe that dodges destruction, and it's usually game over if you ever resolve its effect.
Sacred Tree Beast Hyperyton
The Rikka monsters, Periallis, Empress of Blossoms, and the Aromaseraphy clan may not be hyper aggressive. But between them all, you'll have lots of protection. I don't want to sell any of them short by calling them combo-only cards, either; they're actually pivotal to your end boards as well, to keep you alive for future turns.
Lastly you have Sacred Tree Beast, Hyperyton, or in other words, "True King of All Calamities if it was fair". If Sacred Tree Beast, Hyperyton has the right material attached, it can stop whatever your opponent has, monster, spell, or trap. The easiest way to summon it is with Mardel, Generaider Boss of Light and Spore, but if you're a try-hard, there's always Level manipulation.
How Am I Supposed To Gain Life Points?
I'll admit, it's not always easy to trigger Aromaseraphy Jasmine effect to search a Plant. That's not the ultimate goal of the deck either, seeing as I'd rather summon with Aromaseraphy Jasmine other effect anyways, but boy howdy is it sure helpful when you get extra Plants to your hand.
Snowdrop the Rikka Fairy an obvious choice if you haven't used her ability for the turn, but even grabbing something like Spore to pitch with World Carrotweight Champion, or searching a high Level Plant to send with Orea, the Sylvan High Arbiter can be strong in the right situations.
When you think about all the card effects that gain you Life Points, you'll see it's a relatively short list. Cut that down to proactive ways to gain them, with additional benefits, and the selection is woefully small.
Aroma Gardening and Aroma Garden are fine and dandy, but I'd rather circumvent otherwise lesser spells. Don't get me wrong, I like the idea of those cards, but they just don't help you get monsters out of your hand, and we want to focus on core consistencies to keep this deck performing at a base level.
I know a bunch of Gizmek cards just got released, but Gizmek Yata, the Gleaming Vanguard has nothing to do with that deck, at least today. Gizmek Yata, the Gleaming Vanguard fulfills two niche roles here, and I didn't know I needed them until I rediscovered that card.
For one, Gizmek Yata, the Gleaming Vanguard acts like Snowdrop the Rikka Fairy by fielding another Plant from your hand. That's paramount to making Aromaseraphy Jasmine, but it also applies if you want to summon anything else from your Extra Deck. Whether it's bringing down Spore, Rose Girl, Evil Thorn, or Predaplant Ophrys Scorpio, Gizmek Yata, the Gleaming Vanguard helps you make bigger monsters at the cost of your Normal Summon.
But, surprise surprise, the real kicker's actually the Life Points you gain from tributing Gizmek Yata, the Gleaming Vanguard. No, that's not a joke. It's the semi-random Gizmek-y amount of 2050, but it's Life Point gain, so it's pretty great in this strategy. I'm just glad there's a way to actually trigger Aromaseraphy Jasmine effect.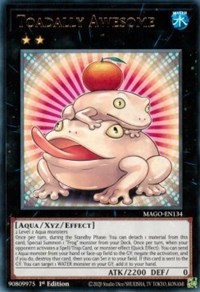 One Toad, Two Toad, Send Toad, Card Owed
Yes, the main focus of the deck relates to various Plant plays - partially by choice and partially because so many cards lock you into Plant summons. But there are some pretty inexpensive cards that flow nicely here.
Toadally Awesome, via Bahamut Shark, was the biggest standout for the strategy. There are plenty of Extra Deck monsters you could squeeze into this deck, but with Primula the Rikka Fairy it accidentally presents itself way more often than you'd think. Do you have access to Lonefire Blossom with Primula the Rikka Fairy in hand? Well, there's a free Bahamut Shark.
That's how I feel about Predaplant Chimerafflesia as well. With Ultra Polymerization, you'll either have free food for Aromaseraphy Jasmine or you'll keep a big beater out on the field for a mere 200 Life Points. You'll find plenty of simple, enjoyable interactions to keep your opponents on their toes.
At the end of the day, I'm trying to keep this deck cheap, and with the end boards you're going for you don't need to break the bank. Crystron Halqifibrax, Red-Eyes Dark Dragoon, Predaplant Verte Anaconda… cards like that may help you out, but that's gearing the strategy to something that isn't, well, novel or affordable. Keep in mind, the goal of this deck is to do something fun and new with underused cards, not rush to Red-Eyes Dark Dragoon as fast as possible. And I think this deck succeeds in that.
Just remember: beat your opponents before they beat you.