If you look at the three original boss monsters in Yu-Gi-Oh, it's clear to see which one got the short end of the stick. Before the God Cards, the original anime had revolutionary pairings of protagonists and their ultimate ace monsters.
Kaiba had Blue-Eyes White Dragon, Yugi had Dark Magician, and Joey had Red-Eyes Black Dragon. One of those boss monsters has been sorely underrepresented over the history of the real-life Yu-Gi-Oh TCG.
23325 || 79205 || 22798
Blue-Eyes White Dragon and Dark Magician have an unholy amount of support, bouncing in and out of the competitive and casual spotlights again and again in the last few years. Each time I think they're done and won't get anymore support, we get something like Soul Servant, which is honestly just a reall well-designed card front to back. I don't know how Konami can continue making new cards for Blue-Eyes White Dragon and Dark Magician without simply making them unfair.
But back to Red-Eyes Black Dragon: it hasn't received the same level of support. It's really been a scattered bunch of cards. Thanks to the wide range of things Red-Eyes cards can do, it's hard to pin down exactly what a Red-Eyes deck should do. For example, Diviner of the Herald makes the Ritual version of Red-Eyes pretty decent. I've seen a bunch of "best" Red-Eyes decks, but I haven't been satisfied by many of them.
Why This Deck Is Different
Red-Eyes decks have been around since… 2004? Black Dragon's Chick debuted in Soul of the Duelist almost 20 years ago, alongside Inferno Fire Blast, and people have been trying to create vibrant and efficient strategies around Red-Eyes Black Dragon ever since.
Red-Eyes cards are simply all over the place. And it doesn't help that roughly a third of Red-Eyes Black Dragon support cards are just "Black Dragon" cards, not Red-Eyes cards. Another third are a mishmash of Equip and Ritual cards? The lack of cohesion paves the way for an eye-roll or two, so when I started in on all this, I knew I wanted to streamline everything and really focus on some of the better cards.
The two cards we should focus on are Red-Eyes Flare Metal Dragon and Red-Eyes Dark Dragoon. Combined together, your opponent should burn themselves out 500 LP at a time, while Red-Eyes Dark Dragoon keeps you kicking for another turn or two. Field two Red-Eyes Flare Metal Dragon, and the duel should be over quickly if Red-Eyes Dark Dragoon keeping the game under control.
Take a look to see what did and didn't make the cut for this version of Red-Eyes.
Yu-Gi-Oh! TCG Deck - Red-Eyes Black Dragon - July 2021 by Loukas Peterson
'Red-Eyes Black Dragon - July 2021' - constructed deck list and prices for the Yu-Gi-Oh! Trading Card Game from TCGplayer Infinite!
Created By: Loukas Peterson
Event:
Rank: 0-0
Advanced
Market Price: $177.86
Cards
As you can see, the deck basically has two goals. The first is to summon Red-Eyes Flare Metal Dragon, and the other is to get to Predaplant Verte Anaconda. It's not rocket science - that's a legit strategy for winning.
But to actually field both of those monsters - and hopefully multiple copies of Red-Eyes Flare Metal Dragons - you'll need a wave of Level 7 monsters and enough Red-Eyes in the graveyard to snowball into. I don't want to say it's "easy," or that every hand will net you the perfect field, but throwing down one or two Red-Eyes Flare Metal Dragons alongside Red-Eyes Dark Dragoon is a basic play here.
If you're noticing a bunch of monsters in this deck that look random, they're mostly Level 7 support. That means cards that aren't exclusively Red-Eyes cards, or even pure Dragons for that matter! Tenyi Spirit - Vishuda, The Ascended of Thunder, and Noctovision Dragon are three good examples, and they may look like weird calls, but they're some of the best options for free Level 7 bodies.
Tenyi Spirit - Vishuda a free body that bounces threats off the field when you turn it into Monk of the Tenyi. Noctovision Dragon easy to summon, and iit draws you a card when you make Predaplant Verte Anaconda.
And uh. Well, The Ascended of Thunder doesn't have any restrictions, at least? Good enough for a third option even if it costs you some Life Points.
And while not every card is geared exclusively towards Level 7 monsters, you can see much of the deck is gaining access to Red-Eyes monsters or the aforementioned hoard of Level 7 monsters. Tempest, Dragon Ruler of Storms, One for One, Return of the Dragon Lords - it's all about accessing those sweet, sweet Level 7s. The more Red-Eyes Flare Metal Dragon, the better.
I honestly can't believe I'm vouching for this, but I think Cards of the Red Stone furthers your goals more often than Red-Eyes Insight. I'll touch on Insight later, but in Red-Eyes decks, there are a few cards you really need to see as early as possible. Allure of Darkness and Cards of the Red Stone have their problems, but one gets you closer to Black Metal Dragon, Red-Eyes Darkness Metal Dragon, and Level 7 bodies. One gets you… Red-Eyes Spirit.
We'll work with what we have.
Because We Need To Have One Combo…
But with any deck, I think there needs to be something that elevates the strategy beyond the standard plays. Something that gives a heartier punch that puts you ahead if you resolve the combo. As I discussed before the options are limitless, but you have to narrow it down to something that favors your goals.
Tour Guide from the Underworld
With Red-Eyes decks, you'll need to minimize your Normal Summons. Many cards that you could Normal Summon will be absolute trash in your hand after you've resolved one, and many of those Normal Summons require you to have mediocre cards in your deck; stuff you never want to draw. I found that Tour Guide from the Underworld is low-risk, high-reward for our two favorite Red-Eyes cards.
Toss in a Dragon Shrine and another way to field a monster, and your end board could easily be two or even three copies of alongside Red-Eyes Dark Dragoon. I'll admit this deck has a touch of tunnel vision, but when your opponent loses 1500 Life Points every time they breathe, you basically just win.
I don't want to toss in a bunch of extra cards that cramp your opening hand, but Sangan wins as a search target for Tour Guide from the Underworld because Normal Summoning it isn't shooting yourself in the foot. Worst case scenario, you'll make Salamangreat Almiraj, search Crusadia Draco, and Special Summon it to still finish with Predaplant Verte Anaconda.
Red-Eyes Fang With Chain
And to note, the rest of your hand can make a Tour Guide from the Underworld absolutely bonkers. A free Level 7 summon, Tour Guide from the Underworld, and Black Metal Dragon ends with two Red-Eyes Flare Metal Dragon, Red-Eyes Dark Dragoon, and a set Red-Eyes Fang with Chain along with a card to spare in hand.
The Elephant In The Room
You're no doubt familiar with certain cards like Emergency Teleport, Brilliant Fusion, and others that require cards you'd rather never, ever see in your hand. I mean, who wants to draw Gem-Knight Garnet? Ever? In fact, the biggest culprit of that is probably Dark Magician and Red-Eyes Fusion, the building blocks for Red-Eyes Dark Dragoon, which is seen in pure and hybrid strategies.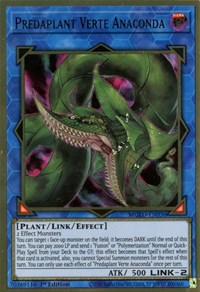 A lot, and I mean A LOT of Red-Eyes cards fall into this category. If you take a quick scan of all available Red-Eyes cards, you'll quickly see that you don't really want to draw most of them. Even amazing cards like Red-Eyes Fusion, you'd rather keep in the deck to copy with Predaplant Verte Anaconda.
To me, the biggest offender is Red-Eyes Insight. Sure, yarding a Red-Eyes monster then searching ANY Red-Eyes spell or trap including the card that can summon Red-Eyes Dark Dragoon sounds great, but… it's really not? Red-Eyes decks suffer from being bloated with good cards you'll struggle to actually use. Red-Eyes Insight might sound great, but it could easily stymie your strategy.
To make effective use of Red-Eyes Insight, you'll need to run enough cards to search with it. The problem? Red-Eyes Fusion needs to stay in the deck, you can only activate one Red-Eyes Insight per turn, and you'll need to play enough search targets to make Red-Eyes Insight worthwhile.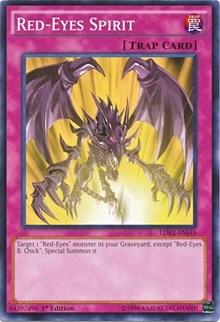 I don't think Red-Eyes Spirit and Return of the Red-Eyes are right for every deck. Remember, we're trying to churn out Red-Eyes Flare Metal Dragon and Red-Eyes Dark Dragoon on the first turn. Playing Red-Eyes Insight means running more cards like these traps which means drawing them naturally more often which means clogged hands. With Red-Eyes, you have to pick your lane and stick with it.
I'll admit, when things go smoothly, Red-Eyes Insight is the best card ever. But when there's even the smallest wrench in the gears, the whole engine blows up.
Does A Single "Best" Red-Eyes Deck Exist?
Yes… and no. As you can see in the list, there's a handful of cards that weren't designed for Red-Eyes decks, all released at various times in the history of the game, that amp up the strategy. Cards come and go all the time, so I guarantee you that soon, whether Red-Eyes gets explicit new support or not, there will be a better way to build Red-Eyes… to an extent.
As the saying goes, "Cut off one Guardragon Elpy, two more Dragons will take its place."
I think that other Red-Eyes decks can function, but have big weaknesses. Trust me, I tried to build a Red-Eyes Slash Dragon deck, and I really don't know what was happening. All I remember was sitting on the floor of my office at 2am crying that Red-Eyes Baby Dragon needed to be destroyed by your opponent to work. Maybe we'll get around to Red-Eyes Ritual decks one day.
Just remember: beat your opponents before they beat you.