The second Remote Duel Invitational Qualifiers (RDIQ) were held this past weekend! And unlike the first time these Qualifiers were offered back in January, where all the players were split into eight individual tournaments groups, this time the field was only split into two events!
And for good reason. The last North American Remote Duel Invitational event just ended in early February. Konami released info on the next Yu-Gi-Oh Remote Duel Extravaganzas just days afterward, and the scheduling sent some strong signals suggesting when the next RDIQs were likely to occur. There was already a January Extravaganza event planned a week after that RDIQ, plus a February one to follow up.
With so many tournaments taking up limited weekend slots, there were only two events that could qualify you for this latest round of RDI Qualifiers. Each event qualified the Top 64 finishers. So with two qualifying tournaments, a maximum of 128 players could earn their invite.
I didn't actually count how many players were on the invite list, but I'm willing to guess that was the logic that led to the differences in the qualifying process. It also seems players were assigned to the two RDI Qualifiers based on whether they were located on the East Coast or the West Coast: as an East Coast player myself, all the Canadian competitors I knew were all in the same pool as me (Group B), except Mr. Thomas Cheung, AKA Tombox of MST.TV . He was in group A and the only reason I can think of was because he's in British Columbia, on the West Coast of Canada.
Maybe that was due to timezones, or maybe it had to do with shipping times for the prizes players would be winning. Oh, "What prizes?" you ask? Well, Top 16 got the exclusive Remote Duel Invitational playmat featuring the alternate art of Aleister the Invoker (Alternate Art) and the many Invoked Fusions, including card zones.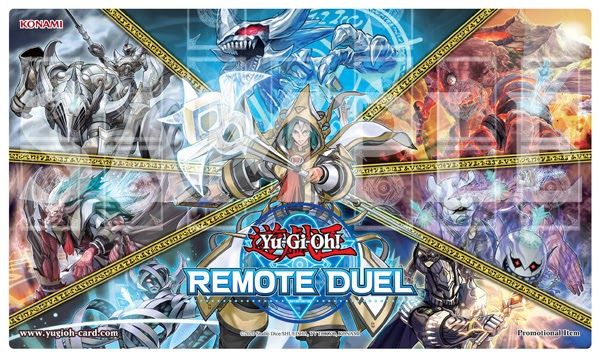 Top 8 got the original Blue-Eyes White Dragon OTS Field Center as well, and they each qualified to compete in the next Remote Duel Invitational live-streamed event. They also got a set number of packs of the latest set, depending on where they placed.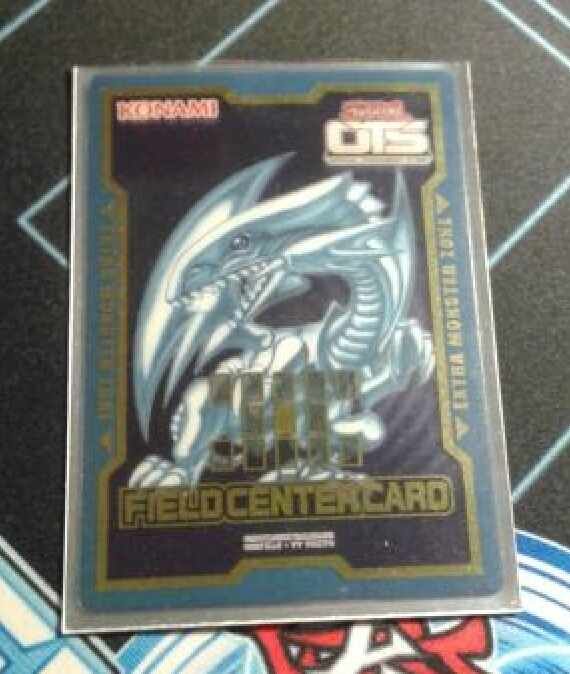 But! If you were the last duelist standing after the Top Cut, and the winner of your entire RDI Qualifier, you didn't get packs: instead, the winner was awarded a brand-new Nintendo Switch, with a copy of Yu-Gi-Oh! Legacy of the Duelist: Link Evolution, as well as an exclusive Yu-Gi-Oh-themed Switch case!
And that's not all: remember that when it's time to throw down in the actual Remote Duel Invitational, the competitors get lots of other goodies like more playmats, those collectible Yu-Gi-Oh dice, Yu-Gi-Oh-themed poker chips to use as tokens, and more!
Anthony's going to be writing about what happened in the "Group A" West Coast RDI Qualifier, but since I competed in Group B, I'm going to be covering that one. And I've gotta say, it was a super stacked event! A lot of big names were in my pool, like Ryan Yu, Jesse Kotton, Ryan Levine, Kamal Crooks, Paulie Aronson, and Pak Pamornsut just to name a few. Heading into a field like that, I wasn't exactly loving my chances.
So What Happened?
Long story short, I didn't do well this time. But instead, I'll tell you who did make it!
Gabriel Vargas won the entire RDI Qualifier with Burning Abyss. That's right, Burning Abyss in 2021! I guess the recent banlist changes allowing more copies of Graff, Malebranche of the Burning Abyss and Cir, Malebranche of the Burning Abyss really helped raffirm Burning Abyss as an independent deck, instead of just a supporting engine. We've all seen BA used as a supplementary suite in Phantom Knights - those cards are great for Link Climbing - but to actually see a "pure" version of the strategy winning a tournament like this was a big surprise!
Yu-Gi-Oh! TCG Deck - Burning Abyss by Gabriel Vargas
'Burning Abyss' - constructed deck list and prices for the Yu-Gi-Oh! Trading Card Game from TCGplayer Infinite!
Created By: Gabriel Vargas
Event: Remote Duel Invitational Qualifier Group B
Rank: 1st
Advanced
Market Price: $880.81
Cards
If you don't know who Gabe is, let me recap his achievements for you. His first big accomplishment was winning the 2018 North American World Championship Qualifier, and he followed it up by winning YCS Niagara soon after. He's finished in the Top Cut of YCS tournaments as well as the Ultimate Duelist Series, he scored countless Regional tops while he was grinding for Worlds Qualifying Points, and he's competed in the World Championships twice, in back-to-back years.
By all metrics, Gabriel Vargas is one of Canada's best and most consistent players.
So how'd he do it? How'd he win with Burning Abyss against a field of Dragon Link decks,, Dinosaurs and Eldlich builds? Well luckily for you, I managed to interview him and get him to share his insights and thoughts. Maybe after reading this, you too will pick up Burning Abyss!
Congratulations Gabe, for winning your Remote Duel Invitational Qualifier! How does it feel to win such a STACKED event!?
It felt pretty great to win the tournament with Burning Abyss! I definitely didn't expect to top, let alone win, but honestly the deck was a lot better than I was giving it credit for. I'm very happy that I managed to secure myself an invite for the Remote Duel Invitational in April; it was really my initial goal when I entered the event.
Why'd you play Burning Abyss?
I decided to play it for a few reasons. I believe playing a rogue deck has many different advantages, one of which is that most of your opponents will have trouble adapting to your strategy throughout the match, which can lead to them making mistakes, which of course benefits the rogue player. I also think Burning Abyss has surprisingly great matchups against basically every deck in the current meta.
With the utility the monsters provide alongside the powerful trap cards, Burning Abyss has proven to be an incredibly powerful strategy, and I was very curious to see how it would perform in tournaments. Playing it in locals and on stream I realized the deck has a lot of potential, and I wanted to be the person to figure it out before anyone else could. I thought it would be hilarious if I played in the invitational with Burning Abyss, on a live stream in 2021.
Can you explain the deck a bit more? What are the goals?
I'd describe it as a slow control deck. Your goal is to use your traps to prevent your opponent from gaining advantage, and you use your monsters for utility. The Burning Abyss monsters provide incredible utility in the form of interruptions, Link fodder, discard fodder, and constant recursion. The trap cards I play all compliment that, which is why I get to take advantage of cards like Torrential Tribute (since all my cards float), and Paleozoic Dinomischus. The BA monsters want to be sent to the graveyard anyways.
By playing this style of deck I also get to take advantage of an incredibly underrated trap card, Fiend Griefing. It acts as an interruption and a starter card all in one trap, and it's single-handedly won me too many games to count. Like I stated, earlier the BA's provide Link fodder and I use this to make one of my ace monsters, Red-Eyes Dark Dragoon.
Red-Eyes Dark Dragoon especially strong in this deck as it's spot removal, a discard outlet, and an omni negate, which is very important; you need it to negate cards like Harpie's Feather Duster, Lightning Storm, and so on, cards that your typical trap decks would lose to. I realized that by playing Red-Eyes Dark Dragoon I can beat all of those powerful spell and trap removal cards. Your typical end board is either a Red-Eyes Dark Dragoon with backrow, Beatrice, Lady of the Eternal with backrow, or both of them together with backrow support.
I'm sure many players want to know: what do you choose to banish from your Extra Deck when you use Pot of Prosperity?
It really depends on your opening hand. Usually I ask myself a few questions. Do I see myself summoning Divine Arsenal AA-ZEUS - Sky Thunder this game? I then decide to banish Number 49: Fortune Tune, but I almost never banish Downerd Magician. Is there a possibility that Beatrice, Lady of the Eternal is destroyed by battle or cards effects? I then decide to banish Dante, Pilgrim of the Burning Abyss. Do I have access to Paleozoic Dinomischus and will I need to Link a token away? Like a Lost World Token in the Dino matchup? I then decide to banish Link Spider.
If I'm playing against a combo deck I'll banish Topologic Trisbaena, but if I'm playing against a trap deck I'll banish Knightmare Unicorn. If I see myself summoning Red-Eyes Dark Dragoon but need to see six cards to fix my hand, I'll usually banish Accesscode Talker. That's risky, but I have Red-Eyes Dark Dragoon to close out games. Sometimes I'll banish I:P Masquerena if I don't foresee a long game ahead. If my hand's already strong I'll usually only banish three cards to ensure I have all the utility I could possibly use, but if your hand's weak I'd go for the full six.
I wish there was a better way to answer this, but it really depends, and I ask myself those same questions every time I activate Pot of Prosperity.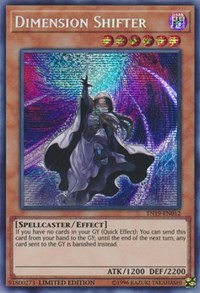 How was Dimension Shifter in the Side Deck, and why did you choose to play it in Burning Abyss?
Dimension Shifter was 100% the best card in my Side Deck . At first glance it seemed like one of the worst ideas I've ever had, but the theory made too much sense: I was looking to play a high impact hand trap that could end a combo player's turn. If I was able to get a turn and set up a Divine Arsenal AA-ZEUS - Sky Thunder or set my traps I could easily win, but I found most hand traps to be really mediocre against the meta.
One of my close friends recommended Dimension Shifter as a joke, which we laughed about. But later I realized it may actually be the answer to all our problems. I realized every combo deck in the meta couldn't set up an impactful Turn 1 board under Dimension Shifter. That meant any time I drew it, I bought myself a turn. which is especially important against Dragon Link.
I later realized that under Dimension Shifter effect, I can still summon two Level 3's, overlay into Dante, Traveler of the Burning Abyss or Number 49: Fortune Tune if they had a monster, attack, climb into Downerd Magician and finally Divine Arsenal AA-ZEUS - Sky Thunder. Then if they have a field I can wipe it, and in most cases I'd still have another wipe for next turn. That means I can pass and set my trap cards while having Divine Arsenal AA-ZEUS - Sky Thunder as a final stand. Unfortunately I didn't have enough time to test it all before the event, but since the theory added up I decided I had to play Burning Abyss regardless, and it paid off.
Every time I activated Dimension Shifter I easily won the game and left my opponents stunned. I'm happy I went with my gut on this decision, as all my friends I told about it said it was awful.
Can you give us a rundown of your matchups each round? Any highlights you want to share?
Round 1 - Subterrors - OO
Round 2 - Dinosaurs - OO
Round 3 - Dragon Link - OO
Round 4 - Zoodiac Eldlich - OO
Round 5 - Numeron - XX
Round 6 - Invoked Shaddolls - XO
Top 8 - Dinosaurs - OO
Top 4 - Zoodiac Eldlich - OO
Finals - Dragon Link - XOO
Every game I won, I took it very convincingly, in my opinion. The games I lost were pretty uncontrollable. I got 2-0'd by Numeron opening with a Kaiju and Harpie's Feather Duster two games in a row. And II lost a game to Dragons and Invoked Dolls due to bricking pretty terribly.
Would you give us a general idea of how you Side Deck in and out in against certain matchups?
I think a good rule of thumb to keep in mind is just remember which traps and BA monsters - mainly Alich, Malebranche of the Burning Abyss and Calcab, Malebranche of the Burning Abyss, aren't as impactful in the matchup you're up against. That informs what you want to side out.
For example, I side out three Solemn Strike and and Alich, Malebranche of the Burning Abyss against Eldlich, bringing in Harpie's Feather Duster and Evenly Matched. But against Dragons I need to see as many traps as possible going second, so I cut Calcab, Malebranche of the Burning Abyss, Barbar, Malebranche of the Burning Abyss, Libic, Malebranche of the Burning Abyss, the Pot of Prosperity, and Called by the Grave for the seven monsters in the side.
Do you plan on making any changes to your deck if you were to play in another event?
I do have a few changes I'd like to make for the invitational! Unfortunately I won't be sharing them at this time.
Are you excited to play in the next live streamed Invitational?
I'm incredibly excited as it was my initial goal in the first place! I want to win the invitational with Burning Abyss because I think it'd be really funny.
Thank you Gabe for your time and deep insight, and congratulations again for winning the Group B RDI Qualifier! If you'd like to follow Gabriel Vargas, he's got a YouTube channel with high quality content. He also streams occasionally, and he hosts events in his Discord.
I also want to take the time and congratulate my friend and fellow Canadian John Wilkin for placing 2nd in this event with Dragon Link!
Yu-Gi-Oh! TCG Deck - Dragon Link by John Alexander Wilkin
'Dragon Link' - constructed deck list and prices for the Yu-Gi-Oh! Trading Card Game from TCGplayer Infinite!
Created By: John Alexander Wilkin
Event: Remote Duel Invitational Qualifier Group B
Rank: 2nd
Advanced
Market Price: $505.68
Cards
John and Gabe, as well as the rest of the Top 8 from Group B will be joining the other Top 8 winners from Group A in the next Invitational, streaming live on the weekend of April 10th! You can check out ALL the Top Cut decklists from Group A and from Group B right here on Infinite to help you get ready for the Extravaganza next weekend, March 27th.
Thank you to all the judges and T.O. staff for making it all possible, and running such a smooth event! I'll see you all at the next Remote Duel tournament.