New York Comic Con (NYCC) went online this weekend as "NYCC x MCM Comic Con Metaverse", and Konami was hosting some really awesome remote duel tournaments! Run by the staff of Shadow Realm Games and supported by many diligent judges, tournaments ran smoothly all weekend with lots of prizes, from Win-a-Mats and Speed Duels, to Duel Links events, Sacred Beast Structure Deck tournaments, and last but not least, ATTACK OF THE GIANT CARD!! (AOTGC).
If you've ever been to a YCS in your lifetime, you've probably seen, or even participated in a Giant Card side event. I remember my first YCS, YCS Toronto in 2013, seeing the giant Gear Gigant X and telling myself, "Wow, someday I'll win something like that." And this past weekend, I did!
That's one more item checked off my bucket list.
I knew weeks ahead of time that I only had Friday off the weekend of Metaverse, so I definitely wanted to participate in the Giant Card event. I wasn't confident that I could go undefeated, which is what it would take to win one of the marquee oversized prizes, but it's always worth a shot to try. And hey, if I did lose and drop from the event, I figured I'd just go into some Win-a-Mats after.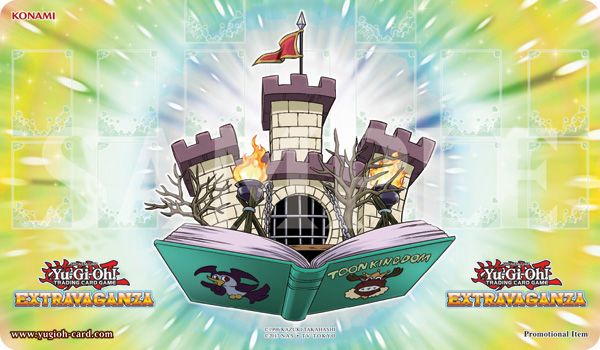 The Toon Kingdom Extravaganza playmat looks super nice! I know a lot of my friends went all-in, grinding for hours in lots of Win-a-Mat tournaments chasing them.
But I'm not here to talk about winning decklists from Win-a-Mats; those were smaller tournaments and Konami fired a ton of them, so there would just be too many to recap. The biggest events out of the entire weekend were the ATTACK OF THE GIANT CARD!! tournaments. And yeah, you had to go undefeated to win one.
Would this count as a premiere event? They're probably the biggest Remote Duel tournaments we've had so far in terms of prizing, since those giant cards can go for anywhere from 800 to 1500 dollars. Even the medium sized cards awarded to 2nd and 3rd Place can often fetch a few hundred bucks. I know: I won a couple of them over the course of my path to a full-sized version.
So who won the three big events and with what decks? I won Friday with my Lost World Dinosaurs. Paulie Aronson won on Saturday with Dragon Link. And "Sir" Pak Pamornsut won on Sunday with his infamous Infernobles. Taken together, those three decks are a pretty good representation of the current format; in my opinion they're the three best decks right now, and probably the three most popular in competition.
I do think Invoked Dogmatika's consistent enough to fit in somewhere amongst those three strategies, but I also want to point out that Numeron Decks – Both Subterror and Eldlich variants – are also quite powerful. If this was a triangle type of format, I'd think Numeron decks are on that spectrum somewhere, but just less represented in most metagames.
Friday's Lucky Giant Card Winner…. Me!
Anyways, the Dinosaur deck I went with is very similar to the one I showed you in my previous article. I've just changed some of the card choices to adapt to what I figured I'd play against.
I chose to main deck Artifact Lancea as I thought it was generally a better card if the most represented decks were going to be Dragon Link, Invoked or Dinosaurs. In reality I barely drew it in Game 1s, and there were actually more Infernoble players than I suspected. I think in hindsight I'd probably choose to main deck Nibiru, the Primal Being over Ash Blossom & Joyous Spring or Artifact Lancea.
Here's my updated list from the event!
Yu-Gi-Oh! TCG Deck - No-Halq Dinosaurs by Hanko Chow
'No-Halq Dinosaurs' - constructed deck list and prices for the Yu-Gi-Oh! Trading Card Game from TCGplayer Infinite!
Created By: Hanko Chow
Event: NYCC x MCM Comic Con Metaverse
Rank: 1st
Advanced
Market Price: $327.67
Cards
On Friday, there were exactly 32 participants in the ATTACK OF THE GIANT CARD!! tournament. The tournament was Single Elimination all the way through, and I went undefeated so I played all five rounds.
In Round 1 my opponent had the same playmat as I did! That made me laugh a bit. He was playing a 40-card version of Dragon Link and I won 2-0. In Round 2 I played against Infernobles and that was a 2-0 as well.
In Round 3 I played Esala Wathuthantrige. If you're not familiar, he's a strong contender in Yu-Gi-Oh and you can see some of his Top Cut finishes here. He was runninng Dogmatika Invoked.
In Game 1 I opened pretty subpar against his Dogmatika board with El Shaddoll Winda. Luckily there was no Invoked Mechaba, so I was able to resolve Mystic Mine. After realizing he had no Main Deck answers to Mystic Mine, he chose to scoop Game 1 to save time.
Game 2, I opened with Artifact Lancea to keep Wathuthantrige from resolving Invocation properly. So he ended up searching for Dogmatika Fleurdelis, the Knighted with Dogmatika Ecclesia, the Virtuous and set one to his backrow. I had Dragonic Diagram and Miscellaneousaurus with Babycerasaurus, which meant I had enough resources to summon Tornado Dragon, force out his Dogmatika Punishment, and end up with an Evolzar Dolkka and Ultimate Conductor Tyranno, wiping his board for a game-winning position.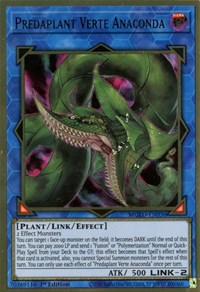 Round 4 arrives and I'm in Top 4, so I was feeling pretty good. My opponent was another Dragon Link player, this time running 60 cards and packing the Predaplant Verte Anaconda with the Red-Eyes Dark Dragoon package. I learned he was playing 60 cards, so I elected to go first after winning the roll.
I opened with a horrifying hand of Psy-Frame Driver, Lost World, Terraforming and Set Rotation with Ultimate Conductor Tyranno. I put the Set Rotation face-down. My opponent sent Absorouter Dragon to the graveyard with Dragon Ravine to get Rokket Tracer, and when he tried to use Boot Sector Launch to go off, the Set Rotation let me disrupt his combo.
But yup, even though I stopped that play, my opponent was able to summon Red-Eyes Dark Dragoon to cut me off from any good topdecks I could've had. I forfeited Game 1 to save time. I opened a lot better in Game 2, ending on Evolzar Dolkka and Ultimate Conductor Tyranno with a Petiteranodon. That meant a Dinowrestler Pankratops, and my opponent quickly surrendered to move on to Game 3.
I opened with a Droll & Lock Bird, which immediately came in handy, as my opponent resolved Black Metal Dragon effect to search Red-Eyes Darkness Metal Dragon. But he followed it up with a Triple Tactics Talent to reveal my hand of Souleating Oviraptor, two Babycerasaurus and a Pot of Extravagance. He chose to shuffle back the Pot of Extravagance.
Droll & Lock Bird
Under a lot of pressure, my opponent accidentally committed a Noctovision Dragon from his hand, thinking he could end on Hieratic Seal of the Heavenly Spheres with Red-Eyes Dark Dragoon. Midway through the play he realized he couldn't search another card because he was still under Droll & Lock Bird. It was a small mistake but he still ended with the Red-Eyes Dark Dragoon and Predaplant Verte Anaconda, plus a few cards in his hand.
After a final cut of my deck, I thought about all the good topdecks I could have to play through my opponent's one negate. A Miscellaneousaurus or a Fossil Dig to search it would be nice. I draw Double Evolution Pill. I summon Souleating Oviraptor to use its effect, and he actually met it with a Ghost Ogre & Snow Rabbit. So I got the Miscellaneousaurus, used its protection effect, then attempted the other ability to summon out a Level 1: he negated that with Red-Eyes Dark Dragoon.
I activated the Double Evolution Pill banishing Souleating Oviraptor from my graveyard along with the Droll & Lock Bird from earlier. It resolved, and I destroyed both baby Dinosaurs in my hand trough a series of combos and ended up with a Linkuriboh, a Petiteranodon, and an Ultimate Conductor Tyranno with another Double Evolution Pill to clear my opponent's board. He conceded a couple turns later.
So it's Round 5, and at this point, I'm just thankful I even made it this far. I've wound up in 2nd Place at a couple Giant Card events before, so I guess I'm used to it.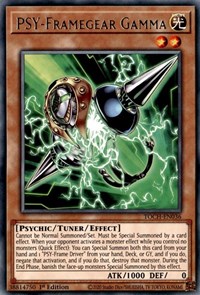 My opponent goes first, Normal Summoning Neo Space Connector. I looked at my hand and I had both Psy-Framegear Gamma and Infinite Impermanence. I was greedy and chose to use PSY-Framegear Gamma, hoping it would just end my opponent's turn, but he actually had Infernoble Knight Oliver, a card to pitch for it, and Fire Flint Lady to follow up. He summoned Crystron Halqifibrax and did the entire combo.
I tried playing the game on my turn, but I realized that I couldn't get anything going. Onto Game 2
I opened with the Dragonic Diagram combo, and used True King Lithosagym, the Disaster to take away my opponent's most important boss monsters from his Extra Deck. I set up wit a Rank 4 and Ultimate Conductor Tyranno and he scooped.
Game 3 I went second with Nibiru, the Primal Being, Ash Blossom & Joyous Spring, Infinite Impermanence, Double Evolution Pill and Dark Ruler No More. I resolved Infinite Impermanence to negate his Immortal Phoenix Gearfried and wiped his board with Nibiru, the Primal Being. He passed, but he had a huge Rock token. I actually just needed any Dinosaur just to resolve Double Evolution Pill
I topdecked Petiteranodon! Not gonna complain, it's what I needed! I Normal Summoned it and used both monsters to Link Summon Knightmare Phoenix. Double Evolution Pill got me to Ultimate Conductor Tyranno and that took care of his token. Over the next couple turns, I just flipping his monsters face-down with Ultimate Conductor Tyranno whenever he tried to combo out. I topdecked a Ghost Ogre & Snow Rabbit, a Psy-Frame Driver and finally a Pot of Extravagance along the way, drawing me into a Fossil Dig. My opponent conceded, knowing that I can actually play the game and steamroll advantage from there.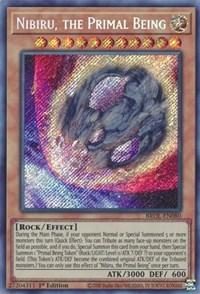 Overall, I felt pretty lucky at some points. There were plenty of better draws in those topdeck scenarios, but they got me to where I am now. Now I just gotta wait for my Giant Jinzo the Machine Menace to arrive!
That was my tournament report from the Friday event, but I managed to contact the winner of the Saturday tournament as well, and not only did he volunteer his decklist, but his theory and thoughts on why he chose to play his build of Dragon Link.
Saturday's Giant Card Winner Paulie Aronson
Aronson was kind enough to provide us with a ton of insight, which we'll present below. First up, his general thoughts on the Metaverse event.
"That was a fun weekend! I was able to win two Win-a-Mats and a Giant Card with my 60-card Dragon Link deck. My total record for the weekend was 15-2 in matches. I've been playing this build throughout the format and I've been very happy with it."
From there he offered some details about his specific build.
"To give some context on why I play 60 cards: this deck has quite a lot of bricks, cards like Vylon Cube, Smoke Grenade of the Thief, Dragon Buster Destruction Sword, Psy-Frame Driver and Boot Sector Launch to name a few. The big reason to play a higher deck count is to lower the risk of drawing dead cards that clog your hand; you're less likely to draw your bricks in a 60-card deck than you would with a 40-card deck.
"On the flip side, a bigger total deck size lowers your chance to draw your best cards. It's a trade-off that I feel is worthwhile in this strategy, because even though Black Metal Dragon, Chaos Space, and Starliege Seyfert are indeed powerful cards, you only need to see one of them for a strong hand. Even without any of them, your hands are still really powerful since most of the deck's remaining cards are extenders. I feel it's simply more important to avoid drawing bricks as much as possible."
Aronson continued explaining the ins and outs of playing a 60-card build optimally.
"You have to fulfill one criteria for a bigger deck size to be correct: the cards you add have to maintain the same ratio of combo cards to non-combo cards as the original 40-card build would have. For example: say you're playing a 40-card deck and 30 of those cards are starters or extenders (the remainder being engine requirements, hand traps, or utility cards). 75% of that deck is combo cards. If your increase the deck size from 40 to 60, it's important that of the 20 cards you add, 75% should be starters or extenders.

"It's also arguably important to keep the ratio of hand traps in the deck the same, especially in this combo and mirror-heavy format. "
So why does that work?
"The Rokket engine is key to keeping the deck's ratio of extenders correct. Thanks to Boot Sector Launch, every Rokket's essentially an extender, especially since most players won't negate Striker Dragon search. That's why my build has such a high Rokket count.'
Aronson noted another detail that gives 60-card decks an advantage: "The other benefit is that you have more flexibility to swap cards around when you're Side Decking."
Always handy. How about matchups?
"This deck really doesn't have any bad matchups," Aronson explained. "The side packages let the deck play through tons of boards, given that you only need one or two combo pieces to OTK on your turn. For those who aren't as familiar with Dragon Link: any two Dragons, or one Dragon plus one Tuner (or one Rokket due to Boot Sector's second effect), is full combo.
"The deck's also extremely consistent. Siding out the correct cards has actually made a huge difference in reliability. I had quite a few weak hands this weekend, but I don't think I hit a single full-on brick opening across seventeen matches."
The Saturday ATTACK OF THE GIANT CARD was bigger than Friday's, and actually went for one more round as a result.
"My Giant Card event on Saturday had 60 players, so I played six rounds in total. I played against two Infernobles, two Invoked Dogmatikas, an Eldlich variant, and something else that I can't remember. I'm just surprised that I didn't play a mirror match!"
Yu-Gi-Oh! TCG Deck - Dragon Link by Paulie Aronson
'Dragon Link' - constructed deck list and prices for the Yu-Gi-Oh! Trading Card Game from TCGplayer Infinite!
Created By: Paulie Aronson
Event: NYCC x MCM Comic Con Metaverse
Rank: 1st
Advanced
Market Price: $512.03
Cards
Aronson's parting words:
"In any case, I hope you guys try out this deck and enjoy it! It's extremely powerful and has a lot of niche plays you can unlock with enough experience. Lastly, I'd like to give a shoutout to my friends Hani and Nick, as well as my teammates from Luxury Gaming! Especially Pak, for winning the Sunday giant card. And to Hanko himself, both for having me contribute to this article and for winning the Friday Giant Card! The biggest shoutout of all goes to my friend Bradd Cyr, the original creator of this deck, who taught me everything about it, working with me to optimize it."
Big thanks to Paulie for taking the time to share so much info with us!
Sunday's Giant Card Winner Pak Pamornsut
Pak posted an extensively detailed report on his Youtube channel, but he sent me his matchups so I can present them here. First up, here's his build.
Yu-Gi-Oh! TCG Deck - Infernoble Knights by Pak Pamornsut
'Infernoble Knights' - constructed deck list and prices for the Yu-Gi-Oh! Trading Card Game from TCGplayer Infinite!
Created By: Pak Pamornsut
Event: NYCC x MCM Comic Con Metaverse
Rank: 1st
Advanced
Market Price: $481.16
Cards
Sunday's Giant Card event had around 40 participants, and Pamornsut's matchups were as follows:
Round 1 Unchained
Round 2 BYE
Round 3 Dragon Link
Round 4 Numeron OTK
Round 5 Infernoble Knights (a mirror match)
Round 6 Infernoble Knights (another mirror match)
Pamornsut actually had a different list the night before the convention kicked off. But tournament protocols for this event required you to pre-register and play all three days with the deck you submitted, so he wasn't allowed to change his deck from the one he'd registered previously. Nevertheless, through thick and thin, he came out on top in Sunday's Giant Card event.
"I fear not the man who has practiced 10,000 kicks once, but I fear the man who has practiced one kick 10,000 times." - Bruce Lee
I've seen Pamornsut practice with Infernobles since before Rise of the Duelist was released in the TCG, and it goes to show you how building experience with one deck over and over can reward you with a better understanding of how to play it. That said, it's also important to learn how other decks work just to get a feel for their perspectives, what they want to do, and their strengths and weaknesses.
Pak is the man who's practiced Infernobles 10,000 times and he even showcases everything you need to know about it on his channel. It's a very educational resource to better understand combo decks, and I'd definitely recommend you watch his stuff.
The Winged Dragon of Ra (Alternate Art)
The Weekend Is Over
So yeah, I got the Giant Jinzo the Machine Menace! Paulie got the Giant The Winged Dragon of Ra (Alternate Art) with the new artwork, and Pak got the Giant Egyptian God Slime. I did hear that there were some technical issues which are probably inevitable in these types of events, especially with so many players in a Discord server all at once, but my Friday event ran smoothly.
I want to take the time here to thank all the staff from Shadow Realm Games for hosting such an amazing weekend. They host local Remote Duel tournaments every day on their Discord server Grandmaster Games, and it's a great place to try out remote dueling! You can find their server right here.

This entire weekend wouldn't have been possible without all the judges who ran the event, and supported all of us who competed, from scorekeeping to monitoring games. I actually felt really comfortable in this type of setting; the extra set of eyes on competitive games made me feel really safe playing against my opponents, so that the integrity of the game states could be more assured.

Thank you! Till next time.