Last weekend's Remote Duel Invitational featured sixteen players from the United States and Canada, all of whom whom won their way through multiple events to secure their invite, and the chance to play for the title of King of Games.
I was one of those sixteen players, and a few days ago I wrote about my time preparing for the tournament, and playing in it as a competitor. Today I want to take on a different role. I had the opportunity to ask the other competitors a few questions about their experience: who they are, where they're from, why they chose the deck they played, and their process to get to the tournament itself.
If you missed the coverage, here's what the metagame breakdown looked like.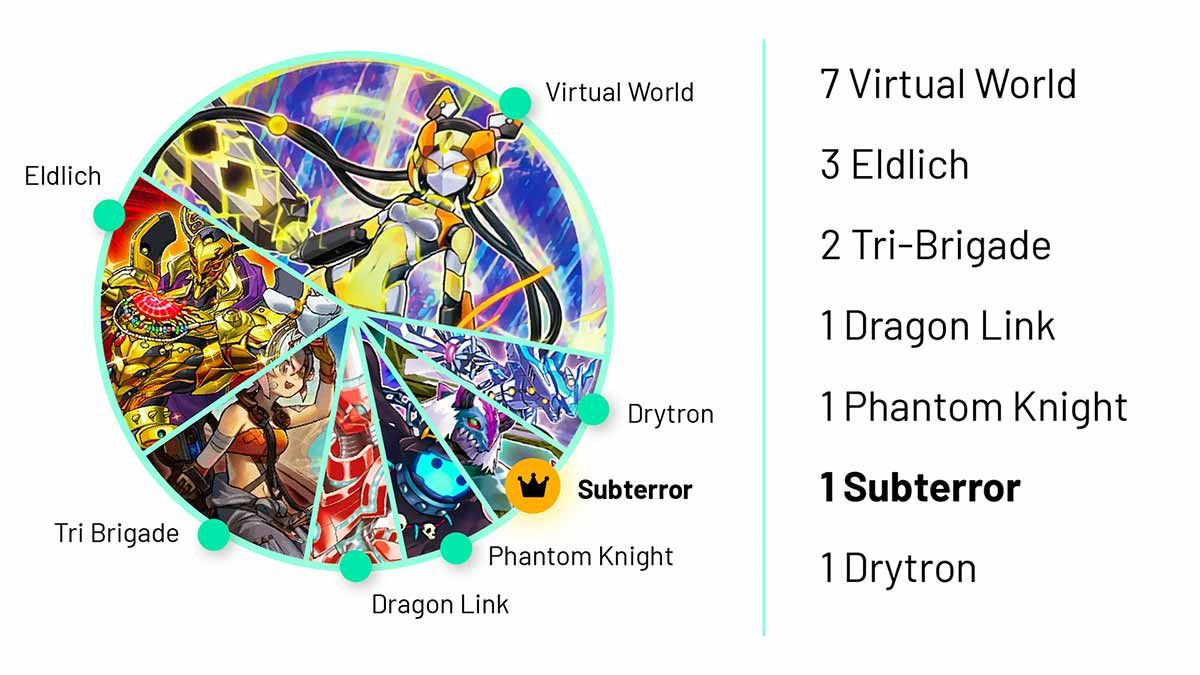 I wanted to write this article because I believe that everyone who competed deserves some spotlight for their accomplishments, and I was able to get input from almost everyone! With no further ado, let's begin.
Dylan Tell
"My name is Dylan Tell. I'm 21 years old and I started playing Yu-Gi-Oh when I was twelve years old. I always had a friend who'd bring me to lots of locals, I'd always just practice to become better at the game, and I hoped to get to play in some big events and see how far I can go."
Dylan didn't want to mention much, but it's important to note that every dream starts off somewhere. From playtesting with friends at a small local OTS store, to the Top 16 of the Invitational big leagues, it's never too late to get to work on your dreams.
Thoedore Mahan
"My name is Theodore Mahan, I'm 29 years old and I've been playing Yu-Gi-Oh since the beginning! I left around the Synchro era and came back during Master Rule 4. I've topped a few Regionals in my time."
"I chose to play a blind second build of Numeron Eldlich. It was the deck that got me the invite in my Remote Duel Invitational Qualifier, and I built it to beat the expected meta.
"Overall the experience was amazing, just having a chance to play on the big stage with a lot of great players. Konami did a great job setting everything up, especially since there's no in-person events right now due to the global pandemic. The journey to the Invitational was great, I topped a Remote Duel Extravaganza, then took 2nd Place in my Qualiffier to win my seat at the RDI."
Julio Mendoza
"I'm Julio Mendoza. I'm 26 years old and I'm from West Covina, California. I've been playing Yu-Gi-Oh! off and on for the past decade. I've enjoyed competing in lots of Regionals, the 2016 World Championship Qualifer, and the side events of the World Championship that same year. During that time, I was playing mostly PK-Fire, which is a mixture of Burning Abyss and Phantom Knight monsters.
"I took a three-year break for some professional reasons. My most recent break was from January of 2017 through September of 2020. During that time, I still kept up with the game, saw what was winning and how the game progressed.
"As of September last year, I decided to return to the game mostly due to the upcoming
Phantom Knight support that was slated for Phantom Rage. Since then, I've been playing in locals, I placed 44th at the Extravaganza in November, 17th at the Extravaganza in December, and I won my Remote Duel Invitational Qualifier. That meant I was fortunate enough to compete at the RDI, all with Phantom Knights!
"I enjoy Yu-Gi-Oh because of the community and the competitive nature of the game, which I love. Because of that, I decided to get going with YouTube and Twitch, where I'll be streaming my remote duels, making Phantom Knight deck profiles, combo videos, and other Yu-Gi-Oh content." (Those are still works in progress, but you'll be able to find Julio's work here!)
"For this event, I obviously had to go with Phantom Knights! It was the deck that got me the invite and I wanted to represent it, all the way. I knew that going into the
tournament, it wasn't the most powerful option compared to some of the other decks, but I did my best to prepare for the competition. Regardless if I topped or not, I was happy overall to even be a part of this prestigious event.
"When it came to the Invitational and all the events that led up to it, the "non-competitive" nature of Phantom Knights was a bit discouraging at first;
they weren't doing that well in competitive metagames in October and November last year. But, I realized if you apply yourself to not only understanding your deck, but also the rest of the strategies in competition, you can adapt your deck building and decision making around that.
"The return for the time I invested was outstanding! With that realistic mindset I was able to secure my seat in the RDI Qualifier, win my invite to the Remote Duel Invitationnal, be a part of that tournament and more importantly, meet some amazing people in the Yu-Gi-Oh community."
Kyle Waterbury
"Hi guys, my name is Kyle Waterbury and I'm from a little town north of Sacramento California, called Yuba City. I've been playing the game since I was a kid, but I've gotten into the competitive scene over the last four to five years, with this event being my biggest accomplishment so far."
"I decided to play Lyrilusc Tri-Brigade, and the decision was very easy for me as it was the deck that guided me from the first Extravaganza I played in, all the way to the Invitational. For people that have followed my journey with the deck, I've spent a great deal of time, often with my theory buddy Yishan [McNabb], crafting this deck and bringing it from the OCG into our format. I've been amazed by the results since that first event.
"The Invitational was such a great experience, even if I didn't end up doing the greatest. I had to keep reminding myself that skill was what got me there, but if my luck wasn't with me, I wasn't gonna go very far. However, we got such great prizing from Konami just for being there that it helped soften the blow quite a bit. The multi-day events and long hours of competition that I had to go through to make it to the RDI were completely worth it.
"I never would have thought that I would pick up remote duels, mostly due to the difficulty of setting it all up. But now that I have, I'll be sticking with it for as long as it's supported!
Jonathan Reed
"I'm Jonathan (Jack) Reed from Colorado. I'm the Yu-Gi-Oh captain of Team Playmakers and have two LCS tops, two Dragon Duel WCQ tops, a few PPG tops and a few Regional tops. I improved greatly during COVID and I've found more success lately, both online and in remote duels, but I'm looking forward to getting YCS tops once the Yu-Gi-Oh Championship Series starts up again."
"I chose to play Dragon Link for the Invitational. I wanted to run a combo deck that had the ability to main hand traps, so that it could have a solid matchup against the other combo strategies.
"I originally planned to play Virtual World, but decided that the mirror match was too luck based for me, especially when I knew that there were so many other competitors that were going to be playing it. I didn't feel that Drytrons could support the number of hand traps that I wanted, so the natural conclusion after that was Dragon Link.
"The entire RDI event and the process of getting there was great for me. I personally have some internet issues, and I had to take a few game losses each tournament along the way as a result, including in the Invitational itself, but that didn't really take away from the experience for me.
"The prize support from Konami was fantastic, and the actual tournament was managed very well. It was competitive while also being fun, and I don't think many events manage to find that balance.
"I wanna give a shoutout to everybody who helped me prepare for the RDI and all of my teammates in Playmakers! If anybody has any personal questions for me regarding my deck choice, or remote duels in general, please feel free to reach out on facebook!"
Peter Lauziere
"I'm Peter Lauziere from Maryland. I've been playing Yu-Gi-Oh! since 2016 - competitively since late 2017 - and I Top 16'd the 2019 ARG Invitational."
"I chose to play Virtual World for the Invitational for two reasons. Firstly, because I believe that post-Blazing Vortex, it's the strongest deck of the format with no truly bad matchups. Second, I've been playing the deck for months and I'm very comfortable piloting it and managing its intricacies.
"I got into the RDI Qualifier by winning a local Yu-Gi-Oh! Day event. My Qualifier experience was odd in that I only played against one Virtual World deck and zero Drytrons, but thankfully my deck at the time was well built to face the control-oriented Zoodiac Eldlich decks I did play against. Overall I had a great day, finishing 8-0 to win my Qualifier and earn a spot in the Invitational.
"The Invitational itself didn't go as well as I'd hoped, but I have no complaints about my deck choice or the duelists I played against. I find myself even more driven to learn from my mistakes and misplays - especially the ones streamed to the entire community - and come back to compete again.
"I had a lot of fun playing both. in the qualifying events and the Remote Duel Invitational, and would encourage any players on the fence about remote dueling to give it a try. My own initial skepticism in late 2020 has been blown away by how well Konami is supporting the Remote Duel format. Prizing is at a higher level than I've ever seen it, and I personally can't wait for the February and March Extravaganzas to take another shot at a seat in future Invitationals."
Rehan Saeed
"Hi, I'm Rehan Saeed, 23, from Ontario, Canada. I've been playing Yu-Gi-Oh since late 2017, but I didn't start competing in Tier 2 or higher events until 2019. I really only started investing time into the game since the beginning of the pandemic, so I don't have many achievements to speak of aside from Top 16 at the November Remote Duel Extravaganza, 2nd Place at the Remote Duel Invitational Qualifier, and 8th at the Remote Duel Invitational itself."
"Instead of playing the Drytron deck that got me my invite, I chose to play Zoodiac Eldlich for the Invitational, as I've always felt more comfortable with control-style decks. Furthermore, I expected a high number of Virtual World players; I feel that my deck has a good matchup against Virtual World going first and second.
"The high density of hand-traps in the Main Deck, and the potency of Divine Arsenal AA-ZEUS - Sky Thunder made me feel comfortable taking on any other combo-centric matchup that would arise. As such, I felt Zoodiac Eldlich would give me the greatest chance of at least making the Top 4, while also giving me a sense of comfort in its control style.
"I feel the invitational experience of competing in the RDI was really fun, and it was great to be a part of it. I haven't taken part in any big limelight YCS feature matches or such, but as a growing player, it was a great experience to be on camera and be a focus of the YGO community while I was on stream.
"In the multiple events I've had to go through to reach the RDI, I've met so many different players and formed test groups that span all of North America. I don't feel that would've been possible without the "remote" aspect. Playing in the comfort of your own home is a perk too, as it takes away the fatigue that I would usually feel at an 8 round or 11 round regional or YCS, respectively.
"The qualifiers were great as well, as the Canadian qualifier brought some of the best players in Canada together. It felt like a Regional again, since I knew most of the guys competing. All-in-all, it's been a great season of remote dueling, and I look forward to doing it all again, hopefully taking the top spot in my qualifier this time around!"
Yishan McNabb
"I'm Yishan McNabb, I'm 22 and I've been playing Yu-Gi-Oh since first grade. I never really decided to become a competitive player, it's just something that I was always interested in. I'm known for getting 2nd place at YCS Portland with Gren Maju and pioneering the deck itself. "
"I chose to play Lyrilusc Tri-Brigade because I'd done well with it in the qualifier. I also had a lot of people counting on me to bring the deck into the spotlight!
"I got my invite to the RDI qualifying round by playing the Yu-Gi-Oh Extravaganza - the one that took a famously long time - and getting a Top 64 finish with Gren Maju. My friend Kyle Waterbury, who also made it to the Remote Duel Invitational, got me hooked on playing Lyrilusc Tri-Brigade, which I played in the qualifier to a 2nd Place finish! Ever since then, the deck has exploded in popularity as a fun budget option and I wanted to showcase it to the community."
Ruben Penaranda
"My name is Ruben Penaranda, and I'm from Miami Florida. I've been playing Yu-Gi-Oh since I was in 6th grade but I started playing competitively in 2016. I have a UDS Top 4 finish, a YCS Top 32 and a WCQ Top 16 along with several Regional tops."
"I decided to play Virtual World as I believed it was the strongest deck for the event with the new cards, Virtual World Oto-Hime - Toutou and Virtual World Gate - Xuanwu. The struggles that I faced in the tournament were just hands that had no real play, which I knew was a possibility given my deck choice. This deck reminds me of monarchs back in the day.
"I believe that Virtual World has the best all-around matchups in the format given the toolbox-like Extra Deck and a card like Virtual World Gate - Chuche that's generically good versus almost every deck in the format.
"I personally enjoyed the Invitational and the process to get there, and want to thank Konami for doing a great job with these remote duel tournaments. They'ave given us a platform when in-person competition isn't possible, and I believe that everyone should be giving remote duels a try. Remote dueling is such a fun experience ,and the prize support's definitely worth it for the exclusive prizes.
Cameron Neal
"I'm Cameron Neal from Dallas, Texas. I've been playing this game competitively since 2013 with 10 tops and a win in the Ultimate Duelist Series."
"I chose to play Eldlich because going first, you can beat Drytron and Virtual World, and going second you don't lose to True King of All Calamities.
"The entire experience [of the Remote Duel Invitational] was very good. I just love playing Yu-Gi-Oh, so more opportunities to compete at a higher level is always good. The process to get there was a little tough, considering you had to Top 64 the Extravaganza, then go and get Top 2 at the Invitational Qualifier. I enjoyed all the tournaments that led up to the Invitational. I'm definitely gonna try to play in the next one!"
Octavio Balcazar
"Hey! I'm Octavio Balcazar from New York, New York. I started playing Yu-Gi-Oh competitively back in 2011 to 2014. I've only just recently gotten back into Yu-Gi-Oh last format! Back then, I was never able to play in any huge events, just Regionals and locals, and found some small successes in that circuit."
"I decided to go with Virtual World for the RDI because sticking to an Xyz-and-Synchro-only strategy was easier for me to grasp as a returning player. I just love how complex and explosive the deck is. Plus all the possible lines of play you can take in any given situation are really fun to explore.
"I managed to get my invite playing in CoreTCG's Yugioh Day, which was a smooth and fun event, they always do a great job running things. The qualifier portion was super competitive, much more than the average locals and Extravaganza experience I had before then. I was able to take first in the Qualifier and the rest is history!"
Andres Arreola Jr.
"My name is Andres Arreola Jr. I'm from south Texas. I've been playing competitively since 2012, and I have over 30 Regional tops, seven of which are Top 8 and Top 4 appearances. I've also got three YCS tops, two WCQ tops, and many other top cut finishes in unsanctioned events."
"I chose Drytron since I felt it was the most consistent deck going into the Remote Duel Invitational. I kept bricking with Virtual Worlds. I knew it was going to be the deck to beat so I decided to play Drytron with twelve hand traps mained, and I sided five more in for the Virtual World matchup.
"I had a good experience with the event. It was good to have a competitive tournament of this caliber with COVID going on. The prizes were amazing. Originally, I didn't know an event like this was going on, but after winning my local's Yu-Gi-Oh Day I found out about the Invitational Qualifier and proceeded to play in it.
"Since remote duels are one of the main ways to play competitively, I'll continue to participate in future Extravaganzas and subsequent qualifiers if I get the opportunity."
Cesar Gonzalez
"Hello there! My name is Cesar Gonzalez, I'm from Bayamon, Puerto Rico. I've been a part of Yu-Gi-Oh! since 2002, and I've had my bits of success including several Regional tops. I've also been a member of the judge program for close to six years now."
"I chose to go with Subterror, since it's one of my favorite decks I've been playing it since late 2018. I qualified for the RDI with Subterrors so it only seemed right that if I had a shot at the Championship, I should take the deck that got me htere.
"The experience was nothing short of amazing, as I at first didn't think I'd be remote dueling at all, and I was actually motivated to give it a shot by my good buddies Matt Fox and Austin Hollett. The setup in itself was easy to get, I went with two phones and a tripod since my computer was broken. As for qualifying, the Extravaganza was a challenge in and of itself, as it almost felt like a Regional playing 8 rounds of Swiss.
"Registration for these events is easy, and if you have any issues the friendly staff members running things are more than happy to guide you through sign up and will help make sure everything's submitted properly. In my case it was a bit more challenging, as the Extravaganza where I qualified had 9 rounds of Swiss and ended closer to 4 am EST, but it was fun and truly awesome nonetheless.
"The Invitational Qualifier was quite challenging as well, since you get a lot of good players that know what they're doing and it really motivates you to give it your all. In essence, the Invitational Qualifier lets you meet new friends from all over the US and Canada that share the same passion for the game.
"The Invitational itself felt amazing. It's like being in a Top 16 in a WCQ and it feels like a real accomplishment to compete. Being on stream is a lot harder than some people think, and nerves can get the best of you, but it also makes you feel special because family and friends can see you and cheer for you from anywhere.
"Remote Dueling is one of the most amazing things that could've come up in these times, and I encourage anyone to give it a try. If they need help, we're always here!"
Since Cesar took 1st Place in the RDI and became our newest "King of Games," I decided to ask him some additional questions.
Congratulations on becoming "King of Games" for this 2021 Remote Duel Invitational season! How does it feel to win such a stacked event?
"It was the best feeling in the world, like a childhood dream that came true after almost 19 years. Overall, the fact that my family was able to see me, and got the chance to cheer for me was amazing. It also made me feel great because I was able to motivate people in Puerto Rico to go and begin remote dueling."
Was there any other deck you would have played if you didn't want to stick to Subterror?
"Yeah, I was thinking of playing Virtual World or Eldlich Zoodiac. For a moment, it was funny, it crossed my mind to just play True Draco Zoo."
Do you miss not playing the Red-Eyes Insight and [Red-Eyes Wyvern package even though you play Dimension Shifter? When I play Subterrors. even with Dimension Shifter, I often find myself relying on Red-Eyes Fusion to win.
"I feel Red-Eyes Insight and Red-Eyes Wyvern are good, but they also take up deck space that could be used for floodgates or hand traps. Another thing is that the deck suffers from consistency issues, and sometimes those cards can be bricks in your hand, or even cost you the game."
Any changes you would have made to your decklist?
"In the Main Deck, it would have been nice to play Magicalized Fusion to have that extra source to get to Red-Eyes Dark Dragoon, or maybe Ash Blossom & Joyous Spring as a secondary hand trap. Apart from that I'm really happy with this build. The other change I'd probably make is to swap the Lightning Storm for Cosmic Cyclone, as Lightning Storm can sometimes be a dead draw when you already have an established board and Cosmic Cyclone better in terms of spot trap removal."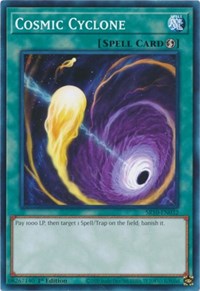 And There You Have It!
I've gathered all these responses because I'm hoping all these players can inspire you to play in Remote Duel events too, and maybe help you aspire to reach a future RDI yourself.
The next Extravaganza event is happening soon, coming up fast on the weekend of February 27th. With it, we'll see more Win-a-Mats, Giant Cards, and another chance to earn your seat in the next round of Invitational Qualifiers. Be sure to sign up for the main event ASAP, as there's a player cap of 256 competitors, and registration's sure to be filling up fast. Here's the link to the Discord for the Extravaganza.
Note that you can find all the decklists seen here, over on our event page for the Remote Duel Invitational, as well as a few other lists from competitors we couldn't get ahold of for interviews.
I want to end this off with a huge THANK YOU to Konami and everyone involved with Yu-Gi-Oh, for giving us the opportunity to compete with official Remote Duels. Thank you to all the Judges, and Tournament Organizer staff for making it all possible too, as well as the streaming staff at EStars Studio for lending us the equipment to make the stream possible..