Good morning, everybody! Today's the day, and I hope you'll all join me in saying "Goodbye!" to True King of All Calamities and Number S0: Utopic ZEXAL. At the same time, we also need to give a moment of silence and solidarity to our fellow duelists who play ABC-Dragon Buster, for their loss of Union Carrier. We desperately needed that card Forbidden to prevent future abuses, but once again, ABC players got stuck holding the bag.
Ever since the new Forbidden & Limited List was announced on Thursday, I've been trying to wrap my head around what the best decks of the new format would be. I knew that Dragon Link survived the list untouched and probably emerged a stronger strategy with Dragon Buster Destruction Sword back in play, but I kept questioning how effective that deck would be; it needs some pretty precise cards to pull off the new combo with DMZ Dragon.
We got to see the new list in action this last weekend in the Luxury Championship Series XI tournament, and the competitors had just over 48 hours to builds their decks for the new format. By the time the dust had settled Sunday afternoon, we saw an interesting shift in the top decks from last format. Dragon Link took the title, Dinosaurs finished in 2nd Place, and the Top 4 was fleshed out with an interesting Zoodiac Eldlich variant and an Invoked Shaddoll deck sporting a Red-Eyes Dark Dragoon package.
Today we're going to look at the LCS Top 4, as well as an updated Virtual World list that's adapted to the new format. If you're playing in a Remote Duel Invitational Qualifier this weekend, or competing in events at the Yu-Gi-Oh Extravaganza next week, these are the big decks you should be ready for.
Dragon Link
Let's start off with the strategy everyone immediately thought would be the best deck of the format: Dragon Link. Dragon Link's somehow survived more formats than I can count: it feels like it has always been a contender since Dark Neostorm. The latest iteration's very similar to what we saw winning from an underdog position last month, with a few changes to adapt for new competitive trends.
Ben Kreutzkamp piloted a stylish Dragon Link deck to victory at LCS XI with three copies of Super Polymerization in the Side Deck. In my opinion, Ben prepared his list perfectly. Dragon Link and Invoked variants were expected to be some of the strongest contenders going into the first week of the format, and Kreutzkamp's use of Fantastical Dragon Phantazmay gives the deck a solid in-hand monster effect for the mirror match, and it can get you to Nibiru, the Primal Being for a big blowout.
Borreload Furious Dragon and Predaplant Dragostapelia are unique summons for Super Polymerization: you can summon Borreload Furious Dragon with any two Dark Dragon monsters, and this deck plays a TON of them, essentially making it a free monster when you play it with Super Polymerization. Predaplant Dragostapelia caught me by surprise when I realized that it serves as a perfect counter to Shaddoll Invoked, fusing away both El Shaddoll Winda and Invoked Mechaba.
Dinosaurs
Have you read Miscellaneousaurus? That card and Souleating Ovirraptor are both absolutely bonkers, and they just keep dodging the F&L List time and time again.
Even though the Dinosaur strategy hasn't changed since Animadorned Archosaur premiered in Eternity Code, the deck's continued to command respect from competitive players. Dragon Duel World Champion Ryan Yu has often turned to the Dinosaur deck early in new formats, and we saw him play it once again this weekend, this time capturing a 2nd Place finish.
Dinosaurs often just need to adapt their spell and trap card lineup to fit the expected metagame in order to be competitive. Yu's strategy this time was optimized to go second, but it was prepared to go first too, and it was ready to play around potential suboptimal hands. His runner-up finish at LCS XI showing just how quickly Dinosaurs can make a comeback at the turn of a format.
Ryan's Main Deck isn't trying to reinvent the wheel: his list is concise, and follows a two-step plan to victory. Step 1: Summon Ultimate Conductor Tyranno. Step 2: Punch. HARD.
The combination of Link Monsters and Xyz Monsters are what allow him to do that so consistently. Using the effect of Number 60: Dugares the Timeless on Ultimate Conductor Tyranno and then Link Summoning a Pentestag above the Ultimate Conductor Tyranno will almost always end the game; that combo gives Ultimate Conductor Tyranno 7000 ATK and piercing battle damage. You already know that you'll be dealing 7000 damage when you attack over the Jurraegg Token you'll summon with Lost World, so all you need to do from there is attack whatever you have left to wipe out their Life Points.
Dark Ruler No More, Lightning Storm, and Mystic Mine all serve the same purpose, dealing with tough boards so you have time to draw what you need for a combo that would make Tyranno Hassleberry proud. Ryan, if you're reading this, I really hope that Hassleberry is your favorite GX character.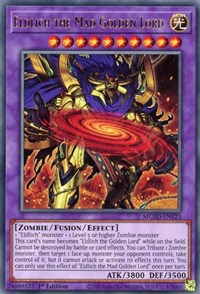 Zoodiac Eldlich
I said it last format, and I'll say it again: as long as Zoodiac Drident and Eldlich the Golden Lord exist in the same format, this deck will continue to see success.
Leonardo Sacchetti proved my point this weekend with a Top 4 finish, piloting a super cool variant of Zoodiac Eldlich. He even plays the new Eldlich support cards from Blazing Vortex like Eldlich the Mad Golden Lord, which I love!
I opened a ton of Raging Tempest Special Editions when it came out, trying to get Super Rare Baobaboon. I opened more copies of Zoodiac Kataroost than I'd like to admit, so seeing Leonardo run it is really nice. Zoodiac Kataroost works a lot like Zoodiac Ramram, giving a protection-like effect to the Beast-Warrior Xyz Monster that has it as a material. Zoodiac Kataroost protection comes from monster effects that target the Xyz. That lets you protect a Zoodiac Boarbow or Zoodiac Drident from cards like Eldlich the Golden Lord, El Shaddoll Apkallone, or another Zoodiac Drident, and having that extra bit of protection helps this deck with its slower-paced matchups.
My hands-down favorite thing about Sacchetti's build is the use of Seven Cities of the Golden Land and Eldlich the Mad Golden Lord. The Eldlich Fusion Monster's a super-powered version of Eldlich the Golden Lord, boasting 3800 ATK and an immunity from all forms of destruction. The only real way to get rid of it is with Divine Arsenal AA-ZEUS - Sky Thunder or a Zoodiac Whiptail-powered Zoodiac Xyz. Seven Cities of the Golden Land not only lets you Fusion Summon Eldlich the Mad Golden Lord, but it also has a second effect that locks set spell and trap cards for a turn if a Zombie is Special Summoned by a card effect.
Last time I checked, that was pretty easy to do in Eldlich decks.
Invoked-Shaddoll-Dragoon
The last player in the Top 4 of the LCS was Christian Penagos with his Invoked Shaddoll Dragoon deck. This deck plays almost, if not identically to how it did last format, not having lost or gained anything of substance on the F&L List.
It's been a while since we saw a 4th Invoked name played in the Extra Deck, but Invoked Raidjin a solid pick since it lets an Invoked Shaddoll player use Reeshaddoll Wendi to play around potential Zoodiac combos. It also has the strength to end a Dragon Link player's turn, provided their hand wasn't packed with extenders.
Shaddoll Schism remains a huge threat even though it's likely to get hit by a Cosmic Cyclone in Games 2 and 3 post siding. The Shaddoll engine does a good job at churning out extra monsters to Link into Predaplant Verte Anaconda, and that gives it a superior ability to seal a game out with the explosive power of Red-Eyes Dark Dragoon.
Virtual World
Virtual World didn't even make it to the Top 16 this weekend, and that's left many Virtual World players scrambling to figure out what they'll do next without True King of All Calamities. Some Virtual World fans have started looking at hand loop combos with XX-Saber Gottoms, a trend we saw in the TCGplayer Marketplace last week, while others are using Ultimaya Tzolkin and Muddy Mudragon to cheat out a copy of Red-Eyes Dark Dragoon without using Red-Eyes Fusion. This isn't a finalized list for the strategy but it is something that a friend of mine sent me as a first draft for the new format.
Ultimaya Tzolkin such a cool card, and using it to bring out Crystal Wing Synchro Dragon is great. You normally make Ultimaya Tzolkin's with a Virtual World Roshi - Laolao and Virtual World Kirin - Lili, then set a backrow card to summon out Crystal Wing Synchro Dragon. Once you've done that, you use any two Level 3s to Synchro into Muddy Mudragon, activate its effect to have it replace Dark Magician, and Ultimaya Tzolkin fills the role of "1 Dragon Effect Monster" for Red-Eyes Dark Dragoon. The Crystal Wing Synchro Dragon protects you from Nibiru, the Primal Being while you finish out the combo, so you don't have to worry about devoting all these resources and losing them to your favorite space rock.
Replacing True King of Calamities is my favorite Rank 9 monster: Phantom Fortress Enterblathnir. I haven't summoned this thing since Nekroz format when I'd Xyz Summon it using Nekroz of Trishula and Trishula Dragon of the Ice Barrier to banish a third card from my opponent's hand. In Virtual World, however, Phantom Fortress Enterblathnir serves as a neat little toolbox of removal effects. Going first you can banish a card from your opponent's hand, and going second you can banish a pesky Red-Eyes Dark Dragoon that you might not be able to get around. Banishing a Golden Land trap has the potential to change the course of a game.
The March 2021 format's only just begun! I think decks like the ones I talked about today will continue to see success, and many of the decks from last week that were still worth respecting are still here, they just haven't had their chance to shine yet. There are so many new strategies to try out with the changes to the Forbidden & Limited List.
This upcoming weekend we have a set of Remote Duel Invitational Qualifiers where 128 players will be battling it out for a spot in the next Remote Duel Invitational. The weekend after we have a Remote Duel Extravaganza, so you'll have plenty of chances to test out your new decks. I'll be judging one of the RDIQs and the Extravaganza, so I hope to see all of you there!
If you have any cool decks or ideas that you want to send me I'll be happy to take a look at them. Feel free to send me a message on Twitter or Facebook.