Another Extravaganza's come and gone, and this was the busiest Remote Duel Extravaganza yet! With the new prizing announced for Win-A-Mat and Speed Duel tournaments, plenty of players came out for their chance to get some of the hot new game mats. If you haven't seen them yet, check 'em out!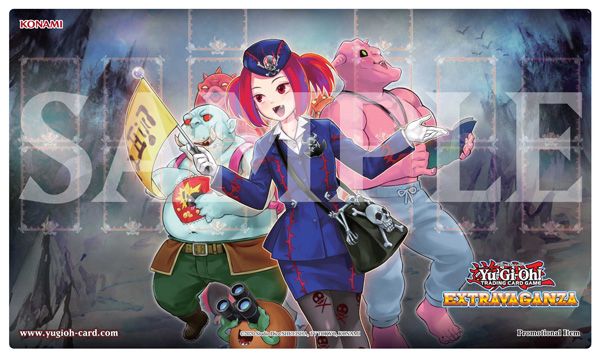 The new Extravaganza mat featuring the alternate art for Tour Guide from the Underworld was immensely popular, driving the demand for a total of 70 Win-A-Mat tournaments. In one weekend. Wow.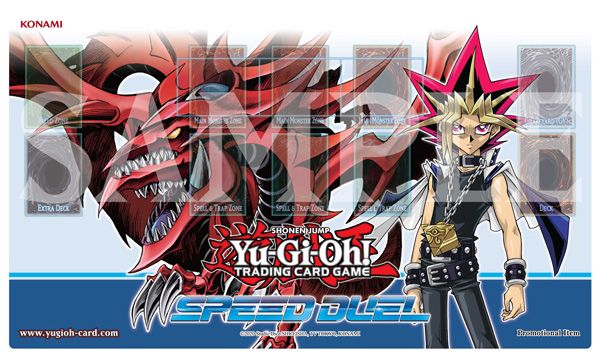 Meanwhile a whopping 26 Speed Duel Constructed events fired, with players trying to get their hands on the new Speed Duel mats featuring Yami Yugi with Slifer the Sky Dragon…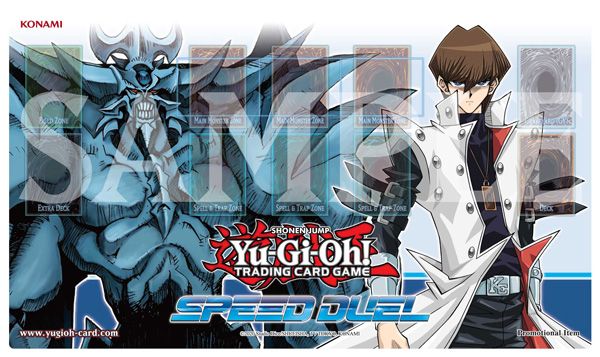 …And Seto Kaiba with Obelisk the Tormentor.
But as sweet as those prizes are, the biggest draw for any Remote Duel Extravaganza is the Main Event on Sunday, which serves as a first stage qualifier for the Remote Duel Invitational. 249 players competed for a chance to play in the next round of RDI Qualifiers this weekend, and the Top 64 players earned their invite for a chance to qualify. If just eight more players had signed up, then invites would have been given out to the Top 100 instead! We were so close to seeing so many more players earn the chance to compete next month.
Those last eight competitors were probably off playing Win-A-Mats…
I managed to snag some of the lists for decks that did well in Sunday's Main Event, as well as one deck that did really well on both Saturday and Sunday! Let's get started.
Pak Pamornsut was back at it again, this time with a super teched out version of Trap Eldlich! Pak took 2nd Place in Saturday's ATTACK OF THE GIANT CARD!! tournament, but on Sunday he was back with a vengeance and won the whole thing, scoring a Giant Card version of Red Supernova Dragon with the exact same list from the night before!
Trap Eldlich decks usually play monsters with lockdown effects like Inspector Boarder, but Pak opted to play an even heavier trap lineup than usual. The result was a deck list with only six monsters in the Main Deck, reducing his lineup to the bare minimum. The only hand effect monster he played was a set of PSY-Framegear Gamma, a bid to stop cards like Ash Blossom & Joyous Spring so that his spells would resolve properly.
With one copy of Dogmatika Ecclesia, the Virtuous as the search for Nadir Servant, you have easy access to your three Dogmatika Punishment to help clear away your opponent's monsters and keep you alive.
The standout card in Pak's Main Deck was the playset of Broken Line. I can't even think of a time when this card's actually seen play. Pak's reason for playnig it was that many competitive players tend to place their spells and traps onto the field in such a way as to avoid getting their cards negated by Infinite Impermanence, but NOBODY plays around columns with their monsters. That meant Pak had an extra form of negation and removal, letting him negate powerful monster effects, and also negating spells and traps all with the same card!
Coming out of left field, Matthew Narvaez landed in 2nd Place in the Main Event with his Virtual World deck! His basic strategy was essentially unchanged: use the Virtual World monster effects to thin out the deck as much as possible, while throwing out powerful threats like Phantom Fortress Enterblathnir and Crystal Wing Synchro Dragon. Matthew, like many other players this weekend, chose to play three copies of Fantastical Dragon Phantazmay to help him dig further into his deck, while also giving him a form of interaction with opposing Dragon Link and Prank-Kid decks.
The most interesting thing about Matthew's list was the three copies of There Can Be Only One. They gave him a HUGE advantage against Dragon Link and Zoodiac decks, allowing him to win longer games, because he could control the pace of the duel however he saw fit.
Joshua Friedman took Invoked Dogmatika to a 3rd Place finish with a super interesting list filled with great picks, many of which might become the standard moving forward. The numbers for the monster lineup seem pretty standard, but the use of a lone Eldlich the Golden Lord stands out. Typically we only see the Eldlich the Golden Lord in decks centered around him; decks that are filled with Conquistador of the Golden Land and Eldlixir of Scarlet Sanguine. By cramming a single copy into a Shaddoll strategy, you actually open up your deck to a surprising number of OTK combos.
The biggest utility for Eldlich the Golden Lord in the Shaddoll strategy comes from the fact that it's a Light monster: you can dump it to the graveyard with Shaddoll Fusion to make El Shaddoll Construct. Sending away a dead copy of an extra Shaddoll Fusion or a Resh Shaddoll Incarnation lets you bring back Eldlich at 3500 ATK, giving you enough force to run over the high ATK monsters that Dragon Link decks often summon. If you manage to open with Eldlich the Golden Lord, it also baits out some of the negates that Dragon Link makes, making the rest of your Shaddoll plays easier to resolve.
Christopher Scales showed us that he has Dino DNA running through his veins this weekend, by finishing with 6 wins and 2 losses for an 11th Place finish. His Main Deck is filled with interesting ratios for the spells he chose to play: he ran two copies each of Lightning Storm, Lost World, Pot of Prosperity, and Super Polymerization. Those are all cards that you'd normally see played at three in Dino decks. He also ran a full line of hand-monster effects with three Artifact Lancea, two Ash Blossom & Joyous Spring, and a full PSY-Framegear Gamma package.
The thing that caught me by surprise when I looked at Chris' list was his Side Deck: he sided a Red-Eyes Dark Dragoon package, which would normally be mained. With one Red-Eyes Black Dragon, one Dark Magician, and one Red-Eyes Fusion this super concise package gave Chris an extra advantage in games where his opponent forced him to go first. Even if he was going second, he could use Dragoon to help seal the game even more than Ultimate Conductor Tyranno would on its own.
Oh, this deck. Those of you who've been following my articles since I started know how much I believe in Zoodiac Eldlich. As long as Zoodiac Drident and Eldlich the Golden Lord exist simultaneously, this deck will see play, and Gabriel Perez proved that statement correct all weekend long. He did it with style, too, playing three copies of Shadow-Imprisoning Mirror in the main: it absolutely WRECKS Dragon Link if you see it before they start their combo.
Aside from the Shadow-Imprisoning Mirror, Gabriel Perez's list was pretty standard. He chose to run Pot of Prosperity to help him dig for power cards, even though it would turn off the draw effect of his three Zoodiac Thoroughblade.
That was an interesting number, if only because of the three copies of Pot of Prosperity. Most Zoodiac Eldlich players spread out their Zoodiac numbers for more utility, while still sticking to the same general five or six names. Gabriel said to heck with that, and chose a build that was more aggressive with three Zoodiac Thoroughblade to give his Zoodiac Xyz the most ATK possible.
There were two vastly different Tri-Brigade strategies in the Top 8 of the Extravaganza Main Event, and Kelvin Beal snuck into 8th Place piloting a Zoodiac version. This mash-up was really popular when Tri-Brigade first premiered back in Phantom Rage; it was the most common build until Tri-Brigade Lyrilusc was popularized as the go-to Tri-Brigade variant.
The main advantages to the Zoodiac engine are that you have an easier time accessing Divine Arsenal AA-ZEUS - Sky Thunder to clear away your opponent's board, and that your Fire Formation - Tenki has way more targets.
Just one Zoodiac Ratpier, once feared as the best Normal Summon in old school Zoodiac decks, can now serve as a 1-card Tri-Brigade Ferrijit the Barren Blossom. Normal Summon Zoodiac Chakanine effect to bring back either Zoodiac Ratpier or the sent Zoodiac, and make your Tri-Brigade Ferrijit the Barren Blossom!
With Tri-Brigade Ferrijit the Barren Blossom effect, you can then Special Summon ANOTHER Zoodiac or any of your Tri-Brigades and start doing Tri-Brigade things, since you already have three Tri-Beast types in your graveyard. Alternatively, you can always use Tri-Brigade Fraktall to start off your Tri-Brigade combos and then use Tri-Brigade Ferrijit the Barren Blossom to bring out a Zoodiac from your hand mid-combo instead.
The other Tri-Brigade list that made it to Top 8 was Alberto Lopez's Dogmatika Tri-Brigade deck. Mixing an Extra Deck reliant combo strategy with the slower paced, anti-Extra Deck Dogmatika strategy sounds crazy, but Alberto made it work. When going second, he had access to powerful interrupts thanks to his three Ash Blossom & Joyous Spring and three Fantastical Dragon Phantazmay. He also ran two copies of D.D. Crow for their useful interruptions against Dragon Link and Shaddoll decks.
The Tri-Brigade side of the deck makes sense, maxing out on all of the monsters, and adding an additional copy of Tri-Brigade Rendezvous. He didn't play that Tri-Brigade Rendezvous for the protection effect, but to help the deck push for more damage.
The synergy in Alberto's deck is really strong. You go through your whole Tri-Brigade combo, potentially ending on Apollousa, Bow of the Goddess, Simorgh, Bird of Sovereignty, and Ancient Warriors Oath - Double Dragon Lords, and instead of ending your turn, you follow up with a Nadir Servant to search Dogmatika Ecclesia, the Virtuous and Dogmatika Punishment, giving further protection for your Barrier Statue of the Stormwinds.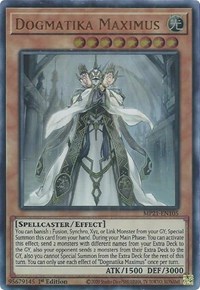 If you're going second it gets even better, because you can have Dogmatika Ecclesia, the Virtuous grab Dogmatika Maximus or Dogmatika Fleurdelis, the Knighted to generate even more advantage and put more pressure on your opponent; a lot more pressure than a more conventional Tri-Brigade deck would normally be able to apply.
On top of everything else, this engine also gave Alberto an easy way to play around Artifact Lancea: if his opponent activated Artifact Lancea effect before he used his Normal Summon, Alberto could just drop Dogmatika Ecclesia, the Virtuous and make Dogmatika plays to set up a board and stop his opponent, getting him another turn.
William Candia won the Extravaganza Main Event with the exact same Dragon Link build he played a week ago at the Remote Duel Invitational. Dragon Link took up four of the Top 8 slots, just giving more and more evidence that it continues to be the deck to beat this format. The thing that makes Dragon Link so powerful at this point is its ability to play through almost every hand trap with ease; the deck hasn't changed much over time. We didn't see any of the Phantom Knight variants in Top 8 this weekend, either. All of the top finishing builds were the more conventional version running Chamber Dragonmaid and Dragonmaid Tidying instead.
That's it for this week, everybody! The Remote Duel Extravaganza was crazy this month and I absolutely love seeing all these cool decks and insightful tech picks being successful. New versions of the Tri-Brigade strategy are always welcome. Watching Dinosaurs adapt to go first or second just makes me fear the deck even more. Eldlich appearing in Shaddolls is a crazy trend that's been picking up more and more steam in different Remote Duel local servers. The format's continuing to evolve, and players are adapting even more to handle decks like Dragon Link.
As players specialize to tech against Dragon Link as the format's top deck-to-beat, it's easy to sort of forget about those other decks, which might be why we've see so many different themes popping up in competition. There aren't any more big events for April, but you should continue practicing and playing in your local Remote Duel tournaments. Hopefully I'll be writing about you after the next Extravaganza!
Until next time!