Remote Events never end! If you're an active remote duel player you'll notice how many exciting events we've had lately, and how many more are just around the corner.
Not too long ago we had the latest North American Remote Duel Invitational, covered by our dear friend Hanko Chow. Now, I present to you the Latin American Invitational. Remember I told you that you'd hear more from me and from the Latin American Players? Well, here we are!
Just like the previous Invitational we had the best of the best, the most ferocious and outstanding Remote Duel players from all over Latin America. We saw some familiar faces, as well as a few new ones, and together they played a combined total of nine different strategies: five Zoodiac Tri-Brigade decks, three Dragon Links, two Eldlich variants, one Shaddoll & Friends, a Subterror deck, Prank-Kids, Drytron, Dinosaur and even…a Code Talker deck!
Take a look at the chart below before we jump to the breakdown.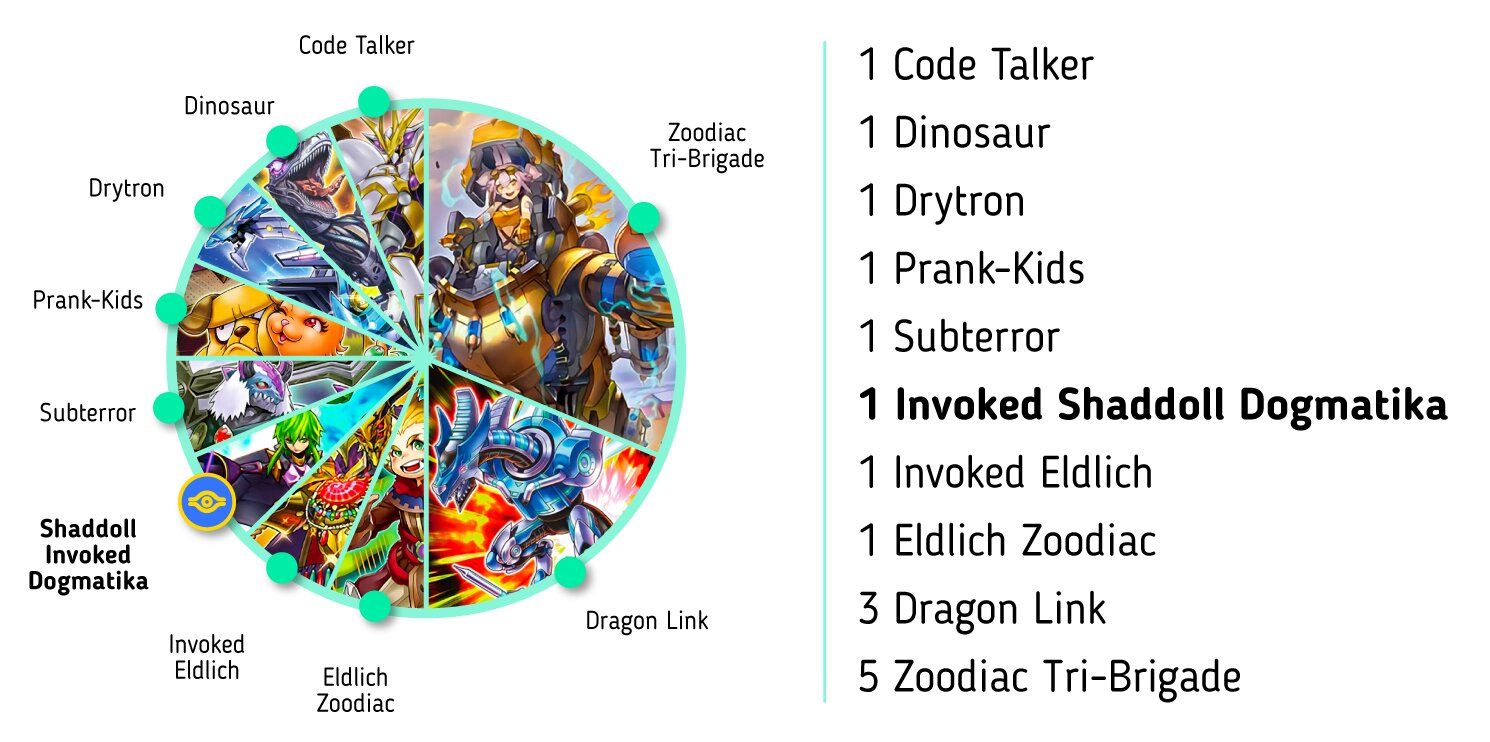 The People's Favorite… Tri-Brigade
We've only seen a couple new sets released since the last Latin American RDI, Ancient Guardians and Lightning Overdrive. LIOV made a major impact; it's interesting that we didn't have a single Tri-Brigade deck last time, and now, thanks to the new Tri-Brigade Bearbrumm the Rampant Rampager this deck was the most represented in the field. If you're interested in learning the basics, you cand find out how to build and beat Tri-Brigades in Anthony's previous article. Trust me, you'll be in good hands, and this is a matchup you'll want to stay on top of.
Strangely enough, even as the most represented deck, Tri-Brigade didn't make it to Day 2. Of the five Tri-Brigade players who competed, Rafael Reich from Brazil got the closest. Alexis Vargas from Mexico, Victor Silva from Brazil, Luigi Caballero from Costa Rica, and Alonso Osuna from Mexico gave their all, but sadly none of them made it past Day 1. Something to note is that Rafael and Victor used the same deck list, card for card; they both tested together and tried their best to get to the best build possible.
If you peek at the deck page, you'll notice that all these decks look similar. Their Extra Decks are practically identical, and there are largely just a few differences in each player's choice of hand traps. Ghost Belle & Haunted Mansion, Droll & Lock Bird, Skull Meister, Nibiru, the Primal Being, D.D. Crow, and Effect Veiler are some examples of little changes in between these lists.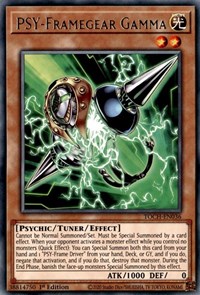 That said, Alonso was bolder and decided to use PSY-Framegear Gamma and three copies of Rescue Cat to spice up his deck. Meanwhile the most notorious choice in Rafael and Victor's decks was their choice to play three copies of Mystic Mine over Artifact Lancea, a very strong card favored by many competitive players. Mystic Mine gave them an advantage going second, and even saved them in risky situations while they were gaining momentum. You can read more on Mystic Mine here .
Where The Dragons Dwell
At the last Latin American RDI we had five Dragon Link players in action Day 1, but none of them were able to get to Day 2. This time around we had only three duelists taming dragons… And surprisingly two of them made it to the Top 4! Dragons haven't got any better in the time between the two events. In fact, other powerful decks have made notable gains. But regardless, Dragon Link has been a powerful and consistent force that everyone acknowledges.
Gabriel Netz from Brazil, Ali Piscoya from Peru, and Santiago Marin from Colombia were the duelists that chose to tap the power of Dragon Link, with Piscoya and Marin making it to Day 2. They actually had to face each other in the Semi-Finals, securing Dragon Link a spot in the the Top 2, and Santiago was the one who took the 2nd Place finish.
Just as we saw with Tri-Brigade, the Dragon Link Extra Decks are almost identical. The only difference is that Piscoya decided to go with Saryuja Skull Dread instead of Apollousa, Bow of the Goddess. While the core of the Dragon Link deck is pretty set, there were a few cards that changed between each player: PSY-Framegear Gamma, Ash Blossom & Joyous Spring, Fantastical Dragon Phantazmay, Artifact Lancea, and backrow removal were all flex spots.
We saw how ferocious these players and this deck can be, and it's amazing how easily this strategy can amass hordes of Dragons without even using at Normal Summon. Dragon Link has a high capacity to dodge threats and play around counters; sometimes it doesn't even care about interruptions due to the sheer force of its numerous extenders and power plays. It all adds up to a board that's either way too hard to break, or just enough to go for game.
As strong as the deck is though, we haven't seen a Dragon Link deck conquer the Remote Duel Peak; as the format's biggest deck-to-beat, players dedicate lots of time and cards to prepare for the matchup. With the next F&L List just a few days away we might never see Dragon Link reach an Invitational win. But who knows! Time will tell.
The Golden City Is Still Standing
Eldlich Decks have been part of the competitive scene since the rise of Eldlich the Golden Lord in Secret Slayers, and this it's one of my personal favorite archetypes! We've seen how Eldlich decks have been adopting acolytes all over the Yu-Gi-Oh! universe, and while the theme's been fading in popularity little by little, a couple variants were in action at the Invitational: one with Zoodiacs, and another with Invoked.
Andres Chavez from Ecuador played Eldlich with the Zoodiac engine, while Edwin Ponce went for the Invoked variant. Both duelists had pretty close results after the last round of Swiss. Andres used two cards that caught my eye, the first being Ally of Justice Cycle Reader, and also, Mistaken Arrest! A very interesting choice. Let's see if these cards catch on soon; I think Andres is a little ahead of the curve, but either way, they were very interesting picks.
On the other hand, Edwin piloted a very interesting Eldlich deck, not only supported by Aleister the Invoker and a few Invoked Fusion Monsters, but other powerful cards as well.
Summon Limit, and Ice Dragon's Prison keep your opponent tied down, and together with Imperial Order and a couple Solemn cards Ponce often had enough control to take the lead.
His Extra Deck was full of juggernauts, too. Red-Eyes Dark Dragoon, a card that needs no introduction, could establish control and keep opponents in check. He also ran Eldlich the Mad Golden Lord, the bigger, badder and crazier counterpart of the now famous original. Taking Eldlich the Mad Golden Lord down is no easy feat, and if you don't do it quickly, then it will take your monsters.
As if those two Fusions wouldn't be enough, Edwin was also bringing Superdreadnought Rail Cannon Gustav Max for burn damage, and to spice things up even more Superdreadnought Rail Cannon Juggernaut Liebe was always there to finish things off.
Mauro's Playhouse
It wasn't too long ago that Mauro Montaño was debuting in the big leagues, competing in the last Latin American RDI. Last time he got all the way to Day 2 with his Prank-Kids deck, a theme that still has a lot of potential. This time around, we had the best Prank-Kids player in Latin America back again with his boys!
The most notable changes Montaño's last build was the addition of three copies of Droll & Lock Bird replacing D.D. Crow in his Main Deck. He also replaced Abyss Dweller with Predaplant Verte Anaconda, and added Alpha, the Master of Beasts. Here's what his build looked like.
We saw Montaño in action in his livestreamed feature match, playing some very intense games against Edwin Ponce with Eldlich deck. In the last moments of the match, Montaño showed how dangerous Predaplant Verte Anaconda is, using not the classic Red-Eyes Fusion, but the Thunder Dragon Fusion. It helped him tunr the tables in a game that seemed totally lost otherwise.
Unfortunately, a handful of different factors piled up against Montaño anyways. First of all he was low on Life Points and time was running out, which was crucial. Even with the skill he displayed in the last few minutes of the match, there was no way to get rid of the Predaplant Verte Anaconda, no immediate access to Prank-Kids Dropsies, and not enough cards in his graveyard to successfully resolve Prank-Kids Plan. Not to mention, that specific Golden Lord couldn't be destroyed with Prank-Kids Battle Butler.
I know we'll keep on hearing from Montaño and "his kids" in the future. Being a fun and versatile strategy, Prank-Kids could be a great contender in the new format.
Hidden Potential
Alexis De Jesus from Mexico showed the whole world how a well-balanced control deck can fare in this world of combo decks. Not only that, Alexis was undefeated in Day 1 and made it to the Top 4 playing his Subterror deck.
Alexis is one of those few players who started playing Remote Duels from scratch. During an interview in Visio Game's YouTube Channel he mentioned that he didn't know that much about technology; Discord was entirely new for him. However, he now feels really proud of his achievement, and he's actively trying to get more players into Remote Duels.
Aside from the well-known cards you'd expect to see in Subterrors, Alexis also played three Dogmatika Punishment and a single copy of Dogmatika Ecclesia, the Virtuous.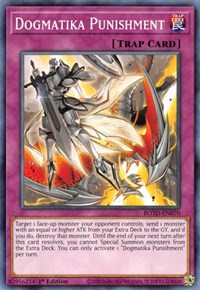 Not only that, since he played Triple Tactics Talent, and he knew Zoodiac was a popular deck, he ran one Zoodiac Boarbow, a Zoodiac Drident, and a Divine Arsenal AA-ZEUS - Sky Thunder plus an Infinitrack Fortress Megaclops. With more than enough space in his Extra Deck, he was able to fit those tech cards and definitively get an edge under the right conditions.
This deck does a great job recovering and fighting back from sketchy positions; as long as you don't draw Red-Eyes Black Dragon and Dark Magician together you should be fine.
Divine And Fine
Mexico's Alejandro Garcia was another of the returning players, with many different awards under his belt. He played Dragon Link at the last Latin American Invitational, but this time Garcia went with a Drytron deck. Lots of players were preparing to face this deck, thanks to new additions like Drytron Mu Beta Fafnir and Diviner of the Herald from Lightning Overdrive.
We haven't seen many Drytron decks over the last few months, and sadly, we couldn't see Garcia pilot this deck on the livestream. A few different builds have been floating around lately, and the only thing we really know right now is that this deck has a lot of potential. There's still a lot of time for Drytron to change and adjust for the upcoming format; players are already experimenting with it, and learning on how to play it, and at the same time planning how to beat it.
Alejandro had a hard time in the Invitational, but I'm pretty we'll see him shine once he refines his build,. If you're interested in knowing more about the Drytron deck, take a look at Anthony's article on the basics of building and beating Drytron.
A Code Talker Deck!?
Every Invitational we see at least one deck that catches everyone off guard, and this time it was Ruben Figueredo from Argentina playing Code Talkers! I got in touch with Figueredo a while ago, and it was a nice surprise to know about this early, since it's been appearing in different events using different tech cards; Cyberse support is vast.
The story of how Figueredo got all the way to the Invitational is inspiring. He actually decided to quit playing meta decks, and he decided to test this out at the last Extravaganza event. It went really well, so he took it the Invitational Qualifier. He made it to the Top 8, so he was pretty excited to be playing this deck from the beginning.
Ruben plays seven monsters that can Link Summon from the hand. Code Radiator, Code Generator, and Micro Coder, played with generic Cyberse support like Lady Debug, Parallel eXceed, and Knightmare Corruptor Iblee. Together they let him take advantage of his combo plays while leaving a special surprise for his opponent to play around.
Figueredo's Extra Deck is filled with Code Talker and Cyberse monsters, so he can flood the field and graveyard with Links in preparation for boss monsters like Accesscode Talker or Topologic Zeroboros.
And The Winner Is…
This almost seems like deja-vu. For the second time in a row, the only Invoked Shaddoll deck in the field was able to get to Day 2, and against all odds, win the sought-after title of King of Games; the same result from the previous Latin American Invitational. Leonardo Leone from Argentina gallantly piloted his deck all the way from an Extravaganza to the Qualifiers and then the Invitational, to win the Finals against Santiago's Dragon Link.
The Finals was a very close match, one that showed how strong Magical Meltdown is, together with the interruptions that Invoked Augoeides can create. Leone's one copy of Dogmatika Maximus helped him catch his opponents off guard, a card that not everyone plays in this strategy. He also ran Borreload Furious Dragon in his Side Deck, but we didn't get the chance to see it on stream. His win was an amazing feat after starting Day 1 with two wins and two draws.
Upcoming Events
Every single one of the LATAM Remote Duel Invitationals have brought us excellent duelists and exciting games. With a new Forbidden & Limited List upon us, the future of competition is full of new opportunities! Are we going to see new strategies? What deck will prevail in the highly anticipated Remote Duel YCS? Time goes fast, so get ready, because we're almost there!
Well, those are all the decks we could review, and like a good friend of mine says, "good morning, good evening, good afternoon wherever and whenever you're reading this, but among anything else… Good games!" Because here I end my turn! See ya next time.