We're just coming off the May Latin American Remote Duel Invitational, where the whole world witnessed sixteen exceptional players duel for the title of King of Games! Those sixteen competitors represented just eight of the many different countries in Latin America, and each duelist made it to that point by winning different events all over the LATAM territory.
Every round let us spectate at least one amazing Feature Match, and if you missed any of the action you can always see it again on the Official Yu-Gi-Oh! Twitch Channel or the Official Yu-Gi-Oh! YouTube Channel , and remember, it's free!
The Top 4 Decks
After our first four rounds of Swiss on Saturday, only four competitors were left to compete in Day 2: Mauro Montaño,Cristian Quiceno, Sebastián Rozas, and Edgar Cabañas. These amazing four duelists face each other the next day in a single-elimination Top 4 bracket, and in the end, Edgar Cabañas was the last man standing with a 2-1 win over Sebastián Rozas in the Finals.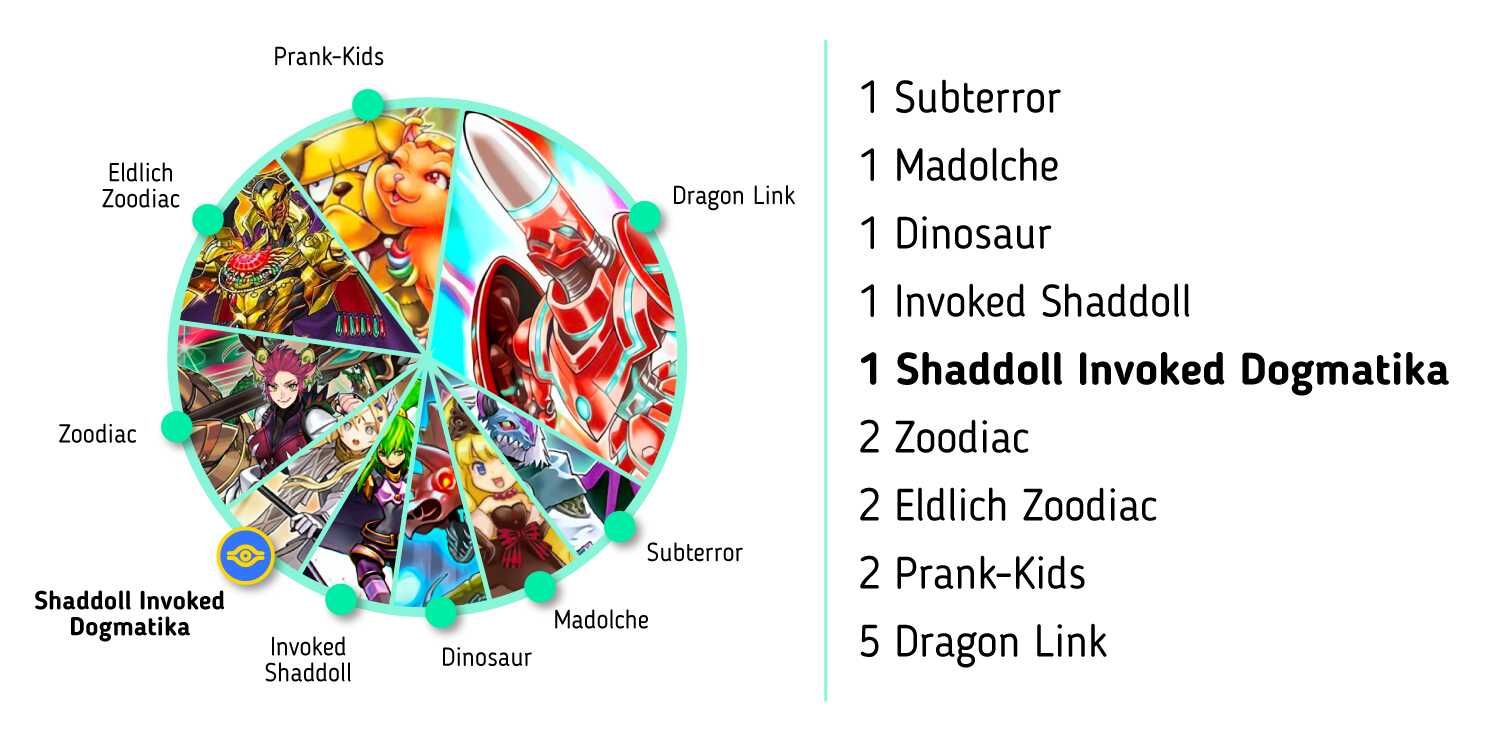 Edgar Cabañas captured an incredible victory, and he did it piloting his Invoked Dogmatika Shaddoll deck. He's actually been using the same strategy for a while now! Cabañas played Shaddolls to a 1st Place finish at the recent Remote Duel Extravaganza, and he also took it to 1st Place in his RDI Qualifier. Yes, he ended up winning in all his events!
Cabañas knows not just how to play his deck, but also how to counter his opponents' strategies. He knew Dragon Link was the crowd favorite, and that it would be the most popular strategy of the Invitational. But he also expected to see Zoodiac and Dinosaurs, and he was ready for all of those matchups. Dragon Link was indeed the most represented deck for the Invitational, though in a big twist, Cabañas didn't play a single Dragon Link player until Day 2. Here's what he ran.
Let's talk about the interesting decisions and reasoning behind Cabañas' deck. Edgar mentioned that he's been using [Secret Village of the Spellcasters]] since the beginning of the "Virtual World Format". He decided to play it mostly because it gave him a chance to prevent the activation of Virtual World Gate - Qinglong, moreover protecting El Shaddoll Winda. He also mentioned that it ended up being a really important and useful card, even without Virtual World as the number one contender.
The Secret Village of the Spellcasters not only clogs your opponents' hands, it also slows down decks using Pot of Desires, Pot of Extravagance, and Pot of Prosperity. Dragon Link and Dinosaurs also have a hard time with it. Cabañas even boosted his chances to see play it by using Set Rotation. That same card enables Magical Meltdown too, a crucial piece of Edgar's strategy.
Another remnant of the "Virtual World" era is that single Ghost Ogre & Snow Rabbit, used for the very same reason as Secret Village of the Spellcasters. In this format, a well-timed Ghost Ogre & Snow Rabbit helpful hitting crucial cards like Fire Formation – Tenki, Boot Sector Launch, Borreload Savage Dragon, and even Apollousa, Bow of the Goddess. In his Side Deck you can see a third Field Spell in Zombie World, handy against Edgar's predicted decks and especially good if a Tri-Brigade deck showed up in the tournament. Finally, Metaverse adds more consistency to the Field Spell lineup.
Although not the favorite strategy to win, Prank-Kids have been gaining popularity and stacking up successes. This time we saw two variants of the same theme in the playoffs. It's interesting to see how each duelist made it to Day 2 with the same core cards, but with very different ideas in mind. Note that both duelists used Dinowrestler Pankratops as part of their Main Decks. If you want to know how Prank-Kids work, then take a look at the complete Prank-guide from our friend Hanko Chow.
Sebastián Rozas' take on Prank-Kids is built around taking every possible advantage, by always having the best cards to maintain control at all times. He has a little something special to counter each of the most problematic decks. By maining two copies of Artifact Lancea he could keep Shaddoll and Invoked decks in check, and benefit from all the other different applications for Artifact Lancea. The PSY-Framegear Gamma helps when he has to go second, and There Can Only Be One is there as his floodgate of choice.
Sebastian integrated some particularly interesting choices into his strategy: the infamous Mystic Mine came in a clutch on livestream, and helped Rozas gain a little momentum, turning the tables in his Feature. Fantastical Dragon Phantazmay, which was out of competition for a while, is back again and seeing lots of play. Its return was probably inevitable thanks to Dragon Link and Tri-Brigade being part of competition. And lastly, Alpha, the Master of Beasts was tremendously strong: we saw it secure Sebastián's win during Game 2 of the Semi-Finals.
Following with the Prank-Kids strategy, we have the variant Mauro Montaño piloted, which he went undefeated with in the Swiss rounds. Mauro's approach focused not on gaining momentum, but firing through his combo and seizing the game as quickly as possible. Mauro's been using Prank-Kids a while now and has proven himself as one of the best Prank-Kid players in Mexico, if not the best, with multiple tops. Most recently he got 1st Place at the last Remote Duel Extravaganza, so he's ready to qualify again and show us what his "kids" are capable of.
Mauro's decided to play D.D. Crow and Ghost Belle & Haunted Mansion because he expected to see way more Eldlich decks. Ghost Belle & Haunted Mansion especially useful against Dragon Link, it's great in the mirror match, and it helps with a handful of threatening cards like Ice Dragon's Prison and Called by the Grave. Mauro's concern for the Eldlich matchup led him to play Cosmic Cyclone too, which doubled as versatile backrow removal.
The last card I want to mention is Book of Moon, which Mauro played at two. You can see how useful this card was during Round 2 of the livestream: Mauro shut down not one, but two copies of El Shaddoll Winda, letting him combo his way to a 2-0 victory. Book of Moon was more than just a defensive card: Mauro took advantage of it at all times. either protecting his monsters and plays, activating it as an interruption, or even playing it to force his opponent into a less effective play. He showed us how to use Book of Moon efficiently, in such an amazing fashion.
Cristian Quiceno scored an impressive finish with Dinosaurs! I'm pretty sure Dinosaurs aren't extinct just yet: hey keep on appearing in Top Cuts all over different territories. But this time, Dinos came packing more than just brutal power: this deck has some insightful interactions, too. The Dino strategy's no just muscle anymore, it's adapted for some pretty cool plays. Cristian told me that many times, Dinosaur decks are often doing the same thing, which he thinks wastes their full potential.
It's such a shame that we weren't able to see more of Cristian's Dinosaurs in action. We only got a glimpse of his unique strategy during Day 2, in the Semi-Finals. There, we saw him use Dinowrestler Coelasilat as the Tuner to start his combo summoning Crystron Halquifibrax. He used Deskbot 001 to go for Mecha Phantom Beast Auroradon, following up with Herald of the Arc Light and then… that was it. We didn't have a chance to see how he uses Martial Metal Marcher to bring out monsters like Coral Dragon, F.A. Dawn Dragster, or even the powerful Borreload Savage Dragon, because that was time.
What we could see is how Quiceno used Number 60: Dugares the Timeless to speed up his strategy, and more astonishing, how he destroyed an entire field with Evilswarm Exciton Knight to leverage his own Babycerausuarus. At the end of the day the time ran out for Cristian's Dinosaurs. I wish we could have seen him shine more, but the ice age came early for these great thunder lizards.
Those were the Top 4 decks from the Invitational. It wasn't the Top 4 most expected, as Dragon Link keeps on pushing to be the best deck in the format, and it was in fact well represented taking 5 of the 16 spots in Day 1! Nevertheless, experienced players on this level can turn many viable decks into a successful strategy.
We saw a couple more themes competing this weekend too, so let's dive in a couple more!
Other Big Decks From The Weekend
Jorge Izaguirre's Madolches gave this tournament a pinch of variety! Taking a fan favorite theme like this, that recently got rarity upgrades in Ghosts From the Past, to an event as big as the Invitational was for sure challenging. But Jorge got his invite with this same deck, so I'm pretty sure he knew what he was doing. I just wish we could've seen more combos, and a little less Ice Dragon's Prison and Nibiru, the Primal Being in his streamed coverage, since those two cards are huge threats to Jorge's sweet strategy.
This deck was packed with a bunch of cards that helped Izaguirre secure a big hit to win as fast as possible. He ran two copies of Gameciel, the Sea Turtle Kaiju to get rid of boss monsters that could hinder his one-turn kill attempts, and in the best scenario, he'd return his own Kaiju with Madolche Queen Tiaramisu. That said, even in the worst case scenarios he could just run over Gameciel, the Sea Turtle Kaiju as needed.
Just like Mauro, Jorge saw the big potential behind Book of Moon. It let him interrupt his opponent's plays, while also protecting his field in the face of certain primal beings. When Jorge played second, he could drop Evenly Matched to get rid of big boards. and if he played first, he'd combo off and leave behind an established board protected with Infinite Impermanence, Solemn Judgment, and Solemn Warning.
Javier Ovando's Subterror deck was a surprise. Javier got his invite playing Virtual World, but he felt the deck wasn't suited for the Invitational. He opted for a more control-based deck instead. He felt way more secure with it, since Subterrors recently got him a second invite to the next Qualifiers, so we already know we'll be seeing more from him in the future.
Javier's Subterror deck might seem a little unorthodox, but it gave his opponents a headache with cards like Dimension Shifter; played well, Dimension Shifter can do heavy damage to opponents in the long run. Pot of Extravagance was a budget alternative since he could only get one copy of Pot of Prosperity. That meant he had to max out on Red-Eyes Dark Dragoon to ensure he'd have it when he needed it, but that just means this deck could get even better.
Speaking of Extra Deck interactions, Javier played three copies of Dogmatika Punishment, a card that I've never seen in Subterror builds. Together with Elder Entity N'tss, Javier was able to get rid of pesky obstacles along the way. He was also running Invoked Elysium, which was there to handle other Invoked decks, leaving their field as empty as possible.
Dragon Link was the most represented deck in the tournament. Everyone was thinking that this was the deck-to-beat, and this time, players came prepared and they managed to keep the Dragons away from Day 2. Dragon Link players had a hard time all weekend: even the well experienced Alejandro Garcia wasn't able to make it past the Swiss rounds. However, his deck packs a big punch with brand new monsters and overwhelming power.
Alejandro's deck played something that no other Dragon Link deck in the tournament ran: Dragunity Glow! Fresh out of product-hover id="228256", Dragunity Remus and Dragunity Legatus enabled new combos, and in tandem with Dragunity Arma Mystletainn and Mist Valley Baby Roc hey gave a fresh look and feel to this extremely flexible deck. Dragunity Knight - Gae Dearg and Crystal Wing Synchro Dragon are the newest additions in the Extra Deck, played to exploit those new combo pieces.
Alejandro recently got his invite to the next RDI Qualifiers, so we'll see if this is the strategy he's picking. It'll be interesting to see the limits of this deck, if this incredible player decides to stick with it.
Zoodiac was the second most-represented deck after Dragon Link: we had two Eldlich Zoodiac builds and two pure ones. That says a lot about the high regard duelists have for this theme. Kellen Melendez took it to the next level, coming up with a strategy capable of ripping opponents apart piece by piece. In a tournament of only sixteen players, strategies as courageous as this one can be just as risky as they are powerful, but hey! Nothing ventured, nothing gained, right?
Kellen was not going to be caught off guard. He ran not just Dinowrestler Pankratops in his Main Deck, but also Alpha, the Master of Beasts. The pair of Ghost Reaper & Winter Cherries were Main Deck standouts, and he ran a couple copies of Breakthrough Skill too. It's been a while since I've seen Breakthrough Skill in action, but Kellen knew that Divine Arsenal AA-ZEUS - Sky Thunder could decimate the entire field, so he wanted to have a little something extra for when that happened. Striker Dragon and El Shaddoll Construct both appear in Kellen's Extra Deck for Ghost Reaper & Winter Cherries, giving him an edge in what's probably the hardest matchup he could have.
Kellen showed us what a fearless duelist he is, and I know we'll see him again in the future. This wasn't his first Invitational appearance, and I'm pretty sure it won't be his last.
Ghost Reaper & Winter Cherries
This is the first LATAM Invitational highlighted here at TCGPlayer Infinite. Remember that a lot of things are different between territories, so you might bump into other kinds of strategies or a different meta analysis! I'm excited to keep on writing and letting you guys know about events in Latin America.
Well folks, like a good friend of mine says, "good morning, good evening, good afternoon wherever and whenever you're reading this, but among anything else… Good games!" Because here I end my turn! See ya next time!