This past weekend was the largest Yu-Gi-Oh Remote Duel Extravaganza ever!
With over 100 Win-A-Mat tournaments, 2 ATTACK OF THE GIANT CARD! events, and a Main Event just shy of 300 players, it was a huge success and everybody had a full weekend of dueling action. I actually played this weekend myself, rather than judging like I usually do, and it was interesting seeing things from the other side! This was my first Remote Duel Extravaganza as a player and I had tons of fun.
I feel like part of the reason this Extravaganza had so many people in attendance, had to do with some of the new prizes that were being offered.
First of all, this was the first chance for players to receive the promo card Amabie. It was Amabie's premiere in the TCG, and the Extravaganza FAQ describes the card as follows: "Similar to Omamori charms in Japan that are used to promote good health and ward off sickness, Amabie is a Japanese spirit said to repel the plague by showing copies of itself to people."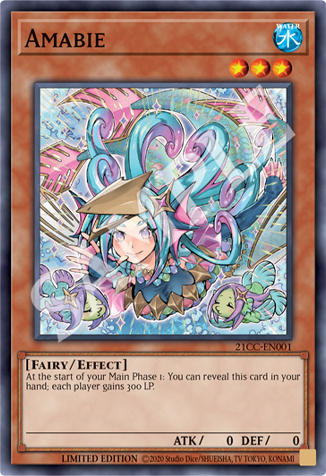 I feel like this is something we all need, especially now. It feels like all over North America, we're getting closer and closer to finally being out of this pandemic, and hopes are high that soon, we can return to some semblance of normalcy. In my opinion, this promo card really came at the right time.
Along with the exclusive Amabie promo card, the Speed Duel and Tour Guide from the Underworld Game Mats were as popular as ever and we also got an update to the standard Win-A-Mat!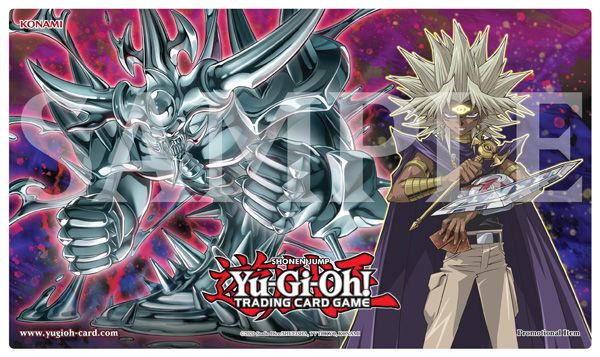 Following the suite of Win-A-Mats from the last couple years, this one was centered around the Legendary Duelist Series. This mat features Marik Ishtar and his Egyptian God Slime on it with some amazing, vibrant colors.
All these things made for an awesome event with great prizes! As for what won? Well, the format's starting to shift gears as we move closer and closer to the release of Lightning Overdrive. Many players expect that with the release of Tri-Brigade Bearbrumm the Rampant Rampager, Tri-Brigade variants may become the format's top deck-to-beat: Tri-Brigade Bearbrumm the Rampant Rampager effect to search out Tri-Brigade Revolt could be a huge difference-maker.
Well, it looks like those players were right. Players realized how powerful Tri-Brigade was, and we saw that play out over the weekend.
Trap Cards Are In Again, Didn't You Hear?
More than 25% of the decks in the Top 16 were trap-heavy strategies. The most represented deck in Top 16 was Tri-Brigade Zoodiac, with most of the lists featuring 9 to 14 trap cards per list. I played the deck to a 10th Place finish myself. Samuel Chung, who just earned his chance to play in the Remote Duel Invitational last weekend with Tri-Brigade, piloted it to an 8th Place finish this time. Former Invitational competitor Octavio Balcazar placed 11th with the deck, and Aaron Levy finished 3rd with it.
In its current form, the "Zoo-Brigade" deck doesn't have many flex slots for optional techs. In fact, the deck list is so tight that all four of us played the exact same Extra Deck. That kind of similarity's common for well-worn decks like Dragon Link, but usually there's at least a 1 to 2 card difference between the Extras. That said, some of the trap choices, as well as in-hand monster effect numbers vary from list to list.
This is the list I piloted. I'm going to be totally honest here, too: I put this thing together Friday night after borrowing Ice Dragon's Prison from a friend. I used Samuel's list from the RDIQ as a reference for almost the entire build; all I changed was one of the traps so I could play Torrential Tribute. I went with this because it seemed like a straight-forward enough list and felt it could be comfortable in just about any matchup. And it was!
When it came to the spells and traps in Aaron's list, he played more cards that helped him deal with the mirror match; a good thing considering he told me he played four mirror matches over the course of the event. I guess running Fantastical Dragon Phantazmay over Nibiru, the Primal Being in the Main Deck was a good idea! Twin Twisters helped him force out Tri-Brigade Revolt before committing to a board.
Speaking of trap decks, Lawrence Jones was the lone Altergeist player in the Top 16 from the main event. I was certainly surprised to see it score a 2nd Place finish, butr fter looking at Jones's list I totally understand how he did it. He maxed out the numbers on the most important Altergeist monsters, and he optimized the number of consistency cards he was playing with three copies of Pot of Prosperity and two Pot of Duality.
Infinite Impermanence and Torrential Tribute both serve as Main Deck answers to some of the format's biggest problems, and can help you keep tempo through the first game of any matchup. After Game 1, cards like Anti-Spell Fragrance, Inspector Boarder, and Shadow-Imprisoning Mirror all become heavy hitters in locking down your opponent's strategies.
Decks Are Still Comboing Off!
I know not everyone's a fan of trap-heavy strategies. Many players, myself included, like decks that have huge decision trees based on a flurry of combos meant to generate a big board. Despite Zoo-Brigade being one of the most represented decks in the Top Cut, there were still combo decks making huge plays all weekend long.
Fresh off his Top 4 finish at the Alien Games RDI Qualifier, Daniel Palchik was back at it again with Prank-Kids! Palchik went undefeated and won the entire Main Event with a super teched out Prank-Kids list that I'm still trying to comprehend.
Mystic Mine a pretty normal card to see in Prank-Kids, and so is There Can Be Only One. Skill Drain and Book of Moon are not so common, but their purpose is obvious. Ash Blossom & Joyous Spring one of the biggest weaknesses for the Prank-Kids deck; it can end the whole turn for the Prankster. These cards have a similar function, but for more potential strategies.
One of the most common plays for Zoo-Brigade is to Normal Summon Tri-Brigade Nervall or Tri-Brigade Kitt and Link it away for Salamangreat Almiraj to trigger graveyard effects, and set up Tri-Brigade Revolt. Book of Moon stops Zoo-Brigade just as much as Ash Blossom & Joyous Spring stops Prank-Kids.
Along with those, the three copies of Super Polymerization in Palchik's Side Deck helped him deal with lots of problem cards and troublesome set-ups. The matchup would decide if Daniel needed to side in the lone Mudragon of the Swamp over Predaplant Dragostapelia or Starving Venom Fusion Dragon. Blizzard serves as a quick negate alongside Solemn Judgment for power cards like Forbidden Droplet or Dark Ruler No More. Those interesting choices helped Palchik win the tournament.
Paul Judal brought Virtual World to 5th Place thanks to the deck's near-infinite consistency. Virtual World continues to be one of those decks that even though it lost its main win condition, still succeeds because it's just so reliable. Any two Virtual World monsters can set up a powerful board, backed up by the additional consistency of Pot of Desires, Emergency Teleport, and Foolish Burial Goods. It's no wonder this deck still has gas in its tank to make plays every turn.
Assuming that Virtual World still have access to Virtual World Gate - Chuche, Virtual World has the potential to grind further than any other deck in the format. The strategy's current goal is to set up Crystal Wing Synchro Dragon with Ultimaya Tzolkin before committing to any Level 9 Synchros, so you don't get punished by Nibiru, the Primal Being. Once Crystal Wing Synchro Dragon out, everything else is fair game.
It feels like it wouldn't be this format without Dragon Link showing up somewhere. Two Dragon Link decks made it to 12th Place and 15th Place in the event. The deck remains hyper consistent and hugely powerful. Anything you can Normal Summon feels like a full combo at this point, and Dragon Link continues to see success. Jim Do played an interesting list that still relies heavily on the Normal Summon of Chamber Dragonmaid as the deck's main starter card.
Final Countdown?!
Out of nowhere, the 14th Place deck from the Extravaganza was a Mystic Mine Final Countdown build!
A ton of players across social media have been referring to this deck as Mystic Mine Burn, when in reality it wasn't that at all! Looking at Falk Katin's list, there are zero burn cards in the Main Deck and only one in his side. Instead of relying on a burn strategy to win Game 1, Katin was relying on the awesome power of Final Countdown!
Final Countdown a super old card that basically says after the 20th End Phase, the game is over. Once Katin activates it, victory's just a matter of slapping down Mystic Mine and giving his opponent a Silent Wobby so that they always have more monsters than he does. When it comes to Games 2 and 3, Katin would add in Cauldron of the Old Man to give him the ability to burn his opponent to death, while being protected by Mystic Mine.
This was a wild weekend for Yu-Gi-Oh! As this era comes to a close we're getting a look at what competition will be like in the wake of Lightning Overdrive, and a potential preview of the upcoming Remote Duel Invitational, which is set to happen after LIOV drops. There were tons of cool decks that topped this Extravaganza, and as always the ones I didn't cover are featured over on the deck pages, so be sure to check those out!
I'm excited that I topped my first ever Extravaganza, and I can't wait for my RDI Qualifier. I'm shooting to top that event and get a seat in the next Invitational. Summer's just getting started for Yu-Gi-Oh, and the dates for the Remote Duel YCS have been announced. There are so many events, it feels like we'll be busy every weekend!