Remote Duels have come a long way. We're starting to see that even with just small gatherings of six to ten players to start, enough dedication and the right advertising can build a remote local up to a full 32 players: enough for five rounds of competitive Yu-Gi-Oh. It's happening everywhere as you read this.
Last month's New York Comic Con online event was a huge step; it proved that with enough manpower and enough judges, it's possible to host a 60-player Remote Duel tournament with few or no problems. Then suddenly with only a week's notice, Konami surprised us all by announcing the first-ever Remote Duel Yu-Gi-Oh! Extravaganza, which took place just last weekend. It was a crazy-ambitious event hosted in not only select Latin American Discord servers, but also the same American server that hosted the previous event for New York Comic Con too.
And impressively, Konami and tournament organizers Shadow Realm Games did it again! With the help of many judges, they hosted and organized another amazing tournament weekend. This one had more Win-a-Mats, more Structure Deck duels, Speed Duels, Duel Links tournaments, and yet again, the ever-popular Attack of the Giant Card!! events.
BUT! There was another twist this time. The weekend featured a Sunday "Main Event" tournament, with a huge cap of 256 players. The top finishers earned an EXCLUSIVE 2020 Yu-Gi-Oh! World Championship Qualifier National Playmat! I assume this was the mat they were supposed to give out this year for the WCQs, had we not been in lockdown. It has the full artwork of Ferocious Flame Swordsman on a fiery red background, a very appealing and collectible prize.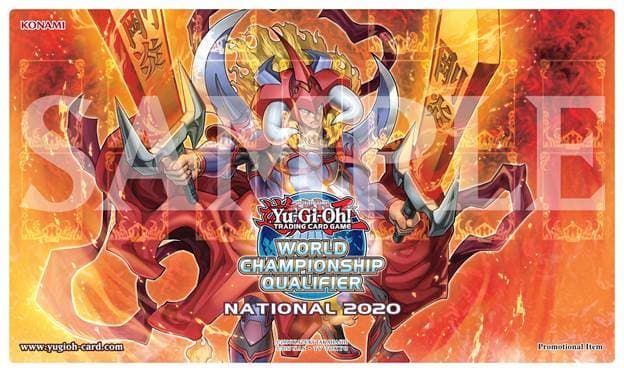 But that's not all! The main event was also awarding invites to the Remote Duel Invitational Qualifier, the same invitations slated to be given out at the upcoming Yu-Gi-Oh! Day event next week on December 5th and 6th! Since the main event was contested in a Swiss format rather than the harsher single elimination style of Giant Card!! tournaments, many players remarked that it felt like an online Regional, since the prizing and length of the tournament was very similar to the Regional Qualifiers we all know and love from the pre-COVID days.
So What All Happened?
I, my fellow writer Zachariah Butler, and many of my online friends all took the weekend off to play in the Extravaganza. Unfortunately I could only get the Sunday off, but that was all I needed to be able to play in the main event.
My friend Jibriel Braithwaite ended up winning the Saturday Attack of the Giant Card!! tournament, going undefeated against 70+ other players with Virtual World. That earned him not only the giant GOLD RARE alternate art Apollousa, Bow of the Goddess (Alternate Art) but also free entry into the Sunday main event.
Sunday also had another Attack of the Giant Card!! event and this time, also awarding a giant printing of Apollousa, Bow of the Goddess (Alternate Art). Participation in the Sunday Giant card event was a bit slower, because so many players wanted to compete in the main event instead, even though winning an exclusive giant card could be worth more than an exclusive playmat. As a result, it took a couple more hours than planned to reach the 32 player minimum to fire that second Giant Card!! tournament.
Apollousa, Bow of the Goddess (Alternate Art)
In the end, Ashik Najib beat Jesse Kotton in the finals of that Sunday Giant Card!! to earn himself the giant, gold Apollousa, Bow of the Goddess (Alternate Art). But we'll get more into that later.
As for the main event, it got over 185 participants for initial signup! And after Round 1, they decided to let eve more players participate if they chose to accept a Round 1 loss, which brought up the count to 191! That's pretty astounding! The player cap was set to 256 competitors, but who knew that there were so many players interested in Remote Dueling at a competitive level, especially with only a few days' notice. It's crazy to think how each and every one of those players had their own Remote Duel setup at home. We really, really need to thank all the staff members who were able to handle such a large-scale online event!
Once we were over 130 players that meant we were playing 8 Rounds, each being 50 minutes of Yu-Gi-Oh. We started at 10:00am PST, or 1:00pm my time, so I knew it was going to be a loooooong day, just like how Regionals should be.
While that might sound like a bit much to some, that kind of tournament is exactly what I and many other duelists like me dream of having nowadays. We all miss those moments when a judge's voice comes on the mic and says, "You have 40 minutes, you may begin." Or even the dreaded, "That's time in the round, please proceed to your end of match procedures." It might not be exactly the same as it was, but this was still amazing, and in some ways maybe even better, since it was all played from the comfort of your own home!
I participated in the event and overall, I really enjoyed it. I like Remote Duels in general, especially when you get to compete with other players who know the unique ins and outs of the medium. But because of this event's prizing and Swiss format, my mindset was much more lax than normal; I felt that I could afford some mistakes. The prize, AKA "the playmat" was to be given to everyone in the Top 16, So I didn't have to win the entire event, I just need to top. Worse case, I figured I could still try to Top 64 for the invite. Ideally speaking, I could afford up to two losses to have a chance at the playmat, and possibly a third loss at most to get the invite and score a decent finish.
Virtual World Mai-Hime - Lulu
Unfortunately for me I ended up getting two losses and a draw at the end of it all, finishing at 26th place piloting Dinosaurs. On the other hand, Ryan Yu also played Dinosaurs, and ended up going undefeated in all 8 Rounds to win this groundbreaking event!
There were so many big names in competition, from Championship-level veterans like Esala Wathuthantrige, Paulie Aronson, and Ryan Levine, to creators and fan-favorites like Pak Pamornsut, Robert Kenny, and even Susu from HeadtoHead Battles. Competition was fierce! It was definitely not your average Remote Duel locals and certainly worthy of being called an online Regional.
But enough of the introductions. I know what you're all here for, you want those decklists! And I've found them for you! I even asked the weekend's most successful players some questions to get more of their thoughts on how they approached this unique event. Even when life is strange and dueling is different, winners of events like these deserve the spotlight.
Saturday's Giant Card Winner: Jibriel Braithwaite
I've seen Jibriel top lots of online events in the last year, playing a range of decks: stuff like Madolches, Infernobles and now Virtual World. This weekend, he ended up winning the Saturday Giant Card!! by defeating over 70 other players, and winning against Esala in the finals.

Here's what he ran.

Yu-Gi-Oh! TCG Deck - Virtual World by Jibriel Braithwaite

'Virtual World' - constructed deck list and prices for the Yu-Gi-Oh! Trading Card Game from TCGplayer Infinite!

Created By: Jibriel Braithwaite

Event: November Remote Duel Extravaganza

Rank: 1st

Advanced

Market Price: $342.21

Cards

Jibriel was kind enough to answer a bunch of questions for me in the wake of the weekend. Here's how it went.

Hey Jib, how was the weekend overall for your deck? Did you change much of your build after Saturday, for the Sunday event?

"The weekend went great, I can't complain at all. I experienced minimal bricking issues during the Giant Card!! event. After this weekend I'd change the third Foolish Burial Goods for a Metalfoes Fusion."

What matchups did you face in the Giant Card!! tournament? Do you remember any highlights that you want to share from that event?

"I don't remember all my matchups but I can tell you there were lots of Zoodiac decks in contention. I played against four Zoo decks in total."

What made you decide to play Virtual World? I've noticed you played Infernobles before, why change now?

"I decided to play Virtual World because I've been following the deck from the OCG, and after some recent tested success I decided to stick with it."

Virtual World Kyubi - Shenshen

Do you think this deck has any bad matchups? Against traps, floodgates, hand traps or huge monster boards?

"In my opinion the hardest matchup for the deck is Infernoble Knights. The deck could brick at times and when that happens you usually need a turn to try to get back into the game, but Infernobles usually won't give you that turn."

The deck's pretty popular nowadays. What do you suggest players do in the mirror match?

"The mirror's really tricky, but weirdly enough the key to winning it, is just ignoring the True King of all Calamities. Most of the time you're still able to make your own True King of All Calamities while you're under your opponent's lock."
Your list is very solid. One might even say that Virtual Worlds is a pretty affordable deck. But if someone were to ask you what they could replace Triple Tactics Talent with since they don't have it, what would you suggest they run instead?
"If Triple Tactics Talent is out of your range I'd advise you to play a copy of Called by the Grave with two Ghost Ogre & Snow Rabbit."
How many games did you win just because you were able to resolve True King of all Calamities to essentially skip your opponent's turn? What's the "game plan" when you don't want to make Calamities?
"Obviously people are really sick of True King of All Calamities, but in reality it only wins you the combo matchup. Against strategies like Eldlic/Zoo/Invoked, it simplifies the game but doesn't win the match outright.
"So instead, I try to draw as many cards as I can. Climbing with Coral Dragon or Stardust Charge Warrior into Ravenous Crocodragon Archethys is great, since it's got a Quick Effect to pop any card. I also try to prioritize summoning Virtual World Kyubi - Shenshen, especially in the Eldlich matchup so that their traps won't go to the grave while it's on the field."
Ghost Ogre & Snow Rabbit
If they hosted another huge Remote Duel event like this weekend, would you play in it?
"If Konami hosted another big event I'd definitely play. I had a great time this weekend."
To conclude this, any shoutouts you want to give?
"Shoutout to my team and sponsor, Team Playmakers!"
Thanks for your time Jibriel! And congratulations on your giant Apollousa, Bow of the Goddess (Alternate Art)!
Sunday's Main Event Winner: Ryan Yu
Ryan Yu's one of Canada's best players, competing on the level of his fellow countrymen Jesse Kotton and Gabriel Vargas as one of the leading players in the modern era. From a slew of Regional successes, to winning it all at the Dragon Duel World Championship in 2017, Ryan's an experienced pilot who can consistently do well because he studies the game so intensely. His insight and understanding often let him choose the perfect deck for any given event, getting him an upper hand over his opponents.
Last weekend he did it again, beating out more than 190 other players to go 8-0, and win the Extravaganza main event with Dinosaurs. With such tough competition, including a Finals Match against Paulie Aronson, Yu's win was a huge accomplishment, especially for such a young player.
Yu-Gi-Oh! TCG Deck - Dinosaurs by Ryan Yu
'Dinosaurs' - constructed deck list and prices for the Yu-Gi-Oh! Trading Card Game from TCGplayer Infinite!
Created By: Ryan Yu
Event: November Remote Duel Extravaganza
Rank: 1st
Advanced
Market Price: $314.11
Cards
Hey Ryan, how was the weekend for you?
"Hi! Overall my weekend was pretty great. I was pretty tired after all the Remote Dueling - I played 14 rounds of Yu-Gi-Oh! In total - but it was the most fun I've had playing in a really long time. It felt good to be using real cards again, and most of my opponents were super pleasant and just excited to be able to play cards again.
"Another big part of it was the way that the tournament organizers set everything up: it ran very smoothly, and I'm grateful to all of the staff who devoted their weekend to doing this for the players."
Why did you choose to play Dinosaurs over any other deck?
"I chose to play Dinosaurs primarily because it was the only deck I had available. I played it recently at the August Remote Duel Invitational and took it to the Top 8 at the team LCS. I didn't have a lot of time to prepare, being busy with school and only vaguely aware of the event before it was brought up to me by a friend.
"Eventually I just asked my friend Franco, who was one of my teammates from the LCS, and also the only person to top the last LCS with Dinosaurs, for his list. I consulted with a couple of other friends and made some minor edits. I might have ended up playing a Zoodiac variant given more time, but I feel very comfortable with Dinosaurs so it wasn't a huge deal to me."
Do you remember your matchups for the event? Any notable highlights you want to share?
"My matchups were as follows…
2-0 True King Dinosaur
2-0 Zoodiac Dogma
2-1 Boarder Stun (I got a game loss for being late, oops)
2-0 Virtual World
2-1 Zoodiac Eldlich (Esala Wathuthantrige)
2-0 Zoodiac Eldlich (Ryan Levine)
2-1 Dinosaur
2-0 Dragon Link (Paulie Aronson)
"Here are a couple memorable anecdotes from my rounds:
"In Round 3, I got a game loss because I wasn't aware of the pairings. But I got to choose turns for Game 2, and let my opponent go first… he promptly Normal Summoned Inspector Boarder and set some backrow. Needless to say, I thought I was going to lose the match in record time. However, my hand was very apt for playing out of it, as I had Dinowrestler Pankratops, Infinite Impermanence, and Lost World. I resolved a clutch Survival's End to deal with his Inspector Boarder, putting him too far behind to come back.
"In Round 5, I played against Esala, the only person I lost to throughout the weekend - he eliminated me from the Giant Card!! on Saturday in 2-0 fashion. In Game 1, he didn't draw a Zoodiac monster, so I was able to pressure him into conceding. Then in Game 2, I drew pretty poorly, and he was able to put enough damage on board after a couple of turns.
"Game 3 was a whirlwind: I drew three copies of Ash Blossom & Joyous Spring and he drew one of his own which stopped my only play. I kept using Ash Blossom & Joyous Spring against his copies of Eldlixir of Scarlet Sanguine to stop him from putting lethal on the field, but it was still looking pretty bad.
"After a few turns, he had a board of Eldlich, the Golden Lord with a Divine Arsenal AA Zeus - Sky Thunder on the field with some Eldlixir of Scarlet Sanguine facedown, and a mystery card set. I had a Babycerasaurus, Lost World, and Survival's End set. I drew Miscellaneousaurus for turn, and I thought I would be able to steal the game…
…But when I used its effect to summon Animadorned Archosaur from my deck and destroy my Babycerasaurus, he chained Different Dimension Ground! I couldn't summon with Babycerasaurus or use my Double Evolution Pill, since I had no Dinosaurs to banish. He used Divine Arsenal AA-ZEUS - Sky Thunder in the End Phase to banish my Subterror Nemesis Archer, sending my Survival's End to the graveyard too.
"The next turn he drew Cursed Eldland and put me at 100 Life Points with another Eldlich the Golden Lord and Divine Arsenal AA-ZEUS - Sky Thunder, but I'd run him out of practically all of his Eldlich cards. I drew a Babycersaurus for turn, which was pretty much perfect. I activated Lost World and Normal Summoned the baby, giving him a Juraegg token.
When I threatened to attack and trigger some damage step effects, he had to use Divine Arsenal AA-ZEUS - Sky Thunder, and I chained Survival's End in my Graveyard to destroy Babycerasaurus and Divine Arsenal AA-ZEUS - Sky Thunder, clearing the entire field. I summoned Souleating Oviraptor and added Petiteranodon after that, attacking for 1800.
In Main Phase 2 I used Double Evolution Pill for Ultimate Conductor Tyranno and passed. The next turn he drew a card to discard for Eldlich the Golden Lord, sending away my Ultimate Conductor Tyranno. He then flipped up a Huaquero of the Golden Land, his last Golden Land card, to crash into my Souleating Oviraptor.
This put him at zero cards to my Petiteranodon in hand, and he was at 5300 LP to my 100 with 1 minute left on the clock. I drew another Survival's End, Normal Summoned Petiteranodon, attacked for 500, set Survival's End and passed. He drew a dead Nibiru, the Primal Being and had to pass back. I then drew Fossil Dig for an Souleating Oviraptor, which let me get another Ultimate Conductor Tyranno to steal the game! That was definitely my closest match of the weekend, and I was really fortunate to have won the topdeck war there.
"In Round 8, I played against Paulie Aronson's 60-card Dragon Link deck. He won the die roll and chose to start Game 1… but he passed with no moves. I proceeded to combo, playing through both Ash Blossom & Joyous Spring and Infinite Impermanence with my Lost World. In Game 2, he went first… and passed again after setting a card I later found out to be Cosmic Cyclone. I used PSY-Framegear Gamma when he tried to Ash Blossom & Joyous Spring my Pot of Extravagance, and that's a wrap!"
Personally I want to know why some Dinosaur players choose to play Accesscode Talker. Why did you run it? What scenarios does it come up in to make it worth such a big commitment?
"I don't think Accesscode Talker is that big of a commitment in this deck, as Dinosaur's actually a lot better at Link-climbing than most people realize. All of the babies really add up, especially when you're exchanging them with Souleating Oviraptor and Ultimate Conductor Tyranno. So, playing Accesscode Talker is definitely a great option.
"It tends to come up in situations where you need to push for lethal, like the Dinosaur mirror, where closing out the game fast is imperative, and you can finagle your way into a 5300 ATK Accesscode Talker and a 3500 ATK Ultimate Conductor Tyranno. It can also deal with cluttered fields against decks like Eldlich and Altergeist."

I noticed you chose to play Castel, the Skyblaster Musketeer over other options. What made you decide to play it in this format?
"I opted to play Castel, the Skyblaster Musketeer solely as an out to Infinitrack Fortress Megaclops. I expected Zoodiac to be very popular for the weekend, and while it's typically a very favourable matchup for Dinosaurs thanks to Miscellaneousaurus, the standard Dinosaur deck has no searchable outs to Infinitrack Fortress Megaclops. I didn't want to have to draw Infinite Impermanence if they went for it, so I removed a PSY-Framelord Omega to fit it in."
How was Number 41: Bagooska the Terribly Tired Tapir? Did you ever make it? I also play the card now and I enjoy its applications.
"Bagooska was one of the best cards in my Extra Deck last weekend. It's especially good against rogue decks, and decks that are heavily reliant on monster effects but lack Link Monsters.
"In particular, this weekend I made it on three separate occasions: once against an Infernoid player, once against Zoodiacs, and once in a Dinosaur mirror match. It was pivotal in all three games, buying me the turn I needed to out-resource my opponent."
A lot of players out there complain about Dinosaurs, thinking it's a ban-worthy deck. Since you've now added another victory to Dinosaurs' record, do you think there's any chances that Dinosaur cards will get hit on the Forbidden & Limited List? And if so, what cards and why?
"I'm not sure that this weekend's results will influence Konami's decisions regarding the upcoming Forbidden & Limited list, but it wouldn't surprise me, seeing as how there's a lack of data for them to analyze due to COVID-19. However, in my opinion, the fact that only two Dinosaurs made the Top 16 should say something about the deck.
"I don't think it's nearly as unfair as people make it out to be: people love to complain about Miscellaneousaurus in particular because of the way that it protects all of your plays for a phase, or about Ultimate Conductor Tyranno potential to end a game instantly, but most of the deck's critics are happy to overlook Dinosaur's flaws. To name a few, firstly, the deck's pretty inconsistent compared to decks like Infernoble and Dragon Link.
"Secondly, the deck has a large choke point, that being the activation of Miscellaneousaurus in the graveyard. I was usually able to shut down my mirror matches with Skull Meister, D.D. Crow, PSY-Framegear Gamma, or Ash Blossom & Joyous Spring, and I felt pretty in control whenever I played against one.
"Finally, there's a suite of cards that are incredibly efficient against Dinosaur that most people don't make use of. These include Kaijus, Triple Tactics Talent, Dark Ruler No More, Forbidden Droplet, and many more. I would say that Dinosaur is actually quite easy to prepare for if you're planning on participating in an event.
"That being said, I think that a hit to the deck would entail a limitation on either Souleating Oviraptor, Miscellaneousaus or both. They both do so much for the deck, acting as multi-purpose combo starters and extenders."
What are your thoughts on the entire remote dueling experience? Do you think it's expensive? How do you think Remote Duels can be improved on?
"I think that Remote Duels are a great way to play Yu-Gi-Oh! right now. I for one enjoy them a lot, as I can talk with my opponents and use actual cards when dueling. I don't find it expensive at all, as you just need to be able to stream a portion of your desk to play.
"The only things you need are cards (which isn't any different from "normal" play), and a phone or some other way to stream. I think the only area of potential improvement for Remote Duels would be more defined policy in terms of disconnects: in particular, I think that if one player is clearly about to win a game before they disconnect, penalties should be issued on a case-by-case basis, with consideration being given to the current game state."
If they hosted another huge Remote Duel event like this weekend, would you play in it?
"I would love to play in another one of these Remote Duel events!"
To conclude this, any shoutouts you want to give?
"To conclude, I'd like to shout out the WaF discord, especially the people who helped me with my deck and gave me encouragement - you know who you are! The same goes for my sponsor, Team GameNation, and my family."
Thanks for your time Ryan Yu, and congratulations on winning the weekend's main event!
Sunday's Giant Card Winner Ashik Najib!
Ashik Najib was one of the few lucky players to participate in Sunday's Attack of the Giant Card!! event. Ashik went undefeated and bested the rest of the field, facing Jesse Kotton in the Finals to win his Giant Apollousa, Bow of the Goddess (Alternate Art).
Najib played Invoked Dogmatika Eldlich. A very spicy mix, with very custom ratios.
Yu-Gi-Oh! TCG Deck - Dogmatika Invoked Eldlich by Ashik Najib
'Dogmatika Invoked Eldlich' - constructed deck list and prices for the Yu-Gi-Oh! Trading Card Game from TCGplayer Infinite!
Created By: Ashik Najib
Event: November Remote Duel Extravaganza
Rank: 1st
Advanced
Market Price: $807.18
Cards
Hello Ashik, will you tell us a little bit about yourself? Where are you from? Have you ever topped any other events before?
"I'm from Georgia. I've topped the occasional Regional but no premier tops yet."
How was the weekend overall for you? Did you play in any of the other tournaments such as Win-a-Mats or the Saturday Giant Card?
"I played some events on Saturday, winning a Win-a-Mat, but lost the Giant Card!! event in Top 8, unfortunately. Glad I won the Sunday one!"
Why did you choose to play this deck?
"It's a flexible deck with a lot of room for innovation depending on your build. Consequently you can play weird ratios that other decks normally can't."
How were your matchups? Any notable highlights you want to share?
"My matchups on Sunday were Fluffals, Dragon Link, Zoodiacs, Phantom Knights, and Virtual World. My only loss in the whole tournament was one game to the Zoodiac player."
"I lost the dice roll in the last round against Virtual World, not to mention I didn't draw any hand traps. So on my turn, I had to bait the trap card Virtual World Gate - Chuche, then play Mystic Mine control for 50 minutes. It was a single game match!"
I see you Side Decked two copies of Dimensional Barrier? How was that card for you this weekend? What made you side two of it?
"It was pretty good. In sided games you need absolute stops to decks that side Lightning Storm or Harpie's Feather Duster against you, and this card fills that role pretty well. I only played two because I wanted room to play There Can Be Only One, which isn't as good at playing around removal but more impactful."
What's your opinion on the Shaddoll package with Dogmatika Maximus that other players run in decks like this? Why did you not choose to play it?
"I didn't feel the engine was necessary, but more importantly using Dogmatika Maximus effect Turn 1 is a bit naive."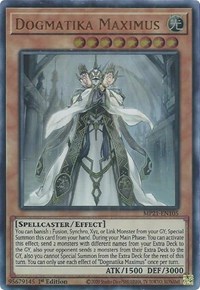 What are your thoughts on the entire remote dueling experience? Do you enjoy it? Do you think it's expensive? How do you think Remote Duels can be improved?
"Other than the occasional connection issue here and there, it was fantastic! There are actually a lot of elements about remote events that outshine events in real life, actually. No expensive flights or hotels, no scrambling to find your round opponent amidst a crowd of players, and of course the ability to duel from the comfort of my own home."
If they hosted another huge Remote Duel event like this weekend, would you play in it?
"Yeah, this was really fun."
To conclude this, any shoutouts you want to give?
"Shoutout to my brother for building the deck. He gets all the credit. His words not mine!"
Thank you for your time Ashik Najib! And congratulations on winning a giant Apollousa, Bow of the Goddess!
Aleister the Invoker (Alternate Art)
The Weekend Is Over
Yet another fantastic event has ended. The next big one will be the Yu-Gi-Oh! Day! Remote Duel event hosted by OTS stores in their discord servers, the weekend of December 5th and 6th.
I want to take the time again to thank all the staff members at Shadow Realm Games, as well as the many judges that helped organize the event, and the Organized Play team that created this in the first place. Without them, these events wouldn't exist. If you want to get started yourself, be sure to check out OTS store Grandmaster Games' discord server if you're interested in Remote Duels. They host a tournament every day of the week so it's a great place to start out.
Virtual World hype was very real this event, but I think that doesn't actually make them the best deck. We have to realize that combo decks like Dragon Link and Infernobles still exist, and they proved themselves by taking up a big portion of the Top 16 in the Sunday main event. You still have to respect those matchups and play the proper answers, while also acknowledging other decks such as Dinosaurs, Zoodiacs, Eldlich, Dogmatika Invoked and heck, even Buster Blader cards, mainly Prologue of the Destruction Swordsman comboed with Destruction Sword Memories.
I still enjoy the current format as it is, but I can't wait till the next Forbidden & Limited list changes, hopefully sometime in December. Till next time.