The latest round of RDI Qualifiers were held this weekend to determine which 16 players would get the chance to participate in the next Remote Duel Invitational! Similar to the very first set of RDI Qualifiers that happened back in January, these events were run across eight different Discord servers, due to the sheer number of players that earned the chance to try and qualify this time around.
Players earned their seats in recent Remote Duel Extravaganzas, Yu-Gi-Oh! Day tournaments, and the OTS Qualifiers that were held in late July through August. As such, it made sense to spread out the RDI Qualifiers a little more. That was great, because it gave players more of a chance to get their Aleister the Invoker game mat, awarded to anyone who finished in the Top 16 of their event. It also added an extra layer of challenge for players who made it into the Top 8: they still had to get to the finals to earn their invite.
Once players got the last table, they then duked it out for the chance to take home a brand new Nintendo Switch with a Yu-Gi-Oh-branded Switch case and a copy of Link Evolution.
After the shocking reveal of the updated Forbidden & Limited List on Monday, many players have already started planning for the new list, figuring out what to play once October 1st hits next week. Even still, it's worth taking a look at the winning lists from this weekend, and we'll discuss how they can adapt to the new format.
Dragon Link Soars Over the Competition
Out of the 16 competitors that earned their invites to the Remote Duel Invitational, at least four of them were piloting Dragon Link. The deck wasn't hit at all on the new Forbidden & Limited List, so it's very likely that the builds will remain mostly the same. If anything, the only factor that will change going into the new format are the points of interaction the deck runs.
William Candia's a veteran Dragon Link player who's seen plenty of success with the deck. His list is pretty much what we'd expect from the modern Dragon Link deck: lots of strong starters and extenders with Dragonmaid Tidying and Rivalry of Warlords to back it up on the defensive side. But the maxed-out copies of Noctovision Dragon are pretty interesting, as is the lone copy of Number 22: Zombiestein in the Extra Deck's flex spot. Many Dragon players debate what number of Noctovision Dragon is correct, often choosing to forgo it entirely in favor of a wider variety of extenders.
Number 22: Zombiestein gave Candia access to an extra omni-negate, since its effect lets you negate any one face-up card your opponent controls, at the cost of one card from your hand. Since Dragon Link can easily end a turn with multiple cards in hand, Number 22: Zombiestein a no-brainer. On top of that, the 4500 ATK stat is pretty nice too.
Octavio Balcazar played quite a unique version of Dragon Link as well, opting for fewer going-second hand traps. He only Main Decked two copies of Fantastical Dragon Phantazmay and three Nibiru, the Primal Being to interact with his opponent if he lost the dice roll.
Instead of more hand traps, he chose to run a full suite of both Forbidden Droplet and Triple Tactics Talent. They allowed him to weave his way through his opponent's interruptions when he was going second, and let him just steal games outright thanks to powerful monsters like Borrelsword Dragon.
This is the FOURTH Remote Duel Invitational IN A ROW that Balcazar has qualified for. He wasn't able to play in the previous one because he already had a vacation booked with his family. But he's finished in the Top 4 of the Invitational before, so it'll be interesting to see how well he does in the next one.
Justin Singh went with a more straightforward approach for his Dragon Link deck. There's really nothing fancy here, but the unique thing about his list is that he chose to side Rivalry of Warlords rather than main it.
Singh explained that the best matchup for Rivalry of Warlords was really just Prank-Kids, which - hilariously enough - didn't see any top finishes in the Qualifiers this weekend to my knowledge. He chose instead to max out on the in-hand points of interaction, with a set of Effect Veilers as well as both PSY-Framegear Gamma and Fantastical Dragon Phantazmay. In addition, he noted that he respected mono-type matchups like @Ignisters and the mirror match, so he didn't want to risk playing cards that were suboptimal against those types of decks.
xx
xx
xx
xx
Keeping that note about mono-type decks in mind, the biggest multi-type decks from this format were Tri-Brigade and Prank-Kids. Tri-Brigade can play out of Rivalry of Warlords pretty easily thanks to Ancient Warriors Oath - Double Dragon Lords and Tri-Brigade Shuraig the Ominous Omen. I think moving forward into the new list, the only changes we might see Dragon Link players make is the omission of cards like Rivalry of Warlords, since so many players are already thinking of abandoning Prank-Kids thanks to the Limiting of Prank-Kids Meow-Meow-Mu.
Beasts, Winged-Beasts, and Beast-Warriors! Oh my!
Zoodiac Tri-Brigade's consistently been the most represented deck at tournaments this format, because it's relatively easy to build and has a high win-rate thanks to cards like Divine Arsenal AA-ZEUS - Sky Thunder and Tri-Brigade Revolt.
But even with that high rate of success, all of the Tri-Brigade lists I was able to gather were actually 2nd Place finishers. Every Zoodiac Tri-Brigade player I know who clinched their invites, was actually defeated in the finals of their respective Qualifier.
Coming in 2nd Place at Carta Magica Montreal's RDI Qualifier was Jimmy Ye with his Zoodiac Tri-Brigade list. Nothing too fancy about his main deck, aside from the pair of Ghost Belle & Haunted Mansion to help mitigate times where he'd have to go second in the mirror match, and to ease up the Drytron matchup in Game 1.
The real cool stuff was in the Side Deck, with maxed copies of cards like Contact "C" and Anti-Spell Fragrance to help make niche matchups even easier, including Prank-Kids. Contact "C" is super cool because it generates so much advantage against decks like Prank-Kids; some of their combos force them to use cards like Prank-Kids Pandemonium, which locks the Prank-Kid player out of Linking away Contact "C".
My friend Mark Campos got 2nd Place in the same RDI Qualifier that I played in. As with Ye, his list for Zoodiac Tri-Brigade was mostly standard, although he did take a few liberties with the flex spots.
Many duelists have been choosing to play a set of Solemn Strike to fill out the last few cards in their Tri-Brigade list. Campos only ran two, but he also included a lone copy of Triple Tactics Talent. Similar to most Tri-Brigade Zoodiac lists, Campos ran a total of 12 generic points of interaction.
Choosing to run just Ash Blossom & Joyous Spring, Effect Veiler, and Infinite Impermanence as the ones he could activate going second, Campos also included a set of Forbidden Droplet to help him going first, or to break through tough boards of Herald of Ultimateness and Red-Eyes Dark Dragoon.
While Josh Kippenberg won the August Remote Duel Extravaganza Main Event, he fell short of winning his Invitational Qualifier. It might've been the bold move of only having a 13-card side deck, or it might've just been getting paired up against a Dragon Link deck designed for the Tri-Brigade matchup.
Either way, making it to the Finals of a tournament with only 13 cards in the side is certainly an impressive feat. Kippenberg was the only Tri-Brigade player to main a set of Nibiru, the Primal Being, which was sure to help him in a variety of matchups since many players aren't respecting Nibiru, the Primal Being in game 1.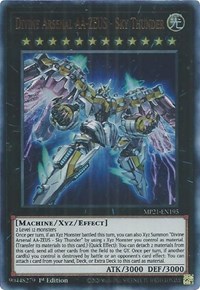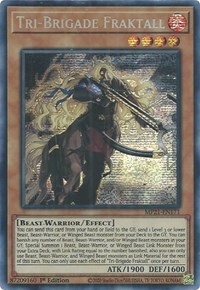 Zoodiac Tri-Brigade was the biggest deck to get hit on the F&L List this time around, with Zoodiac Barrage getting the axe and Fire Formation - Tenki going back to Limited. The hit to Zoodiac Barrage obviously hurts the deck's ability to churn out copies of Divine Arsenal AA-ZEUS - Sky Thunder, but it doesn't remove that card entirely. Many Zoodiac Tri-Brigade players are adapting to the lack of Zoodiac Barrage and still choosing to run a Zoodiac engine, simply because a 4-material Divine Arsenal AA-ZEUS - Sky Thunder is so strong.
Fire Formation - Tenki to 1 is a strong hit to the deck's consistency: reducing the number of Tri-Brigade Fraktall in the deck from 6 down to 4 is about a 15% drop in the chance you'll open with one. To make up for that, some Tri-Brigade players are actually choosing to abandon the Zoodiac engine altogether and stick with either Pure Tri-Brigade, or they're going back to Lyrilusc builds.
There's still a lot you can do with Tri-Brigade, especially since Tri-Brigade Revolt wasn't hit on the list in any way. Having less access to Tri-Brigade Fraktall just makes their initial plays slightly more fragile, but with the pending release of Crossout Designator I think that fragility will disappear rather quickly.
Drytron Continues To Thrive
Drytron continues to be one of the scariest decks to lose the dice roll to, considering the sheer power of the simple two-card combo of Drytron Alpha Thuban and Drytron Zeta Aldhibah.
Shaun McDonald was one of two Drytron players to earn their seat in the Remote Duel Invitational with Drytron, and he was also lucky enough to win his Qualifier with Rocky Mountain Collectibles; he beat Mark Campos in the Finals after a long day of dueling.
Drytron's one of the decks that players prepare to play against. It's easy to pilot, but at the same time it offers great rewards for fine technical play depending on the interruptions your opponent puts up against you.
McDonald chose to run a bigger Drytron suite and also managed fit copies of both Triple Tactics Talent and Forbidden Droplet into his list, to help him play through various interruptions. Most Drytron players are choosing to run either Forbidden Droplet or Triple Tactics Talent but not both, since they tend to try and keep their deck as close to 40 cards as possible. McDonald didn't really care about sticking to a slimmer deck count and ran 44 cards.
The bigger Drytron engine helped him avoid bricking his opening hand. Having the additional Drytron names can be crucial, especially when he's going into Turn 3 and onwards. Multiple copies of Drytron Fafnir help to deal with matchups like Virtual World thanks to the Level modifying effect, and they protect Meteonis Drytron from Ghost Belle & Haunted Mansion.
The general consensus I've seen on social media is that most Drytron players don't really care about losing one copy of Eva. Claiming that "1 was always the correct number", this is surprising to me since almost every list I've seen over the last few months actually played two copies of Eva, because of the access to four extra negates with Herald of Ultimateness was so worthwhile.
Honestly? One Eva or two Eva doesn't really change much about the deck at all. They lose a couple negates off of their Herald Ritual monster, and that's about it.
The Lone Wolf Decks
Sky Strikers and Phantom Knights dodged the F&L List completely, and it just so happened that both of them actually earned players an invite to the Invitational!
Ashik Nabit finished 2nd Place in the One Up TCG Qualifier, losing out to Team YCS Champion Dominic Couch's Drytron deck in the Finals. Nabit played a list very similar to the one he ran at his last Remote Duel Invitational, changing just a few things to fit with shifts in competition.
He dropped a copy of Sky Striker Ace - Zeke for Hiita the Fire Charmer, Ablaze, and those two switches plus a bit of a change up in the Side Deck were the only differences between Nabit's two builds. It just goes to show how powerful of a list this is for Sky Striker, and how good Nabit is with the deck.
Finally, Julio Mendoza won ANOTHER CoreTCG RDI Qualifier, again with Phantom Knights, having won one back in January with the same strategy. Heck, Phantom Knights getting the support they did in Phantom Rage were the entire reason Mendoza came back into the game to begin with.
His list was straightforward: standard ratios for the Phantom Knight monsters, along with the small Burning Abyss package to function as starters with Tour Guide From the Underworld. A full Level 3 extender package helped him make sure that he was always able to keep pressing on the gas pedal through his opponent's interruptions.
Phantom Knights and Sky Strikers are both absolutely terrifying decks when piloted correctly. They can play through most boards and quickly take control of the game, or just end it outright. While neither of them faced any hits on the F&L List, I'm sure that both decks will adapt slightly in their points of interaction for the upcoming format.
Also, for those that are curious: I don't want to talk about my experience with the RDI Qualifiers. Let me put it simply: after Round 2 I had the rest of my day free! Not the best tournament experience, but c'est la vie. There's always next time!
This set of Remote Duel Invitational Qualifiers were awesome, with so many different decks making it to the Top 8 of their respective pods. Unfortunately, not all of them were able to go the distance and get to the Top 2.
As we close out September we come to the end of this format. On October 1st we get a new Forbidden & Limited List as well as the release of the 2021 Mega-Tins and most importantly the release of Crossout Designator. Both are sure to shape the upcoming weeks of dueling as we prepare for Burst of Destiny to bring forth new strategies. Best of luck as you close out the format in your own local tournaments, and let's get ready for what's to come!