122 players duked it out this weekend in two separate Remote Duel Invitational Qualifiers. Group A's Qualifier was hosted by Alien Games, while Group B was hosted by Alternate Universes. Across the two RDI Qualifiers there were at least eight different deck types in the top cuts. Some of these players have even managed to earn a repeat appearance in the Remote Duel Invitational, having previously topped - or even won - a previous RDI Qualifier!
Group A's RDI Qualifier breakdown was rather interesting, with Dragon Link underperforming. The three Prank-Kids decks that topped all made Top 4, with the last spot occupied by the lone Dragon Link deck in the semi-finals. The remainder of Top 8 was three Dinosaur variants and an Infinitrack Machina deck.
Group B's RDI Qualifier was Dragon heavy, with at least four variants of Dragon Link in the Top 8, two of them making it to Top 4. The rest of the Top 8 consisted of Prank-Kids, Neos Numeron OTK, Zoodiac Tri-Brigade, and a Dinosaur deck. The other two decks rounding out the Top 4 were the Numeron build and Tri-Brigade.
For being so far into the format, it's really refreshing to see such a variety of decks being successful in these highly competitive tournaments. Let's take a look at some of these successful lists and see what these players used to earn their chance to play at the upcoming Remote Duel Invitational.
The Winner's Circle
Jack Parisi's Prank-Kids took him to victory in the Group A RDI Qualifier on Saturday. Besting a field of 64 competitors, he finished 8th Place after Swiss, and had to play against the only competitor that was undefeated going into Top 8: Angel Sanchez. After beating Sanchez's Dinosaur deck, Parisi went on to face Christopher Brunner's Dragon Link before finally meeting our own Hanko Chow in a Prank-Kids mirror match for the Finals.
Prank-Kids has become one of those decks that's so refined and tested, that players have figured out the optimum numbers of cards to run and then have the entire rest of the deck left to build out, accommodating whatever support cards they need.
Parisi's list here is optimized to go first, but it can still play going second thanks to a solid number of in-hand monster effects that serve as points of interaction if he loses the die roll. He had some notable spot removal in his Main Deck thanks to Dinowrestler Pankratops and Cosmic Cyclone, and three copies of There Can Be Only One served as go-first or go-second cards. that little extra bit of versatility in Jack's list helped bring him to victory this weekend.
One interesting pick here was actually the use of two Infinite Impermanence in the Side Decck. Impermanence has largely fallen out of favor in the last few months, since it's a weaker point of interaction in a Dragon-dominated format. But can still have a strong impact against other decks that don't play as many natural extenders.
When Emmanuel Lilly sent me his list, the first thing I said to him was, "If it ain't broke, don't fix it." Lilly's no stranger to success with his Neos Numeron deck, having topped multiple Remote Duel Extravaganzas with it as well as toppinig the last set of RDI Qualifiers. Emmanuel played in the last Remote Duel Invitational, barely missing the Top Cut, and now he's coming back for another shot at that King of Games title. Emmanuel's one of few players that can say they've played in back-to-back Remote Duel Invitationals.
With the core strategy of his deck still the same from the April RDI, Emmanuel chose to update some of the cards he Main Decked as counters to other strategies. Barrier Statue of the Stormwinds hasn't been as popular lately, so the Gadarla, the Mystery Dust Kaiju have been replaced with more generic cards like Droll & Lock Bird. He also added Mystic Mine as a hard "STOP" button for when the game isn't going in his favor.
Droll & Lock Bird
Most players look at the numbers for some of the cards in Emmanuel's deck and get confused by how many two-ofs he runs; cards he could be maxing out on. But he's stated before that even though the numbers seem weird, they work for him. The crazy thing about his list is that on paper, the numbers might look a little unusual, but if you try the deck yourself and pilot it you'll understand why those numbers are the way they are; you do so much digging through your deck thanks to Memories of Hope and Saryuja Skull Dread, you often filter through at least eight cards from your deck in a single turn.
Emmanuel also chose to play two copies of Link Bound to keep that going, one in his Main Deck and one sided. It lets him recycle his Apollousa, Bow of the Goddess or Saryuja Skull Dread and draw four new cards.
The Runner-Ups
Samuel Chung was Group B's runner-up, piloting Zoodiac Tri-Brigade to a 2nd Place finish on Sunday. Samuel's deck relied on the Zoodiac monsters as starters, leading into a flurry of Tri-Brigade combos.
The newest variation of Tri-Brigade, this is likely to become the standardized list once Lightning Overdrive is released. It's trap-heavy and plays much more like a mid-range strategy, similar to Salamangreat at its prime. It sets up a small, but formidable board of Apollousa Bow of the Goddess and Ancient Warriors Oath - Double Dragon Lords, backed up by trap cards like Imperial Order and the devastating Tri-Brigade Revolt.
Tri-Brigade Revolt really the powerhouse of the deck, bringing back Tri-Beast monsters for an on-the-spot Link Summon during your opponent's turn. It also lets you trigger multiple Tri-Brigade monster effects an extra time, and summon Tri-Brigade Shuraig the Ominous Omen and get a non-targeting banish, again, on your opponent's turn.
Infinite's own Hanko Chow finished in 2nd Place at Group A's RDI Qualifier. You can read more about his list and his tournament experience later this week!
The Semi-Finalists
Two of the semi-finalists from this weekend's events were running Dragon Link; one from each group to be specific. Christopher Brunner's Dragon Link list ran a pretty standard lineup of Main Deck monsters.
This deck, similar to Prank-Kids, has been refined to the point that it's hard to justify making any changes to it. The deck features the perfect number of starters and extenders to get you where you need to go and generate those powerful boards.
Bassam Fares and Christopher Brunner's lists both share a lot of similarities, with only a few cards' difference in the Main Deck, and a few more variations in their respective Extra Decks. Bassam skipped Crystron Halqifibrax in favor of Beat Cop from the Underworld as a generic Link 2, while Christopher used Apollousa, Bow of the Goddess over Scarlight Red Dragon Archfiend to help him control the game and keep his opponent from interrupting his combos.
Unfortunately, Bassam won't be able to play in the Remote Duel Invitational that he earned his invite for! Bassam's from Libya, and won't be able to participate in our Remote Duel Invitational. Either way, this was an excellent showing for him, and it's too bad that we won't see Bassam play at the RDI.
The final list from the Top 4 that I have to share with you isn't your standard Dragon Link deck. Instead, we get to take a look at some new cards out of Ghosts from the Past thanks to Alyse Davis' Dragunity Link!
Armed with new Dragunity monsters, Alyse took a fresh spin on the Dragon Link deck by figuring out the best way to abuse Dragon Buster Destruction Sword with DMZ Dragon. The basic idea behind this deck is that you can still make your standard Dragon Link boards, but thanks to DMZ Dragon you can also slap an Extra Deck lock on your opponent to keep them from outing your board.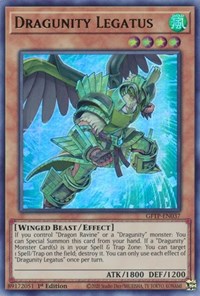 Dragunity Legatus serves as another extender when you're going first, and also as a form of spell and trap destruction going second. Dragunity Remus becomes the deck's main extender, since it gives you an additional way to search for Dragon Ravine, and if you bring it out off Crystron Halqifibrax you can Link it away and then just summon it back again for another Link monster, quickly enabling your Guardragon plays!
The Rest Of The Top 8
As I mentioned, there were quite a few types of decks that didn't make it to the Top 4, but these eight players still did their best and earned their invite! Let's take a look at some of their strategies. We won't be looking at all of them, since there were a lot of duplicate deck types, but you can find them all over on our deck page!
My boy, Nate! This guy goes to my real life locals, so it was cool to see his name at the top tables on Saturday during the Group A Qualifier. Nate also played this deck at the April Remote Duel Extravaganza, where he earned his invite for this Qualifier. One of the interesting things about Nate's list is the numbers of power spells he used, like Forbidden Droplet and Twin Twisters (let alone the use of Twin Twisters in the Main Deck).
Nate explained his reasoning: he wanted to "have answers to both backrow and frontrow cards going first and second in a format where both are good". While cards like Twin Twisters might not be as useful against Dragon Link, they can at least hit Dragonmaid Tidying and potentially Boot Sector Launch, or even force out a point of interaction from the Dragon player.
Nate said that his one regret was not preparing more for the Prank-Kids matchup. The best way he could have done so was by including Nibiru, the Primal Being, which was missing from his Side Deck. His list is still super powerful though, and generates a lot of momentum if it's allowed to play through its full combo. It also has tons of recursion effects thanks to Infinitrack Tunneller and Machina Overdrive.
Between the two Qualifier tournaments, four Dinosaur decks made it into the two Top 8s. Two of the Dino lists were totally different from what you'd expect, while the other two were a bit more standardized.
Ok, this list is COOL! With any of your standard 2-card Dinosaur combos you get to end on Evolzar Dolkka, Ultimate Conductor Tyranno, and Red-Eyes Dark Dragoon. Gilasaurus helps you play through Artifact Lancea by letting you throw additional Dinosaurs onto the field to get to Predaplant Verte Anaconda, which many opponents won't expect. The traps in the Main Deck serve to add a little extra oomph to Isaac's Turn 1 boards by making them immune to Dark Ruler No More.
The most hilarious card here is Time Wizard of Tomorrow. As a target for Instant Fusion, Time Wizard of Tomorrow has a destruction effect similar to the Joey Wheeler original, and no matter what happens, you'll wipe the board free of monsters: your coin flip just determines who takes the damage. Isaac didn't get a chance to play out his Top 8 match because he had to go to work before the round started, but this deck did really well, and it's incredibly fun to see it in action.
Christopher Scales' Dinosaur deck was something else. He ran three copies of Gizmek Uka, the Festive Fox of Fecundity along with a lone Barrier Statue of the Heavens. Together, Gizmek Uka, the Festive Fox of Fecundity and Barrier Statue of the Heavens allowed Chris to keep his opponent from Special Summoning powerful monsters. Then on Chris' turn he could use them to make PSY-Framelord Lambda, and be able to continue on with his own combos, while still being protected by PSY-Framegear Gamma!
Continuing with what he did at the April Remote Duel Extravaganza where he earned his invite, Chris still kept the Red-Eyes Dark Dragoon package in his Side Deck as an alternative win condition, adding to its explosive and oppressive power.
Michael Conti's Dinosaur list was a little more standard compared to the other two we just looked at. The only thing that really stands out is the one copy of Overtex Qoatlus in his side deck. Overtex Qoatlus hasn't seen popular play in Dinosaurs ever since Animadorned Archosaur took its place as the primary searcher for Double Evolution Pill, but it still serves as a solid target for Double Evolution Pill itself if you already have your Ultimate Conductor Tyranno live on the board. Superdreadnought Rail Cannon Gustav Max was another interesting pick, an easy way to steal games after a subpar Battle Phase or when the match was going into time.
The last deck I want to showcase from the RDI Qualifiers didn't make it to the Top 8. In Group A James Thurman finished in 14th Place while piloting a deck that channels one of the fan-favorite characters from Yu-Gi-Oh! 5D's: Crow Hogan!
Holy. Moly. While James fell just short of an invite to the Remote Duel Invitational, he still showed off this awesome deck. I talked to James while Top 8 was going on and he spoke about how he's loved the Blackwing theme since they were released way back in 2009, but never actually used them for an event. He prepped a ton for this tournament and made the deck the best he could, with contingency plans for when he couldn't open with his Blackwing - Simoon the Poison Wind combo.
The Dogmatika and Artifact engines let James control the game at his own pace, locking down his opponent's Special Summons through El Shaddoll Winda or Artifact Scythe to keep his opponent's boards at a reasonable size, all while he gathered the Blackwings he needed to win the game. Crystron Halqifibrax typically brings out Blackwing - Vayu the Emblem of Honor, which is used to make Linkuriboh and easily dumps it into the graveyard so you can banish it for its own effect.
This deck's super cool and has the ability to throw three very different, very powerful boss monsters on the board at the same time: El Shaddoll Winda, Red-Eyes Dark Dragoon, and Blackwing Full Armor Master. While you didn't get Top 8, congrats on getting 14th Place, James! I'm sure you'll get it next time!
That's it for this weekend's RDI Qualifiers. There were some amazing matches throughout these two days and we now have our sixteen Invitational competitors locked. With three of them having participated in a Remote Duel Invitational in the past, they already know the pressure that lies ahead of them. I'm looking forward to watching them duke it out on the live stream next month!
As I mentioned before, if you're curious about any of the other decks that made it this weekend, please check out the Infinite deck page to see more. There were a ton of cool lists from these two tournaments.
Until next time! Keep playing to win, and I'll see you at the Remote Duel Extravaganza next weekend! This time, I'll be trying for my invite!