PSY-Frames get a bad rap. Is that unfair? Slightly. But is it unjustified?
No. Not… Not really.
PSY-Frames are a, uh, "robot-psychic" family?... Of monsters, most of which are hand traps. The three Extra Deck monsters all have real effects, kinda, but the Main Deck PSY-Frames all drop from your hand to do various kind of this.
I totally get the hate. I topped a regional in late 2015 the week after PSY-Frames debuted in High-Speed Riders, and let me tell you, no one had fun day that day. I think I might have enjoyed the one match I lost more than the matches I won, because I lost quickly and didn't have to play cards into a wall of PSY-Frames.
To be frank, if your deck does LITERALLY nothing but play one, MAYBE two, PSY-Frames a turn with no other interactions, you won't have a good time. I don't need a combo-crazy deck to be mollified, don't get me wrong, but I need at least some nuance to have fun.
The same goes for other tit-for-tat counter strategies. Normal Summon Bountiful Artemis, set Solemn Judgment? Yawn.
If you can't tell, we're going to spend today spicing up PSY-Frames, and we're going to do it in a way that'll strike dedicated old-school PSY-Frame players in a weird way. By that, I mean we're going to make them fun and more competitive.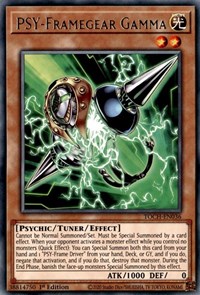 New Year, Same Hand Traps
The most justified complaints against PSY-Frames are pretty glaring. For starters, the nature of cards like PSY-Framegear Gamma, PSY-Framegear Epsilon and all the rest means PSY-Frames don't really do anything on your first turn, save maybe countering one card from your opponent, which might end up with you banishing PSY-Frame Driver. It's really just hand traps on hand traps on hand traps, featuring PSY-Framelord Omega if you get that far.
Let me back up a bit for those who aren't familiar with the theme. When your opponent performs an action - summoning a monster, attacking, activating a monster effect, or activating a spell or trap, you can Special Summon a corresponding PSY-Frame monster from your hand to negate that move, as long as you can also Special Summon the Level 6 Normal Monster, PSY-Frame Driver.
Thankfully, you can Special Summon PSY-Frame Driver from your hand, graveyard, or deck to resolve that effect. But not only do you have the problems listed above, you can run into added frustrations drawing a useless Normal Monster, or draw the "wrong" PSY-Frame for your situation.
There, that's the boring stuff out of the way. Now let's have some fun.
Lambda's The Only Reason This Deck Is Fun
It's the only reason the deck is good, too. PSY-Framelord Lambda has two neat effects, only one of which usually gets highlighted. PSY-Framelord Lambda lets you freely activate PSY-Frames from your hand as if you controlled no monsters, which is swell. But its other effect extends PSY-Frames' life over the course of the duel. Banish a Psychic monster? Youl'l get a free PSY-Frame card in the End Phase.
So between PSY-Framelord Omega, PSY-Framelord Zeta, PSY-Frame Overload, and PSY-Frames banishing themselves naturally, everything triggers PSY-Framelord Lambda effect. You'd think that making PSY-Framelord Lambda would be your number one priority in that case, right? Right?? RIGHT!?!?
From what I've seen, that's not actually the case. PSY-Framelord Lambda an incredibly easy Link-2 monster to make. It just takes two non-token materials, and with so many Link Monsters readily made from tokens Lambda's all but generic, even if those spare Links take up a few spaces in the Extra Deck.
The "best" way to make PSY-Framelord Lambda pretty conventional, just using Tour Guide from the Underworld. You'll bring out Sangan, Link into PSY-Framelord Lambda, then search PSY-Framegear Gamma. Not bad, right? But if you draw Sangan first or Tour Guide from the Underworld gets negated, your Psy-Frame plays are dead until those monsters leave the field.
And even then, Tour Guide from the Underworld isn't easily searchable for a Turn 1 play with a meager three copies.
If only there was an engine that provided nearly a dozen copies of the same card that worked in a consistent PSY-Framelord Lambda-making machine that also packed a punch with additional draw power. Hmmmmm...
Oh wait. It's Prank-Kids.
This Ain't A Prank
Granted, it literally took me an hour to convince a friend of mine that this idea was good, but showing is better than telling. What do PSY-Frames need to be fun and, well, better? You need a consistent way to make PSY-Framelord Lambda that doesn't clog the deck, while also providing utility, minimal invasion of the Extra Deck, and a boost to card economy. Surprisingly Prank-Kids do all of that.
Yu-Gi-Oh! TCG Deck - Prank-Kids PSY-Frames by Loukas Peterson
'Prank-Kids PSY-Frames' - constructed deck list and prices for the Yu-Gi-Oh! Trading Card Game from TCGplayer Infinite!
Created By: Loukas Peterson
Event:
Rank:
Advanced
Market Price: $229.69
Cards
Keep in mind, this iteration requires you to start with any Prank-Kids monster besides Prank-Kids Rocksies. Prank-Kids Rocksies generates the same plus of card economy, but one of your free draws will be a Prank-Kids card. For maximum output, let's start with Prank-Kids Lampsies instead.
One card turns into two free draws and PSY-Framelord Lambda? Come on, you have to be a little impressed.
We Are Number One
I can confidently say that the combo's consistent, and carries a low risk of bricking, because basically everything's a starter card. Most of the ways of making PSY-Framelord Lambda either require too many meh cards in the Main Deck, or are way too inconsistent to work, but not Prank-Kids.
This combo works instead with literally any Prank-Kids monster, or Prank-Kids Place. It's not like you're using your Normal Summon for PSY-Frame stuff anyways. And with PSY-Frames, having too many PSY-Frame cards and hand traps in your opening hand isn't useful - once you drop the first one, what are you going to do with the rest of them that are sitting in your hand?
That being said, it's a delicate balancing act between drawing too many cards one way or the other. Sometimes you'll draw PSY-Framegear Alpha when you really need PSY-Framegear Beta, or maybe you'll draw a Prank-Kids card you'd rather search. It happens, and there's only so much you can do to avoid it.
But that's where adjusting your hand trap lineup comes into play. I really like Nibiru, The Primal Being and Infinite Impermanence is great going second, but when you're going first, especially in a deck like this where that extra oomph comes from End Phase darws with Prank-Kids Plan, I'm opting for cards you don't mind drawing in the End Phase.
To Prank Or Not To Prank?
You might be asking yourself how big the Prank-Kids engine should be, and that's a very, very good question. Keep in mind, the focus here is on PSY-Frames - you want to counter everything your opponent has and trigger PSY-Framelord Lambda as much as possible, but you still want your Prank-Kids to be effective.
Thankfully, you can always turn your Prank-Kids into whatever you want. Since PSY-Frames don't require tons and tons of Extra Deck space, you're free and totally encouraged to lean into the Prank-Kids side of the strategy. You can still make big Prank-Kids boards with just one Prank-Kids monster, so running the right Link and Fusion Monsters will be well worth the alleged sacrifice of skipping a third PSY-Framelord Zeta.
However, playing both Prank-Kids and PSY-Frames puts you in a precarious position to play some "win more" cards; stuff like Thunder Dragon Fusion for Prank-Kids Battle Butler, or Psychic Feel Zone. I won't deny how satisfying it feels to resolve either of those cards for big Extra Deck monsters, but you're already walking a tight balancing act between two themes, and drawing cards you can't activate in the moment easily becomes the straw that broke the camel's back.
Come on, you already have to deal with PSY-Frame Driver here.
In the end, I think this approach is a definite improvement to PSY-Frames. In the past your opening moves were boring at best, but now you have Prank-Kids to throw at your opponent and kick stuff off. At the very least, you'll break your opponent's brain as they try to figure out what on earth you're doing.
Just remember: beat your opponents before they beat you.