In every format, there are always decks that are very consistent; decks that can win games, matches, and above all entire events, more consistently than the rest. Competitors value the ability to perform reliably, and some of the most important deck building choices you can make are often intended to mitigate the luck factor; the world only has a limited number of tournament opportunities at any given time, so for most players, decks that present a higher risk of unbalanced draws or useless, brick hands are largely avoided.
There are tons of decks and strategies that can carry you to victory right now, and Anthony covered some of the biggest, most consistent decks in the new format earlier this week; decks you'll want to prepare for, and should expect to see in current metagames, as well as decks you might want to consider playing yourself. A lot of the decks he looked at were pulled from the Luxury Championship XI tournament this past weekend, and the results of that online event really do display the variety we have in competitive play right now.
The tl;dr version? Dragon Link, Dinosaurs, Zoodiac Eldlich, and Invoked Shaddoll Dragoon are the most popular and powerful strategies at the moment. With increasing popularity, decks like these can quickly become the new decks-to-beat, defining the field at hundreds, if not thousands of future tournaments.
I'd argue that there are a few other decks that compete on the highest level as well this format, such as Infernobles (AKA Warrior Combo), Dragoon Subterror, Tri-Brigades, and decks with Dogmatika cards. But we'll need to wait for events like this weekend's Remote Duel Invitational Qualifiers (RDI Qualifiers) to see if competitors actually end up playing them.
Now that we have some idea of what you might see in your metagames at this early point in the format, I want to talk about some other decks that I think have high potential to win; decks that are less explored and less talked about, but still have a good chance to top or win big events.
Players often refer to these types of less acknowledged strategies as rogue decks, which is somewhat true. These types of decks often need a bit more luck to win in events, largely because they often excel in specific machups at the cost of others. Realistically, that's not saying much: this is a card game and every deck needs some amount of luck!
While rogue decks often come with heightened risk, the right metagame read can let a rogue deck swoop in out of nowhere to take a tournament. You can never underestimate the surprise factor, either. Championships have been won and lost because players simply didn't know what their opponent's strategy was doing, or weren't prepared with the proper answers in their Side Deck.
Defining What Is And Isn't "Rogue"
So before I continue further, I want to define what "rogue" means to me, personally, and discuss some more reasons why anyone should play a rogue deck instead of a more popular, more widely tested strategy.
One of my favorite reasons to go rogue is actually a benefit of being unpopular: you have a much lower chance of playing a mirror match! For example, I've yet to play a Prank-Kids mirror in any of my recent events! In my opinion, that's a good thing. I personally don't enjoy playing mirror matches unless I feel very confident that my decision-making skills are better than my opponent's, and that those decisions are impactful enough to let me win more consistently. I also want my list to just be more prepared for the mirror so that I feel like I have an advantage.
Just because a deck isn't popular doesn't mean it's a bad idea. But if all the "professionals" aren't playing a particular strategy, then maybe it's because they think it has a lower chance of winning for them. That can be true. These types of decks are usually less consistent, carry more risks such as more "brick" draws, and they may rely more on the dice roll. Often, a poor rogue choice for a given event may have the same weakness as other top decks, so players will already be prepared to Side Deck against you.
But there are good rogue decks, I swear! Again, those top rogue strategies are often the decks that players don't expect, and decks that are well positioned because they have an inherent strength against others. If your deck consistently beats the more popular strategies, then the right matchups can feel like snatching victory off a silver platter.
In the end, what is and isn't "rogue" is up for debate, and different players will define it differently. Some players will have dueled for hundreds of hours and played every matchup an equal number of times, while some will think a deck is rogue only because they barely see it in their metagames. Rogue decks can be hidden gems, and the best have the potential to be top tier in the right setting.
So let's talk about some of the decks with the most potential! We're going to look at some promising rogue decks for the new format, covering their strengths as well as some of their flaws and weaknesses. In the right metagame these strategies could all be contenders.
Are You MAD-dolches?
Whenever I think of a good rogue deck, Madolches are usually one of the first ones that come to mind. The deck has a lot of strengths, with nine 1-card combo starters that can end on powerful disruption with huge follow-ups. Some of those combos can even OTK.
The Madolche deck has some extenders to help you play through opposing negations, and since it needs so few cards to launch big combos, it can play a lot of anti-meta utility cards to stop your opponent. Some variants even max out on Madolche Hootcake and pair itt with lots of hand traps, since Madolche Hootcake technically a viable starter card when you have that one monster in grave to help activate effect.
Some of the biggest benefits to playing Madolches ? Your boss monster Madolche Queen Tiaramisu has a non-targeting and non-destruction removal effect, so it can get rid of untargetable, indestructible monsters like Red-Eyes Dark Dragoon. It's especially good if you protect it with Madolche Teacher Glassouffle. The deck can also loop certain hand traps to reuse them if you have a combination of Madolche Chateau and Madolche Teacher Glassouffle. I'll explain.
Madolche Teacher Glassouffle has two effects, and one essentially helps you activate the other. The first lets you detach a material as a Quick Effect to shield one of your Madolches from monster effects, which is an amazing protection ability.
The second effect says it can return any two cards back to the deck, but you can only trigger it if a Madolche card's sent to your graveyard. Since you can only Xyz Summon Madolche Teacher Glassouffle with two Level 4 Madolches, you're going to be detaching a Madolche for the first ability. Oncce that resolves, you'll meet the conditions to trigger Madolche Teacher Glassouffle second effect in a new chain.
How does this combo with the Madolche Field Spell, Madolche Chateau? Well, the Field Spell has multiple effects: it shuffles all your Madolches in your graveyard back into your deck upon activation and it boosts all Madolches by 500 ATK and DEF. Not only that, but while Madolche Chateau on the field, any monsters in your graveyard that would be returned to your deck by the effect of a Madolche monster, can return to your hand instead.
Ccombined with Madolche Teacher Glassouffle second effect, you can return any monster back to your hand, even hand traps. My friend David Green from Montreal showcased that kind of strategy in one of the last Regional Qualifiers before the lockdown started last year. Since Orcust was the dominant deck at the time, the ability to loop Artifact Lancea over and over again was a really good metagame call, and helped put Madolches back on the map!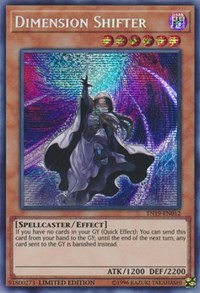 Later in the year, Madolche players began running Dimension Shifter to shut down an opponent's turn, while still being able to combo off and potentially recycle the Dimension Shifter. Some builds went so far as to skip Madolche Puddingcess, because it's just not necessary if you're always playing around Nibiru, the Primal Being by not comboing off at the start.
Now in 2021, Madolches are even better and coincidentally more affordable, gaining new cards and benefiting from several reprints. Madolche Promenade and Madolche Salon both arrived in Eternity Code, and they're amazing support cards for this kind of theme.
The release of Pot of Prosperity is good news for Madolches too. Madolche was playing Pot of Extravagance in previous years, since Madolches don't need the entire Extra Deck. But being able to pick and choose which cards you lose from your Extra Deck is still hugely valuable, helping push this deck's consistency even higher.
Here's a decklist that my friend David Green, a veteran Madolche player, has kindly given to me to share. Consider it a place to start if you want to try Madolches this format.
Building Madolches is similar to Zoodiacs or Prank-Kids, as it's mostly a 1-card combo deck. But because you want to be consistent in activating the effect of Madolche Petingcessoeur, you have to try and play with the mindset that you don't necessarily want to have monsters in your graveyard early. That way you can Special Summon it from your hand and maximize its value. The Main Deck in this build is optimized for that philosophy.
You could play all sorts of other anti-meta cards depending on your metagame reads, and what you think you'll go up against: cards like Evenly Matched, Kaijus, and Lightning Storm.
If you don't want to play expensive cards like Pot of Prosperity and Forbidden Droplet, I think you can still manage to do pretty well with Pot of Extravagance and Dark Ruler No More in the main.
Here's a budget build that my friend David has also been gracious enough to contribute!
Summoner Monk's another possible starter for this strategy. It can actually Special Summon Madolche Petingcessoeur from the deck, triggering its effect to let you combo off. It's a solid alternative if Pot of Extravagance or Pot of Prosperity aren't in your budget.
So what are the Madolche deck's weaknesses? Its biggest challenge is probably that the key combos are vulnerable to disruption, because Madolche's plays revolve around the initial Madolche Petingcessoeur Special Summoned from the hand, and your Normal Summon. They do have Madolche Salon for an additional summon, but relying on it turns a lot of simple plays into more demanding 3-card combos. Regardless, if you put up enough disruption, then this deck can struggle going second ,which is why it's necessary to play so many blow-out cards.
Madolches also play a variety of cards that you'd rather not see in your opening hand. You'd rather search out cards like Madolche Messengelato and Madolche Puddingcess and put them onto the field directly, rather than drawing them. There are some consistency issues here that can't really be solved. But like I mentioned before, some players have opted to not even play Madolche Puddingcess since they'd rather not commit to the longer combo line.
Overall, it's a good deck! And it's very scary to play against.
The Phantom Knights of Torn Scales
Phantom Knights, AKA Level 3 Combo
Phantom Knights is another obviously good deck, and there's usually a Phantom Knight player hanging around every Remote Duel locals nowadays. For good reason: the deck is strong and consistent. You only need two Level 3's to combo off, and if your opponent has something to stop you, you can usually end on at least a Predaplant Verte Anaconda to cheat out Red-Eyes Fusion and summon Red-Eyes Dark Dragoon. From there you can sit on the Red-Eyes Dark Dragoon, which is usually very hard to answer especially if you have one more copies of Phantom Knights' Fog Blade set.
Joshua Oosters, one of Europe's best players, recently won a European Extravaganza Main Event with Dragoon Phantom Knights. It was a big reminder that this deck has what it takes. Oosters has actually created an updated build he's been showcasing on his Youtube channel!
Oosters is Main Decking Droll & Lock Bird this time around, because he's building to beat Dragon Link, Dogmatika Shaddolls, and Dinosaurs. He recommended siding Cosmic Cyclones as well, to respect Eldlich and Shaddoll Schism.
Some players run the deck differently by incorporating Phantom Knights' Rank-Up Magic Force, since it's searchable and can potentially set up a Dark Reqium XYZ Dragon summon on your opponent's turn. That allows for multiple monster negates and even a pop from The Phantom Knights of Rusty Bardiche.
Those kinds of plays are pretty cool, but they do add more risk to the deck for a relatively small reward. Especially since you're already weighed down with Red-Eyes Dark Dragoon and Dark Magician, you want to try and avoid sub-optimal cards to help ensure strong hands in a long event. That said, if you don't own the Red-Eyes Dark Dragoon and Predaplant Verte Anaconda package, then playing that Phantom Knights' Rank-Up Magic Force with the two Xyz Dragons in your Extra Deck could be a good idea.
Aside from those risky vanillas the deck's pretty consistent. When you're playing against this strategy, you know you're either facing down a board of Phantom Knights' Fog Blade with an Xyz like Evilswarm Nightmare, Red-Eyes Dark Dragoon or both. So what's stopping this deck from being a top competitor besides a slim chance of bricking?
Well, people's Side Decks are already prepared for it. Since you need to banish cards to activate Phantom Knight abilities, Artifact Lancea stops you from ever using those effects. That shuts down a lot of the deck. And if the Phantom Knight Player doesn't make Red-Eyes Dark Dragoon, they have no real spell and trap negation. Meanwhile cards like Evenly Matched, Cosmic Cyclone, and Lightning Storm can clear a lot of what this deck sets up, and it gets easier if they also have Forbidden Droplet to negate Red-Eyes Dark Dragoon.
Overall, I'd call this a Red-Eyes Dark Dragoon turbo deck because that's usually the card that I can't stop them from getting out. It's one of the few decks in the format that can summon Red-Eyes Dark Dragoon so easily, making it somewhat of a gatekeeper to other decks. If you can't deal with Red-Eyes Dark Dragoon, then you won't stand a chance against decks like these.
It's Just A Prank!
I've written multiple articles on my journey with Prank-Kids, starting from a how-to-play guide and moving on to cover my tournament tops with the strategy. Unfortunately Prank-Kids are still just a rogue deck. It's not popular enough to become "meta," and while I'm not the only person running it, usually only one Prank-Kid player makes it to the Top Cut of any given event.
The linear combo line of Prank-Kids has a lot of weaknesses, so its win condition is often more about the off-theme anti-meta cards that accompany the actual Prank-Kids engine. But since the Prank-Kids plays all start with a single card, the deck strikes a workable balance. You can run A LOT of those anti-meta cards.
Being able to play Mystic Mine while building a win condition is cheesy, but it works! Prank-Kid's one of the few decks in the format that can use Mystic Mine besides Dinosaurs. That means you can win in two different ways: by deck-out, since you have Prank-Kids Pranks to recycle your cards; or by Life Point manipulation and recycling, thanks to a series of combos with Prank-Kids Lampsies, Prank-Kids Dropsies and attacking directly each turn with Prank-Kids Rocket Ride.
But besides that, Prank-Kids' normal routine of setting Prank-Kids Pandemonium and holding the Fusion Materials in hand with Prank-Kids Meow-Meow-Mu in the grave is no joke. It commits so few cards, and it wins by reacting to the opponent, demolishing the vulnerable commitments they make to their board. Then you activate Prank-Kids Pandemonium, and unless they have niche cards like Retaliating "C" or Blizzard, you can nuke their board and whatever they can follow up with.
While I'm hyping that up, that strategy actually has a blind spot. Prank-Kids can play around Nibiru, the Primal Being by drawing multiple Prank-Kids, so I can do the combo with four summons. But you can only activate Prank-Kids Pandemonium in the Main Phase. That means Quick-Play removal spells like Cosmic Cyclone or Twin Twisters are devastating to the deck's biggest plays if they're activated in any other phase. If any deck can play those cards, that means any deck can beat Prank-Kids.
That's why I'm always going to play Solemn Judgment in this kind of deck. I feel like Prank-Kids need to have that protection in order to not auto-lose in those types of situations.
In summary, Prank-Kids is a great rogue deck because it has a powerful one-card combo, a lot of recycling which works really well for grindy matchups, multiple win-conditions, and a rewarding gameplan for resource management.
The "Set 4 And Pass" Decks
Trap decks are constantly lurking at every event. At the moment, the best trap deck is inarguably Eldlich, the the trap decks of the past are still holding on.
I recently attended a Remote Duel local event with a copy of Gaia the Magical Knight of Dragons (Starlight Rare) as a prize. I played in it, and unfortunately placed 9th out of 60 competitors, just missing that Top 8 cut off. The Top 8 played it out and crazy enough, an Altergeist player managed to win it! I was pretty impressed.
I've played Altergeists before and from my experience, the deck's pretty consistent. It's technically a combo deck, where all you need is Altergeist Multifaker and any trap card to get everything off the ground. The third combo piece you need though, is "a turn". As long as you get a turn, you can do a huge combo that ends on Altergeist Hexstia and several other disruptions. You quickly snowball into victory from there.
Now, with Pot of Prosperity, this deck is even more consistent. Davis Anandeth Sinhradsvong's list is public in the CardBrawlers Discord, so I managed to find it and share it with you guys.
Pot of Prosperity really just a Pot of Duality for six that still lets you Special Summon. So if you're looking for a budget alternative, you could just play Pot of Duality with Pot of Extravagance instead. But the power of choice and the option to still be able to Link Summon is very valuable, especially in a deck that needs specific cards to combo off or stop the opponent.
Paleozoic Frogs is another trap deck that sees action nowadays. Toadally Awesome back to three, and with Paleozoic traps and the Swap Frog package, this Xyz can swing momentum in any slow matchup, spawning more Frogs, and negating and stealing cards.
Andres Torres won a huge case tournament with Frogs about a month ago. Mind you, that was back when Virtual Worlds and Drytrons were the biggest competition. Maybe with some modifications and some luck, Paleozoic Frogs might still have a chance in this format.
Paleozoic Frogs and Altergeist can both struggle. Since every deck has access to generic board wipes, decks like these can lose to any matchup just because the opponent drew one card at the right time.
The other threat holding these decks back is Dinosaurs; Miscellaneousaurus is just so strong against a reactive trap-based deck. You have to be patient, and adjust how you plan to stop Dinosaurs when you're playing with trap cards. My advice would be to anticipate the Dinosaur player's Xyz Summon, since that Xyz Monster won't be a Dinosaur-type, making Miscellaneousaurus moot. And if you really want to get rid of the Dinos they have on the field, like Ultimate Conductor Tyranno, I'd wait for the Battle Phase, or any phase that isn't the Main Phase, to use your traps.
And yeah then there's combo matchups, which happen all the time. The "Set 5, pass" deck is very different when you're up against an established board loaded with negations and interruptions. Some will argue that traps are amazing even when you're going second. But that depends a lot on your card choices, the best combination being Solemn Strike and any board wipe, like Torrential Tribute or Needle Ceiling. But how often will you be able to draw that?
While some combo matchups might be reliant on the dice roll, other control matchups are doable. One of the reasons why Anandeth made it all the way to the finals with Altergeist was because he got paired with Zoodiac Eldlich in the Top 8, and then Dragonmaids in the Top 4.Altergeist does very well against those kinds of strategies, where it can slow down the game state and then establish its full set-up.
If you really want to take these decks up a notch, you can just splash in Red-Eyes Insight, Red-Eyes Fusion and the required cards to summon Red-Eyes Dark Dragoon. The Red-Eyes Dark Dragoon cards do introduce a bit more risk, but if you're setting four or five cards anyways, you might as well activate Red-Eyes Fusion while you're at it. Doing so gives you a free walking omni-negate that puts your opponent on a harsh clock. Some Eldlich players already do it, so why not Paleozoics? Trap decks need all the board wipe protection they can get.
Pot of Prosperity
The Rogue Summary
Finding viable rogue strategies that I wanted to share my thoughts on was tricky. Current metagames are arguably very similar to past formats, but there are some big differences. I keep mentioning Pot of Prosperity, but it's one of the biggest factors right now, making almost any deck "more consistent" than it was before.
That kinda means the playing field is more level than it used to be. At the same time, Pot of Prosperity help decks that were already pretty good, like Dinosaurs and Dragoon Subterror.
If you're like me and hate playing mirror matches, then I'm sure you'd enjoy learning about viable rogue strategies! There are plenty of other decks I didn't mention, stuff that could prove viable like Dragonmaids, Mekk-Knights, Magical Musketeers and so on. Stay tuned, because I may cover those in an upcoming article. Till next time!