Last month I wrote an article covering a bunch of very viable rogue decks, right at the beginning of the new format. In fact, they were so viable that I'd call them "gatekeeper" decks; strong strategies that are popular enough that you'll usually see at least a few of them at bigger events.
If you missed it, give it a read! And make sure you check out Anthony's latest articles too, so you have a good understanding of current, competitive metagames.
Now that we've played an Extravaganza weekend under the new banlist, and more time to explore the format as a whole, I want to showcase some more rogue strategies that have popped up on my radar. I want to take some time and explain their advantages, and the possibilities of each moving forward.
Summoning Raye Is The Wei
Let's start off with Bill Wei's Sky Strikers! Wei took 2nd Place at the March Extravaganza that I won, and last weekend he decided to change it up a bit: instead of blinding second, he wanted to try and go first in Game 1 if he could. He played a lot of public events in the recent April Extravaganza, winning lots of Win-a-Mats and placing 2nd at the Saturday ATTACK OF THE GIANT CARD!! tournament.
Here's his new updated list, which he was kind enough to share with us!
I asked Bill a couple of questions so we could better understand his deck, and his mindset playing Sky Strikers. I wanted to know, why did he choose to play the deck? And what advantages does it have? Here's what he had to say:
"So, I chose to play Sky Strikers because people don't expect to go against it. Most Main Deck choices right now are cards that will stop combo decks or Shaddoll Invoked. Cards like Nibiru, the Primal Being, Artifact Lancea, or Droll & Lock Bird don't hurt Sky Striker at all."
Ash Blossom & Joyous Spring
"The only two cards that would put me at a disadvantage are Fantastical Dragon Phantazmay and Ash Blossom & Joyous Spring, which are very problematic if they aren't dealt with. But besides that, your Game 1s will be pretty easy. Even Ash Blossom & Joyous Spring is a -1 in card economy for the opponent in my opinion, because you just add for free with Sky Striker Ace - Shizuku while they have to discard a card to negate.
"This deck has a really big advantage, because you can tech literally anything into it. You can play traps like There Can Be Only One, Ice Dragon's Prison, and Solemn Strike, which will assure a win against Drago Link. If you can't get your hands on cards like Ice Dragon's Prison, you can just play multiple hand traps like Ash Blossom & Joyous Spring, Nibiru, the Primal Being, Ghost Belle & Haunted Mansion, Artifact Lancea, Droll & Lock Bird, or [Fantastical Dragon Phantazmay in a blind second build which is also very strong. In the Invoked Shaddoll matchup, you're not really affected by their cards. Invoked Mechaba hurts sometimes, but other than that, El Shaddoll Winda just sits there and Dogmatika Punishment doesn't do much."
Overall, Sky Strikers are a viable anti-meta deck because the popular defensive cards that other players run right now, don't really hurt this deck's main strategy: they don't stop you from summoning Sky Striker Ace - Raye, nor do they stop you from stacking up more and more spells with the Link Monsters. It also has a good amount of space to tech in flex cards and adapt to whatever is popular in your metagames. We've seen that in the past, as Sky Striker's famously seen success with There Can Be Only One, and even Mystic Mine, to slow down the pace of the game to its advantage.
Down To Earth Machines
Another very cool deck I want to talk about is the "Earth Machines" strategy, or Machina Infinitracks, or Infinitrack Trains. Let's just call it Earth Machines for now.
Yishan McNabb recently took this deck to the Remote Duel Invitational, and I've seen it compete in the recent Extravaganza as well. Some even reached the Top 16!
This deck's a very cool concept that combines the best cards that the Earth attribute and Machine type have to offer. This strategy probably started as a concept when players saw how much card advantage it can achieve, but because of some of the restrictions the cards have, such as Infinitracks, you're restricted to only summoning Earth Machine monsters.
But that's not necessarily a bad thing, right? Look at Dragon Link and Virtual World. They lock themselves into specific summoning restrictions too, but they still achieve great success on a regular basis. They can do that because the current cardpool can complement those strategies, allowing them to be so powerful.
So what does the deck do? Long story short, the deck usually accrues a lot of cards in hand from all the searching, and all the draw power from Infinitrack Tunneller. It also has access to Machina Citadel, either on the field or summoned with the trap card Machina Overdrive.
Sometimes the Earth Machine player can set up with Number 81: Superdreadnought Rail Cannon Super Dora, with a Heavy Freight Train Derricrane as Xyz Material, giving them a big, protected monster as well as a pop on their opponent's turn.
I might sound a bit biased, but I feel like this deck definitely needs a bit more in terms of strong disruption. Machina Citadel board wipe is really good, but the deck would be better if there was a bit more to it than that, and it didn't have to rely on utility cards so often to back it up.
Is this deck still viable? Well, not many players know its main choke points or what to play around, so it can have a big advantage if the opponent messes up. I think the deck has a lot of strong cards to pressure opponents, as well as decent one and two-card combos. But it's missing a strong Turn 1 setup, and it can struggle when it tries to leverage its engine into disruption.
That said, this won't be the last time we will be seeing this deck: I'm sure that someday, someone will optimize the deck even more, or it will get the support it needs to become even better. For now, it's a solid dark horse pick in current competition.
Dragunity Takes Flight!
Dragunity just got more support in Ghosts From the Past, and though it didn't make Top 16 at the latest Extravaganza, I did find someone who made the Top 32!
Charlie Ou finished in 30th Place with a 5-2-1 record, playing a pretty pure Dragunity list. His build focused more on consistency executing Dragunity plays, more than Dragon Link combos.
I asked Charlie why he chose to play Dragunity, and he said that it's because he's been running Dragunity for ten years. It's one of the decks he just loves to play, and since Ghosts From the Past has finally imported the new cards to the TCG, he wanted to try them out!
He was nice enough to share his deck list, so take a look at what he ran.
Something you'll notice right away is that Charlie wasn't playing the Amorphage package that other players have popularized. He said that he figured if the popular Dragon Link can win games with just a couple omni negates and some bounces, then maybe Dragunity can accomplish that as well.
The deck can consistently end on Hieratic Seal of the Heavenly Spheres, with a selective combination of Crystal Wing Synchro Dragon, Borreload Savage Dragon, Dragunity Knight - Areadbhair, and Dragon Buster Destruction Sword equipped to Dragunity Arma Leyvaten, while also resolving Trishula, the Dragon of Icy Imprisonment to banish a card and gain knowledge of the opponent's Extra Deck, all with a combination of just two cards!
And maybe he's right! Maybe the Amorphage cards are just unnecessary bricks and a "win more" condition that this deck doesn't really need.
Dragunity Whirlwind
Dragunity Oubliette
I think that Charlie's version of Dragunity's a very cool concept. I like how he's also included Dragunity Whirlwind in the Side Deck since it's such a strong opener going second; it instantly helps you make Dragunity Knight - Gae Dearg to start your combos. Combo that with Odd-Eyes Revolution Dragon effect, and you can activate Dragunity Knight - Gae Dearg effect more! Dragunity Oubliette perfect as a searchable counter to opposing cards like Dark Ruler No More when you're setting up your board post-side.
One of the advantages that Dragunity has going second, is the ability to put a lot of pressure on the opponent's field. For starters, Dragunity Legatus actually has an effect to destroy a spell or trap so long as you have a Dragunity in a Monster Zone, which is easily accomplished.
Odd-Eyes Revolution Dragon
The biggest threat you can summon is Dragunity Knight - Ascalon after filling up your graveyard with a lot of Dragunity monsters. This Synchro boss monster is very similar to Accesscode Talker, but it's slightly different and perhaps even better; it can banish a Dragunity to banish an opposing monster, and that effect isn't once per turn. Even if your opponent destroys Dragunity Knight - Ascalon, it gives you a free Dragunity Knight - Barcha so you can continue playing. Yet again, you can combo that with Odd-Eyes Revolution Dragon and its revival effect, to help make sure you can break your opponent's board.
Charlie's losses in the main event were the kind of things that could happen to almost anybody: one of his opponents opened up with multiple correct hand traps to completely stop his plays, while another game landed him with an obscure hand that had a very low chance of happening. He then had an unfortunate draw in the very last round in a Game 3 scenario with a Cyberse combo deck.
Overall, I think this version of Dragunity's very unique and very viable, showcasing what the new Dragunity support has to offer more so than just feeding Dragon Link combos. I hope this build inspires others to play Dragunity, and perhaps even try this version.
Into The Vrains!
Cyberse combo decks also got new support in Ghosts From the Past. No, it's not just a Salamangreat deck, it's actually a combination of a wide range of Cyberse monsters. It's partly focused on the Cynet and Code Talker cards, since they're just so good. I've seen this deck pop up a few times in several locals, sometimes even winning the event outright. With Firewall Dragon finally back in action, this deck's endgame suddenly got way better.
Last weekend, Calvin Jin won Card Brawler's 40-man Remote Duel Locals with this build. And though there are many ways to play the deck, this list made a lasting impression when it was posted in the Card Brawler's Discord.
I'm not going to talk about the deck too extensively since I'm not an expert, but I'll try and give you the gist of what it does. It starts and ends with Knightmare Corruptor Iblee on the opponent's field, so that they can't activate Nibiru, the Primal Being, Fantastical Dragon Phantazmay, or use Psy-Framegear Gamma against other cards (since they can only Special Summon Link Monsters). What they actually end with, is an Extra Link setup built with Link Monsters that are untargetable and indestructible by card effects, thanks to Transcode Talker and Excode Talker. That means your opponent can't Link Summon.
And while you may think that you can just crash the Knightmare Corruptor Iblee to try and get out of the lock, the Cyberse player will have a Salamangreat Sanctuary on the field to lower their own monster's ATK to zero so that the Knightmare Corruptor Iblee can't lose in battle. They used to end with a Tri-Gate Wizard negate ready as well, but now that the deck has Firewall Dragon back, they'd rather end with that so they can have a multi-bounce instead.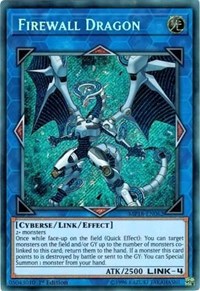 The only way to answer the Knightmare Corruptor Iblee lock is to tribute it for a Tribute Summon, or send it to the graveyard for a card like Forbidden Droplet. I guess Book of Moon could flip it face-down too, but then you still have to deal with the wall of big blue monsters that the opponent's placed out on the field, monsters that have high ATK, can't be targeted, and are indestructible.
Seeing this deck go off and make that U-lock board is definitely a sight to behold. The way it combos constantly with Cynet Codec is almost like how Blackwings abused Black Whirlwind, except that there are multiple ways to search for Micro Coder to get Cynet Codec, while Blackwings are still stuck with just Blackwing - Simoon the Poison Wind. Where's more Blackwing support when we need it?
When the Cyberse deck's going second, it doesn't need to U-lock the opponent. You can just spam monsters instead, until your opponent runs out of interactions, and then you just climb into Accesscode Talker from Splash Mage and Transcode Talker to break the rest of the board and OTK.
While Firewall Dragon back, keep in mind that we're still waiting for other OCG imports to support Cyberse. I believe this Cyberse combo deck is here to stay, and it'll be a big contender in the future.
The Zombie Threat
Even though Eldlich's considered a big meta contender, I want to take some time and talk about how viable the Zombie World variant of Eldlich is. I understand that Zoodiac Eldlich, Dragoon Eldlich, Dogmatika Eldlich and heck, even Invoked Eldlich are more consistent. But Zombie World Eldlich's very cool, and very powerful too!
Everyone thinks that Eldlixir of Scarlet Sanguine only Special Summons Eldlich the Golden Lord, but along with the other Eldlixir cards, it can actually summon ANY Zombie, as long as you have the Eldlich the Golden Lord on the field already. It requires a bit more effort to set up, but in a metagame where Dragons, Dinosaurs and even Tri-Brigade are dominating, this version of Eldlich can be devastating. Simply activating Zombie World can prompt your opponent to surrender.
Zombie World searchable with Necroworld Banshee, which is searchable in turn with Eldlixir cards and other Zombie cards. Turboing it out means you too can have more free wins against the best decks!
Combine Zombie World with Rivalry of the Warlords, and you'll have your opponent in agony as they realize they're stuck with just one monster, while you keep building up more and more resources.
Zombie World also helps you abuse Super Polymerization. The cards already a really strong board breaker in current metagames, but it's even better with Zombie World, since you can make the most of the discard. Even in a matchup where you wouldn't usually have a specific Fusion to summon, you can turn your opponent's monsters into Zombies and then use Super Polymerization to fuse for Dragonecro Nethersoul Dragon
Here's a list I've been playing with, that I'm working to perfect.
This deck is a bit pricy since it runs Pot of Prosperity and Forbidden Droplet. But hey, it's the almighty Golden Lord we're talking about here. Dude's rich. I've mentioned it in my previous rogue article that Pot of Prosperity is key to making certain rogue strategies even more consistent and viable than they were before, and that's very true for a control deck like this one. Digging through your top six cards to look for your most important 2-card combos, like Zombie World with Rivalry of Warlords or Super Polymerization is just a nice boost.
Forbidden Droplet naturally do well with Eldlich and Zombie cards, since you like to get cards to the grave for a better setup. Forbidden Droplet just so happens to be a very powerful card to help break boards too, as well as just a strong simple disruption.
Is this better than the more popular Eldlich mix decks we see? Well, it's still a pretty situational deck. But if the entire room was playing Tri-Brigade, Dragon-Link or Dinosaurs, then yeah, the single Zombie World player would have a pretty good edge against that field.
This deck has obvious weaknesses to backrow hate like Lightning Storm, Harpie's Feather Duster and Cosmic Cyclone. But it's a cool way to play the Eldlich cards. People usually think only the Golden Land traps act as disruption, but the Eldlixir cards can also help you control the field with plays like Necroworld Banshee to activate Zombie World, or even Doomking Balerdroch for negation and banishing, since your opponent's cards are Zombies under Zombie World.
I'm sure there are lots of other viable rogue decks out there, just waiting to be explored as the format continues to develop. All it takes for these decks to do well is practice, and optimization to tackle the more popular decks. In the right metagame, all of these strategies can be winners.