It's been a while since my last rogue deck article! But now that there's a new format and the competitive landscape is settling down, it's a great time to look at some of the best rogue strategies; off-the-radar decks that could do well in tournaments.
As usual, I'm defining a rogue as an underplayed strategy. For one reason or another, rogue decks haven't caught on in the tournament mainstream; maybe certain flaws make them less viable in certain metagames, or under certain conditions, compared to the more popular meta decks. Or maybe they're just undiscovered hidden gems, and have underappreciated advantages that counter the top decks! For whatever reason, these are the decks your opponents probably won't see coming - and probably won't be siding for, at least not intentionally.
Current metagames are very fast-paced, with Drytrons and Tri-Brigades at the top, and many other top tier decks like Prank-Kids, Invoked Shaddolls, and Virtual Worlds chasing them in Top Cuts. Sky Strikers and Salamangreat just got some cards back off the banlist, so they became popular picks too, but they're not as strong as the other decks. Just like @Ignisters, they're only really part of the discussion because dedicated fans choose to play them.
So with that out of the way, let me introduce you to what I think are some of the best rogue decks right now.
Starting Off With Cyber Dragons
This deck is a favorite for many GX fans, including James Jung! My fellow Canadian just got Top 32 with Cyber Dragons at the Remote Duel YCS weekend; something few players expected at one of the biggest events of the year.
I've played against Cyber Dragons many times at a variety of locals. There's usually one dedicated CyDra player anywhere you go. It's a strong deck that's versatile enough to play first or second. If you go first, you can set up a Cyber Dragon Infinity, and maybe even the trap card Cybernetic Overflow to pop cards.
Jung ran Predaplant Verte Anaconda, not just to summon Red-Eyes Dark Dragoon going first, but also for Overload Fusion going second, to summon out a potentially game-winning Chimeratech Rampage Dragon! The Fusion Monster Chimeratech Rampage Dragon is the deck's main way to OTK, since it can deal over 6000 damage by itself, AND destroy backrow cards.
One of the big reasons to play Cyber Dragon is the deck's inherent advantage over Machine-type decks, or strategies that like to summon a monster and leave it in the Extra Monster Zone. So with the rise in popularity of Sky Striker, Cyber Dragons can use their unique contact fusions Chimeratech Fortress Dragon or Chimeratech Megafleet Dragon to take away Sky Striker's main defensive Link Monster; those Links are Machines, and the Striker player always wants to summon into their Extra Monster Zone.
Cyber Dragon is most certainly a threat, but it's probably stuck in a rogue position since it's got fewer starter cards than other strategies; that means it can draw some less optimal hands at times. It definitely has some great matchups though, and it can catch many inexperienced players off guard.
Revisiting 2016 With Monarchs
Domain Monarchs is another deck that caught my eye. It got a lot of help from certain cards being freed from the banlist, but also some new cards that support this unique strategy. A duelist named Franklin Joel Santos made Day 2 at the South American Remote Duel YCS with the new support. Here's his list.
Almost everyone played Domain Monarch in 2016. It was so strong that many cards had to be Limited to remove Monarchs from dominance. Now they're back! Pantheism of the Monarchs, Ehther the Heavenly Monarch, and The Monarchs Stormforth have all returned at full power. To top it off, Lightning Overdrive introduced a couple of new cards that fit perfectly with what the deck wants to do: Tribute Summon and not care about the Extra Deck.
Anchamoufrite is a Pendulum Monster, but it's not played in Pendulum decks. It's a free draw and a Special Summon, but only if you don't have an Extra Deck; its effects and stats actually make it perfect for Domain Monarchs. It also won't conflict with Domain of the True Monarchs, because it actually banishes itself if it was Special Summoned by its own effect.
The other new card this deck benefits from is Proof of Pruflas. It's a free Special Summon, so long as you didn't control a Special Summoned monster to begin with, and it gives you an additional Tribute Summon to help extend your plays - something this deck has historically lacked in the past. Both effects compliment the deck well enough to make it a one-of.
If you haven't faced Domain Monarchs before, I can tell you that it's a very aggressive control deck. It wants to Tribute Summon to put the required monster on the field for Domain of the True Monarchs; while Domain of the True Monarchs is on the field with a Tribute Summon, and you have no Extra Deck, your opponent can't summon from their Extra Deck at all!
Once that lock is in place, your opponent will have to rely on their Main Deck to win, or break the lock, either by drawing a removal card to get rid of Domain of the True Monarchs or the Tribute Summoned monster. Because Domain Monarchs is a floodgate strategy, it can be a glass cannon, but the lock can be very difficult to escape.
That's not all: the deck itself is strong engine that can build up lots of card advantage, too! Pantheism of the Monarchs is practically Destiny Draw, and searches any Monarch card to help get the set-up going. Discarding The Prime Monarch is ideal, because you want it in the graveyard to give you more tribute fodder.
If you resolve the effects of Ehther the Heavenly Monarch or Erebus the Underworld Monarch, you'll get two more Monarch cards in your graveyard to help fuel The Prime Monarch. You'll also get a free monster with Ehther the Heavenly Monarch or take a card away with Erebus the Underworld Monarch.
But the truth is, this is also a combo deck, one that relies on seeing Monarchs and cards to help summon them. And because of that philosophy, it doesn't always work out. You need all the card advantage you can get to help fuel your plays and ensure that you can make follow-ups.
So why are Monarchs rogue, and not the top tier deck that they were years ago? Well, the deck's consistency isn't as amazing as the 1-card combo decks we have nowadays. And since Monarch's essentially a floodgate deck, it loses to all sorts of generic removal that any opponent could be running. So while it can have good matchups where it auto-wins off a lockdown set-up, it'll have a bad matchup against any deck that plays Twin Twisters, or Lightning Storm, and so on.
That said, this deck's incredibly affordable to build. With no need for an Extra Deck, and lots of on-theme support that leaves you with no room to run big, expensive power cards, there may be no better budget deck in the current format! Speaking of another floodgate control deck…
Remember Necrovalley?
Royal Tribute was removed from the banlist and unrestricted a while back. And since then, Gravekeepers have been nothing more than a gimmick deck. I remember building it back then when Card of Demise was at three copies, combining it with Pot of Desires to try and find Royal Tribute and Necrovalley. It was powerful when it worked, but it just wasn't consistent enough at the time.
Today we have Pot of Prosperity and once again, it's helped another rogue deck become more reliable, and more competitive. The Gravekeeper player also has the Red-Eyes Fusion package to summon Red-Eyes Dark Dragoon, a stun deck's absolute best friend. A strong negation body and a floodgate works wonders in a deck like this.
Looking around online, I found that some players even topped the recent local Yu-Gi-Oh! Day event with Gravekeepers! So what I've got here is my own build inspired by a 2nd Place finisher from the Yu-Gi-Oh! Day weekend. I made a couple changes and fixed up the Extra Deck to my liking, and now it looks like this.
Some would say that this is sort of a pseudo FTK deck, since it aims to draw Necrovalley with Royal Tribute to rip all the monsters out of your opponent's hand and win from there. If the opponent doesn't scoop at that point, they have to play against Necrovalley, a powerful floodgate that stops revival effects or even banishing from the graveyard. When Necrovalley up, you can't touch the graveyard.
In a format where Drytron and Tri-brigade are so dominant, Necrovalley fits right in as one of the best anti-meta cards around. Since it's searchable with Gravekeeper's Commandant which is searchable in turn with Necrovalley Throne, you'll find Necrovalley reliably in every game.
But how does it push for damage? Well, Gravekeepers do gain 500 ATK while Necrovalley active, so Gravekeeper's Commandant will be at 2100 ATK for a slow beatdown. Red-Eyes Fusion into Red-Eyes Dark Dragoon really helps this deck push for damage, destroy opposing monsters and protecting Necrovalley by negating any threat to it.
So what's flawed about Gravekeepers and keeping them rogue? Well, it's yet again another glass cannon floodgate deck. It has very few resources to play with and hopes to draw optimally at the very start, and win in the first couple turns. If it doesn't, it struggles for a win condition.
Once the Red-Eyes Dark Dragoon gets answered you can revive it with Red-Eyes Wyvern, but you'll have to turn off Necrovalley for a turn to do so. And because the deck is super reliant on Red-Eyes Dark Dragoon, you'll always need a card in hand to fuel its negation. The only card I see in the deck that helps increase hand size is Sky Striker Mobilize - Engage!, but maybe playing with four cards can still work.
Zooooooeus Turbo!
Zoodiac Drident was recently banned, and in my opinion, rightfully so. I think one of the biggest reasons for the ban was because Zoodiac Drident would have been too powerful with the new Number F0: Utopic Draco Future. But regardless, Zoodiacs were becoming one of the strongest Normal Summon in the game toward the end of the last format, and were being splashed into almost any deck just because they could be.
Now that Zoodiac Drident banned, are Zoodiacs still playable? Well, you can still summon Zoodiac Boarbow, attack directly and then summon other Zoodiac Xyz Monsters to make a Divine Arsenal AA-ZEUS - Sky Thunder with four Xyz Materials. Is it possible to make a deck that does just that, and wins in tournaments?
Yes, we can. And when it works, it feels so ignorant it's funny.
This deck is probably one of the few that wants to go second in this format, and gets away with it. Zoodiacs aim to either stop the opponent with hand traps, or just blow them out with removal and negation to get that successful attack with the Xyz. Sky Striker Mecha - Eagle Booster is one of the biggest reasons why this works, since this deck will only be playing one monster in the Extra Monster Zone. Making thatt monster immune to effect negation is pretty good, though Solemn Strike will still beat you.
Zoodiacs work pretty well, the only problem you may find is that you'll draw hands where you only open cards that beat backrow, and you need to deal with monsters; or you draw effect negation, but your opponent sets five backrow. If that's a problem more frequently than you care to stand, you can swap out Twin Twisters for Lightning Storm, since it can be both monster hate and backrow removal. But I thought playing Twin Twisters was bettter, to respect the Prank-Kids matchup and Prank-Kids Pandemonium.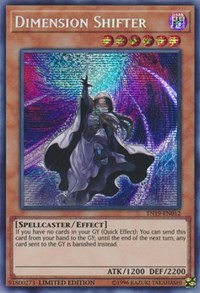 If your opponent does force you to go first, well you don't have Zoodiac Drident anymore so you gotta hope you draw cards that stall your opponent. In the Side Deck you have Different Dimension Ground, Dimension Shifter, and Shared Ride. If you see any of those, or the hand traps you already main, it might help keep your opponent from winning.
Overall, you want to attack with an Xyz to make Divine Arsenal AA-ZEUS - Sky Thunder with lots of Xyz Materials, so you'll be able to take lots of cards from your opponent with the lowest amount of effort. It's very simple, and very effective.
PENDULUMS BEST DEK?!
Pendulums have always been a strong strategy, able to field multiple interruptions in a single turn. Now, in such a heavy hand trap format, I believe that Pendulums don't lose very often to hand traps besides the occasional Droll & Lock Bird.
There are so many ways to play Pendulums right now: Endymion, Zefras, Performapals, Magicians, Metalfoes and even Odd-Eyes are all possible, so it's hard for me to pinpoint what the very best build is. But I did some research, taking ideas from my friend Steven Trifunoski to come up with a list I feel I can recommend to you.
I personally believe that Endymion's the strongest Pendulum deck right now, but you'll only be playing the good Endymion cards here, like Endymion, the Mighty Master of Magic, Servant of Endymion, and Reflection of Endymion, just because she's Level 7 and can bounce a card on summon.
I also believe the Zefra cards are very strong, mainly Zefraniu, Secret of the Yang Zing; it's so easy to search, and its ability to fetch a Counter Trap every turn is fantastic. I didn't include it in this build, since I think it might make the deck too complicated or bricky, but it could be worth building around. This list is very simple, and it's a great starting point for anyone who wants to play Pendulums.
I highly recommend watching Steven's channel to see how he plays out hands, and for his amazing dedication to Pendulums. He brings new ideas and fresh hype to the strategy whenever he uploads. We also have Zachariah Butler's guide to Pendulums, which is a must read for any player that's just picking them up for the first time.
And with that, I've presented yet another five picks that I think are the best Rogue decks right now! There were a bunch of different decks I had in mind, but most of them weren't strong enough in my eyes to do well consistently. These are definitely the five winners in their category.
Right now, Tri-Brigade is popular with Rescue Cat, Zoodiacs, and Lyriluscs. But I think other Tri-Brigade variants are unexplored. Harpies bring Harpie's Feather Storm to the table, and Fire-Fists have looping plays with Brotherhood of the Fire Fist - Tiger King. I also have a feeling Raidraptors could fit with Tri-Brigade cards, which could be pretty cool.
Hopefully you can take ideas from this article and explore other fun decks that could do well at your local tournaments. Maybe I can find more rogue decks to present next month. Either way, I'll see you all in the next article!