As the format gets more solved and repetitive, rogue strategies become our beacon of hope! Whenever I see something out of the ordinary do well, it brings me some joy. If you're a competitive duelist playing regularly right now, I'm sure that like me, you're less excited whenever you see the best decks do well: strategies like Tri-Brigade Zoodiacs, Drytrons or Prank-Kids.
So here I am again today, as we count down to October 1st and what's hopefully the start of a new format. I've gathered what I found to be some of the best rogue decks players have come up with since the release of Dawn of the Majesty: strategies that can go against the grain to beat the expected field, offering something fresh and different in these final weeks of the current format!
Tri-Brigades… But With Bujins!
Earlier last month, my friend Sinjin Landers started playing at his local Official Tournament Store and has been winning many of his local tournaments with his unique takes on Tri-Brigades. One time he even combined it with his favorite archetype from Yu-Gi-Oh's past: Bujins!
Yu-Gi-Oh! TCG Deck - Bujin Tri-Brigade by Sinjin Landers
'Bujin Tri-Brigade' - constructed deck list and prices for the Yu-Gi-Oh! Trading Card Game from TCGplayer Infinite!
Created By: Sinjin Landers
Event:
Rank: 0-0
Advanced
Market Price: $347.42
Cards
Tri-Brigades is an amazingly well-designed theme to support the "Tri-Beast" monster types: Beasts, Beast-Warriors, and Winged Beasts. And yet, a majority of the playerbase chooses to play them with Zoodiacs because it's just so easy and impactful to attack directly with Zoodiac Boarbow and then make Divine Arsenal AA-ZEUS - Sky Thunder in Main Phase 2.
While Sinjin did eventually move on and play Zoodiacs with his Tri-Brigades, I really liked this unique approach: it hinged on the new monster Bujin Torifune from Lightning Overdrive as well as a small Bujin package, creating a lot of cool plays.
If you open with Bujin Torifune, you can summon it to use its effect and bring out two Bujin monsters with different types. From there you can Xyz Summon Bujintei Susanowo. If you didn't open with another extender like Bujin Hirume or Bujin Arasuda, then you can use Bujintei Susanowo to search Bujin Hiruko.
Bujin Hiruko the special Pendulum Bujin. By activating it as a Pendulum Spell and using its effect, you can turn Bujintei Susanowo into Bujintei Kagutsuchi. Since the transformation's treated as an Xyz Summon, you can activate Bujintei Kagutsuchi effect to mill five cards, which will usually hit a Tri-Brigade Nervall or Tri-Brigade Kitt to get you to Tri-Brigade Kerass.
If you did open with Bujin Hirume or Bujin Arasuda in combination with Bujin Torifune, then you can actually use Bujintei Susanowo to search for the missing Bujin you need (either Arasuda or Bujin Hirume). Then Special Summon Bujin Hirume by banishing a Bujin, which helps trigger Bujin Arasuda Special Summoning condition. You can use those two new level 4 Bujins, to make Bujintei Kagutsuchi for that free mill of five cards.
xx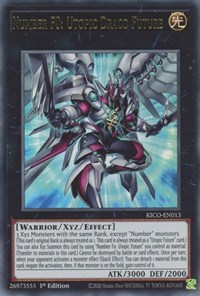 That also means you now control two Xyz Monsters with the same Rank that are not Number Monsters, so you can make Number F0: Utopic Future and turn it into Number F0: Utopic Draco Future on top of it. You set yourself up with a free monster effect negation before you continue with Tri-Brigade Kerass.
Remember, you can use Bujin Torifune effect from the graveyard to equip it when you summon Bujintei Susanowo. While Bujintei Susanowo equipped with Bujin Torifune, any monster you destroy with Bujintei Susanowo in battle will get banished. Combined with Bujintei Susanowo ability to attack all of your opponent's monsters, you can essentially banish your opponent's whole field if you can make the attacks stick.
This version of the deck doesn't play Bujingi Crane, but it would be really cool if you also used Bujintei Susanowo effect to search Bujingi Crane so that way you could have a 4800 ATK beatstick running over your opponent's entire field.
I think this was a cool approach to Tri-Brigades and I'm glad my friend Sinjin had some success with it. In a different world where Zoodiacs didn't exist, I'm sure this could have been a top contender alongside other variants like Ancient Warriors or Fire Fists. And who knows what the next format has in store for Zoodiacs.
It's Time To Accel Synchro!
The latest European Remote Duel Extravaganza was held last weekend, and I saw Leo Martinez post that he finished in the Top 4 piloting Synchrons! His deck's a nice surprise in this largely solved competitive landscape, and Martinez ran some new cards from Dawn of Majesty, including Synchro Overtake!
Yu-Gi-Oh! TCG Deck - Synchron Synchro by Leo Martinez
'Synchron Synchro' - constructed deck list and prices for the Yu-Gi-Oh! Trading Card Game from TCGplayer Infinite!
Created By: Leo Martinez
Event:
Rank: 0-0
Advanced
Market Price: $380.74
Cards
Looking at this list, you can tell Martinez wanted to go first, planning to play through one or even maybe two hand traps. If Martinez's opponent has a third interaction, that would be unfortunate, but that's largely the case for every combo deck nowadays. That said, the benefit to playing a Synchro deck is that you have a much easier time placing a simple negate on the field, like a Herald of the Arc Light, compared to a strategy that's more focused on Link Summoning.
Sometimes just being able to summon high value cards like Chaos Ruler, the Chaotic Magical Dragon or Junk Speeder is enough to force out hand traps, since resolving them will get you so far ahead in card economy.
What is the deck's end goal? I'd assume that it wants to find a way to climb into Crystal Wing Synchro Dragon as a priority to respect hand traps. From there it can build resources with T.G. Hyper Librarian and other Synchros such as Junk Speeder and Celestial Double Star Shaman, eventually making other forms of interruption like F.A. Dawn Dragster, Hot Red Dragon Archfiend Abyss, Herald of the Arc Light, and maybe a PSY-Framelord Omega. It can leave an Accel Synchron on the field too, so you can Synchro Summon a Satellite Warrior on your opponent's turn to destroy multiple cards.
I'm sure there are plenty of other approaches to this deck, but Leo's build is a very strong start. Respecting hand traps with Triple Tactics Talent and even including Magical Mid-Breaker Field gives the deck some good insurance, helping play through specific interactions.
There's a bunch of other cool Synchros to make too, such as the classic Shooting Quasar Dragon or its alternate version Cosmic Blazar Dragon. But because those monsters have such specific Synchro Materials, requiring Tuner Synchro Monsters and multiple Synchro non-Tuners, they'd require a different and more dedicated build, with cards like Formula Synchron or Coral Dragon.
Speaking of competitive Synchro decks…
Remember Adamancipators?
My friend Ed Acepcion recently played in a local 3v3 team event. And although his teammates weren't as successful as he was, Ed managed to go X-1 over the course of the tournament, piloting his version of Adamancipators. I want to show off Ed's list today because I believe his deck is better and more optimized than other Adamancipator lists I've seen, playing some unique cards that help the deck adapt for current competition.
Yu-Gi-Oh! TCG Deck - Ready Fusion Adamancipators by Ed Acepcion
'Ready Fusion Adamancipators' - constructed deck list and prices for the Yu-Gi-Oh! Trading Card Game from TCGplayer Infinite!
Created By: Ed Acepcion
Event:
Rank: 0-0
Advanced
Market Price: $1177.35
Cards
While I've seen Adamancipators pop back up in recent tournaments, Ed's list is much better than other builds I've seen, for a few reasons. First, he chose not to play the Red-Eyes Dark Dragoon package with Predaplant Verte Anaconda, probably so that his opening hands will be more consistently filled with the extenders he needs for big plays. Second, I assume he's not playing Doki Doki because that card is so vulnerable to every popular hand trap in the game right now.
Instead, he maxed out on Parallel eXceed and Koa'ki Meiru Supplier to throw out more Level 4 bodies onto the field to help make Gallant Granite or Abyss Dweller. Sometimes they even help chain block certain cards to help them resolve, such as Crystron Halqifibrax on-summon effect.
The deck even runs Ready Fusion to summon Rare Fish, since it's a free Level 4 for those Xyz, or even Synchro plays. Being a Water monster helps fulfil the conditions of Adamancipator Risen - Dragite spell and trap negation, too!
Adamancipators have always been a strong contender if hand traps are heavily played in a given format. Koa'ki Meiru Guardian is just such a free, strong card to start off with, or even search with your Adamancipator Tuners. A free monster negate? What more can you ask for in a combo deck.
The downfall of the strategy is that your opponent can effectively blank your field if they have Dark Ruler No More, and multiple hand traps can leave you on end board so small that it's ineffective. But Ed discovered that you can play Triamid Pulse here, since it just needs Rock-Type monsters for fuel! It's a Continuous Trap that lets you banish two Rock monsters from your graveyard to either pops face-up card on the field, or revive a Rock-type from your graveyard.
Even though it's not searchable in this deck, Triamid Pulse is sort of like a Virtual World Gate - Chuche. But it's better, because it has that revival effect. Once you combo off you'll have plenty of Rock monsters to banish, so Triamid Pulse brings a ton of value to this deck and gives your opponent another problem to deal with. I highly recommend Adamancipator players give this card a try!
Right now, at the end of this format I think these three decks are the rogue strategies worth discussing. Finding strong rogue decks in this super-solved format is like finding a needle in a haystack. I am, however, VERY excited for the new releases coming out in October and November.
Perhaps I'll try and introduce some of those awesome upcoming archetypes in future articles, when we get more information leading up to their official releases! Until then, we just gotta bear with it and wait until September ends!