Charmers.
Yes, Charmers.
It's been over 15 years since the first Charmer cards debuted in The Lost Millennium. But if we're splitting hairs, cards like Gigobyte and Fox Fire aren't… not… part of the theme? So in some senses, the "Charmer" theme's even older than you might think. If you squint hard enough.
While it's clear what the Charmer theme is and is not in terms of gameplay, the lore behind the characters, as well as their very particular in-story naming mechanisms, make it tough to define the strategy. On one hand there are the central cards with all their gloriously confusing nomenclature: each of the Charmers comes in a base effect monster version, like Aussa the Earth Charmer and Eria the Water Charmer. Each Charmer has an in-story familiar, classic monsters like Petit Dragon and Archfiend Marmot of Nefariousness. When they're united, you get the "Cataclysmic Charmers," from Avalanching Aussa and Raging Eria.
When the familiars take over, you get the Familiar-Possessed monsters like Familiar-Possessed - Aussa and Familiar-Possessed - Eria. Then they have their Link Monster equivalents, such as Aussa the Earth Charmer, Immovable, and Eria the Water Charmer, Gentle. And THEN there are the Awakening forms, such as Awakening of the Possessed - Gagigobyte and the new Awakening of the Possessed - Nefariouser Archfiend.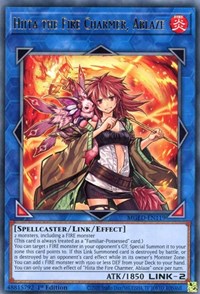 In between them all there are two additional Charmers who arrived later to the game, Dharc the Dark Charmer and Lyna the Light Charmer, who don't appear in all forms yet. And on the support side you've got Spiritual Arts and a bunch of other spells and traps. Then you have other cards that aren't exactly in the theme but somehow snuck under the radar and qualify in just about every way that they might as well be Charmer adjacent. Also, some Gishki and Winda tie-ins?
I suppose this is what happens when a significant portion of the deck can be classified as Spellcasters with 1850 ATK, and cards like Happy Lover are technically part of the archetype. Technically.
The Community Asked For This
I suppose the "average" duelist - whatever that means - might not be ravenous about the Charmer monsters, but they're definitely a fan favorite. In short, are the Charmers well loved by certain sects of duel fans? Yes. Was anyone demanding this Structure Deck? Well, it exists because it got enough votes in an OCG poll to warrant a Structure Deck when Konami was literally soliciting ideas, but the votes definitely came from the casual side of the playerbase.
The problem with Charmers, and I excuse the naming for anyone that's not too familiar with the cards, is that the support covers so much ground across so many cards splintered into niche subthemes that I'm honestly not sure what a Charmer deck is supposed to do.
Is that a problem? Well, only if you're trying to capitalize on everything in the Charmers' repertoire all at once. The solution to that problem? Just pick a lane and stick to it.
We can't feasibly run every Spiritual Art, retrained Familiar, original Familiar, Familiar-Possessed, and every Charmer-adjacent card in one deck. Even I'm not so crazy as to try and include everything.
So sorry in advance to the hardcore Charmer fans. I won't be playing Hiita the Fire Charmer or Storming Wynn today. But hopefully we can make some compromises and create a playable deck.
So, What Do Charmers… Do?
That's a good question that doesn't have a great answer! You could make an argument that the deck's a burn strategy with Spiritual Fire Art - Kurenai and Awakening of the Possessed - Greater Inari Fire. Or, leverage Spiritual Water Art - Aoi and Awakening of the Possessed - Gagigobyte for hand control. Or just use them for Rank 4 spam. There is no wrong answer.
But I think the most effective use of the cards leans into Awakening of the Possessed, of all cards. It's a Continuous Spell that rewards you once per turn whenever you summon a Spellcaster with an original ATK of 1850.
Considering all the Familiar-Possessed Main Deck monsters, the Charmer Link Monsters, Fairy Tail - Luna, and Selene, Queen of the Master Magicians, you'll always be playing a monster to trigger Awakening of the Possessed for a free draw no matter where you are in the game. That's something we can build off of.
The strategy of throwing down monsters with 1850 ATK isn't going to win you games by itself, but the added draws and niche effects should be enough to push you over the edge. Possessed Partnerships, for example, brings back a monster to draw a card with Awakening of the Possessed, but also pops your opponent's cards to slowly accrue card advantage.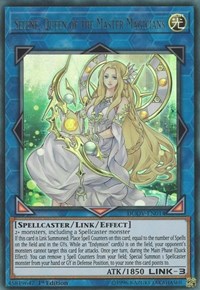 Keep in mind, you'll have to do more than draw an extra card each turn to actually accomplish anything, and that's where the grind really comes in. Fairy Tail - Luna searches another Spellcaster with 1850 ATK and bounces your opponent's cards, all while netting you a draw. Selene, Queen of the Master Magicians is the fastest route to Accesscode Talker, drawing a card in the process thanks to Awakening of the Possessed.
Heck, even Normal Summoning a Familiar-Possessed and dropping Nefarious Archfiend Eater of Nefariousness will dig into your deck while finishing with an Abyss Dweller. Even better, Link Summoning Aussa the Earth Charmer, Immovable gets you another draw. If you can trigger Awakening of the Possessed every turn while chipping away at your opponent, you'll have a good chance of overwhelming them over the long haul.
While hand traps aren't always necessary, you'll need to slow the game down to have a chance when you go second. You'll want to toss in some hand traps like Effect Veiler and Infinite Impermanence so you can setup Awakening of the Possessed and get the ball rolling.
Going First With Extra Charm
All that being said, a deck built just around summoning monsters with 1850 ATK and drawing into better cards wouldn't wow anyone. So while that may be practical going first, it's not exactly riveting.
My favorite card out of Structure Deck: Spirit Charmers, and it's not even a contest, is Awakening of the Possessed - Nefariouser Archfiend. To summon it straight from the deck, you'll need to send away a Spellcaster and an Earth monster. Those are pretty easy requirements when those two qualifications encompass most of your monster lineup.
Not only will Awakening of the Possessed - Nefariouser Archfiend revive a monster when it hits the field, but you'll also get a Possessed spell or trap when it's sent to the graveyard. Just the fact that it exists allows mediocre combinations of cards to make a consistent Link 2 combo that searches Awakening of the Possessed. Not bad, right?
However, it's a Level 5 monster... which at seems to clash with the Level 4 monsters in the deck. Sure, you could make a Link play with it, but what about tapping into other Extra Deck monsters? Bear with me on this, because it's getting a little weird; we're adding in Supay, Duskwalker and Ascator, Dawnwalker
Those two cards work in similar ways: Supay, Duskwalker and Ascator, Dawnwalker let you discard a card to Special Summon themselves, as well as Supay and Fire Ant Ascator from the deck, respectively. Simple Synchro Summons would certainly benefit you, but you could go a step further with Awakening of the Possessed - Nefariouser Archfiend and Ultimaya Tzolkin. Consider this:

Now, when you set Spirit Charmers, you'll trigger Ultimaya Tzolkin and bring out Crystal Wing Synchro Dragon. During your opponent's turn, activate Spirit Charmers, which sets another card from your deck, and use Ultimaya Tzolkin to summon Void Ogre Dragon.

The path's basically the same for Ascator, Dawnwalker, but you'll make Shooting Riser Dragon and send a PSY-Framegear Gamma to the graveyard to fulfill Ultimaya Tzolkin requirements.

Yu-Gi-Oh! TCG Deck - Loukas' Spirit Charmer Deck by Loukas Peterson

'Loukas' Spirit Charmer Deck' - constructed deck list and prices for the Yu-Gi-Oh! Trading Card Game from TCGplayer Infinite!

Created By: Loukas Peterson

Event:

Rank:

Advanced

Market Price: $210.39

Cards

I'll admit, those combos aren't what I first thought of when I set out to make a Charmer deck, but it adds depth to the strategy where the only other real first turn options are typically Abyss Dweller, Fairy Tail - Luna, or setting up Knightmare Unicorn via I:P Masquerena. Deck space is pretty tight, but it's worth it to have Crystal Wing Synchro Dragon and Void Ogre Dragon at your disposal.

Or you could just sit behind Infinite Impermanence and Effect Veiler til you eventually have the resources for Accesscode Talker.

That card certainly does make lots of matchups tons easier, doesn't it?

After adding the cards to make the Ultimaya Tzolkin plays, there isn't much room for any more craziness. Mathematician and Performage Trick Clown exist as a 1-card Link 2 while also fulfilling requirements for Awakening of the Possessed - Nefariouser Archfiend. Various Familiar-Possessed monsters make the cut too, so you can actually bring out a variety of Charmers from the Extra Deck.

Surprisingly, you don't need to stuff your deck with as much Charmer support as possible because just a few copies of most of these cards go a long way. Even Awakening of the Possessed, one of the best cards in the deck, is fine at two, because you'll search it with Spirit Charmers and Awakening of the Possessed - Nefariouser Archfiend search it. It doesn't do much good to overload the deck with redundant cards, does it?

… he says, while advocating for Supay cards.
Charming On A Budget
Thanks to the Structure Deck, and the vast range of reprints in the 2020 Tin of Lost Memories and Gold Series: Maximum Gold, this deck's quite cheap. The most expensive Main Deck card is Infinite Impermanence, and honestly, you could swap that out for Solemn Warning or Solemn Judgement and have another card to set and trigger Ultimaya Tzolkin. Or if you're feeling Ash Blossom & Joyous Spring, that's a good option, too.
I suppose the elephant in the room is in the Extra Deck: Accesscode Talker isn't cheap. But it's a great card to invest in, and the deck won't crumble without it; there are plenty of other cool things to do here, thoughj I'd be lying if I didn't say Accesscode Talker an amazing card.
I mean, who doesn't want to smack their opponent for 5300 damage, ya know?
Back to what I said at the beginning - there are so many Charmer cards that you could easily make another Charmer deck with an entirely different lineup. Grand Spiritual Art - Ichirin could be the focus of an incredibly powerful shutdown strategy, or you could pivot with Secret Village of the Spellcasters.
Heck, with so many different Spellcasters with 1500 DEF or 1850 ATK, I'm sure that almost anything's possible. You can go crazy with this Structure Deck, just don't try and cram everything into one strategy.
In the future, I'd really like to see more cards that tie the Charmer theme together. We already have some removal, some negation, and some draw power, but if new cards encouraged the use of more Charmer-specific stuff, I think it would be much easier to build a deck that respected the entire theme.
If there was a way to encourage the use of the Familiars with 1500 ATK and 200 DEF - like Ranryu and Jigabyte - without being a degenerate force in competition, the deck would have a lot more options. But what do I know? I don't work for KDE… yet.
Just remember: beat your opponents before they beat you.
-Loukas Peterson