Wow, has it really been a whole month already?
The newest Forbidden & Limited List went into effect just a couple weeks ago, and with it came a dynamic change to the format. Combo decks lost a lot of their strength with the hits to True King of All Calamities and Union Carrier. That gave control-based decks a chance to shine, while opening up competition for other decks that just couldn't keep up with the fast-paced combos of Virtual World and Drytron.
The Remote Duel Invitational Qualifiers on Saturday March 20th and Sunday March 21st, as well as the Remote Duel Extravaganza this past weekend, have both helped shape the format into what it is today. The winning decks from those three tournaments have some similarities, but there were some standout picks that nobody saw coming - decks that grabbed a lot of attention, and are sure to grab more in the coming days.
There are a lot of strong decks right now, and a good handful of strategies that you should continue to respect. Let's take a deeper look at all the action in March, and help get you ready for April!
The Decks To Beat
Dragon Link's been the top pick over the last few weeks, and going into the Invitational Qualifiers many players seemed to underestimate just how powerful the deck was. Fast forward to the Extravaganza, and it felt like everybody had adapted with defined plans for the Dragon Link matchup.
Comparing the two RDI Qualifiers with the Extravaganza, we went from having a total of six Dragon Link decks in the two combined Top 8s, to one lone copy of the deck in the Top 16 of the Extravaganza. You can tell that players were more prepared for the matchup, and were taking it a lot more seriously.
Giovanny Vasquez took Dragon Link to a 6th Place finish at the Remote Duel Extravaganza Main Event last weekend. He was the only Dragon Link player to make the Top Cut, and he made some interesting calls with his build that helped get him there.
For starters, the only form of from-the-hand interaction Giovanny was playing were three copies each of Artifact Lancea and Fantastical Dragon Phantazmay. That limited how much interaction he would have with his opponent if he lost the dice roll at the start of a match. Not running Nibiru, the Primal Being in the Main Deck made his Dragon Link matchup harder.
Sometimes seeing a Fantastical Dragon Phantazmay hit the field is enough of a warning for Dragon Link players to pause their combos; if he drew the Artifact Lancea it had the potential to put a full stop on the turn. Artifact Lancea also a strong card against Invoked variants, which were incredibly popular this weekend.
Joining a surprisingly popular trend, Sean Pittman - fresh off his RDI Qualifier win - switched over to running Prank-Kids! Three Prank-Kids decks made it to the Top Cut at the Extravaganza. Hanko actually won the event, and will be writing on his list and his tournament experience tomorrow! Meanwhile Sean Pittman and Pak Pamornsut both chose to play three copies of There Can Be Only One as a counter for decks like Eldlich, Dragons, and Zoodiac. Sean chose to play three copies of Solemn Warning, while Pak opted for three Ice Dragon's Prison as additional sets for Turn 1.
Prank-Kids are great at going first or second, because the deck has enough space to easily run flex spot cards like Nibiru, the Primal Being, Triple Tactics Talent, and There Can Be Only One. The deck can easily Link climb to churn out an Accesscode Talker and attack for game if it needs to. Those extra in-hand monster effects also help when you're forced to go second.
Caleb Venegas was one of four players to pilot a Zoodiac Eldlich variant to success. His list was the most standardized, and it's similar to what you'll probably see at your locals in the near future. The deck's formula is still the same: Venegas chose to main three copies of Forbidden Droplet and Book of Moon to help him deal with problem cards when he was going second. Choosing to only play three hand traps - just three Ash Blossom & Joyous Spring - helped him make his deck more consistent.
Invoked Eldlich has been a popular deck for a while, and as long as I've seen him remote dueling Ian Meltzer has been sticking with this deck. Ian placed high enough at the February Extravaganza to earn his invitation to the RDI Qualifiers earlier this month. He played a similar list to the one he piloted at the March Extravaganza, making a Top 16 finish. This time he managed to score 21 points and get 4th place.
Ian's strategy with the deck is far from standard: he chose to play a set of Magicians' Souls with a copy of Dogmatika Fleurdelis, the Knighted as his high level Spellcaster monster. An optimal opening turn for this list includes one to two Eldlich traps, Aleister the Invoker, and a Magicians' Souls. You summon both Magicians' Souls and Aleister the Invoker, use Magicians' Souls effect to pitch the Eldlich traps and draw two cards, and get Invocation with Aleister the Invoker.
Link those two into Predaplant Verte Anaconda, then activate Invocation using Magicians' Souls and Aleister the Invoker to get Invoked Caliga. Use Predaplant Verte Anaconda effect to summon Red-Eyes Dark Dragoon, and use Invocation to get back the Aleister the Invoker so you can use it as discard fodder for Red-Eyes Dark Dragoon. During the End Phase you can activate the two Eldlich traps to serve as additional forms of interruptions on your opponent's turn.
The lockdown effect of Invoked Caliga, along with Red-Eyes Dark Dragoon negation were good enough to bring Ian to a Top 4 finish and might actually change the way we look at Invoked Eldlich moving forward.
Lyrilusc Tri-Brigade didn't see any success in the last event of March, nowhere to be found in the Top 16 at the Extravaganza. The deck saw limited success at the RDI Qualifiers, with Colby Ng the only player having success with it. The deck's had the opportunity to evolve slightly since the Qualifiers, thanks to the newly legal status of Jack-In-The-Hand in Remote Duels. But the deck still faces the same problems it had last format; a well-timed Nibiru, the Primal Being and Artifact Lancea is a huge problem for the Tri-Brigade deck.
The general strategy for Tri-Brigades hasn't changed: summon Barrier Statue of the Stormwinds and protect it on your opponent's turn, then get rid of it on your own, and attack for game with a flock of Tri-Brigade monsters.
Decks You Should Avoid
It's safe to say that you should shelf your Drytron deck until Lightning Overdrive comes out in June. While it's still consistent and can push out strong boards, Drytron just can't keep up with everything else right now. The deck still loses to cards like Droll & Lock Bird, and it now loses even harder to Nibiru, the Primal Being.
Adamancipators, while they were strong in February last format, are easily pushed aside right now because the deck's so reliant on its first excavation being successful. I tried to make Adamancipators work, but every time my opponent could stop my first excavation my turns were severely impacted. With a deck like Adamancipator, struggling to start your combos is a lot harder than trying to keep them going.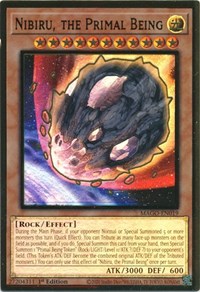 With Artifact Lancea and Nibiru, the Primal Being so popular right now, I'd suggest avoiding decks that outright lose to either card. Most decks have the ability to close out a game on their second turn right now, so unless your deck can play the grind game through Artifact Lancea and Nibiru, the Primal Being, it might be best to set that deck aside for now.
Decks You Should Respect
While Dinosaurs haven't been as successful lately, largely because of Artifact Lancea, the deck still pops up every now and then proving time and time again that Dinosaurs haven't really gone extinct.
Justin Jones took Dinosaurs to a Top 8 finish at his RDI Qualifier and showed just how strong different builds of the deck can be. He ran a wider variety of blowout spells like Harpie's Feather Duster and Raigeki so he could go first or second. When going second, he could activate Raigeki and then chain Forbidden Droplet to help negate any of the cards that Raigeki wouldn't destroy, and then begin doing Dinosaur things to attack for game.
I told a friend of mine that Sky Striker got 2nd Place at the Extravaganza and all he could respond with was, "Sky Striker in 2021…" for like, a solid minute. I kid you not.
With a teched out build optimized to go first or second, Bill Wei was able to finish out the Extravaganza Main Event with a stunning seven wins and a draw, landing in 2nd Place. Bill chose to main not only three copies of Ash Blossom & Joyous Spring, but full playsets of Nibiru, the Primal Being and Fantastical Dragon Phantazmay as well. He wasn't taking any chances with Dragon Link, but he also knew the Artifact Lancea would turn off his Sky Striker Mecha - Shark Cannon on his opponent's turn, so he chose to keep those in his Side Deck.
Most modern Sky Striker decks tend to run a minimal number of restrictive trap cards, like Summon Limit or There Can Be Only One, while others are more reliant on in-hand monster effects for their off-turn interactions (in addition to, you know, all the Sky Striker Quick-Plays). Sky Strikers have been a fan favorite deck since their release, so expect to see more and more players summoning Sky Striker Ace - Raye in upcoming tournaments.
The Unchained deck core's pretty inexpensive, sine almost every key card was reprinted in the 2020 Mega Pack. It's likely that you've already seen this deck floating around your locals before. Unchained is unique, and it got a lot of hype when it was first announced in the OCG, but it never quite lived up to it over here in TCG territory.
The premise of Unchained is to use effects to destroy your own cards on the field; it sounds counterproductive, but destroying your own stuff actually triggers your monster effects. Those effects help you generate card advantage and momentum, eventually leading into Unchained Soul of Rage. Both Unchained Soul of Rage and Unchained Soul of Anguish have a similar effect that lets you Link Summon on your opponent's turn, using your opponent's monsters! That means you can Link climb into cards like Unchained Abomination or Accesscode Talker.
Never in my life did I think I'd be discussing Cubics in a competitive article. Cubics first debuted in the Dark Side of Dimensions Movie Pack as the strategy that Aigami used throughout the movie, but they've almost never seen tournament play. When they were released they caused Blue-Eyes strategies to become popular, and by the time we were done wishing we were Kaiba the next best deck had rolled around, and Cubics kind of just sat and collected dust.
A lengthy phone call with my brother quickly explained what the deck did for me, so let me relay that information to you. Cubics aim to summon Crimson Nova the Dark Cubic Lord and making it gain big ATK by using Cubic Wave (which doesn't have a once-per-turn restriction). Crimson Nova the Dark Cubic Lord a 3000 ATK monster that can effectively attack twice, and then during the End Phase it deals 3000 damage to both players.
By using two Cubic Wave you turn Crimson Nova the Dark Cubic Lord into a 12,000 ATK behemoth that attacks twice and burns for 3000. The crazy thing about the Cubic deck is that everything's searchable, because all of the spells and traps have graveyard-based searching effects. While the deck's fragile, once it gets started it's hard for an opponent to stop, and it finishes the game in a single turn.
This format continues to surprise everybody! Even though Dragon Link's still considered one of the best decks, people are getting used to it and are learning to take advantage of the choke points in its key plays. Dragon Link didn't see as much success last weekend, but it'll continue to be successful in tournaments everywhere. Tri-Brigade Lyrilusc is in a similar situation: it didn't see any Top Cut seats in the Extravaganza, but it's still a popular deck, especially with Jack-In-The-Hand now legal for Remote Duels.
In two weeks the next Remote Duel Invitational will pit the sixteen invited players from the RDI Qualifiers against each other, duking it out for the chance to become the King of Games! What decks they'll play there is still a mystery. The format's ever-changing, the number of viable decks keeps growing and growing, and April's sure to shift competition in some way with the release of Ghosts From the Past.
The New Dragunity cards are sure to be popular with Dragon strategies, and Firewall Dragon release from the Forbidden List is sure to shake up Cyberse strategies everywhere. We'll just have to wait and see what happens in the coming weeks!