Didn't we just have one of these? I can't believe that a month's already gone by! Maybe it's just me getting excited for summer vacation? Or maybe it's the fact that the Blazing Vortex season is finally coming to a close, and Lightning Overdrive comes out in just a couple days!
May was certainly an interesting month for competition: in the last few weeks, we saw metagames begin to shift more to the future of what we expect to see post-LIOV. Dragon Link continued to see some success, while other decks started to creep up trying to take its spot as the best deck. Zooodiac Tri-Brigade's started seeing more play, and Prank-Kids are continuing their zany combos.
There were quite a few decks that saw success this month; some of them had more showings, while others caught us up by surprise! Here's a glimpse into what kinds of decks were winning in May.
The Decks To Beat
As proven by Isaac Jackson at the RDI Qualifiers this month, Dinosaurs are far from extinct. Dinos continue to pack a strong punch: the deck easily breaks through boards going second, with monsters like Red-Eyes Dark Dragoon and Ultimate Conductor Tyranno, two of the biggest boss monsters in the game right now, crammed into one deck that turbos them out like it's nothing. The core strategy hasn't changed in a while, thought the addition of Red-Eyes Dark Dragoon is a newer option to help play around cards like Artifact Lancea, helping the deck push for game even more.
With Lightning Overdrive, Dinosaurs finally get the long-awaited Scrap Raptor. This new support for the deck opens up a multitude of new combos, including the ability to Synchro Summon powerful cards like Naturia Beast or even Borreload Savage Dragon! Powerful synchros alongside Apollousa, Bow of the Goddess and Ultimate Conductor Tyranno will make for some oppressive boards as Dinosaurs move into the future.
Starting off the month strong, Edgar Cabaña won the Latin American Remote Duel Invitational with his Invoked Shaddoll deck. Edgar gave us a detailed report of what happened at the Invitational and went further into Cabaña's list. Invoked and Shaddoll monsters continue to mesh well as they both rely on Fusion Summoning powerful monsters like Invoked Mechaba and El Shaddoll Winda.
While Invoked Shaddoll excels going first, it doesn't struggle when it loses the dice roll. The cards in the deck all have straight-forward uses that aren't necessarily situational, and they should always be live. Having all of your cards always playable is what makes the deck so good.
Speaking of decks where your cards are almost always live: Dragon Link! The top deck-to-beat continues to see tournament success, and while it's finally started to bleed popularity, it hasn't waned in power at all over the last month.
Drago Link hasn't changed much aside from optimizing the numbers of select monsters it runs, to make room for different numbers of others. Some lists play just one Chamber Dragonmaid, others play three. For the most part, the Phantom Knight build has fallen off and the Chamber Dragonmaid variant has reigned supreme.
Prank-Kids can't stop pranking tournaments with their wacky combos. The Prank-Kids deck has become more refined, similar to Dragon Link. The numbers for the key cards are all locked in place, and the rest of the deck has become flex spots for cards like Book of Moon or There Can Be Only One. Daniel Palchik finished in the Top 4 of his RDI Qualifier as one of the three Prank-Kids players in the Top 4 for the event, then the next weekend he won the entire Extravaganza by going undefeated with only a few changes to his list.
Prank-Kids get so much power from the fact that the deck only needs to see one Prank-Kids monster to get their combos started. It feels very reminiscent of older Zoodiac formats back when Zoodiac Ratpier wasn't on the F&L List. Once a Prank-Kids player has access to a single monster, they can set up their full combo thanks to the Link-1 Prank-Kids Meow-Meow-Mu (as long as their opponent doesn't have the Ash Blossom & Joyous Spring).
The last "Deck to Beat' is the Zoodiac Tri-Brigade strategy. Tri-Brigades have been seeing pretty consistent tournament play since they were released in Phantom Rage. But this new variant of the deck really shines with the hype of Lightning Overdrive. Zoo-Brigade will continue to see play going into the month of June, as it gets the ability to search out the game-changing Tri-Brigade Revolt with Tri-Brigade Bearbrumm the Rampant Rampager.
I wrote about the new version of the Zoo-Brigade deck earlier this week, so I won't be spending that much time on it now. Just know that this deck is going to see significantly MORE play next month than it did this month, and it already saw a TON of play this month.
Decks To Avoid
The state of the game hasn't changed much since last month. Combo and control decks are still seeing the majority of tournament success. Keeping that in mind, I'm going to continue to avoid decks like Infernobles, Phantom Knights, and Heroes. Even though they can make insanely powerful boards that are difficult to break, they're lacking when it comes to recovery.
Using Heroes as an example, if you manage to break their board with something like Nibiru, the Primal Being or Dark Ruler No More they're going to have a hard time coming back from whatever board you create yourself.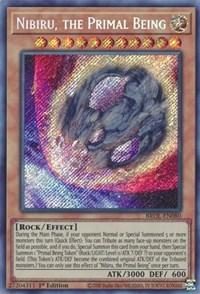 Don't get me wrong, I love Infernobles and Phantom Knights, but I have them sitting in my deck boxes right now waiting for their time to shine again. There are some builds of Phantom Knight and Infernobles that have seen success in Europe, but it's hard to gauge just how well they would do at larger events in our metagames.
Decks To Respect
There were a TON of cool decks that each did their own thing this month. Each of them is seeing minor success here and there, and they aren't really the most represented, but their success is enough to keep them on the radar.
Numerons continue to be an ever-present threat, with ability to quickly OTK going second or to set up a powerful 4-negate Apollousa, Bow of the Goddess while drawing multiple cards from Memories of Hope. It's something to keep in mind as you prepare your Side Deck. It's still easily countered with Ghost Ogre & Snow Rabbit, but that's one of the handtrap effect monsters that isn't seeing much play right now.
Virtual World shenanigans continue to bring success to those that stand by the deck. When it comes to decision trees and overall power ceiling, Virtual World's still one of the more complex decks to pilot. It has an amazing grind game thanks to cards like Virtual World Gate - Chuche, which lets you shuffle back your banished resources, and as long as you can get Virtual World Gate - Chuche up early you're never really out of the game.
Altergeist cought everyone off guard at the Remote Duel Extravaganza! This build wasn't the trap deck everyone was expecting, which is what made it such a good call for the tournament. Altergeist's strategy is still the same: slowly chip away your opponent's resources with cards like Altergeist Meluseek and Altergeist Silquitous, without draining your resources on big pushes. Add powerful trap cards like Solemn Strike and Solemn Judgment along with Torrential Tribute and you have a recipe for success.
The easiest way to stop Altergeists is to shut them down as quickly as possible. Once they start going it's like a snowball effect, and the deck gets vastly tougher to fight.
Another deck you wouldn't expect to see in today's meta was a Mystic Mine strategy that focused on resolving Final Countdown and seeing those 20 turns through to victory.
This might have been a one-off success as many players were just starting to Main Deck spell and trap removal in preparation for Tri-Brigade; many of this deck's wins came from cards like Prohibition and Field Barrier, used to protect Mystic Mine since Goddess Skuld's Oracle isn't legal for Remote Duels.
Madolches! They didn't make the Top Cut at the Latin American Remote Duel Invitational, but the fact that Jorge Izaguirre chose to pilot the deck says something all on its own. Madolche's typically a deck that prefers to go second, but can still set up a strong board going first. With access to one of the best Xyz Monsters ever, Madolche Queen Tiaramisu, the deck can sweep away boards faster than others.
Looking To Next Month
May marks the end of the current format as we know it. On June 4th the new core set, Lightning Overdrive, will be legal. LIOV brings new support for a bunch of decks, including one that didn't see any success this month, but will definitely be successful next month: Drytron.
We haven't really seen Drytron doing anything in competition since April, when it won one of Europe's Remote Duel Extravaganzas. But Drytron will get tons of support in just a few days, thanks to Diviner of the Heralds and Drytron Mu Beta Fafnir. These two cards will make up for Cyber Angel Benten being Limited and Union Carrier being forbidden.
Tri-Brigades will get Tri-Brigade Bearbrumm the Rampant Rampager which is speculated to give that deck the power to finally dethrone Dragon Link as the definitive "Best Deck" of the format. Live☆Twins will receive support too, as the highly anticipated Live Twin Ki-sikil Frost finally debuts. It's Christmas in June if you ask me!
June is set to be an awesome month for Yu-Gi-Oh! with Lightning Overdrive and the Egyptian God Decks coming out, along with that we have a Remote Duel Invitational and another Extravaganza toward the end of the month. It'll be a great way to kick off a summer of dueling!