Tons of events played out over the course of 2021, and it's finally time to sit back and take a look at what decks dominated the competition throughout the year! Some of these decks have drifted in and out of the competitive scene over the last twelve months, while others have been consistent players at virtually every event, year in and year out.
Narrowing down the best decks from all of 2021 was no easy task; we all have our own opinions about what decks are really the best, and which ones are just one-hit-wonders. But unlike my list of overpowered cards, my list of the best decks doesn't have any specific order.
In no specific ranking, these were the decks that defined the year in dueling.
Banish Any Number Of Beast, Beast-Warrior, And/Or Winged Beast Monsters…
While the Tri-Brigade theme didn't debut in 2021, Tri-Brigade didn't really start picking up steam in the competitive landscape until product-hover id="228244" gave us Tri-Brigade Kitt. Just having the extra Tri-Brigade name to special out different Link Monsters is great, but the deck didn't really start off as a contender on its own. Throughout most of 2021, Tri-Brigade's only seen success when it was paired with another theme to supplement the Tri-Beast types.
Some of the first tournament success that Tri-Brigade saw was actually combined with Lyrilusc monsters! The first iteration of Lyrilusc Tri-Brigade actually goes all the way back to early 2021 with Yishan McNabb and Kyle Waterbury both playing the deck at the February Remote Duel Invitational.
Originally, the deck was designed to summon Barrier Statue of the Stormwinds and protect it as long as possible, until you could knock your opponent's LP down to 0. Over time, the Lyrilusc variant of the deck saw less and less play, and people started migrating towards a more trap-oriented build to prepare for product-hover id="231515" introduction of Tri-Brigade Bearbrumm the Rampant Rampager.
Lyrilusc Tri-Brigade eventually evolved into the modern build that we've seen in tournaments, like we saw in the Top 4 of the recent European YCS.
Lyrilusc Tri-Brigade now centers around an oppressive board featuring Ancient Warrior's Oath - Double Dragon Lords, Mist Valley Apex Avian, and Number F0: Utopic Draco Future. Combining all three of them makes for stronger boards than the original build that Waterbury and McNabb first piloted. Ever since product-hover id="240556" dropped, this variant of Lyrilusc Tri-Brigade has been consistently topping Remote Duel Regionals left and right.
Pure Tri-Brigade lists have evolved over time, changing from what we saw over the summer, when those decks were designed to just churn out Apollousa, Bow of the Goddess and Tri-Brigade Revolt plus various other interruptions. The most recent builds of Tri-Brigade that can be considered "pure" are also sporting a Destiny HERO - Destroyer Phoenix Enforcer package to add further disruptions, since Apollousa, Bow of the Goddess and Tri-Brigade Revolt don't always cut it anymore.
Of all the Tri-Brigade variants the absolute BEST one from this year has to be Zoodiac. Even before Tri-Brigade Bearbrumm the Rampant Rampager was released many Tri-Brigade players were running a small Zoodiac engine to fuel their boards, thanks to Zoodiac Drident and Divine Arsenal AA-ZEUS - Sky Thunder. Zoodiac Tri-Brigade was the most successful variant of Tri-Brigade from Tri-Brigade Bearbrumm the Rampant Rampager release, pretty much all the way until Zoodiac Drident and Zoodiac Barrage were Forbidden. Samuel Chung showed demonstrated that at the Remote Duel Invitational, where he took 1st Place with an awesome build of Zoo Tri-Brigade.
Spheres & Tidying For Game
Dragon Link's been one of the strongest decks for I-don't-even-know-how-long. At the end of June, the deck lost Guardragon Elpy to the Forbidden List, but the deck's continued to see play throughout the year even without it.
The most successful Dragon Link list from this year actually comes from Esala Wathuthantrige when he won the April Remote Duel Invitational here in North America. His build showed just how incredible the deck truly was at full power.
Since Elpy went away and Striker Dragon was limited to 1 copy per deck, Dragon Link's struggled to keep up in modern tournaments, with most competitive players finally starting to step away from it. But Darren Dyal proved a lot of players wrong, including myself, when it came to the status of Dragon Link, taking 2nd Place at the Remote Duel YCS right behind Pak Pamornsut.
Dyal's updated version of Dragon Link was designed to play as more of a mid-range style deck rather than a heavy "break my board" combo strategy. Sometimes just setting up a play as simple as Hieratic Seal of the Heavenly Spheres with Dragonmaid Tidying and a couple of hand traps would be enough for it to take the win in various matchups.
Other modern builds took to running copies of Rivalry of Warlords in the Main Deck, since Prank-Kids and Tri-Brigade were so popular throughout the year. Rivalry of Warlords shuts down both of them pretty well. Since the Prank-Kids deck isn't seeing as much play anymore, most Dragon Link decks have taken to cutting Rivalry of Warlords to the side deck if anything.
Pandemonium, Summon Butler?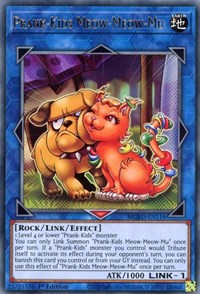 Speaking of Prank-Kids! product-hover id="220329" gave us Meow-Meow-Mu at the end of 2020, and it helped the Prank-Kids deck run rampant, terrorizing tournaments thanks to a 1-card combo where all you need is any one on-theme monster.
Prank-Kids were known for being an obnoxiously consistent combo deck, and they still continue to sneak into Top Cuts at different Remote Duel Regionals across the country. Since the core engine for Prank-Kids is so slim, the deck can take advantage of all the space it has for multiple different hand traps and Crossout Designator.
Prank-Kids is sure to pick up steam again next year when product-hover id="257383" brings new indirect support with the Adventurer Token deck theme. Once it has access to the new cards, Prank-Kid will probably becom one of the most played decks of the next format.
Normal Summon Aleister?
Dogmatika Invoked has been a staple in the competitive scene as the closest thing to a rogue Tier 1 deck we currently have.
While the deck hasn't won any recent events in North America, it did win a Remote Duel Invitational in Latin America. That brought interest back to the deck and made a lot of players remember just how strong El Shaddoll Winda and Invoked Mechaba can be. The two cards work together to simplify the game as much as possible.
Modern Dogmatika Invoked decks have been adding the Destiny HERO - Destroyer Phoenix Enforcer package into the mix to control the game even more, alongside El Shaddoll Winda and Invoked Mechaba. Because of that new addition, Dogmatika Invoked has been slowly topping more and more events ever since BODE was released.
Drytron's Infinite Negates
Drytron took a break from the limelight of competition for the first half of 2021, in the span where Cyber Angel Benten was at 1 and we were still waiting on product-hover id="231515" to be released. Once LIOV hit shelves Drytron jumped right back up to the top of the competitive scene. It was dominating competition for quite some time before Eva went to 1, the only real hit to the deck on the latest F&L List.
A pure Drytron deck managed to make it all the way to 1st Place in the October Remote Duel Invitational. Denis Nadas used his Herald of Perfection Drytron deck filled with full sets of consistency cards like Preparation of Rites and Pre-Preparation of Rites to make sure he always had playable hands.
After Eva went to 1 the deck still saw plenty of play because it's just so consistent. Drytron can still churn out ridiculous boards when it opens with Drytron Alpha Thuban and Drytron Zeta Aldhibah. Since Drytron already had the ability to play Red-Eyes Dark Dragoon, it only made sense for the deck to adapt with the release of Destiny HERO - Destroyer Phoenix Enforcer. In fact, just about every Drytron deck SINCE Destiny HERO - Destroyer Phoenix Enforcer has come out, has been playing it over Red-Eyes Dark Dragoon.
Drytron's been slipping off the radar a bit as more people are switching back to playing high-impact hand traps like Nibiru, the Primal Being and Droll & Lock Bird alongside board breakers like Dark Ruler No More. Drytron can definitely continue to steal wins at tournaments and has even been consistent in topping multiple Remote Duel Regionals since BODE came out.
It's Virtually Free!
Virtual World has been out all year long! The craziest thing? It's been consistently seeing play all year long too. At the start of the year, True King of All Calamities was still legal and most Virtual World decks could actually churn out not one, but two copies of Calamities every game.
Virtual World had the ability to set up multiple copies of True King of All Calamities, which was a menace for basically every deck in competition. With multiple copies of True King of All Calamities on the board, it made the tournament experience pretty bleak; it was hard to actually play the game if you lost the dice roll to Virtual World.
After True King of All Calamities took a trip onto the Forbidden List, where it will hopefully stay forever, Virtual World adopted a new strategy to summon Red-Eyes Dark Dragoon, which most builds are still doing to this day. Virtual World still puts up powerful boards since Virtual World Kyubi - Shenshen is a walking Macro Cosmos, and Virtual World Gate - Chuche is still a searchable Zoodiac Drident. The deck's even taken the opportunity to adapt to new strategies, letting it branch out of the Level 3, 6, and 9 markets that it was normally confined to.
All in all, this year was a rollercoaster for competitive Yu-Gi-Oh. In the Remote Duel scene we had an Extravaganza almost every month, two Remote Duel YCS weekends, plus tons of amazing tournaments for awesome prizes like the OTS Championships back in the Fall.
What decks are you most looking forward to next year? Do you think I missed any of the top contenders from this year? Let me know on Twitter when you get a chance! Happy holidays duelists!