As the year comes to a close it's always fun to look back at everything that came out in the last twelve months.
This year gave us sixteen different releases in Yu-Gi-Oh. Sets like product-hover id="229657" and product-hover id="246446" gave collectors lots of shiny premium cards to chase, as well as tons of much-needed reprints for players and some new additions to the card pool. Structure Decks and side decks filled in the gaps between the year's four core sets: product-hover id="228244", product-hover id="231515", product-hover id="241145", and finally product-hover id="243716".
With so many releases and so much new material, the question that some crazy duelists like myself ponder on a daily basis, is… What are the most overpowered cards of 2021?
I took some time to dig through the countless new cards that were released this year, narrowing it down to my personal Top 10. At first I tried to go for an even spread of five competitive cards and five that were non-competitive, but still impressive. It really ended up being an 8-2 split: eight of these cards have seen consistent tournament success since they were released; the other two haven't seen tournament success yet, but their effects make them absolutely crazy in the right strategies.
Without further ado, here are my picks for the 10 Most Overpowered Cards of 2021!
#10 Soul Crossing
Coming out of this summer's Egyptian God Decks, Soul Crossing is the first card I want to mention. While it's seen little to no tournament success, it's such a powerful card and it has such an amazing effect. As a Quick-Play Spell, you can technically activate it on either player's turn given the right set-up. Its effect lets you Tribute Summon a Divine-Beast monster after it resolves, and when you conduct that Tribute Summon, you can use any number of monsters your opponent controls for the tribute.
Is Soul Crossing viable in the competitive landscape? Probably not. But you could easily make an argument that it could be! Numeron Slifer decks were somewhat popular at the local level over the summer, thanks to the additional support from the Egyptian God Decks. You can draw lots of cards thanks to Memories of Hope. The Numerons limit how many summons can happen on your turn, so you use Soul Crossing to drop Slifer the Sky Dragon onto the field during your opponent's turn instead! Typically you'll play Saryuja Skull Dread or Apollousa, Bow of the Goddess too, to supplement the almighty Egyptian God Card.
#9 Cupid Pitch
As a new card that lends itself to degenerate Synchro combos with Mecha Phantom Beast Auroradon, Cupid Pitch was one of the most hyped free agent cards from product-hover id="243716", but it hasn't really had a chance to shine in the competitive scene just yet, due to the fact that the biggest decks in current metagames aren't centered around Mecha Phantom Beast Auroradon.
Cupid Pitch is a unique monster, because while it's summoned as a Level 4 Synchro Tuner, it can never really be used as one. The on-summon effect of Cupid Pitch forces it to either gain or lose Levels equal to the level of the Tuner used to summon it. Most of the combos people have been trying with Cupid Pitch use Deskbot 001 as the Tuner, which means that Cupid Pitch is always going to be a Level 3 or Level 5 monster for the sake of Synchro Summoning. When used in conjunction with your two other Mecha Phantom Beast Tokens, you have the ability to make Level 6, 8, 9, or even Level 11 Synchro Monsters like Trishula, Dragon of the Ice Barrier, or Borreload Savage Dragon!
The coolest thing about Cupid Pitch is that it also lets you search for a Level 8 or lower monster with exactly 600 DEF when you use it for a Synchro Summon. That gives you access to more extenders like Creation Resonator, or even combo finishers like Destiny HERO - Plasma! While it's only a common card from the latest core set, Cupid Pitch has tons of potential and is a likely candidate for a future Super Rare slot in an OTS Pack.
#8 Diviner of the Herald & Drytron Mu Beta Fafnir
product-hover id="231515" came out in June, and the long-awaited Diviner of the Herald appeared as one of the OCG imports in the back end of the set. Drytron Mu Beta Fafnir was a standard card that was a part of the OCG's release, and we knew we'd be getting it in our version for months. Both cards were highly anticipated for how they would affect the Drytron strategy. Both became some of the most sought-after Secret Rares from the set.
These two cards are tied on this list because of their impact on Drytron. Drytron Mu Beta Fafnir and Diviner of the Herald are both insanely powerful cards that boost the deck's consistency, which is an even bigger deal than it might be elsewhere, since the deck's reliability took such a hit when Cyber Angel Benten was Limited. Diviner of the Herald gives you the ability to search out Benten or any other Ritual Monster by dumping Herald of the Arc Light.
Drytron Mu Beta Fafnir dumps any Drytron card when it's summoned, but that isn't the reason it's overpowered. Its second effect lets you use any Drytron monster attached to it as an Xyz Material for Ritual Summons. That basically breaks the way the game works, since Xyz Materials aren't considered to be monsters on the field. Being able to use them as tributes for a Ritual Summon is bonkers. In short, these two cards are the entire reason that Drytron's continued to be successful in tournaments.
#7 Crossout Designator
After months and months of us begging for a TCG release, Crossout Designator finally arrived stateside in the product-hover id="241346". It was talked about ever since it premiered in the OCG, debuted here with a huge price tag, and saw almost no play right off the bat. Now, two and a half months later, it's finally starting to appear all over Top Cuts.
Since Crossout Designator has the ability to perfectly counter mirror matches, it shines best in single deck formats with lots of mirror matches. Unfortunately, since we've been in multi-deck formats ever since it came out, the card hasn't had the chance to make as much of an impact as everyone thought it would. It's largely been seeing play in small-engine combo decks like Prank-Kids and on occasion Phantom Knights. Those decks mainly use it to play around damaging hand traps like Nibiru, the Primal Being or Ash Blossom & Joyous Spring.
As new decks come out in the future and new strategies arise, Crossout Designator is sure to become one of the most powerful cards in the competitive landscape.
#6 Number F0: Utopic Draco Future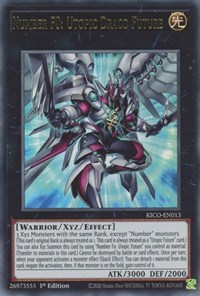 product-hover id="236330" gave us Number F0: Utopic Draco Future, currently seeing the most play in Lyrilusc decks. Number F0: Utopic Draco Future a super-strong Xyz Monster that has 3000 ATK and can't be destroyed by battle or card effects! The only real way to get rid of it is to remove it from the field with a Kaiju, or with something that banishes it.
Number F0: Utopic Draco Future effect lets you negate any monster effect that is activated, and if the monster was on the field you get to take control of it permanently. Not until the end of the turn. Permanently. That monster stays on your field until it's not on the field anymore.
Unfortunately, Number F0: Utopic Draco Future not a monster negate that can hit the board before you hit five summons, but what it does do is potentially force your opponent to activate Nibiru, the Primal Being before you commit too much to the board. Especially in decks like Lyrilusc, where you can summon it before actually Normal Summoning a monster.
#5 Lyrilusc - Bird Call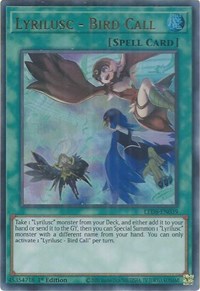 One of the cards on this list to come from product-hover id="240556", Lyrilusc - Bird Call is the main reason that Lyrilusc is as popular as it is in the competitive scene right now. It's a multi-purpose utility card that's also a searchable 3-of in its theme.
Lyrilusc - Bird Call can search any Lyrilusc monster and either add it to your hand or send it to the graveyard. Afterward, you have the opportunity to Special Summon a different Lyrilusc from your hand. It lets Lyrilusc players have either a starter or an extender, all in one card. If your combo started without using Lyrilusc - Turquoise Warbler, you can then search it out with Lyrilusc - Recital Starling and then use Lyrilusc - Bird Call to search out any other Lyrilusc and Special Summon the Warbler from hand. You trigger its effect to summon another Lyrilusc, and easily get more birds for your buck.
#4 Baronne de Fleur
The other Top 10 card to come out of product-hover id="240556", Baronne de Fleur is one of the reasons that Tenyi Swordsoul immediately hit the ground running as one of the best decks of the format. A generic Level 10 Synchro that offers negation, destruction, and recursion all in one package is just out of this world. Lots of different Synchro decks are popping up in tournaments now, and this card's the biggest reason why.
Tenyi Swordsoul's currently the most powerful deck that can summon Baronne de Fleur. It's just too easy to summon Swordsoul Strategist Longyuan and put the Level 10 powerhouse onto the field. The deck can make that play consistently because it chain blocks cards like Ash Blossom & Joyous Spring as a standard part of the basic Swordsoul combo: you Synchro away Swordsoul of Mo Ye into Swordsoul Grandmaster - Chixiao and have Swordsoul Grandmaster - Chixiao be Chain Link 1, while Swordsoul of Mo Ye is Chain Link 2. That way, Swordsoul Grandmaster - Chixiao can search out Swordsoul Strategist Longyuan.
Other decks are also able to summon Baronne de Fleur fairly easily too. Earlier I mentioned that you can use Mecha Phantom Beast Auroradon for Cupid Pitch combos, but you can also use it to easily summon Baronne de Fleur, without even summoning Cupid Pitch. Just use the Deskbot 001 and the three Mecha Phantom Beast Tokens to make the Synchro. From there you can use any supplemental combo pieces that you might have to further build your board.
#3 Tri-Brigade Bearbrumm the Rampant Rampager
Along with bringing support to Drytron, product-hover id="231515" introduced the card that skyrocketed the Tri-Brigade deck to the top tables non-stop since June. It gave the Tri-Brigade strategy a way to search out the deck's strongest card: Tri-Brigade Revolt.
Tri-Brigade Bearbrumm the Rampant Rampager and Tri-Brigade Kitt are the two most played cards in Tri-Brigade, but between the two, Tri-Brigade Bearbrumm the Rampant Rampager made a bigger impact simply due to its ability to search out Tri-Brigade Revolt. Originally seeing play mainly in Zoodiac Tri-Brigade and Pure Tri-Brigade builds, it's become the finishing piece to the Tri-Brigade combo, Link Summoning Apollousa, Bow of the Goddess using it, and Tri-Brigade Ferrijit the Barren Blossom. You wind up getting two negates from Apollousa, Bow of the Goddess and the interruption from Tri-Brigade Revolt summoning Tri-Brigade Shuraig the Ominous Omen. Even in the current builds of D-HERO Tri-Brigade, once Destiny HERO - Destroyer Phoenix Enforcer is summoned it can destroy Tri-Brigade Bearbrumm the Rampant Rampager to get the search for Revolt.
#2 Pot of Prosperity
Hard to think that this card is almost a year old, right? Pot of Prosperity one of the best spells in the game, the perfect mashup of Pot of Extravagance and Pot of Duality. Meeting halfway between the two makes the card just so much better. Instead of Pot of Extravagance random 3-or-6 banishes for 2 cards, Prosperity lets you pick your banishes in exchange for only 1 card. The bonus comes from the Duality-esque effect that lets you excavate cards up to how many you banished.
Pot of Prosperity fits into just about any deck. That's huge because lots of combo decks can't play cards like Pot of Desires because they run the risk of banishing must-have combo pieces. Don't tell Zach, but sometimes Pot of Duality isn't always the right call. Pot of Extravagance is another card that functions in this same capacity; decks that are designed for the grind game, stuff like Altergeist, don't always get to justify playing Pot of Duality.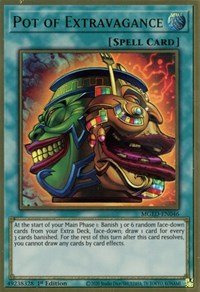 Combo-heavy decks are also typically reliant on the Extra Deck, so they can't risk the random banishes of Pot of Extravagance. All these different factors hindering other Pot spells just serve to make Pot of Prosperity that much more attractive, making it the superior Pot spell in most decks. Look at Drytron for instance! Without Pot of Prosperity the deck's only way to draw cards is Drytron Delta Altais.
The biggest advantage to Pot of Prosperity is the fact that you get to PICK the card that you add to your hand. From the potential six cards you reveal, you get to choose a board breaker, a silver bullet from your Side Deck, or the combo piece you need to play out your turn. Pot of Prosperity would have almost certainly taken the #1 spot for the most OP card of 2021 if it weren't for one of the newest cards to come out in Burst of Destiny…
#1 Destiny HERO - Destroyer Phoenix Enforcer
I think to say Destiny HERO - Destroyer Phoenix Enforcer is overpowered would be an understatement. This year's version of Red-Eyes Dark Dragoon is by far more powerful and intimidating. Having the ability to interrupt your opponent without discarding any cards, just by destroying itself? Busted.
Destiny HERO - Destroyer Phoenix Enforcer fits into so many more decks than Red-Eyes Dark Dragoon, which is just what makes it so powerful. In Sky Striker, it can clear itself from the board whenever you need it to so you can turn on your Sky Striker spells. In Dogmatika Invoked it adds to your disruptive board alongside Shaddoll Schism and Dogmatika Punishment. Decks like Phantom Knights can use it in conjunction with Artifact Dagda to easily trigger the effect of Artifact Scythe on their opponent's turn, too.
Destiny HERO - Destroyer Phoenix Enforcer is splashable in so many different decks that calling it the most powerful card of 2021 is an easy call. Pot of Prosperity the only card that really contends with it for that title, because of that card's sheer versatility. But the biggest thing that Destiny HERO - Destroyer Phoenix Enforcer has over Pot of Prosperity is that you can play it at the start or the end of your turn to precede or finish your combos.
2021 was a wild year for Yu-Gi-Oh, and as it comes to a close it's time to start looking forward to everything coming out next year. product-hover id="257383" is going to bring us the Brave Token theme, which is sure to see play in loads of different decks. product-hover id="257389" is the next core set, coming out after Creators. If you have other ideas on some of the best cards from this year feel free to reach out to me on Twitter to tell me about them! Until then, Happy Holidays, duelists!