This weekend I played at the first Remote Duel Invitational of 2021!
To get to that prestigious event, every competitor had to win their way through several challenges. First, you had to compete in a Remote Duel Extravaganza Main Event or Remmote Duel Yu-Gi-Oh! Day tournament to earn a spot in the Remote Duel Invitational (RDI) Qualifiers. From there, you had to compete in your region's RDI Qualifier, battling it out against other players who'd also earned their invites. Because those Qualifiers were invite-only events themselves, they were pretty competitive, and only the Top 2 players from the RDI Qualifiers would move on. Top finishing duelists also won prizes like Nintendo Switch systems, exclusive Yu-Gi-Oh swag, and booster packs, on top of locking a seat in the Remote Duel Invitational.
If you missed it, the Invitational itself is a big deal, live streamed across two days and awarding that sweet title of "King of Games". There were also lots of prizes, including Championship Prize Cards for the Top 4 - copies of Duel Link Dragon, the Duel Dragon (SR)
With only sixteen competitors facing off, the Remote Duel Invitational may sound easy. Sixteen players? And all you've gotta do is make the Top 4 to get to Day 2? Sounds like an every-day locals, right? Well, what you've gotta remember is that you're up against fifteen other players who are just as good as you are, since they went through the same double-qualifying process to earn their seat. Everybody competing were high caliber players who understand what it takes to be consistent, creating the most optimal builds and making the best moves all weekend long.
The Invitational had BIG names, like UDS Champion Cameron Neal and YCS Champion Kamal Crooks, and impressively consistent players such as Ruben Penaranda and the Gren Maju pioneer, Yishan McNabb. It was a really tough field, and with so few rounds the pressure was really on.
I was able to get this far by topping multiple Extravaganza Main Events with Dinosaurs and Eldlich, and I followed up by winning my region's Invitational Qualifier with Prank-Kids! If you didn't see that a few weeks ago and you want to check it out, you can read all about it here on Infinite.
I was really hoping to stick to Prank-Kids for the Invitational and represent the deck, and I worked really hard trying to theory out what the best way was to adapt to new trends. Drytrons were falling out of popularity and a lot of top players were on the same page, acknowledging that Virtual Worlds are just that good, comparing them to the likes of Dragon Link at its peak (when Linkross was still legal). There were also lots of players teaching or coaching other duelists on how good Virtual World combos are, so it was clear that I had to adapt.
Unfortunately it seemed like Prank-Kids just couldn't do it. Or maybe it was me. I found that I could play all the proper anti-meta cards to not lose to True King of All Calamities, but it was near impossible for Prank-Kids to play against a Virtual World Kyubi - Shenshen in a cost-effective way. It was also unlikely that I could keep Mystic Mine on the field in that matchup, since Virtual World Gate - Chuche exists.
So, if you can't beat 'em? Join 'em.
One of the many questions I asked myself was whether or not the events of the weekend might influence the next banlist. That answer probably doesn't matter. But if there was even a slightest chance that they might, I should do my part to add to the statistics and play the most ban-worthy cards. I'm sure I'm not the only player out there that's had enough of True King of all Calamities, especially since it's so easy for Virtual World to combo out one, or even two of them on Turn 1. It's literally a Number 16: Shock Master that also stops your opponent from attacking.
So after constantly losing to my playtest partner Mike Thomas, who you might remember as the winner of a recent Giant Card event in January, I figured I should give Virtual Worlds a go. Maybe even try and make the deck better! Luckily my friend Nicholas Massinen was able to lend me his Virtual Worlds for the weekend, since he wasn't using the deck himself. After finding a couple other missing cards I was set.
Virtual World Oto-Hime - Toutou A lot of players have already seen how the OCG adapted when the new Virtual World cards arrived. Virtual World Oto-Hime - Toutou and Virtual World Gate - Xuanwu are both played as one-ofs, and they just give the deck more options in combo sequences. So after reading them, I figured that it might be better to play the deck with an engine that could supplement the downside of always sending a card with the graveyard effects of Virtual World Gate - Qinglong and Virtual World Gate - Xuanwu.
The engine I experimented with just so happens to be searchable by Foolish Burial Goods as well, which the deck was already playing. That engine? Volcanics! Blaze Accelerator Reload with Volcanic Shell and Volcanic Scattershot make for a deadly combination of draw power while the trap is on the field; it's a Raigeki that also burns, you can use it on the opponent's Main Phase, and just having free discards with Volcanic Shell is often very good.
In the end I wound up scrapping this idea, but I wanted to share it anyways. After some time I realized that Virtual Worlds just didn't need to have more dead cards in the hand, and the games was winning weren't being won by the Volcanic cards, but the concept's definitely funny when it works.
Here's the concept list I was working on and ended up NOT playing, but maybe this could see more experimentation as an alternative way to play Virtual Worlds in the future?
Yu-Gi-Oh! TCG Deck - Hanko's Volcanic Virtual World Deck by Hanko Chow
'Hanko's Volcanic Virtual World Deck' - constructed deck list and prices for the Yu-Gi-Oh! Trading Card Game from TCGplayer Infinite!
Created By: Hanko Chow
Event:
Rank:
Advanced
Market Price: $159.75
Cards
I wound up focused on a more consistent build, but while consistency was a priority, I also didn't want to rely on the dice roll. So after talking it out with many of my friends, I decided on a build that was a bit cookie cutter build but that ran more cards to try and win the mirror, since I was expecting more than half the room to be playing Virtual Worlds.
Unfortunately my efforts to make the deck more consistent actually backfired on me a bit, and I lost two important Game 3 scenarios just because I didn't open a with a Virtual World monster I could Special Summon from the hand. In hindsight, maybe I should have kept in Foolish Burial Goods. I felt like Foolish Burial Goods makes a lot of combos awkward, so I used those slots to create more deck space, but it may have cost me overall.
One thing I don't regret was main decking Artifact Lancea, since it's still one of the best hand traps in the Virtual World mirror match. Keeping your opponent from using the graveyard effect of Virtual World Gate - Qinglong to search, or Virtual World Gate - Chuche to raise Levels can stop them from comboing properly, and can also deny them ammo for their on-field Virtual World Gate - Chuche. There are ways to still combo under the effects of Artifact Lancea with the graveyard effects of Virtual World Hime - Nyannyan and Virtual World Oto-Hime - Toutou, but that line of play is harder to achieve when you don't expect a need for it.
I also knew that there were probably going to be at least two Tri-Brigade players since they did so well at their Invitational. That deck also got new support in Blazing Vortex with Tri-Brigade Kitt, and there were talks that they could even play with Dogmatika cards since there's just such good synergy sending Tri-Brigade Link Monsters from your Extra DEck to the graveyard.
So maining Artifact Lancea was a good idea, since there are so many matchups where it's so useful. I think a couple of other competitors in the RDI were feeling the same way. Sometimes if you open with both Artifact Lancea and PSY-Framegear Gamma, you can potentially resolve both and keep the Psy-Frames on the field for use on your next turn. A free Level 6 is really nice for Virtual Worlds.
Something to note: I totally understand how important Chaofeng, Phantom of the Yang Zing is to the deck's combos, and its potential in simplified game states. I just couldn't get one in time for the event. In addition, some of the combos that used to rely on Chaofeng, Phantom of the Yang Zing being destroyed with Virtual World Gate - Chuche can actually be sort of replicated with a different line of play now, by sending the new Virtual World Gate - Xuanwu to the graveyard instead.
In the past, the purpose of making Chaofeng, Phantom of the Yang Zing was to search for a second tuner, usually Virtual World Roshi - Laolao, while leaving a Level 9 in the graveyard for Cloud Castle to bring back. But if you have access to one tuner, and the ability to send both Virtual World Gate - Xuanwu and Virtual World Gate - Chuche to the graveyard, then you can actually revive back the Level 3 tuner or Level 6 non-tuner, and use the Level modulation of Virtual World Gate - Chuche to set up a pair of Level 9s or a Cloud Castle play. So Chaofeng, Phantom of the Yang Zing didn't come up for me, but I understand its significance in searching for a hand trap, or getting a potential free summon when it destroys another monster in battle.
Here's my actual list that I played for the Invitational!
Yu-Gi-Oh! TCG Deck - Virtual World by Hanko Chow
'Virtual World' - constructed deck list and prices for the Yu-Gi-Oh! Trading Card Game from TCGplayer Infinite!
Created By: Hanko Chow
Event: Remote Duel Invitational North America
Rank: 9th-16th
Advanced
Market Price: $688.42
Cards
So the event started on Saturday and there was a rehearsal on the Friday before. We were told that we shouldn't play with the same deck we submitted beforehand, so I grabbed my Prank-Kids and played the two practice rounds.
I won the first game pretty easily opening up THE full combo with three Prank-Kids Pandemonium set and Prank-Kids Bow-Wow-Bark on the field, which barely ever happens to me. That kind of setup usually means I can use Prank-Kids Battle Butler effect to destroy all of my opponent's monsters up to THREE times - once by banishing Prank-Kids Meow-Meow-Mu, a second time by sacrificing the Prank-Kids Battle Butler itself, and potentially a third time by using Prank-Kids Bow-Wow-Bark to recycle Prank-Kids Battle Butler back and then fusing for it again.
Anyways, I lost in a Game 3 scenario by opening up amazing…except without drawing a single Prank-Kid. Making me think that "yeah, good thing I'm not playing this deck in the event, or else maybe I'll brick again!"
…Little did I know that would happen to me two more times in the actual tournament, and with Virtual Worlds at that.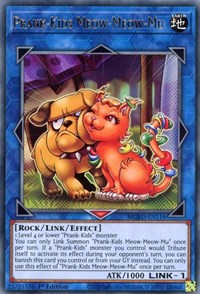 So that was probably the only notable thing that happened in rehearsals. We joked in the Duelist Lounge about how Virtual Worlds are totally not the best deck, dropping with sarcasm. I mentioned that Drytrons are still good, and someone mentioned that they aren't. The irony here is that the one Drytron duelist did end up being 1st Place after Swiss in Day 1.
I got a good night's rest Friday night! I woke up, cleaned myself up, and got some breakfast so I could be ready for the event ahead. I posted all over social media and linked the stream to all my friends.
I was excited, but also nervous and anxious. I sometimes tell myself that this is what everything has come to, all of the time I spend studying and practicing the game. But honestly, that's not the right mindset for this kind of event. This isn't the last tournament. It's just another event to prepare me for the next one! I always tell myself: one match at a time, one game at a time.
Before Round 1 was posted, officials provided a player list with what kind of deck each of us was playing beside each name. They told us that this was being done so that each player would have a more even playing field, and that players who play on stream don't get a disadvantage when they're up against another player the round after. It's understandable why it had to be done. They kept players from joining other rooms to watch another player's game if they finish early, but there's no way to keep players from watching the actual live stream.
My Round 1 opponent was also on Virtual Worlds. I won the dice roll and I open edup double Virtual World Xiezhi - Jiji. He used Ash Blossom & Joyous Spring to negate my Virtual World Gate - Qinglong search I needed, so I passed after making Number 75: Bamboozling Gossip Shadow with what I had. I shotgunned Artifact Lancea in my opponent's Draw Phase, and he surprised me with his tech of Performapal Popperup to discard Virtual World Gate - Qinglong and some other cards for draws. But unfortunately he still couldn't play. He passed with two sets in his back row.
I switched Number 75: Bamboozling Gossip Shadow to attack mode and swung in. In Main Phase 2 I Xyz Summoned Downerd Magician and then went into Divine Arsenal AA-ZEUS - Sky Thunder with four Xyz Materials. I chose not to use Divine Arsenal AA-ZEUS - Sky Thunder board wipe effect at that point, and just set a Virtual World Gate - Qinglong with it and passed.
My opponent tried to get stuff going by kicking ot two Level 3's, to which I responded with Divine Arsenal AA-ZEUS - Sky Thunder. His last card in hand was Triple Tactics Talent, so he was able to steal my Divine Arsenal AA-ZEUS - Sky Thunder, swing and then make his own Divine Arsenal AA-ZEUS - Sky Thunder on top of mine. Next turn he used the Divine Arsenal AA-ZEUS - Sky Thunder to get rid of my monsters as I tried to play through. I set a Virtual World Gate - Chuche and from there I was able to destroy his Divine Arsenal AA-ZEUS - Sky Thunder with it, and that was enough to let me play the game and win Game 1.
Game 2 I just couldn't stop True King of All Calamities and my opponent overwhelmed me the turn after. Aaaaaaand then I didn't draw a starter card in Game 3. So that was that.
It was a sad start to the day but I was still hopeful. I was telling myself, "maybe that won't happen to me again." I'd have to win out from here to make the cut.
Round 2 I played against Kyle Waterbury who was one of the two players on Lyrilusc Tri-Brigade. I got to go first in Game 1 and I fumbled a bit, not realizing that he can just stall out my opening of double True King of All Calamities by making an untargetable Lyrilusc - Assembled Nightingale. Eventually I got rid of it, but by then I had no more True King of All Calamities effects. Luckily I had Artifact Lancea and my established Virtual World Gate - Chuche with Ravenous Crocodragon Archethys, so I could shut him down in Game 1.
After that, I took a moment to adjust myself and realize what I should actually work to prevent in this matchup. I was able to swiftly win Game 2 after that, getting Virtual World Gate - Chuche set up faster and looping my Artifact Lancea with Constellar Ptolemy M7.
Round 3 I got paired with fellow Canadian Rehan Saeed. He was playing Zoodiac Eldlich this time around, which I hear has a very strong Virtual World matchup. We were assigned to be the backup Feature Match for this round so our game started at a different time to accommodate that. He won the roll and chose to go first, summoning Zoodiac Drident with Zoodiac Bunnyblast as material, and using Pot of Prosperity to fetch himself an Artifact Lancea.
I drew Pot of Desires for turn and Rehan immediately shotgunned his Artifact Lancea. I activated Virtual World City - Kauwloon to fetch myself a Virtual World Gate - Qinglong and realized I can't actually use its effect since I can't banish anything. So I looked at my hand with Virtual World Mai-Hime - Lulu and Virtual World Kirin - Lili to decide the order of my plays.
I activated Virtual World Mai-Hime - Lulu targeting my Virtual World Gate - Qinglong, and Rehan responded with Zoodiac Drident effect to destroy the Virtual World Gate - Qinglong. That kept Virtual World Mai-Hime - Lulu from resolving, so I Normal Summoned it instead, activated Virtual World Kirin - Lili and was able to resolve that. Then I thought about how to continue, and decided that Ravenous Crocodragon Archethys was the best play to draw a card and possibly even pop Rehan's next Zoodiac, since I remembered he had a Zoodiac Whiptail in his hand.
I did just that, attacking over Rehan's Zoodiac Drident and destroying his next Zoodiac on his turn by discarding two. He followed up by activating Cursed Eldland and searching for Huaquero of the Golden Land. On my turn I was able to play with the Virtual World Gate - Qinglong in my graveyard, use a second Virtual World City - Kauwloon to set up Virtual World Gate - Chuche, and activate Pot of Desires for more cards. I eventually set up for lethal by making True King of All Calamities and reviving my Virtual World Kyubi - Shenshen with Virtual World Gate - Xuanwu, since Rehan had negated my Virtual World Roshi - Laolao with a Ghost Belle & Haunted Mansion. He tried to block an attack with Huaquero of the Golden Land, but I was able to just destroy it with Virtual World Gate - Chuche.
Then our match continued on stream, and as everyone has witnessed I couldn't play through three interruptions in Game 2, and drew very poorly in Game 3. In hindsight, maybe I could have held back my Psy-Framegear Gamma and negated Rehan's Zoodiac instead of relying on my Pot of Desires to play with the Psy-Frames. I was inevitably going to draw two with Pot of Desires so it was probably better to just pass a turn under Dimension Shifter and keep the PSY-Framegear Gamma. If only people saw how good Game 1 was for me.
I went into Round 4 with a match record of 1-2, so me and my opponent Julio Mendoza were basically playing for fun at this point. We both knew that we couldn't make the Top 4 even if we won here, but we still wanted to play it out. I broke his Phantom Knight board in both games by negating The Phantom Knights of Rusty Bardiche, and his Dark Requiem Xyz Dragon with cards like Virtual World Gate - Qinglong, PSY-Framegear Gamma and Infinite Impermanence. Then I combo'd through his Phantom Knights' Fog Blade and established control with True King of all Calamities.
I wasn't sure if he was playing Predaplant Verte Anaconda and the Red-Eyes Dark Dragoon package, so I was being really careful holding back PSY-Framegear Gamma and Infinite Impermanence both games. So yeah, that was another win to finish the day 2-2.
So that's it for now! I'm definitely going to follow up this article with some interviews with most of the other players in the Invitational, so watch for that this week. They're all top players and deserve some spotlight for their accomplishment making it so far this season, and I'm sure many of you readers would like to have more insight on their approach to the event, and their tournament experience. Especially the Top 4 players, Andres Arreola, Kamal Crooks, Octavio Balcazar, and Cesar Gonzalez Rodriguez! So please look forward to that.
Overall, would I do it again? Probably. The process of qualifying, preparing and actually competing in the RDI was rough at times, especially with how long the Extravaganza Main Events usually are if you last all the way till the end. But it's very rewarding once you reach the final stage. I missed out on a chance to get that Prize Card this time, so I definitely want to try again so I can knock that off my Yu-Gi-Oh bucket list.
I'm really hoping that our actions in this event have made an impact! Maybe even created the statistics needed to help change the landscape with the next Forbidden & Limited List.
I'm really thankful to the Konami staff for hosting such an event, and the Judges for keeping it running smoothly, as well as the live stream staff at Estars Studios for making the streaming experience possible. Thank you to them, and thank you to you too, for reading about it! I'll see you again later this week.