The Traptrix are technically a standalone theme, but they aren't really tied together by a cohesive strategy. Yes, "Hole" Normal Trap cards and the titular Traptrix Trap Hole Nightmare do cobble together some semblance of a binding game plan, but when 89% of your play sequences involve opening with Traptrix Myrmeleo and hoping it sticks, you're sort of lacking in the pizazz department.
But hey, I love Traptrix even if it's not a robust theme like Salamangreats or Spellbooks. The Traptrix theme's real strength is that so many of the cards work together, and in a vacuum, even if one card wombo-combos aren't exactly free flowing. Don't let the lack of flashy flare detract from how powerful Traptrix can be: each card works well alone to create high utility, and taken as a whole the Traptrix combine really well with other strategies.
Last weekend's Remote Duel Invitational was a showcase for some of the greatest players and creators in Yu-Gi-Oh today, and before Sam Arunnaveesiri took home the victory with his Dinosaur deck we got to see a ton of cool strategies in action, many of which were way off the beaten path. You can find all 16 decks from the Invitational right here on Infinite, and if you haven't guessed it yet, today I'm going deep with Gage Poljak's Traptrix Dogmatika build.
Yu-Gi-Oh! TCG Deck - Traptrix Dogmatika by Gage Poljak
'Traptrix Dogmatika' - constructed deck list and prices for the Yu-Gi-Oh! Trading Card Game from TCGplayer Infinite!
Created By: Gage Poljak
Event: Remote Duel Invitational - 2020-08-23
Rank:
Advanced
Market Price: $393.12
Cards
If you've been living under a rock for the last few… weeks?... months?... then some of these cards may be new to you. I won't disparage anyone for not keeping up with OCG info the day it drops, but if you're not familiar with Dogmatika yet, please remove yourself from the cave you've been hiding in for just a minute so we can get you caught up.
The Dogmatika theme focuses on the Extra Deck; it sends cards from your own extra to the graveyard to generate powerful bonuses, while crippling your opponent's Extra Deck by removing cards from it. When you're splashing Dogmatika into other strategies, the main culprit is none other than the devoted and pious Dogmatika Ecclesia, the Virtuous.
Dogmatika Ecclesia, the Virtuous the hot new card on the block, but it's a pretty simple monster overall. If an Extra Deck monster's on the field you can Special Summon Dogmatika Ecclesia, the Virtuous from your hand. And if you Normal or Special Summon Dogmatika Ecclesia, the Virtuous, you grab a Dogmatika card from your deck.
Elemental HERO Stratos is good.
Dogmatika Ecclesia, the Virtuous might keep you from Special Summoning from your Extra Deck for the rest of the turn, but that's not really a problem. It only stops further summoning from the Extra Deck when it hits the field, so you'll just combo first then play Dogmatika Ecclesia, the Virtuous to finish out. You're usually going to grab Dogmatika Fleurdelis, the Knighted or Dogmatika Punishment, both of which are one-to-one counters for an opposing card. In a vacuum, it functions the same as a hand trap - Dogmatika Ecclesia, the Virtuous not an immediate combo piece per se, but a solid counter card geared toward controlling the game.
The restriction keeping you from summoning from your Extra Deck for the rest of the turn doesn't really matter. It's similar to ending with Red-Eyes Fusion to Fusion Summon Red-Eyes Dark Dragoon via Predaplant Verte Anaconda. Is the restriction that devastating? Meh.
How Does That Work With Traptrix?
If you had to compare Traptrix to an old school deck from Yu-Gi-Oh's past, the best equivalent is probably Green Gadget. Back in the day, you as the Gadget player would look to out-grind your opponent with Red Gadget, Yellow Gadget and Green Gadgets backed by 1-for-1 trades like Sakuretsu Armor and Smashing Ground until your face turned blue and your opponent was out of cards.
Traptrix mimics that "war of attrition" approach, involving a lot of traps and a moderately boring Normal Summon. Take Traptrix Myrmeleo for example. Normal Summon Traptrix Myrmeleo and search Gravedigger's Trap Hole, then Link Summon Traptrix Sera. At the best opportunity, activate Gravedigger's Trap Hole to stop an opposing card and trigger Traptrix Sera effect to summon a Traptrix from your deck. Activate that Traptrix monster's effect and search another "Hole" Normal Trap.
This is about how it feels, doing that while your opponent complains your simple cards are "too good," as they play a ridiculous combo deck packing Crystron Halqifibrax or a bunch of Guardragons.
Point is, Traptrix largely hinges on getting enough counters to shut down your opponent, and they snowball quickly over time if they're left unchecked. Since Dogmatika acts as a shortcut to more answers for your opponent's cards as well, the marriage between Dogmatika and Traptrix makes total sense. Dogmatika Punishment fueling Traptrix Sera's Special Summon effect is a thing of beauty.
If you want another example, consider Artifact Sanctum – it does the same thing as Dogmatika. Whatever it summons might not be quite as harmonious with your Traptrix lineup, but it shuts down your opponent with a simple flip of a trap and triggers Traptrix Sera ability to keep the incremental advantage rolling.
Death By A Thousand Cuts
There's more to Poljak's deck than Traptrix and Dogmatika alone. There are a lot of good cards that shut down your opponent's entire turn, the most obvious being The Phantom Knights of Shade Brigandine. Combined with any Traptrix monster, you're looking at a huge swing in card economy while picking off three or more opposing cards.
The same can be said for most other cards in the deck – if your Dogmatika and Traptrix can field a monster and knock something off in the process, everything else in the deck pushes the arms race for card advantage. A well-timed Floodgate Trap Hole or Artifact Sanctum means a boost for you and a complete halt for your opponent's turn.
If you distill the game down, you'll have more cards than your opponent pretty regularly. Consider starting with Traptrix Myrmeleo and Nadir Servant. If your opponent wastes a hand trap on Traptrix Myrmeleo, you'll still have the monster you need to make a Traptrix Sera. Not stopping Nadir Servant means at worst you'll place Elder Entity N'tss into your graveyard and find your way to Dogmatika Punishment.
My favorite piece of the puzzle is PSY-Framelord Omega. Not because I'm a terrible degenerate that actually enjoys playing Psyframes, but because it adds a layer of depth to Traptrix that's too much effort otherwise. Nearly every Traptrix deck I've seen struggles to recycle cards. Daigusto Emeral and Jar of Avarice don't cut it, so – in a fit of irony – you can end up running out of resources in the resource battle you're working to create.
PSY-Framelord Omega turns that on its head. With Nadir Servant and Dogmatika Punishment, you can recycle precious combo pieces that are usually one-shot wonders. Whether it's Parallel eXceed, Artifact Scythe, or even Dogmatika Fleurdelis, the Knighted, PSY-Framelord Omega gives everything in your deck a second chance!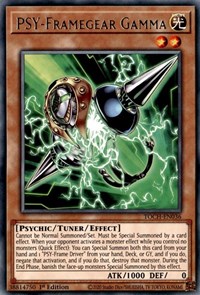 First And Second?
As with any trap-focused deck, you want to go first since you need to establish a backrow to control your opponent. If you didn't know that by now, well, now you do!
But sometimes you're forced to go second. And Poljak stocked his deck with enough assurances to keep his strategy going when that happened. There aren't a lot of cards these days that offer enough payoff to risk dead draws, so instead, any fluff is largely replaced by hand traps in this build.
Pooljak's deck actually reminds me of Sky Strikers at their peak. With Infinite Impermanence, PSY-Framegear Gamma, and Ash Blossom & Joyous Spring, your counters can simplify the game to a state of topdecking. Going second means you'll have an extra card to use against your opponent if they wanted to go first, or if they wanted to go second too, you'll often cripple their strategy from the get-go.
I touched on it before, but Poljak also ran simplifying cards that can bait out his opponent's de facto counters. Either a resolved Traptrix Myrmeleo and Nadir Servant spiral the game out of control, or your opponent has to waste a card to stop them. Meanwhile, you have plenty of other cards that bum rush your opponent just as effectively.
There are only a few downsides to this deck. Obviously, Dogmatika's one of the hottest new strategies in the game, so the cards are pretty tough to get your hands on. Price is a thing. Secondly, this isn't much of a combo deck. The biggest string of combos you'll make in a turn generally involves Traptrix Mrymeleo and The Phantom Knights of Shade Brigandine, and at this point talking about them anymore is beating a dead horse.
Traptrix Dogmatika's a great deck if you're used to old school resource management and don't want to spend 25 minutes making combos. Investing in the deck isn't a bad idea either – worst case, you'll have Dogmatika cards to splash into other strategies if you decide Traptrix isn't your cup of tea. As a new theme that just released, it's aa pretty safe place to invest your dueling dollars.
Just remember: beat your opponents before they beat you.
-Loukas Peterson