Well happy February, duelists!
I hope you're all hyped for this weekend's Remote Duel Invitational! Sixteen competitors from across the continent fought hard for their invites, and in a few days we'll see them throw down in the followup to the first North American Invitational back in August. Sam "Teamsamuraix1" Arunnaveesiri claimed victory at that event, and the winner this weekend will become the second North American Remote Duel Invitational Champion!
While watching those decorated duelists duke it out is going to be lots of fun, I personally enjoy some of the smaller details of these types of events… like seeing the awesome swag that Konami hooks the player up with!
With that inspiration on my mind, I want to delve into the wide world of accessories and Yu-Gi-Oh swag that's so important to the culture of the game; particularly the stuff that's really rare and makes players, staff, and spectators alike all ooh and aah. Yu-Gi-Oh fans are on another level wanting to peacock with their cool stuff: sometimes we'll even take items that were disregarded in other aspects of life, or in other games entirely, and turn them into a symbol of status and prestige in the community.
Case in point?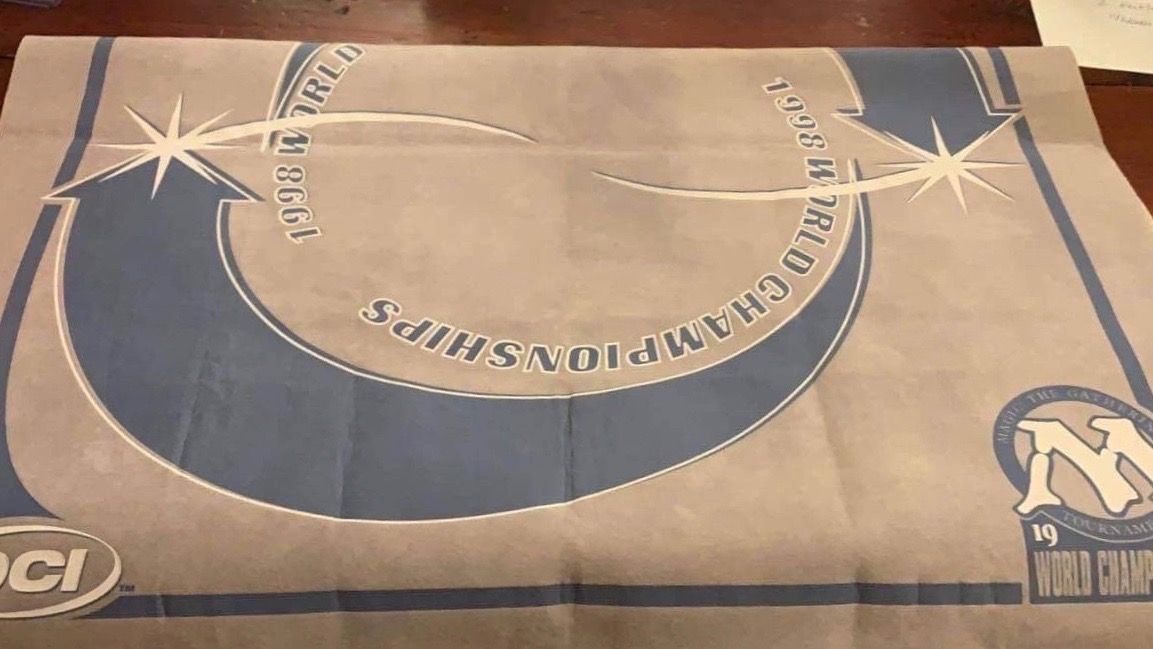 Spellgrounds (…And Cloth Mats In General)
We're kicking this off with arguably the most historic piece on this list, Spellground mats! These are pretty much the first-ever cloth playmats, and they come in both single player and two-player styles. Created by a company called Khalsa Brain Games back in 1994, these were actually designed for Magic: The Gathering. As far as Yu-Gi-Oh's concerned, they were first made famous by Adam Corn and Emon Ghaneian back in 2007. Spellgrounds quickly became associated with the most elite players in the community, as they were incredibly scarce for quite a long time.
In 2011, Khalsa Brain Games released the "classic" line of Spellgrounds, keying in on the market's enthusiasm for the product line, and now you can get them in a myriad of styles, colors, and sizes. However, none are more known and respected than the classic 2 player grey and tan originals. These mats can fetch anywhere from $60 to $450, with the newest mats usually being on the lower end, and the original colors being well over $300 and continually rising.
The standouts are the mats from the World Championship Spellground line, which were awarded to the top players of the MTG World Championships of their respective years! Those mats are in a league of their own as far as pricing's concerned, with the cheapest ones going for $900 and the most expensive that I've personally seen being over $4000.
Due to the popularity of the Spellgrounds craze, we've seen a lot of different brands try trying to get a piece of the cloth mat profit pie. The most popular is GEMtech, who have showcased a number of fantastic and high quality playmats over the years, alongside with lots of other accessories (more on that later!). The best part about cloth playmats nowadays is that no matter what style of artwork you like, there's something for everyone. From cookie cutter to custom, one player or two, no matter what you're looking for you can find something in the market that suits your tastes.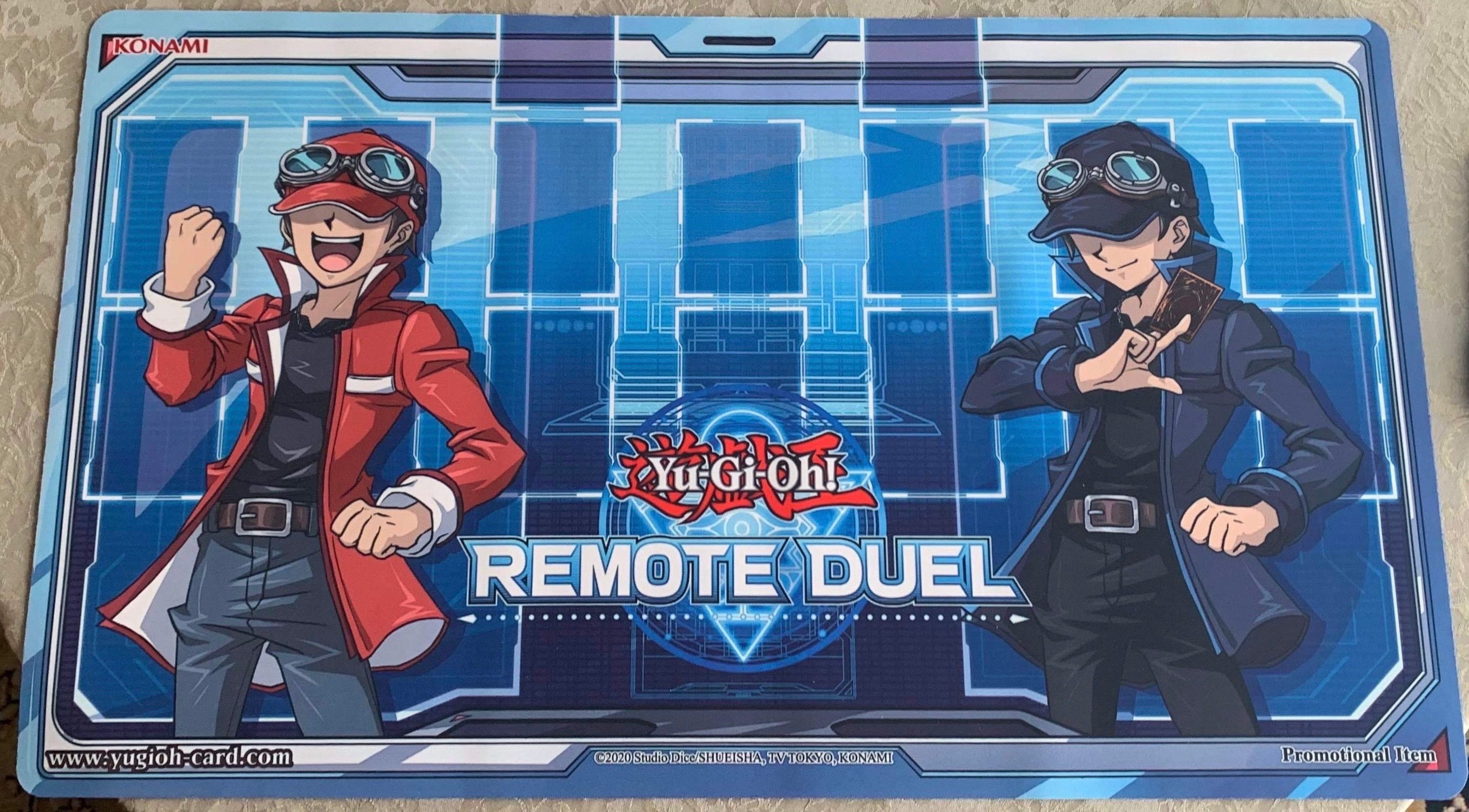 Rubberized Mats
Despite the craze surrounding cloth mats, there's also been a recent surge in the popularity of rubber-type material playmats. Finishing in the Top Cut of any YCS, Regional Qualfier, or higher tiered event will score you a piece of art that you can use to flex on your friends, reminding them who's the top dog in your neck of the woods.
One of the most recognizable and prestigious mats of all time, is the original Top Cut Regional playmat. Recreating the design of the original Yu-Gi-Oh playmat, there's no fancy artwork - just a clean, classic look. For Duel Monsters fans everywhere, it's a piece of history that's held in such high regard that even damaged, tattered mats easily fetch over $150.
A more recent addition to the "Insanely High-Priced Rubber Mat" category is the 2010/2011 WCQ Top Cut mat featuring Brionac, Dragon of the Ice Barrier and Trishula, Dragon of the Ice Barrier. These two mats in particular go for $1000 or more, due to both the scarcity of their distribution, and the fame that those cards have accrued as some of the most iconic Synchro Monsters of all time.
That said, nothing tops the World Championship playmats, always featuring artwork relating to the lore of the region hosting the World Championship that year. These mats are so rare that most duelists will never see them with their actual eyes; they're only given to competitors and a select few attendees at each World Championship.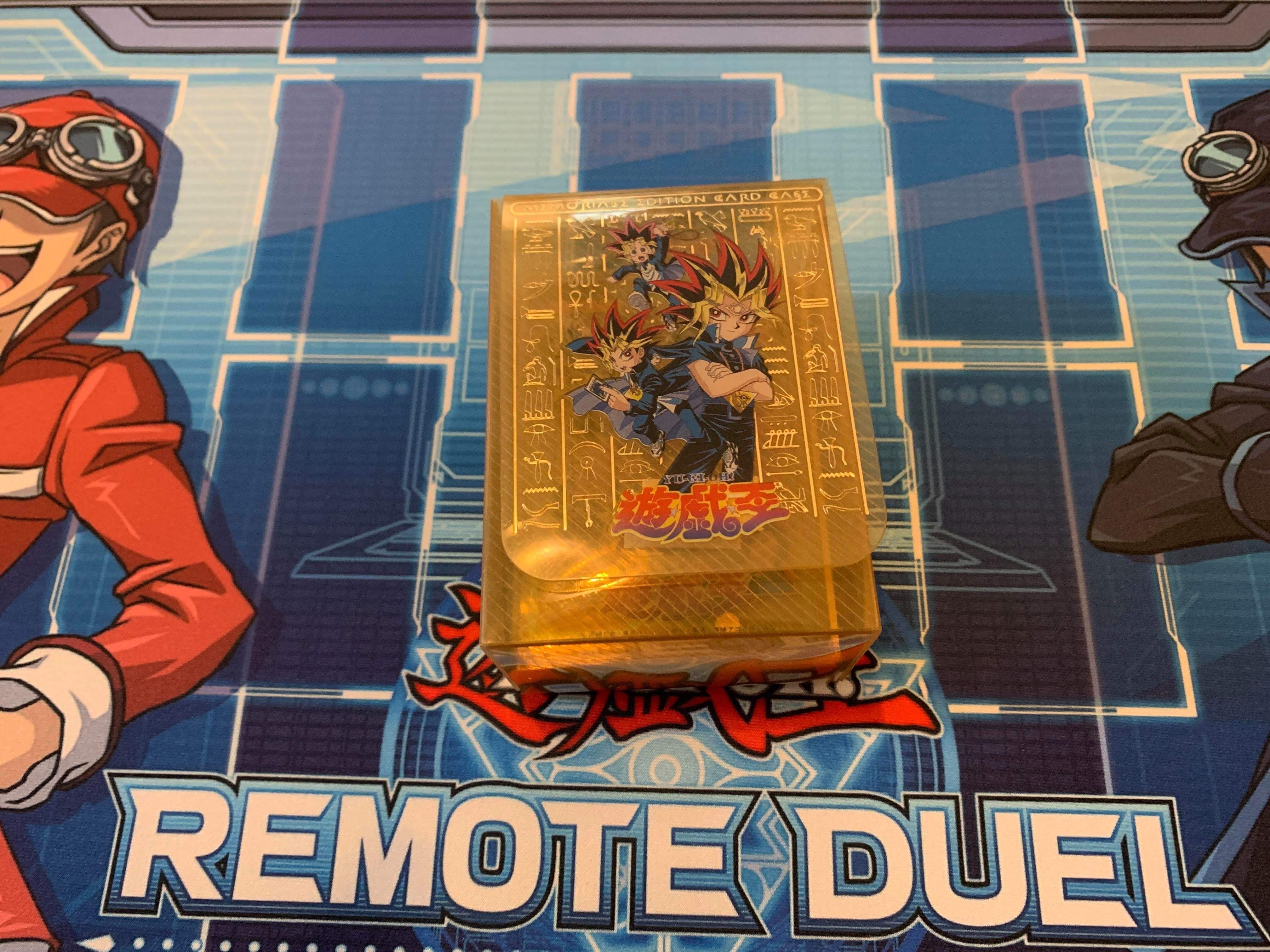 Deck Boxes
Deck boxes are another massive category of swag you'll often see. Pretty much everybody owns one: from a $3 Ultra Pro deck box to a $200 Memorial Edition deck box used by some of the elite, your deck box is another bit of self-expression. Konami's supported this by releasing a variety of cool deck boxes over the years in both the TCG and the OCG, showcasing single boxes and several different types of double deck boxes, to give a bit of flair to your aura when you sit down.
The most famous of the deck boxes used in Yu-Gi-Oh is probably the "Pink Magician" double deck box. This was largely popular because, well, the character on it looks so much like Dark Magician Girl. Originally released somewhere around 2006, these received a second run back in 2017 for a premium of $20 and were quickly snatched up by anyone looking to make sure they looked as cool as possible.
Another, more recently revered box is the 1998 Memorial Edition box from the days of Bandai's Duel Monsters licensing deal, shown above. It comes in two colors, blue and gold, and you can find versions with Velcro or a snap button. Generally, most duelists have never even heard of the Memorial Edition deck case, as they're over 20 years old!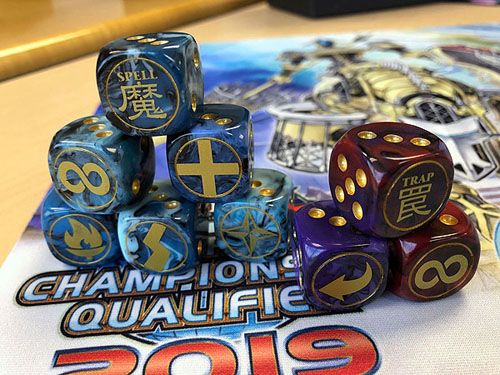 Dice
Before the North American WCQ in 2017, stylish Yu-Gi-Oh dice were really only a custom job or imported from our friends over in Japan. But thanks to Konami, that all changed! Now, whenever you pre-register for a YCS, you get a "blind bagged" die (it's distributed in a black opaque bag so you can't see what you're getting until you open it). They were originally distributed as an extra incentive to hand in your deck list early, and wow did they take off! There have been several sets over the years now, starting with a set of dice each designed around one of Yu-Gi-Oh's six main Attributes - a version of the set was first released in the OCG, and were becoming more popular with TCG players at the time.
Then in 2018, KDE outdid themselves AGAIN by releasing a new series of pre-registration dice, each with one of the Millennium Items! And this time there was a twist: not only could you collect the individual Items in a specific unique color, but each one also came in a much scarcer "chase" variety with black ink detailing, on a gold body! The introduction of chase variants was fantastic, lending more excitement to a system that was already exceptionally cool… and it offered a lot of value if you decided to trade or sell your dice instead of keeping them.
2019 saw another new collection of dice released, adorned with spell and trap symbols. This time the chase dice were clear with glitter, which players commonly referred to as "Secret Rare," which is just so adorable you can't help but go along with it. Tying back into the weekend, all of the previous competitors in the August Remote Duel Invitational were each given the full set of spell and trap dice, as well as one of the chase dice, for their participation in the tournament.
The final bit of cool history with the incentive dice are the pre-registration die for the 200th YCS weekend, a Divine die that finished off all the attributes for those rare hunters and discriminating dice enthusiasts. Then there was also the "Judge" die, given out by Konami to judges at Tier 3 events. Luckily, Konami has seen and heard the pleas of duelists everywhere for more dice, and have been releasing them in boxed set products like Legendary Duelists: Season 2 since 2020.
Card Sleeves
Finally, there are sleeves! Offered in a massive variety of colors, styles, sizes, and prices, these little plastic protectors are one of, if not THE, coolest bit of personality you can add to your deck. Again, starting from the lower end of the sleeve spectrum you have Ultra Pros, famous for being an affordable and durable option that's widely available in all major game stores. I personally love these for my causal decks and local tournaments, as they're reasonably durable and don't break the bank. But many duelists have come to love other brands too.
Dragon Shields (we love you!) are super incredible. While many Yu-Gi-Oh players are only just trying them now due to their recent resurgence, they've created a new standard in the community, helping ensure that our cards receive only the best in protection and style. Available in classic, matte, and even a unique semi-textured artwork finish, Dragon Shields have become the standard go-to for the competitive duelist and it's easy to see why. Give them a shot!
But what if that's not your speed? What do you do if you want something even cooler?! Don't worry, the WCQ season releases some of the most sought-after sleeves in all of Yu-Gi-Oh, every year, in lots of different designs and colors. And now with double sleeving legal, you can protect whatever investment you make in acquiring those sleeves for longer than ever before. There are also plenty of art sleeves offered in the OCG, featuring a variety of cards, characters, and other icons of the game.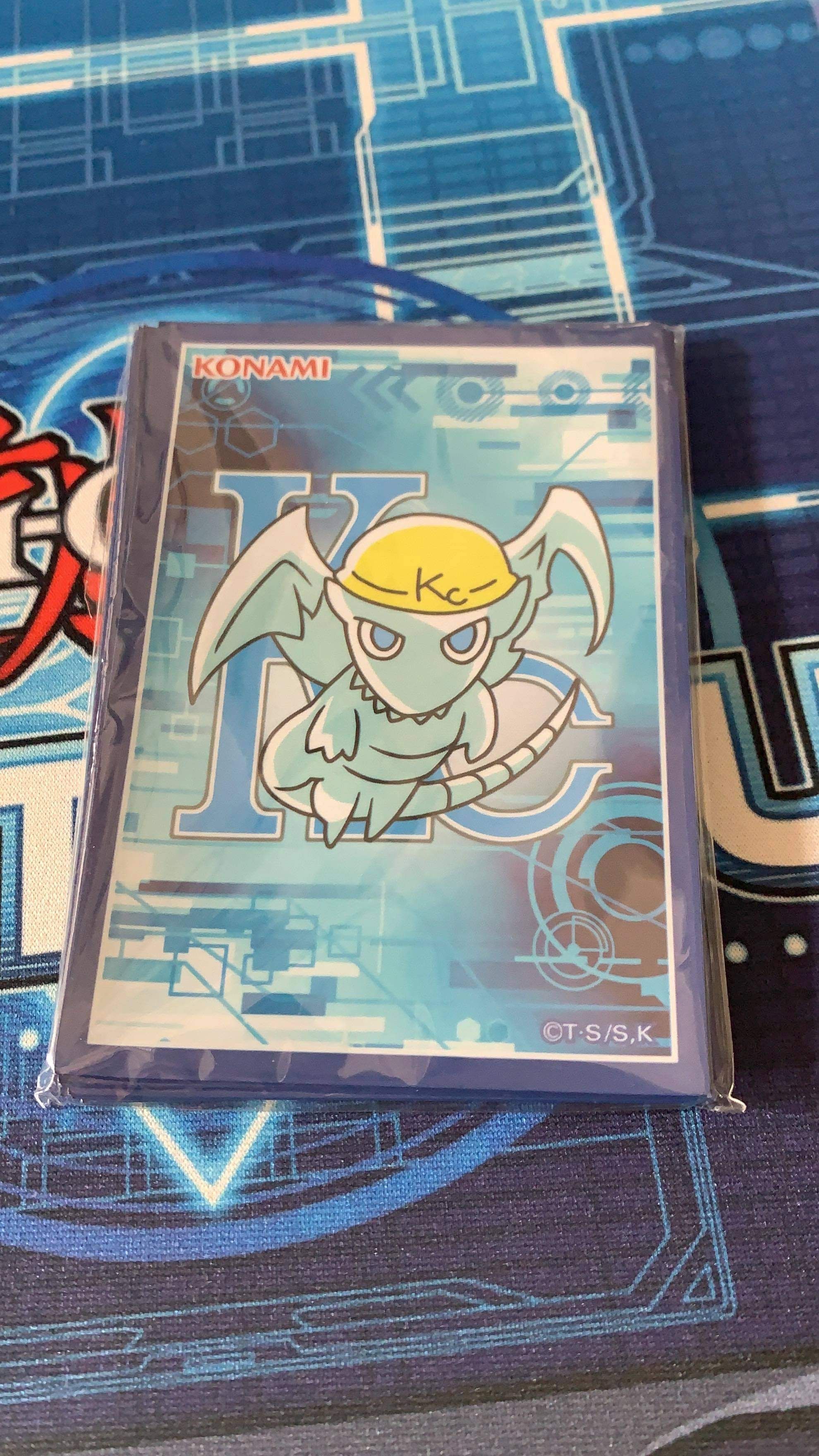 Those more lavish sleeves cost more than anything available at retail; the Chibi Blue-Eyes sleeves I use for my Extra Deck are $30 for a pack of fifteen. But they're worth every penny to add that personal touch to your side of the table.
That does it for me today. Make sure to follow me on Twitter to keep up with my antics going forward, as this is my last article here on Infinite! It's been an absolutely wild ride and an incredible opportunity to bring you content over the past year, and now I'm going to be moving into a new role working to help support the game. I hope that going forward you'll continue to enjoy the work created by my friends here at TCGplayer. From the bottom of my heart, I want to offer huge thanks to each and every one of you who have clicked on these pages and read through my ramblings.
Jason, Hanko, Kelly, and yes even you Loukas, you've all been nothing less than inspiring and I can't wait to see what you all keep posting, as you continue to show just how incredible this game, and this community can be. Hopefully, in the next chapter of my life I'll see some of you at events (when they happen again), or in remote duels.
Until… Well, I'm not sure how to close this out! Thank you all for the support you've given me and each of the writers here. Play on.